Authorities urged to establish more subsidised centres to support carers looking after children with disabilities.
A leading NGO serving Hong Kong' needy youth has urged authorities to establish more subsidised centres for parents caring for children with disabilities rather than simply providing monetary support to the families, saying services have been overloaded.

The Heep Hong Society, which runs four out of 19 subsidised resource centres for families of children with disabilities, said each of their branches was now serving 582 families on average in 2022-23, about 80 per cent more than the 330-household minimum threshold set by the government.

"The demand for service is huge. We hope that the government can increase the number of these parent resource centres," the society's regional manager Carmen Chan Lai-fong said. "There is only one centre in each district."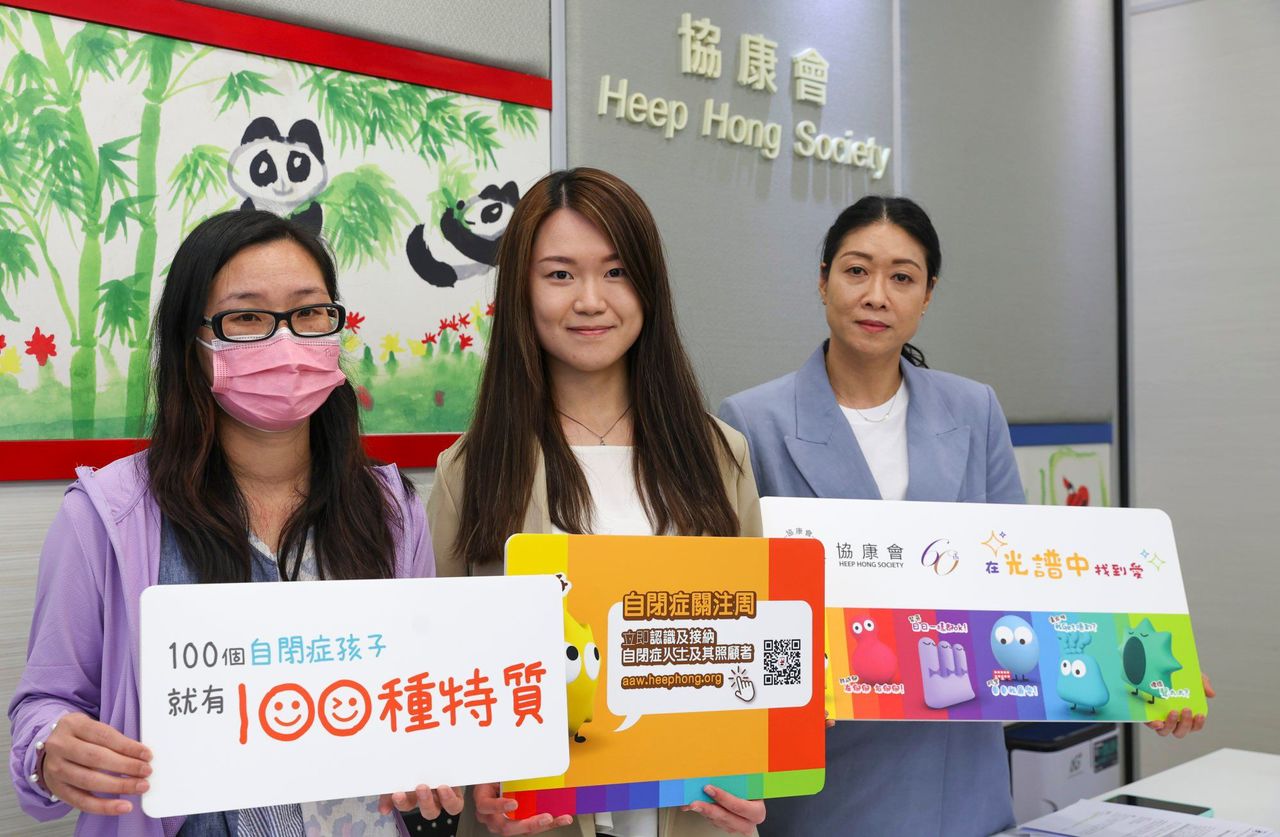 (From left to right) Ann Chan, a carer, Gigi Liu, an educational psychologist at Heep Hong Society, and Carmen Chan, the NGO's regional manager.

There is a centre serving the entire city and one in each of its 18 districts for families of children with disabilities, providing support for carers. Parents are taught skills to care for their youngsters and cope with difficulties.

Chan said she hoped the administration would consider increasing manpower or expanding existing centres if setting up additional ones was not feasible.

"If there are more resources, these centres can act as a safety net," she said. "We do not wish to see parents getting burned out, which may result in child abuse."

According to the Social Welfare Department, the number of newly registered child protection cases, referring to those involving physical, mental or sexual abuse, had surged by 45 per cent from 940 in 2020 to 1,367 in 2021.

In this year's budget speech, Financial Secretary Paul Chan Mo-po announced two financial assistance pilot schemes for carers from low-income families would become policy, and their monthly allowance would be raised from October, involving an annual expenditure of about HK$430 million (US$54.78 million).

The government will also set up a hotline for carers later this year to provide emergency support, counselling and outreach activities.

Despite describing the monetary aid as a "good measure" that would reduce families' financial burden, the society said those seeking help through the hotline would require follow-ups, which the subsidised resources centres could provide.

The NGO stressed that non-economic assistance for carers was crucial as a survey it conducted last month found that counselling, which aimed at equipping parents with skills to deal with their children and relieve their pressure, was considered the most effective among users.

Among the 546 respondents caring for family members with autism, mostly children, fewer than 100 said they had used mental support services over the past three years, despite rating it the most useful service. By contrast, economic aid came fourth among the 250 respondents.

Housewife Ann Chan said she had a difficult time with her eight-year-old daughter, diagnosed with autism, before receiving help from the resource centre in 2018, which taught her communication skills.

"I felt like I was in a different world from my daughter as she did not speak before reaching three years old, and I could only do the talking myself," the 41-year-old single parent said.

"After receiving help from the centre, it has been poles apart. She now invites me to play games with her."