Union chief says 3,000-strong paramedic workforce overloaded because of rising number of calls from Covid-19 patients on top of routine emergency requests.
Hong Kong's worsening fifth wave of Covid-19 infections has stretched paramedics' manpower and workload to an "unprecedented" level, unions have warned, urging patients with no symptoms or those who test positive with rapid kits not to call the emergency services.

Their appeal came as the city confirmed a record 2,071 new coronavirus cases and reported more than 4,500 preliminary infections on Monday. The Hospital Authority has repeatedly urged people who test positive not to go to already overstretched accident and emergency (A&E) wards at public hospitals.

The Fire Services Department operates more than 430 ambulances across the city.

Tong Sze-ho, chairman of the Fire Services Department Ambulance Officers Association, said the 3,000-strong paramedic workforce was overloaded because of a rising number of calls from Covid-19 patients on top of routine emergency requests.

He estimated that more than 80 per cent of coronavirus-related calls were from asymptomatic patients or those who had just tested positive using rapid test kits. But as a rule, paramedics still had to transport them to hospital upon request, though A&E might not admit these patients.

"Our manpower is facing unprecedented challenges. I understand patients are worried about their situation. But emergency rooms usually refuse to admit them upon arrival or ask them to wait, meaning the patients will be stranded," Tong said. "They will therefore hold up the ambulance for the next emergency call."

In 2021, the department responded to 765,614 ambulance calls, an average of 2,097 a day. Between January 20 and February 9 this year, it handled 43,586 ambulance calls or 2,075 calls per day.

Though the average number of calls had not increased, the Covid-19-related requests had prolonged the time taken for an ambulance to respond to each call.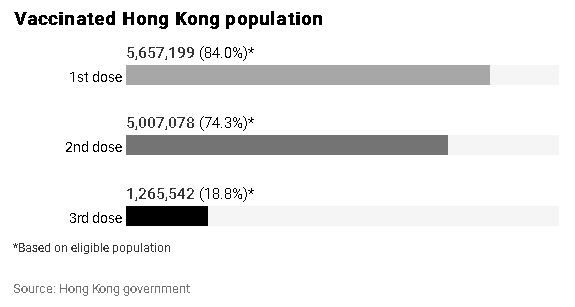 Tong said it took up to three hours to complete a call involving an infected patient as staff needed an extra 40 minutes to sanitise the ambulance after offloading them. He added demand for ambulances was particularly taxing at night because fewer staff were on duty compared with day shifts, and urged bosses to better allocate manpower.

"On average, we handle close to 2,000 daily emergency calls, such as heart attacks and traffic accidents. The number of such calls does not decrease because of the pandemic," Tong said.

"I appeal to asymptomatic patients to think twice before calling. Let's allocate the resources to more urgent patients."

Over the past week, asymptomatic patients had been made to wait for close to a day at makeshift outdoor holding areas at some hospitals.

Hospital Authority chief manager Dr Larry Lee Lap-yip earlier said residents who tested preliminary-positive with a rapid kit should ask their family, friends or delivery agencies to send their samples to health authorities for testing.

They should stay at home and wait for further instructions as the Department of Health would arrange for them to be admitted to a public hospital as soon as possible.

The latest figures show the reference waiting time at A&E for non-critical or non-urgent patients is more than two hours in 11 out of 18 public hospitals. The waiting time at Kwong Wah and Ruttonjee hospitals was more than four hours.

Tong said the authorities had added close to 50 coaches to send patients or their close contacts to the Penny's Bay quarantine facility to ease the burden on ambulance services.

In response to the Post, the department said it had activated the Director's Command Post for coordinating and commanding different units, and had set up a dedicated team to handle the huge number of Covid-19-related cases to ensure that the provision of emergency ambulance service would not be affected.

"To deal with the fifth wave of the pandemic, the Fire Services Department has not only carried out relevant risk assessments and devised contingency plans, it has also flexibly allocated resources to cope with the sudden surge in demand," it said.

The department said 36 fire services staff were infected since the fifth wave of infections began, and another 80 members needed to be quarantined.

A government source said the department had moved about 40 non-operational paramedic staff, such as instructors at the fire services academy, to help out on the front line, as close to 50 staff were either quarantined or infected with Covid-19.

HKFSD Ambulancemen's Union chairman Ng Wai-keung said paramedic staff used to work 12 hours per shift, but the increased workload meant they were doing nearly 15 hours a day. He urged the government to allocate more resources to the department, including hiring retired staff to ease the workload.

"We also face a heavier psychological burden as some patients might not tell us they are infected or close contacts. Though we are equipped with protective gear, we still fear we might be infected and spread it to our family," Ng said.