Moderates secure enough nominations from powerful committee to throw their hats into the ring. Reverend Canon Peter Koon bidding to become first religious representative in legislature since 1997 handover.
At least two moderate and opposition hopefuls have secured sufficient backing from a powerful committee dominated by the pro-establishment bloc to run in next month's Legislative Council election.

Among them were Allan Wong Wing-ho, of the Path of Democracy think tank founded by Executive Council member Ronny Tong Ka-wah, as well as Sai Kung District Council vice-chairman Daryl Choi Ming-hei.

Reverend Canon Peter Koon Ho-ming, the provincial secretary general of the Hong Kong Anglican Church, also announced his election bid on Monday. If successful, Koon would be the first religious representative in the legislature since the city's handover to China in 1997.

Major opposition parties had said they would not field any candidates in the December poll, which will be the first Legco race after Beijing overhauled Hong Kong's electoral system.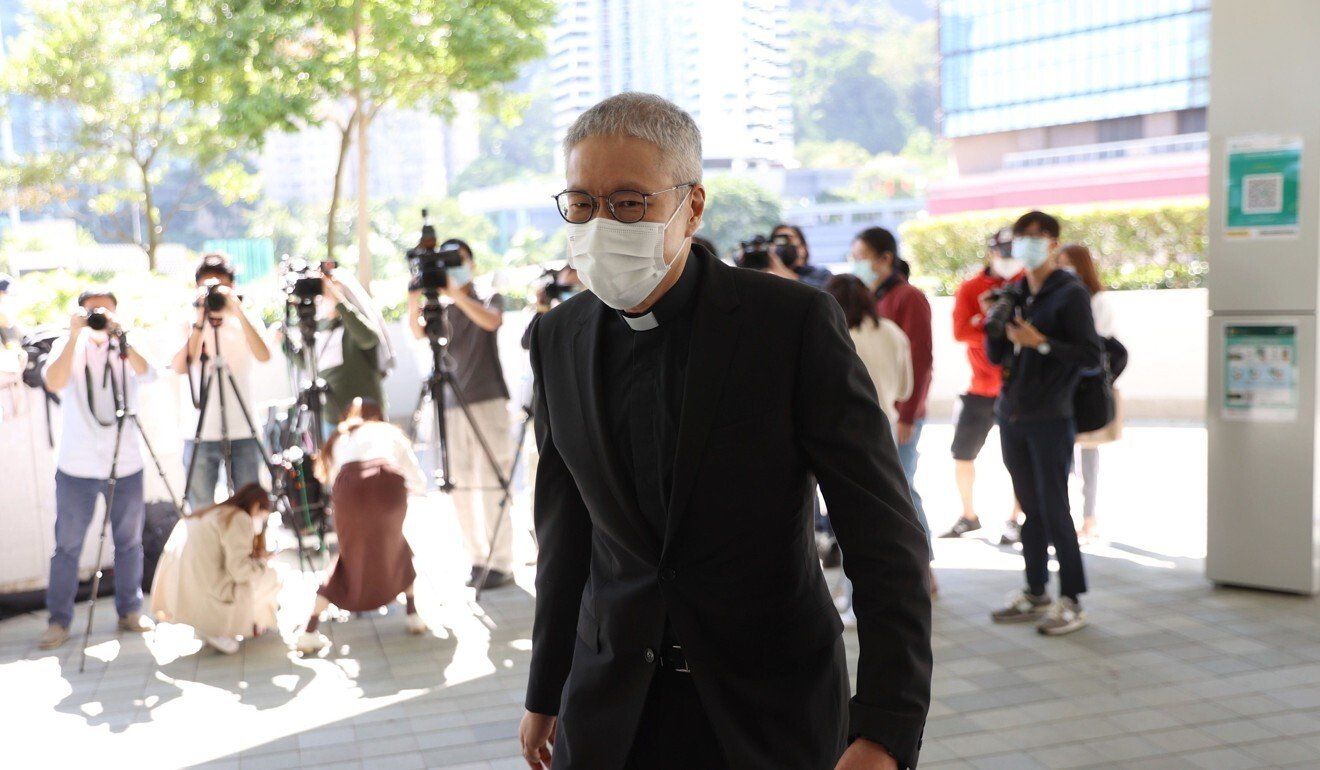 Reverend Canon Peter Koon Ho-ming arrives at the government offices to submit his nomination for the Legco election.

Under the changes, which critics said was aimed at curbing the opposition, the current 70-member legislature was expanded to 90, with the number of directly elected seats slashed from 35 to 20.

Forty seats will be returned by the Election Committee, with the remaining 30 to be filled by trade-based functional constituencies. All candidates are required to secure 10 nominations from the committee.

Wong, who officially signed up for the race in the New Territories North East constituency on Monday, said he only managed to meet the entry requirement the night before, hours after Path of Democracy made an urgent appeal online.

In an open letter, the group said none of its four hopefuls had managed to secure sufficient support a week after the nomination period opened.

"I have been meeting different Election Committee members over the past weeks non-stop. They are reluctant to nominate me despite being positive," Wong, a 41-year-old director of an environmental company, said.

He attributed the reluctance to the fact he was not well known and his moderate approach was a "relatively new idea". But after the appeal, Wong said several committee members approached the think tank and intimated they "were willing to help".

Wong did admit, however, that he had been advised to not contest New Territories North – which pro-Beijing politicians Edward Lau Kwok-fan and Shum Ho-kit, alongside Gary Zhang Xinyu, of a new group New Prospect for Hong Kong, had already signed up for. Wong was told instead to focus on New Territories North East, which so far is only being contested by two pro-establishment candidates.

Each of the 10 geographical constituencies will return two lawmakers under the "one vote, two seats" mechanism revamped by Beijing.

Wong would not say whether he was being used to create competition in a race boycotted by the mainstream opposition.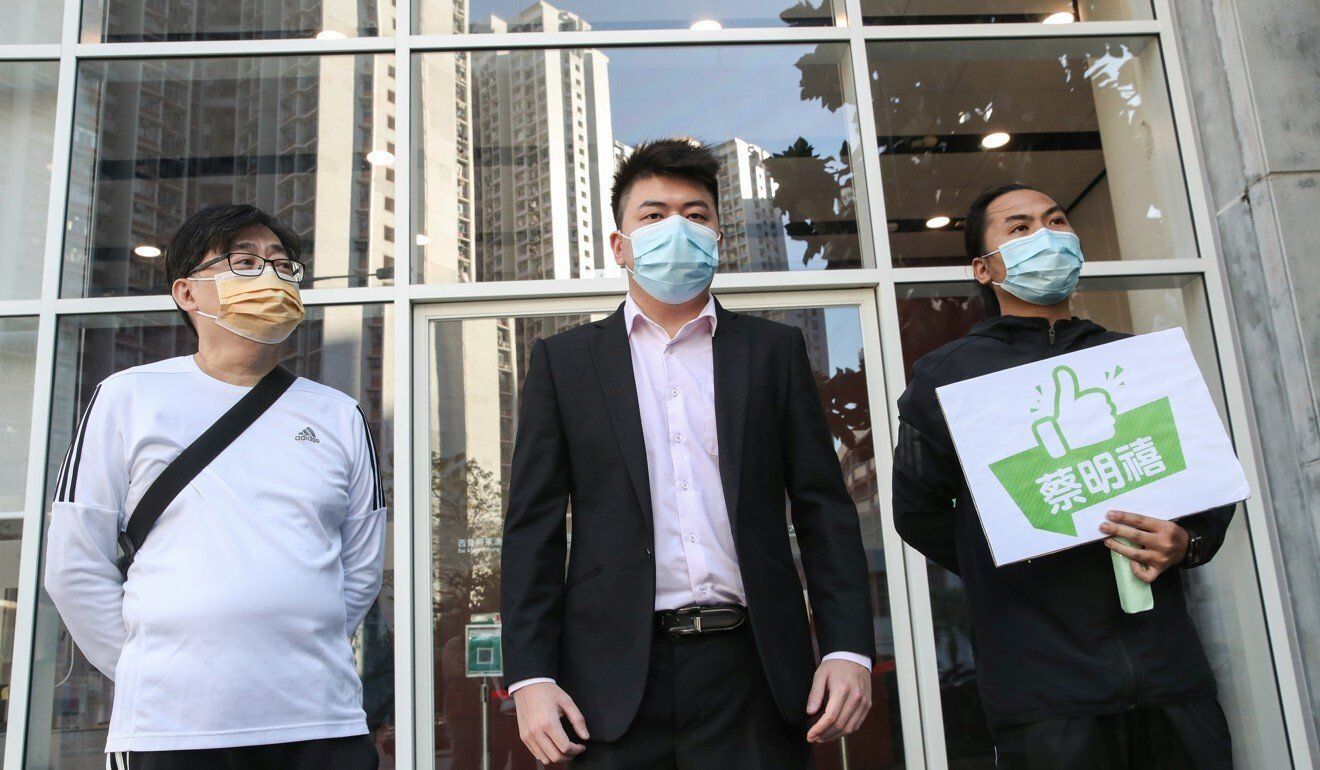 Pro-democracy Sai Kung District Council vice-chairman Daryl Choi (centre) meets the media after submitting his candidacy for the Legco election.

Lawyer Angela Ho Man-kay and Kwok Chun-sing – from the recycling industry – were among those who nominated Wong.

Separately, Daryl Choi, a former member of the opposition Civic Party, also signed up to compete for a directly elected seat in the New Territories South East constituency.

Choi said it had taken a lot of time to "persuade the [Election Committee] members to nominate me", and refused to disclose how he managed to secure enough nominations or who had done so.

"I understand that some pro-democracy colleagues had wanted to boycott the election," he said. "But my stance is that I will not give up any chance that can make the pro-democracy voice, the people's voice, be heard in Legco."

Asked if he had been persuaded by people connected to Beijing to run, Choi said it was his choice and denied "contacting the central government liaison office" for help.

Choi said it was too early to say if he would join forces with other pro-democracy candidates in the future in their campaigning, and pointed to political differences between himself and Path of Democracy and Third Side.

He would not speculate on whether he would pass the government's candidate-vetting process, but pointed out that he had served on Sai Kung District Council since last year, and his oath of allegiance was also validated last month.

After revealing his candidacy, Koon was asked how he planned to handle any possible conflict between the central government and the Anglican Church. "Communication is the most important thing," he said. "I have a responsibility to safeguard religious rights."

Koon caught the media's attention last year after stepping in to help murder suspect Chan Tong-kai, the only person wanted for questioning over the death of his girlfriend in Taiwan. Chan's case prompted the government to propose its ill-fated extradition bill that ultimately sparked the civil unrest in 2019.

Former Law Society president Ambrose Lam San-keung also signed up for the legal functional constituency seat, which has been held by the pro-democracy bloc since the city's handover.

Lam was pressured into resigning from the society via a no-confidence vote during his term in 2014 for remarks he made praising the Communist Party.

Overall, 14 hopefuls put forward their election bids on Monday, bringing to 111 the total number of applications the electoral authorities have received since the nomination period opened on October 30.

Of them, four were for seats in geographical constituencies and five for functional constituencies.

Five signed up to compete in the Election Committee constituency. They included incumbent legislator Paul Tse Wai-chun; Wendy Hong Wen of New World Development's public affairs and research unit; and Tu Haiming, a popular columnist and commentator for pro-Beijing media in Hong Kong and also the head of Hong Kong New Era Development Think Tank. Tu is also a delegate to the Chinese People's Political Consultative Conference.