Chief Executive Carrie Lam reminds residents to observe social distancing, test themselves as more people venture outside amid recent good weather.
The government will announce further details this week on easing social-distancing rules, Hong Kong's leader has revealed, as the daily number of Covid-19 cases fell to a nearly two-month low.

Chief Executive Carrie Lam Cheng Yuet-ngor on Sunday said authorities would soon provide more information on relaxing the restrictions, as well as the arrangements for resuming in-person classes, including whether students would need to undergo daily rapid antigen tests (RAT).

"The weather is good during the weekend," she said. "As we can see, there were more people on the streets compared to the previous weeks. I hope residents can observe social distancing and test themselves frequently."

Hong Kong on Sunday confirmed 1,921 coronavirus cases, of which 1,033 were uncovered using RAT and the remaining 888 were detected by polymerase chain reaction (PCR) tests. Of the latest cases, 18 were imported. Sunday's caseload was the lowest since February 15, when the city reported 1,619 infections.

Health officials also reported 65 Covid-related deaths, including 12 backlogged fatalities.

One of the backlogged deaths included a 31-year-old male who received two jabs and sought medical treatment at a private hospital in mid-October last year after suffering from a fever and chest discomfort. He was diagnosed with pericardial myocarditis.

The man collapsed in his home in March this year, and could not be resuscitated by medical staff. A forensic investigation revealed that he had tested positive for the virus.

The city's overall tally of infections since the pandemic began stood at 1,190,183, with 8,770 related fatalities.

Dr Albert Au Ka-wing of the Centre for Health Protection said about 2,200 new infections were logged via the government's online RAT self-reporting platform on Friday and Saturday, the first two days of the city's voluntary mass testing campaign.

"These are preliminary figures, as people who report their infections on the platform are given 24 hours to upload a picture of their identity card and test result, so we expect there will be some backlog," he said. "We believe the number will increase in the next few days."

Meanwhile, an analysis of about 103,000 Covid-19 patients under the age of 18 found that 48 were either serious or critical cases, of which 30 were between the ages of three and 17.

There were eight serious cases per 10,000 infections among the unvaccinated members of the group, two for those who had received one dose of a Covid-19 vaccine, and one case among those who had taken two shots.

Lam also revealed that 6,000 households would soon be able to move into three recently completed public housing blocks and two transitional housing projects currently serving as isolation facilities for coronavirus patients.

The housing complexes would open to residents after the government had completed a review of the supply and occupancy of rooms for quarantine, she said, with more details to be provided this week.

On Friday, the city launched a voluntary mass testing exercise to cut off hidden transmission chains in the community, with residents urged to screen themselves over three days using RAT kits distributed by the government.

The initiative led to an increase in the number of reported infections on its first day, despite a recent downward trend in daily coronavirus cases.

Lam also noted that the ratio of asymptomatic to symptomatic patients had flipped, going from 30 per cent and 70 per cent, respectively, to 70 per cent and 30 per cent.

Authorities would provide a detailed evaluation of the voluntary exercise on Tuesday after they collected data from Sunday, she said.

Lam added there was no estimation for the number of residents who had taken part in the scheme as it was entirely voluntary.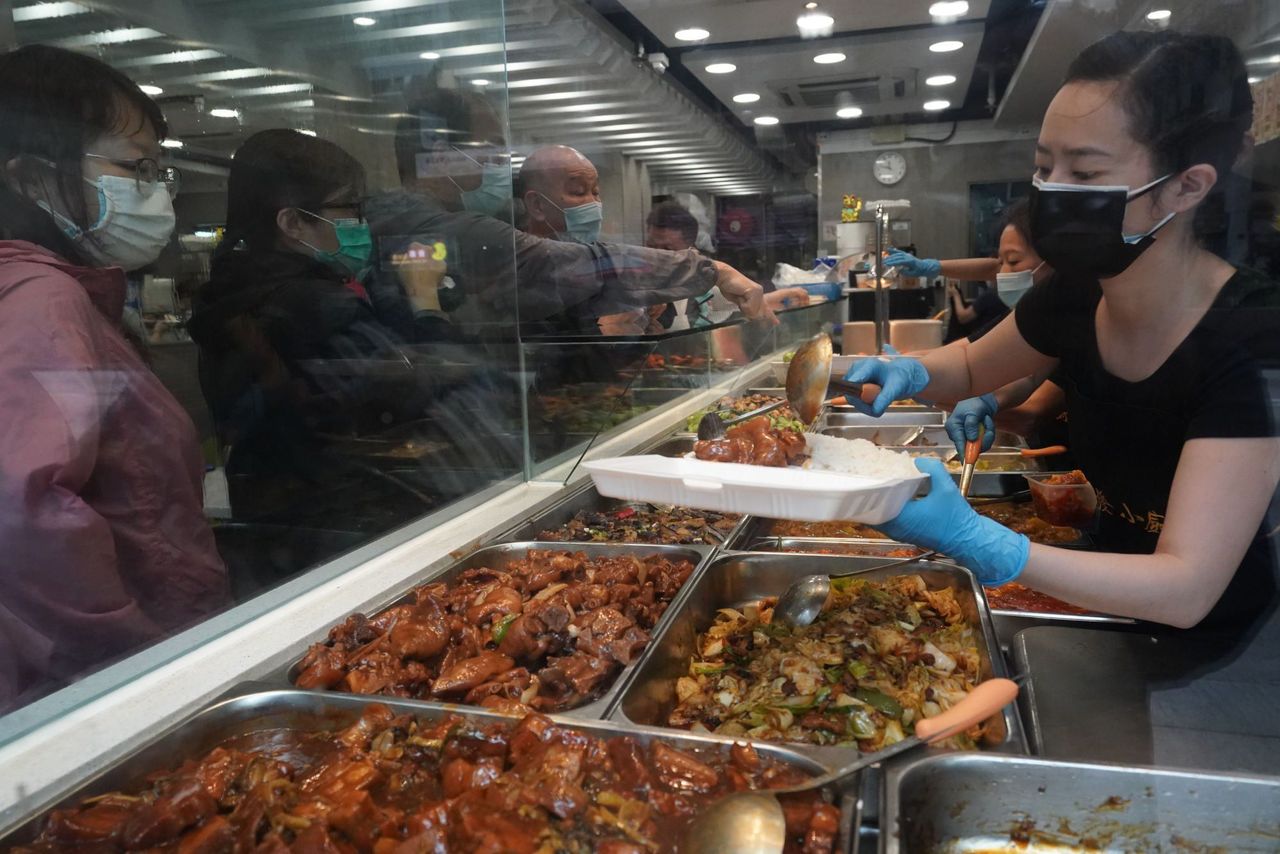 City leader Carrie Lam has said the results of a voluntary testing drive were unlikely to affect plans to ease social-distancing measures.

"It's not a question of whether we are competent or not by definition, an exercise of this nature will not be able to come up with this figure," she said.

"Before we commenced [the scheme], many people warned us we would see a surge in cases, so we needed to be prepared … and we did make full preparations for a surge," she said. "But as it turned out, the figures from the first day do not indicate this surge."

With the number of cases on a downward trend, Lam assured residents that plans to ease social-distancing measures were unlikely to be affected by the results of the testing drive.

But she also said it was unlikely that schools would be included in the vaccine pass arrangement or that students would need to be inoculated to resume in-person classes. It was important for them to return to classes for the sake of their well-being, she said.

Under the vaccine pass introduced on February 24, those aged 12 and above must provide proof of inoculation when entering government venues and 23 other types of premises, including restaurants, shopping centres, wet markets and supermarkets.

But Lam again hinted on Sunday that RAT would be a prerequisite to enter some premises and take part in activities when social-distancing measures were relaxed. She had earlier said the voluntary mass testing would be a "warm-up exercise" for future RAT use.

"It will be announced later that RAT will be used to ensure that schools are a safe learning environment for students," Lam said. "In terms of social-distancing measures, if you want to take part in an activity, such as a local tour group, the rules will be more relaxed if everyone is willing to take a rapid test before boarding a tour bus or cruise."

Government pandemic adviser Professor Yuen Kwok-yung suggested allowing residents who were ineligible for the scheme to enter restricted places if they had tested negative for Covid-19 or had recovered from the disease.

"The vaccine pass allows you to go to eateries, entertainment facilities, public premises, workplace and schools. People who are not eligible should take a self-financed test before going to those places or have a certification of recovery," he said.

He suggested the Hospital Authority resume normal services as soon as possible now that the daily caseload had dropped so that non-Covid patients were no longer "unduly harmed" as a result of the disruptions.

During the press conference on Sunday, Lam refused to comment on whether she supported former No 2 official John Lee Ka-chiu's bid for the leadership race, saying her role was to ensure the election ran smoothly and fairly.

The city leader added she had not received any word from Beijing regarding the selection of an acting chief secretary to take Lee's place following his resignation.