Thousands of disciplined services personnel including special constables to help police ensure December 19 election passes safely.
Hong Kong will be on high alert for "lone-wolf" terrorist attacks and other potential disturbances at polling stations in the coming Legislative Council election, the security secretary has said.

Chris Tang Ping-keung's warning on Friday followed a police pledge to deploy more than 10,000 officers on election day to ensure voting ran smoothly and safely.

Tang said those officers would be supported by thousands of disciplined services personnel including special constables who would be standing guard at the city's 620 polling stations on December 19.

Special constables have been drawn from the five disciplined services since late 2019, when they were called on to help the force handle the anti-government protests of that year. Quick response police teams would also be on close standby to deal with any emergencies.

Tang said the government was monitoring the potential threat of election day criminality.

"The risks include lone-wolf terrorist attacks or local terrorist groups like Returning Valiant," he said, referring to the pro-independence group, seven members of which were previously charged over an alleged plot to bomb parts of the city.

"We must guard against all these. Other activities that interrupt the election include interrupting or besieging poll stations."

He added the force had stepped up intelligence-gathering and cyber patrols, and would take action against those who committed or encouraged illegal acts.

"Suspicious persons would be stopped and searched in risky or strategic places so as to prevent lone-wolf attacks," Tang added.

He was recalling an attack on July 1 this year when a lone assailant stabbed a police officer in Causeway Bay, before killing himself.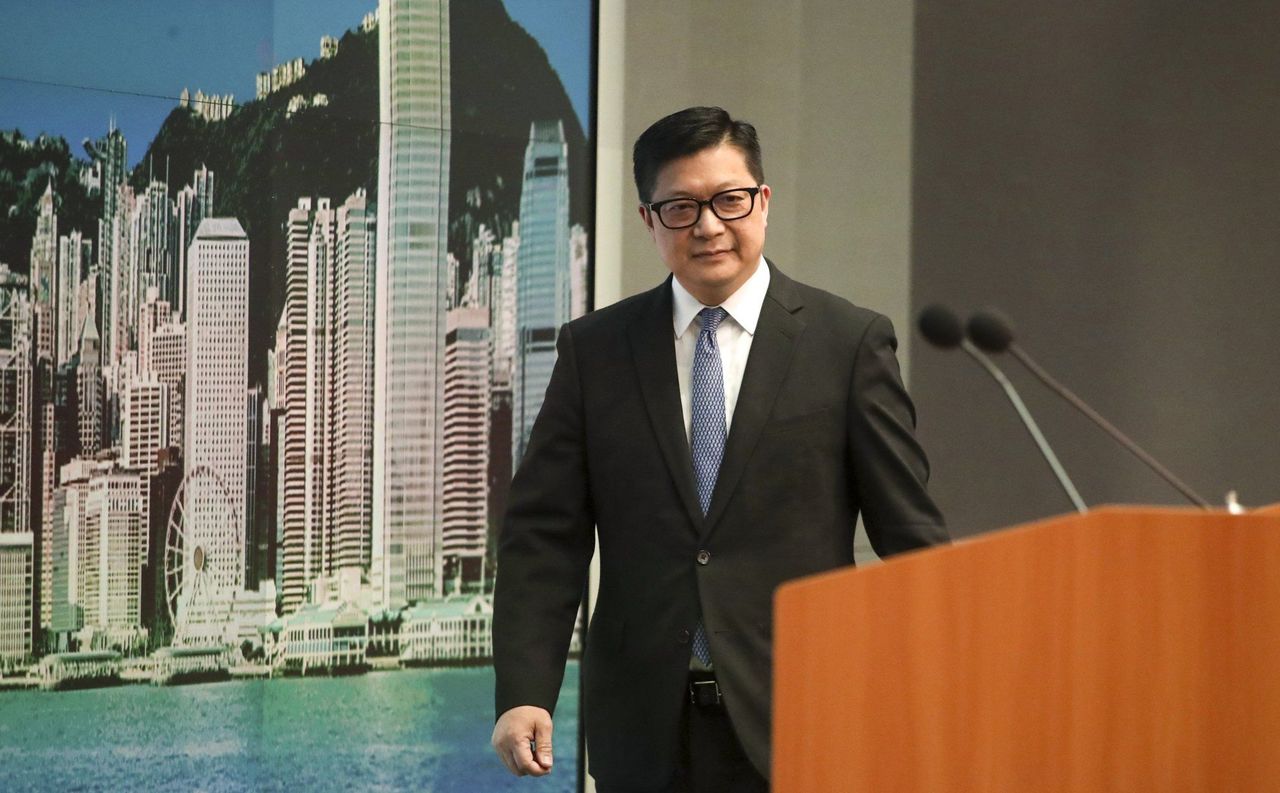 Secretary for Security Chris Tang.

Last Saturday, Police Commissioner Raymond Siu Chak-yee said a large number of plain-clothes officers would be deployed on election day to detect and prevent any attempts to disturb proceedings and cause trouble.

Members of special police units such as the counter terrorism team also stand ready to stop any acts leading to serious disturbances.

Some 620 ordinary polling stations are set to serve the city's 4.47 million-strong electorate, with 38,000 civil servants performing electoral duties at various locations. Ballot boxes will be sent to the central counting station at the Hong Kong Convention and Exhibition Centre in Wan Chai.

There would be about 7,000 disciplined services members on duty at polling stations, Tang said, although he did not specify the number of special constables.

Separately, the security chief said he supported the government's culling strategy for managing the wild boar population.

The Agriculture, Fisheries and Conservation Department revealed last month that it would start regularly catching and euthanising boars found in urban areas.

"It is OK that the wild boars live on the hills where they found their home. But they are not pets," Tang said.

"They attack Hong Kong residents in urban areas. They are not the cute little fat piggies you see in cartoons."

Authorities recorded only three wild boar attacks in 2020 but the number jumped to 18 in the first 11 months of this year, Tang said, with seven occurring in November alone.

He also questioned an animal rights group that urged the government to consider wild boars in the urban planning process.

"How could we include in urban planning something that bites Hong Kong residents? Shall we put mice in urban planning too? I think [the idea] is strange."