Preliminary-positive case is a 42-year-old resident of Tsui Ning Garden in Tuen Mun, officials reveal.
Hong Kong has reported its first untraceable local coronavirus case in nearly three months, with officials warning it is likely to be an Omicron infection and may indicate silent transmission chains in the community.

The development on Tuesday came hours after Hong Kong leader Carrie Lam Cheng Yuet-ngor said it was fortunate the city had no untraceable cases despite an outbreak of the Omicron variant. She announced the postponement of a plan to bar unvaccinated people from all restaurants, leisure venues and schools until February 24 to give businesses and residents more time to prepare.

But later in the day, Dr Albert Au Ka-wing of the Centre for Health Protection revealed that a preliminary-positive infection – involving a 42-year-old resident of Tsui Ning Garden in Tuen Mun – appeared to have no links to earlier cases.

"Initial epidemiological research has shown he has not visited any high-risk places or been in contact with other confirmed patients," Au told a press briefing. "It is possible there are silent transmission chains in the community."

The city last reported an unlinked local case on October 8, when a 48-year-old cargo handler was diagnosed with the coronavirus.

A wave of imported infections also pushed the city's overall tally of confirmed cases to 12,761 on Tuesday. Thirty-nine new cases were confirmed, all but three of them imported.

Fewer than 50 people tested preliminary-positive, including one case which triggered an overnight lockdown and mandatory testing at Causeway Tower in Causeway Bay, suggesting a possible local classification if the infection is confirmed on Wednesday.

The 42-year-old Tuen Mun patient, who works in North Point and lives with his wife and daughter, had not visited the Omicron-hit Moon Palace restaurant in the Festival Walk shopping centre in Kowloon Tong or the mall. The restaurant cluster has now grown to six confirmed cases and one preliminary-positive infection. The man, who is unvaccinated, also had no recent travel history outside Hong Kong.

Au said the patient developed a headache and fever on Sunday. He visited a private clinic in Tuen Mun and took a deep-throat saliva test the following day, with a preliminary-positive result returned on Tuesday.

The test also included a positive result for the N501Y and T478K strains, which Au said indicated a high likelihood of Omicron. He had a low viral load at first, meaning he was less infectious, but a hospital test found it had increased, to a "CT value" of 18. Any number below 30 indicates a high degree of infectiousness.

Au said the man had been sent to North Lantau Infection Control Centre for treatment. An overnight lockdown and mandatory testing had also been ordered at his residential block.

"We are now investigating with full force his footprints in the last 21 days, to see if there are any links with other cases … This work is continuing as we have only received this case in the last few hours," the official said.

Health authorities also identified one more infection linked to the restaurant cluster among the preliminary cases. The patient is the 13-year-old daughter of an infected woman who had dined at Moon Palace. Both had earlier been sent to quarantine.

Au also confirmed that a citywide search for six remaining Moon Palace diners had ended after they were found by authorities and had tested negative. They would be sent to the government quarantine site at Penny's Bay.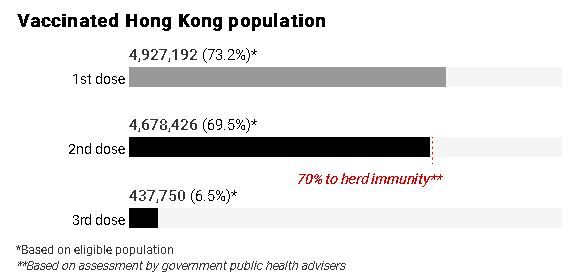 They were the last of 207 diners who had patronised the restaurant on December 27, the same day as an infected Cathay Pacific flight attendant who was found to have breached home isolation rules.

In West Kowloon, the M+ Museum said a preliminary-positive case had visited there on December 30 between 1pm and 4pm, adding it would close on Wednesday as staff had to go for testing.

Government pandemic adviser Professor Yuen Kwok-yung, meanwhile, said after an inspection and testing at Moon Palace on Tuesday that he did not support a rush to reimpose drastic social-distancing measures despite the untraceable case.

"We have to work that out slowly," he said, pointing out that many aircrew members lived in Tuen Mun. At least two patients linked to the cluster stay in the district.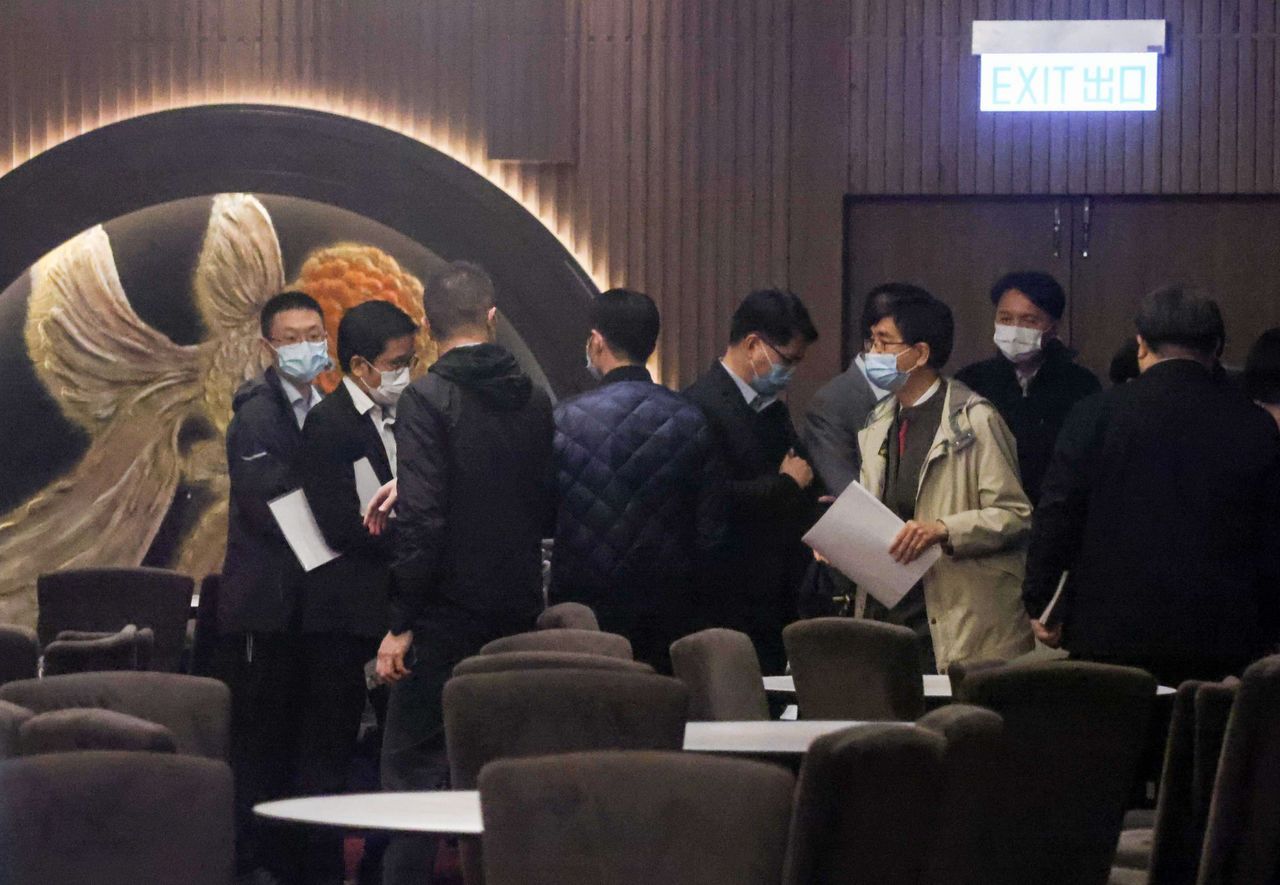 Professor Yuen Kwok-yung (in light-coloured jacket) inspects the Moon Palace restaurant.

Yuen said air current tests conducted with smoke showed his earlier theory of airborne transmission remained the most likely explanation for the super-spreading event.

He said air flowed from the restaurant entrance to the rear, and exited through the kitchen. That meant virus particles exhaled by the maskless flight attendant, who was seated near the entrance, travelled through "cracks in the partitions" and even infected patrons seated far away at the back of VIP rooms.

Yuen also suspected an "air balancing" problem, as air purifying machines were installed near the ceiling – 4.1 metres high – meaning the ground level was not being provided with adequate air change.

Despite those flaws, Yuen said the many precautions taken by the restaurant including separate staff for serving meals and cleaning dirty tables had meant indirect transmission through environmental contamination such as water bottles was unlikely.

Yuen said such measures had kept the infection rate relatively low, at about 2 per cent, or six out of 207 patrons, compared with 30 per cent, or about 40 patients, in a previous super-spreading cluster at Mr Ming's Chinese Dining in the K11 Musea shopping centre in Tsim Sha Tsui.

"Our recommendation is for all Hong Kong citizens, if you are feeling unwell, please don't dine out, because you may be shedding virus which can infect other people," the University of Hong Kong microbiologist said.

"And this is exactly what happened in this case, this aircrew member actually had a headache, and also diarrhoea on the day when he went to this restaurant."

Respiratory disease expert Dr Leung Chi-chiu said the untraceable case was a "dangerous signal" and could spark the beginning of a fifth wave of infections.

"We need to immediately tighten all our social-distancing measures, if we can detect these [new] cases and introduce social-distancing measures early, we can minimise transmissions," he said.

Another government adviser, Professor David Hui Shu-cheong, also warned of possible clusters forming in Tuen Mun, but authorities needed time to complete genome sequencing and investigate the case first.

"If we can explain the chain of infection, then it's not so worrying. But on the other hand, if it's a totally unexplained community outbreak, then it's very worrisome," Hui said.

Both Leung and Hui said schools might need to close and people would have to work from home as much as possible if the situation worsened.

In her morning remarks, Chief Executive Carrie Lam stressed there were no plans yet to further tighten social-distancing rules or suspend school operations. She said compulsory testing and other anti-pandemic measures had been effective so far.

Dr Gilman Siu Kit-hang, associate professor at Polytechnic University's health, technology and informatics department, said Omicron infected and multiplied 70 times faster than the Delta variant, and the median incubation period was three days. Delta was four to five days.

"Covid-19 testing for arrivals or others should be done more regularly, almost every day, as Omicron is highly transmissive," Siu told a radio show. "But the authorities can consider shortening the quarantine period from the current 21 days to 14 days, considering the Omicron variant usually can develop within seven days."