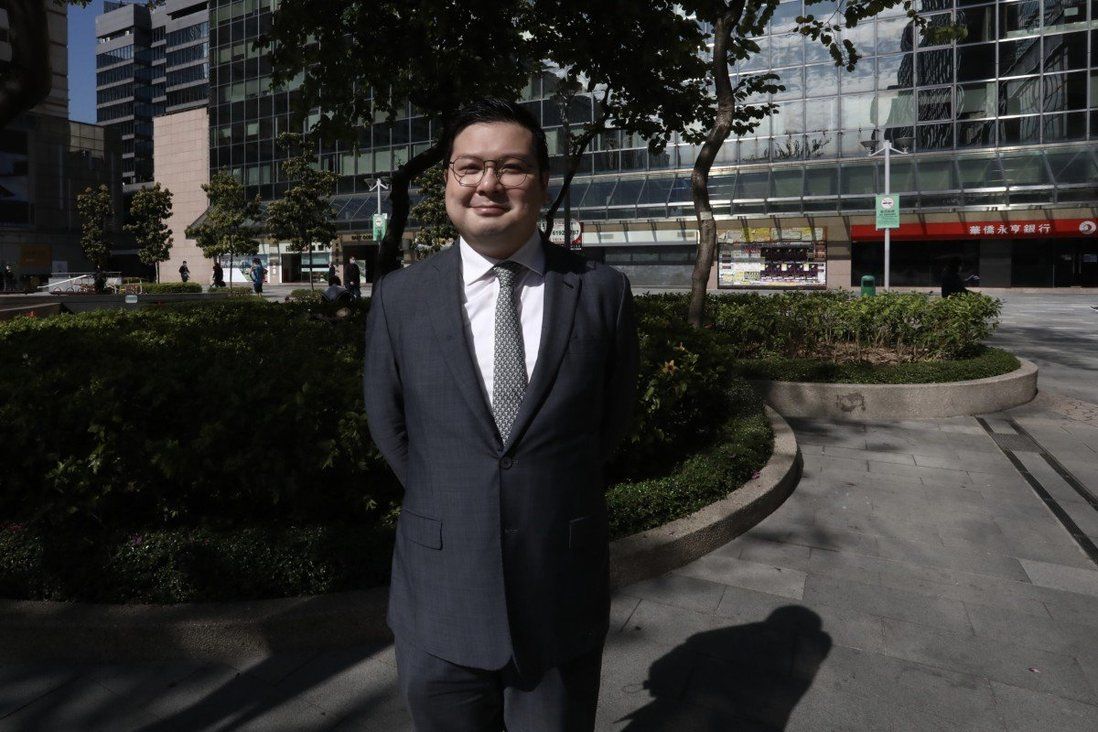 Hong Kong elections: officials not decisive, tough enough to fix housing woes, says 'underdog' Legco candidate Howard Chao
Tycoon's son, 38, wants to fix perception that developers are to blame for city's housing crisis.
The Hong Kong Legislative Council's sole seat for the real estate and construction sector will be contested for the first time in 17 years, with two candidates vying to reflect the interests of the city's powerful property tycoons. Shamed by state media for hoarding land and blamed for the city's sky-high home prices, the tycoons have seen their influence diminished under Beijing's overhaul of Hong Kong's electoral system.

In the first of a four-part series on this month's election, the Post interviewed both candidates, who go before 463 corporate voters in their sector, one of 28 functional constituencies that will send 30 lawmakers to the 90-member Legco. Louis Loong Hon-biu, 70, chief administrator of an alliance of developers, faces Howard Chao, 38, scion of a colourful real estate family. The winner will replace pro-establishment businessman Abraham Razack, 76, who held the seat for 21 years but was told of Beijing's preference that he did not seek re-election in the December 19 poll.

Howard Chao's political ambitions have drawn less attention than the lifestyle of his flamboyant father, playboy property tycoon Cecil Chao Sze-tsung, who claims to have dated more than 10,000 women.

But the 38-year-old has been preparing his run for office for years.

Tired of seeing developers blamed for Hong Kong's shortage of homes and sky-high property prices, he said he hoped to reduce the stigma, unify the industry, and rebuild trust with the public and Beijing if elected.

"There have been misunderstandings that we are against public housing. We have been demonised and blamed for pushing up prices," he said. "The Hong Kong government is partly to blame. It's not decisive or tough enough to provide more housing."

Chao was 22 when he joined his father's Cheuk Nang Group and cut his teeth there before setting up Maximus Capital, a real estate investment company that acquired old buildings to redevelop.

Four years after laying the foundation of his own business as managing director, he began assisting Liberal Party lawmaker Peter Shiu Ka-fai in 2016, to familiarise himself with the workings of the Legislative Council.

"Over the past five years, I attended public hearings, reviewed consultation papers and policies related to housing, land supply and construction," he told the Post.

"A lot of lawmakers made us a scapegoat and attributed the housing shortage to the so-called 'monopoly' of our sector. I hope to go back to the chamber one day and tell people we are not the ones who caused these woes."

With Beijing's overhaul of Hong Kong's electoral system and new rules for securing nomination as a candidate, getting a ticket to join the race was not easy, especially for someone regarded as an underdog.

Chao failed to get the support of the city's biggest property tycoons or the man he described as his mentor, veteran lawmaker Abraham Razack, who opened the way for a contest by not seeking re-election. They backed his opponent, Louis Loong Hon-biu, 70.

Instead, Chao quit the Liberal Party to pitch his independence, and turned to constituents among the sector's 463 corporate voters who have felt under-represented for years.

Those who backed him to run included Hong Kong Construction Association president Eddie Lam Kin-wai, Asian Growth Properties CEO Lincoln Lu, medium-sized developers Hip Shing Hong and Liu Chong Hing Investment, and construction companies Chun Wo Development, Kumshing and Fung Cheung Kee Group.

Chao has vowed to work towards stabilising the supply and prices of construction materials from mainland China through negotiation, banking on his position as a committee member of the Chinese General Chamber of Commerce and the Chinese People's Political Consultative Conference of Chongqing.

In the meantime, he said, the city's developers and construction companies could come together to help those who could not afford homes by setting up "a developers' fund or a charity to ease the suffering of the people".

To increase land supply in the medium term, he suggested simplifying procedures for building plans and converting more vacant industrial housing or government properties into temporary housing.

But he was against penalising developers for hoarding unsold new units. The number of unsold new homes rose to 12,000 even as prices surged to an all time-high in July.

In 2018, the government proposed a vacancy tax on developers who held on to unsold units, but it was shelved last year.

Opposing its revival, Chao said such a tax would only distort the market and not help much in releasing homes.

"Some will no longer want to invest. Is that something the government wants to see? I don't think so," he said.