'I noticed that the relevant arrangements [have been] welcomed by various groups both locally and overseas,' Paul Chan said on his blog.
Health authorities are expecting a surge of imported Covid-19 cases as more people arrive in Hong Kong following the relaxation of quarantine rules, a change that has left many travellers confused over testing schedules and complaining of delayed updates to their health status.

But Financial Secretary Paul Chan Mo-po remained confident on Sunday the eased quarantine regime would boost the economy, even as the outlook for growth was likely to remain "not ideal" for the second half of the year.

The new "3+4" quarantine arrangement, under which arrivals spend three days at a designated hotel and four at home, would allow economic activity to "regain vitality", Chan said on his official blog.

"I noticed that the relevant arrangements have been welcomed by various groups both locally and overseas," he wrote. "They believe that it will reduce inconvenience for visitors to Hong Kong and have a positive effect on the economy."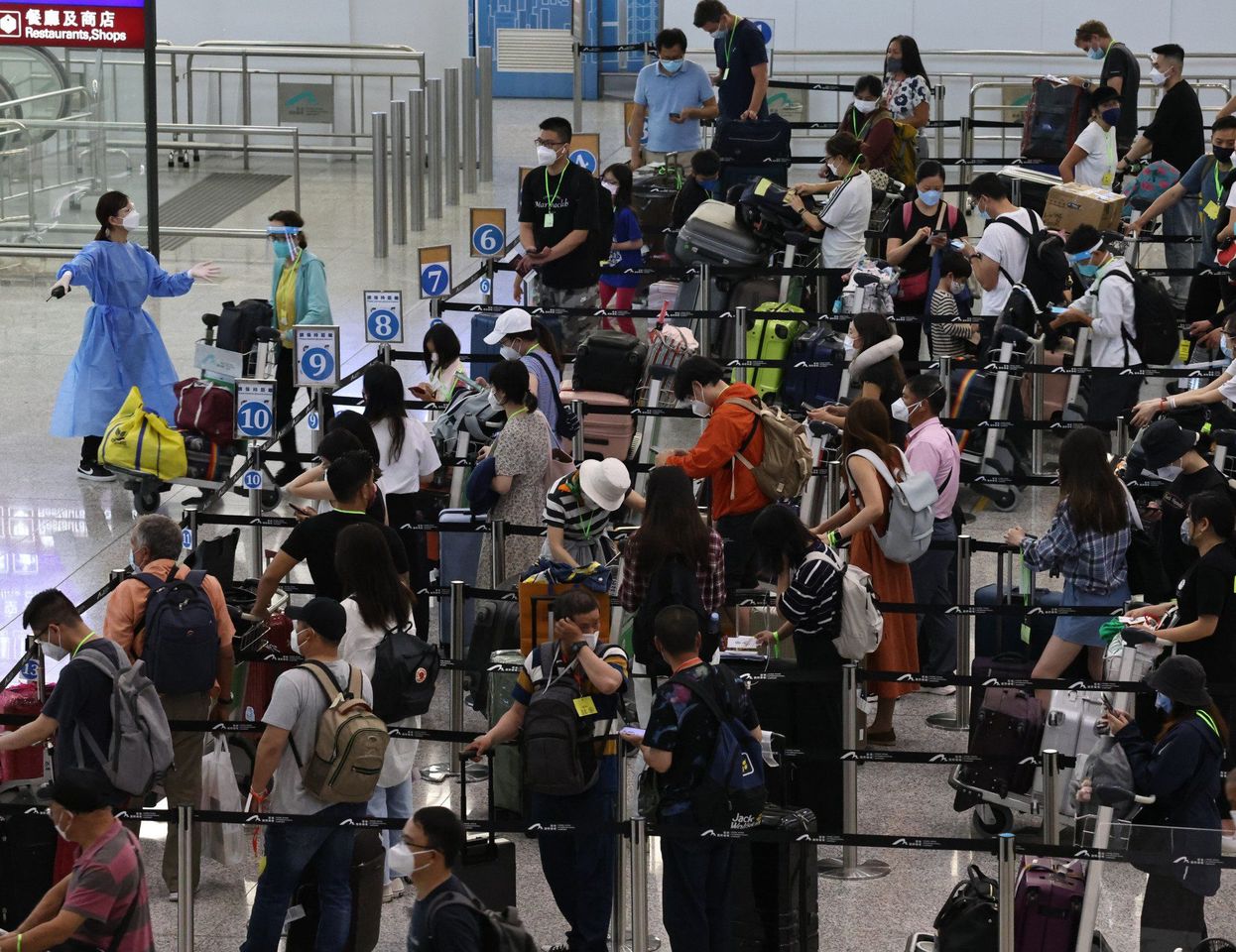 Travellers arrive at Hong Kong International Airport.

Health authorities on Sunday confirmed 4,979 new Covid-19 cases, 215 of which were imported, along with three more virus-related deaths.

Dr Chuang Shuk-kwan, head of the Centre for Health Protection's communicable diseases branch, said 22 of the new cases concerned travellers whose infection was discovered during the home medical surveillance period. She warned imported cases could increase in the near future.

"There are more spots in quarantine hotels due to the shortened quarantine period. More people will be able to enter Hong Kong … then there will be more imported cases but that is expected," she said.

Arrivals undergoing medical surveillance at home are given an amber QR code through the government's "Leave Home Safe" app limiting their movement, part of a new system implemented on Friday alongside the relaxed quarantine arrangements. Infected patients receive a red code.

Some arrivals complained to the Post about multiple hiccups they encountered, including delayed checkouts at their quarantine hotel and problems with their amber codes.

A 22-year-old Indonesian student, who gave her name as Cherry, said she only received a call from the front desk to check out at around 1pm on Sunday, four hours after the government's deadline. She arrived from Singapore last Thursday with her younger sister to help her settle into university.

Cherry called the hotel's reception twice, once at 10am and again at 12pm, but the staff members simply told her to wait without elaborating further.

"[I was wondering] why am I not getting calls," she said. "Is there something wrong?"

She also complained that the requirement to undergo several polymerase chain reaction (PCR) tests after quarantine "very troublesome", arguing that taking a rapid antigen test (RAT) daily was adequate.

Under the new arrangements, travellers must take a total of 10 rapid tests on their own and five PCR tests at the airport, their hotel and community centres during their first 10 days of arrival.

But Corinna Yap, who arrived from Singapore on August 5, said she would rather fulfil the testing requirements than undergo the longer quarantine at hotel that authorities previously required.

The worker in wellness and hospitality admitted she was confused about when she should do a PCR test as the government had changed the schedule of days. Prior to August 12, Day 1 was counted as the arrival day, but following the quarantine adjustment that was now counted as Day Zero.

"It is good that quarantine is shorter, and we must be patient with the bedding period rather than get frustrated, but the government should get it all working and instructions clear before setting it down," the 47-year-old resident said.

One couple who arrived from Toronto on August 6 said they ran into difficulties with the health codes after completing their medical surveillance on Saturday.

The husband opened the "Leave Home Safe" app and found the QR code had changed from amber to blue, meaning he was allowed to go out and take part in maskless activities. But the same was not true for his wife, who had to delete the app, reinstall it and upload her vaccination record before her QR code turned blue.

"On the whole, people generally feel quite confused about the change of code issues," he said. "I think the government should provide more detailed guidelines and steps."

On the economy, financial minister Chan noted the government on Friday had downgraded its full-year forecast from 1-2 per cent expansion to between 0.5 per cent growth and 0.5 per cent contraction on the back of a worsening external trade environment.

Chan said that although the outlook was likely to remain gloomy for the second half of 2022, given the economy had already shrank by 2.6 per cent year on year in the first six months, the situation should improve slightly for the rest of the year.

"Of course, the actual situation depends on external changes and the local epidemic situation," he said, adding that an increase in interest rates and the global economy could affect the city's recovery.

Business groups have expressed pessimism over the return of company executives any time soon, arguing arrivals will not increase by much until quarantine is scrapped altogether.

Johannes Hack, president of the German Chamber of Commerce Hong Kong, said the new quarantine adjustment was better for residents and their visiting dependants, even with the current glitches.

"Regarding business, the uniform feedback I'm getting is that until quarantine and testing on arrival are abolished there will be very limited business travel from Hong Kong to other places and back and essentially no travel from outside Hong Kong to the city," he said. "For non-residents, until they can travel freely and without the risk of being isolated here, Hong Kong will only be on the map for unavoidable travel."

The city's Covid-19 tally stands at 1,417,022 cases, with 9,565 related fatalities.