Erick Tsang writes second letter of complaint to New York-based daily demanding the correction of 'inaccuracies' about Hong Kong.
Hong Kong's constitutional affairs minister has blasted The Wall Street Journal over an editorial describing Sunday's legislative election as a "sham poll", accusing the newspaper of "arrogance which knows no bounds".

In his second strongly worded letter of complaint to its editor in a month, Erick Tsang Kwok-wai again demanded the New York-based international daily correct the "inaccuracies".

"I am sickened by your biased and unsubstantiated editorials on Hong Kong issues and have given up hope that you will ever try to report accurately and fairly on Hong Kong," Tsang said in a letter dated Thursday.

The opinion piece titled "Democracy Boycott in Hong Kong" was published on Monday, within hours of voting closing for the first citywide poll since Beijing's overhaul of the electoral system.

The newspaper described the Legislative Council election as "a sham poll in which democratic candidates were blocked from running", adding that "all candidates must receive Communist Party approval".

Pro-Beijing candidates swept all of Legco's 90 seats except the one taken by Tik Chi-yuen, the former vice-chairman of the Democratic Party who now leads the centrist outfit Third Side.

A key element of Beijing's reforms was the establishment of a powerful vetting committee to ensure candidates were "patriots" and posed no threat to national security.

None of the major opposition parties fielded any candidates for the first time since the city's return to China in 1997.

In his letter, the minister named three candidates running for directly elected seats who he said had been described locally as coming from the "democratic" or "opposition" camp. He also noted that Tik, one of the centrists, triumphed in the social welfare functional constituency.

"So how could you say they were blocked from running in the election?" he wrote.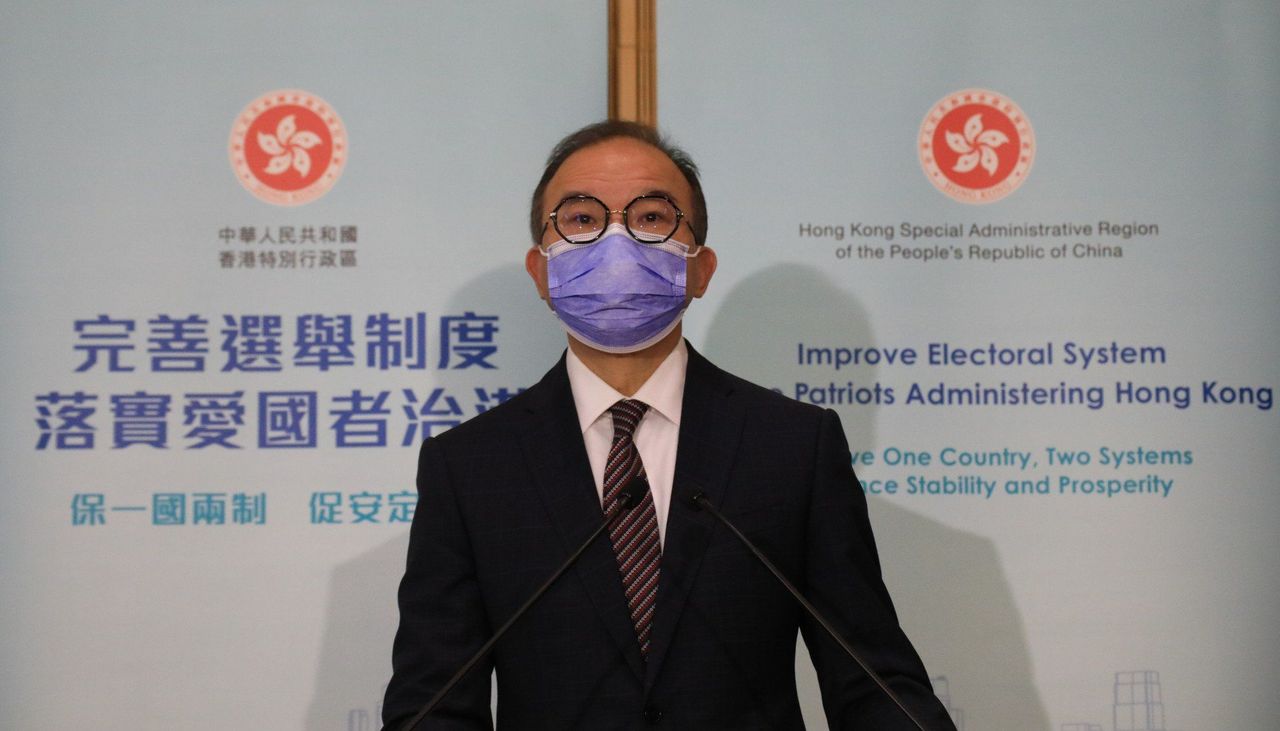 Secretary for Constitutional and Mainland Affairs Erick Tsang.

He went on to compare the poll's 30.2 per cent turnout – the lowest since Hong Kong's 1997 return to China – to the 23 per cent recorded in the recent New York mayoral contest and the 33.3 per cent of this year's French regional elections.

"Following the logic of your argument, would you also suggest that 'almost nobody came to the election' in those two elections?" Tsang asked.

Referring to a line in the editorial which said the newspaper "seems to have a better feel for Hong Kong public sentiment than the government does", the minister wrote: "I wonder how many times you have visited our city for you to be able to make such a claim. I am stunned by your arrogance which knows no bounds."

Tsang's second letter also mentioned Beijing's white paper, released the day after the poll, which renewed its pledge to pursue the ultimate goal of electing the city leader and legislature by universal suffrage.

He suggested foreign countries would be unhappy to see their "hypocrisy and ulterior motives being exposed by the white paper", and their attempts to turn Hong Kong into a de-facto independent or semi-independent political entity consigned to failure.

Earlier this month, Tsang threatened to "take necessary action" against the newspaper over an editorial he claimed incited residents to boycott the election or cast protest votes.

An opinion piece the following day disputed Tsang's December 6 letter and said he "seemed oblivious to the irony" when he stated that Hong Kong upheld freedom of speech, the press and publication.