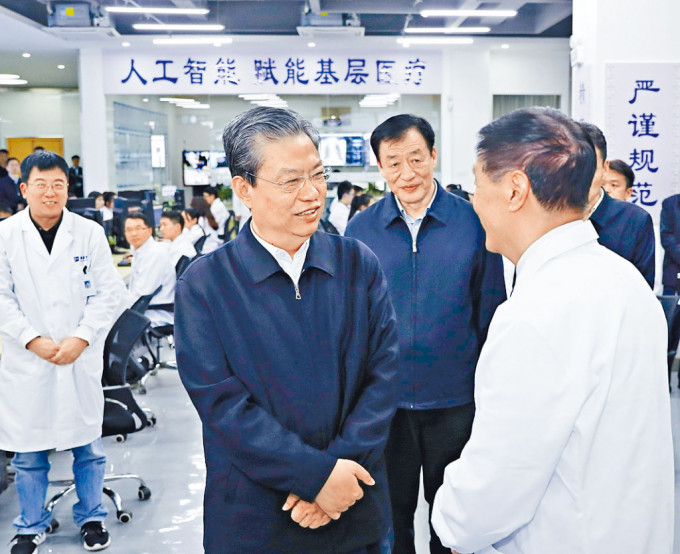 Hong Kong NPC deputies greeted by presidium chairman Zhao Leji
A delegation of Hong Kong deputies to the National People's Congress was reminded to implement the "one country, two systems" principle to the full extent as they greeted Zhao Leji, executive chairman of the NPC presidium in Beijing on Tuesday.
The meeting lasted for about an hour, according to legislator Brave Chan Yung, who was also the spokesman of the delegation. They were joined by the Chinese liaison office's chief Zheng Yanxiong and Hong Kong and Macau Affairs Office's director Xia Baolong as well.

The delegation's head Ma Fung-kwok said Zhao, also a Standing Committee member of the Politburo spoke of three hopes. They are to preserve tradition and strive for innovation; to execute the "one country, two systems" principle comprehensively and accurately; and to garner all the strength the city can to march forward.

Zhao pointed out that the new cabinet of 36 Hong Kong deputies to the NPC, elected just last December, are the backbone of supporting patriotism and love for Hong Kong.

Zhao added that the Central Government has always prioritized Hong Kong issues in terms of national strategic planning, with the SAR's long-term stability and prosperity as the foundation.

He spoke of four "leaderships" as well, asking the delegates to take the lead to fully understand China's development planning and direction; to safeguard national security and oppose all behaviors that could damage the "one country, two systems" principle; to support the policy administration of the SAR government; and to connect the city to the national development strategies.

When asked if Zhao would be the man who takes charge of all Hong Kong and Macau affairs, Ma said it is still too early to say for sure, explaining that leaders from the Central Government will have to be produced through elections.

Pro-establishment heavyweight Starry Lee Wai-king also said she won't make assumptions and noted that no matter which national leader, they all care for the development of Hong Kong.