Secretary for Health Lo Chung-mau says government must ensure path forward is 'a safe one' and will not 'cause any deaths'.
Hong Kong is not ready to lift all travel restrictions, the city's health minister has warned, arguing that relaxing the rules too soon could lead to a surge in coronavirus cases that would once again overstretch public hospitals.

Secretary for Health Lo Chung-mau on Sunday also said creating "a road map to resume normality" would be difficult as the government needed to remain prepared for the possible emergence of new Covid-19 variants, even as representatives of the catering industry renewed calls for easing pandemic curbs further to avoid more closures and lay-offs.

"The Hong Kong government, as the chief engineer that leads 7 million people in this fight against the pandemic, has to ensure that the road we are walking on is a safe one, that it will not be destroyed or cause any deaths," he told a TV programme.

Daily coronavirus cases fell to their lowest level since July 21 on Sunday, with health authorities logging 3,897 infections, including 117 imported ones, and 10 more deaths.

The recent downward trend prompted health experts on Saturday to suggest authorities should consider scrapping all travel rules if the proportion of imported cases remained below 5 per cent of all infections recorded in the coming few weeks.

But Lo warned that if the number of arrivals rose to roughly 50,000 per day after all travel curbs were removed, the number of new imported infections could reach as high as 1,500. That would increase the risk of community transmission and place an added burden on the city's healthcare system, he added.

"If we changed to zero [restrictions], the number of imported cases may be twice as many, or three, four or even tenfold," Lo said. "There are also a number of new virus variants overseas."

Hong Kong is set to implement a "0+3" entry scheme from Monday, with inbound travellers no longer required to undergo hotel quarantine and just three days of medical surveillance at home or in a hotel room. They will be allowed to attend school or work but cannot enter any premises covered by the vaccine pass arrangement.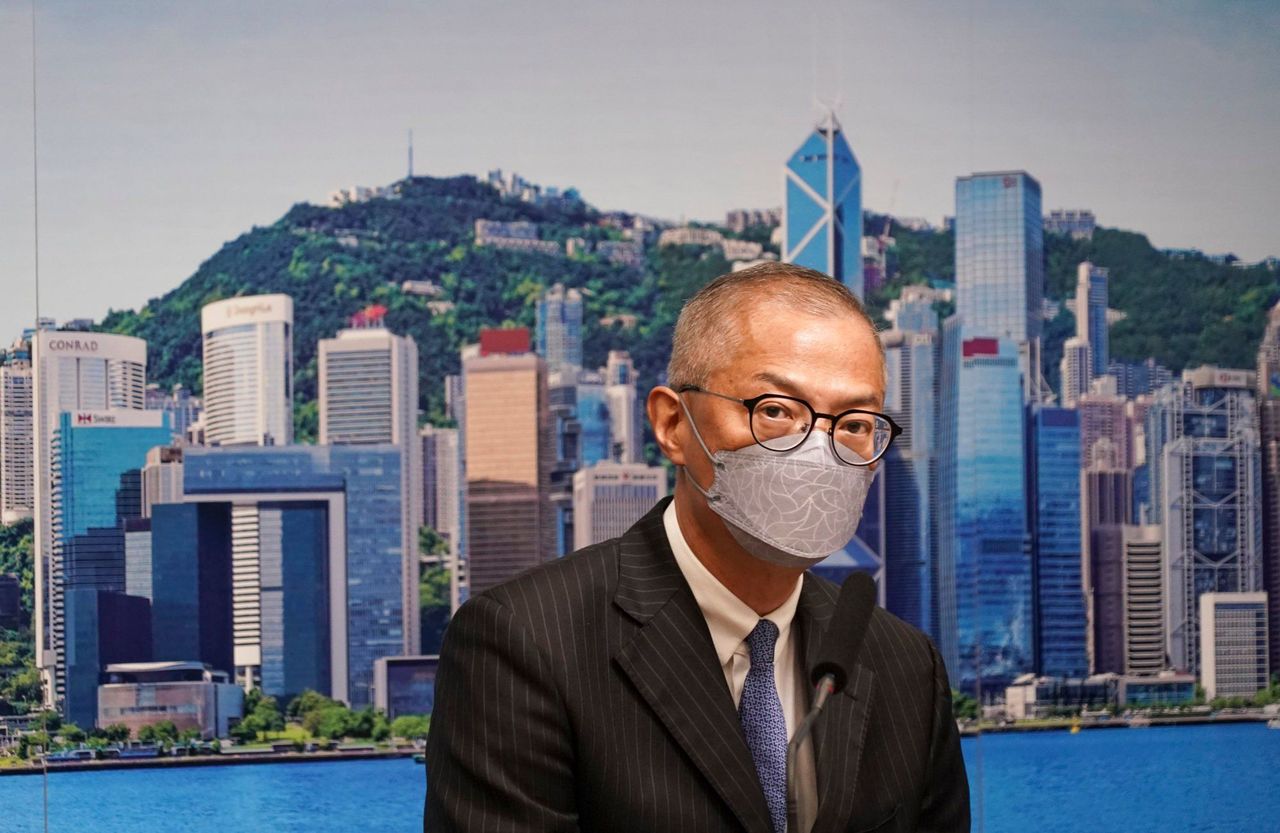 Secretary for Health Lo Chung-mau.

Lo said creating a timeline for fully reopening up to the rest of the world was "not easy", as too many variables would need to be considered and authorities had to protect Hong Kong from a repeat of the fifth coronavirus wave.

Before becoming health minister in February, Lo cautioned that living with the coronavirus would only "lead people to the land of the dead".

Asked whether his stance had shifted with the launch of the "0+3" plan, he said that circumstances had changed from earlier, with the city now boasting a higher vaccination rate, greater epidemic-response capabilities and several improvements to the healthcare system.

"You can ask where those 9,000 people [who died after contracting Covid-19] went. There are indeed a lot of deaths … I do not want to further argue," he said, stressing the government would not "lie flat", a mainland Chinese term for idling.

More than 1,728,000 coronavirus infections and over 9,000 deaths were recorded during the fifth wave of pandemic, which began at the end of December last year.

The health minister also said Hong Kong had not deviated from China's "dynamic-zero" Covid-19 strategy, which aims to contain outbreaks as quickly as possible, adding that easing travel measures did not contradict plans to reopen the border with the mainland.

"Hong Kong's anti-epidemic measures do not have to be identical to that of the mainland. This is not what our country wishes to see," he said.

Separately, Financial Secretary Paul Chan Mo-po said the move to ease travel curbs had been widely welcomed by businesses and residents.

"It is hoped that the society and the economy could be allowed the biggest room to revive and let Hong Kong connect with the world to maintain its competitiveness and minimise the inconvenience to arriving visitors," he wrote on his official blog.

But five catering industry associations issued a joint letter to Chief Executive John Lee Ka-chiu on Sunday calling for an end to social-distancing rules that had undermined business, such as eight people per table and no more than 120 people at banquets.

The groups said the latest cancellation of hotel quarantine would encourage more Hongkongers to travel overseas, especially during the Christmas and New Year holidays, weakening local consumption.

They estimated the outflow of potential customers would greatly outnumber the inflow of tourists, saying: "The catering sector will face another severe winter. The situation will be unprecedentedly acute and will speed up business closures and mass lay-offs."

Speaking to the Post, Simon Wong Ka-wo, president of the Hong Kong Federation of Restaurants and Related Trades, said the catering industry had not been making special preparations for the "0+3" measure, as newly arrived visitors could not enter restaurants due to the amber code.

"Only with a '0+0' plan, we are able to bring back business from overseas and mainland visitors," Wong said, referring to scrapping all limitations.

At Hong Kong International Airport, long queues were seen at check-in counters in the afternoon. One woman traveller in her 30s, who did not give a name, said she was flying to Singapore for business and made a last-minute booking on Friday after the government announced its move.

"I have some clients there and already had plans to go there previously. But it would have been more troublesome without the '0+3' measure," she said.

A 24-year-old woman traveller surnamed Au said she was heading to Australia with her family for a month but had booked the tickets when the city still had a seven-day hotel quarantine requirement.

"Now that it's 0+3, it's already not too bad, since we can go back to our workplace. Although we can't eat at restaurants [for three days], getting takeaway is OK for me, but of course a '0+0' measure is best," Au said.

Even after the new travel rule regime takes effect, aircrew members will still be required to comply with "closed-loop" arrangements during their layover. Although they do not need to undergo hotel or home quarantine upon arrival, they have to take a virus test and wait for a negative result before heading back home.

In a reply to the Post on Sunday, the Transport and Logistics Bureau said the government was reviewing the quarantine arrangements for local aircrew in the light of the latest changes. The bureau said it would inform the aviation sector through the established channel once a decision is made.

The city's overall coronavirus tally stands at 1,745,500 cases and 10,116 related fatalities.