Chief Secretary John Lee suggests 'self-regulation' by media outlets could shape eventual government action, pledges to be mindful of press freedom.
Hong Kong's No 2 official on Saturday said the government was still weighing its options for tackling "fake news", including a law scholars and journalists have warned could stifle press freedom, while the city's police chief blamed it for stirring up hatred towards the force.

New police commissioner Raymond Siu Chak-yee pointed to the July 1 knife attack on an officer, this week's arrest of nine suspects for alleged terrorist activities, and the detainment of others said to have incited attacks on police in highlighting the challenges his men faced.

Siu also took issue with the euphemisation of violence by some internet users and their framing of what he called illegal, cold-blooded acts as heroic, vowing to chase down anyone who broke the law.

"I want to ask everyone why there are many people expressing their hatred online, or even committing serious illegal acts?" Siu said to reporters after a police graduation ceremony.

"There has been too much fake news and false information over the past two years that has made many young people hate the police. Their goal is to make it difficult for the force to enforce the laws."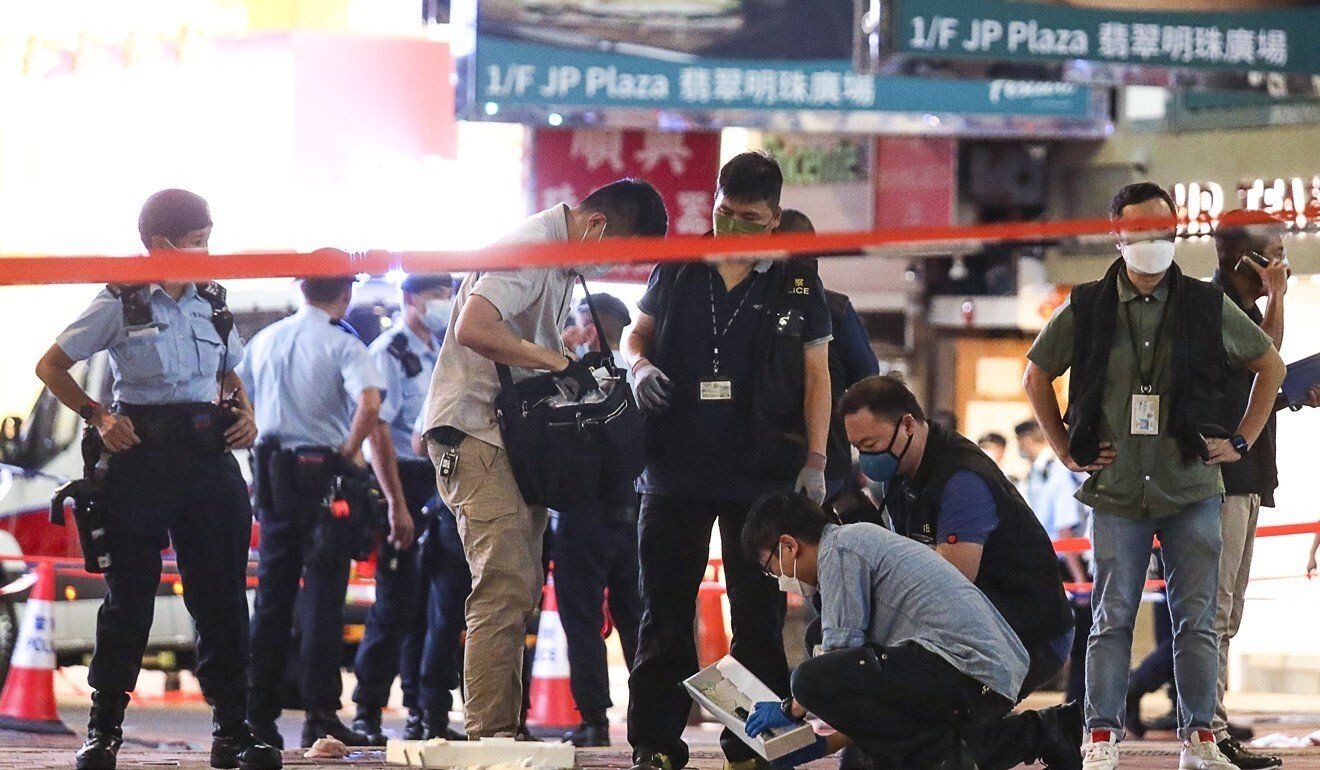 New police commissioner Raymond Siu pointed to the July 1 knife attack on a Hong Kong police officer in condemning what he called 'fake news'.

Chief Executive Carrie Lam Cheng Yuet-ngor first mooted the possibility of a fake news law in February, when she vowed to introduce new legislation to combat the spread of misinformation. Siu's predecessor, Secretary for Security Chris Tang Ping-keung, publicly voiced his support for the idea two months later.

Earlier on Saturday, Chief Secretary John Lee Ka-chiu told a local radio show the government was studying a variety of options for cracking down on the phenomenon, saying they were studying approaches taken by other common-law countries such as requiring that specific topics or messages be pulled from the internet or criminalising behaviour.

"We will take into account information and press freedom as well as the interests of the society during the discussion," Lee said.

"If there has been an overall improvement among the industries themselves, such as if they are willing to set up some self-regulatory rules, we might have more flexibility in how we regulate. We will continue to listen to different opinions."

Communications and legal scholars have previously warned that fake news laws have been frequently misused elsewhere, while journalist unions have urged the government against moves that would curtail press freedom.

Hong Kong Journalists Association chairman Ronson Chan Ron-sing on Saturday noted the two security officials had no journalistic training, while insisting media outlets possessed strong fact-checking abilities.

"They haven't been reporters before … They always frame things as 'fake news', and this news is monitoring them. It's not appropriate for them to keep giving these comments," he said.

"We have very strong fact-checking abilities. Every media outlet does."

He also questioned what Lee meant by "self-regulating", saying the industry had no power to fine or punish those who released incorrect news.

"If it's just a matter of clarifying the facts, when [authorities] release the information, then we will definitely report it … The problem doesn't lie with journalists. It's whether [authorities] are willing to clarify," he said.

Dr Lasse Schuldt, an assistant law professor at Bangkok's Thammasat University who has studied fake news laws in Asia, said the German Network Enforcement Act (NetzDG) of 2017 has been a leading regulatory model for illegal internet content, with many Asian countries, including Cambodia, Malaysia, Singapore and Vietnam adopting at least parts of in their laws.

However, Schuldt made it clear Germany has no criminal provision on fake news. Under that country's model, social media platforms are liable to fines only in cases of systematic non-compliance, and single failure to remove illegal content does not result in financial penalties.

"It is also important to understand that the NetzDG was introduced in Germany, a liberal democracy with a strong protection of free speech. What works there might produce quite different results in a more authoritarian setting … and fake news is not a crime in Germany," he said.

But in justifying the necessity of new regulations, Lee said false information had proliferated since the 2019 anti-government protests, noting the spread of rumours that police officers had beaten protesters to death at the Prince Edward MTR station on August 31 of that year.

During the unrest, officers were accused of attacking commuters while chasing protesters, though the force has maintained it only targeted radicals who had changed clothes to blend in with passengers.

But Chan said it was officers from the force and Fire Services Department who had initially made mistakes in their reporting on the number of injured, something that caused misunderstanding.

Separately on Saturday, Secretary for Justice Teresa Cheng Yeuk-wah weighed in on the July 1 stabbing attack on her weekly blog, saying serious criminal acts – whether or not they targeted civilians – were regarded as terrorism if committed with the purpose of provoking terror to force government action.

"Such common sense is however distorted by some so-called scholars. It is truly disgraceful of those teachers to have misled their students and set a bad example," she said.

While Cheng did not call him out by name, international relations scholar Simon Shen Xuhui, a Chinese University professor, last week suggested terrorism was defined as promoting a vision or goal by creating fear via attacks on civilians rather than police.

Meanwhile, when asked to comment on the status of Frederic Choi Chin-pang, Siu said the force's director of national security, who was discovered in a Wan Chai flat where illegal sex services were being offered in a March, remained on leave and that a report had been submitted to the Department of Justice.