While visiting wet market at Tin Shui Wai public housing estate, Lee says he will consider working towards universal suffrage when 'society tells me all problems no longer exist'
Hong Kong's sole chief executive candidate John Lee Ka-chiu has said the government will not restart political reforms in the upcoming five years unless "all problems in society have been solved" and that realising the benefits of Beijing's overhaul of the electoral system was more pressing.

Lee defended his position on constitutional reforms on Sunday as he made a campaign stop at a wet market ahead of next week's vote, which is all but guaranteed to install him as leader after no other candidate emerged with the central government's backing.

The former security minister visited the market at a public housing estate in Tin Shui Wai amid a heavy police presence to "feel the pulse of the public", a day after he told a televised forum that economic and social issues were more important than working towards universal suffrage.

"I expect we will solve problems one by one. [I will consider it] when society tells me all problems no longer exist," he said. "We are now in the stage of completing the improved electoral system … Realising the benefits and potentials of the electoral system is an important task of the sixth term of the government."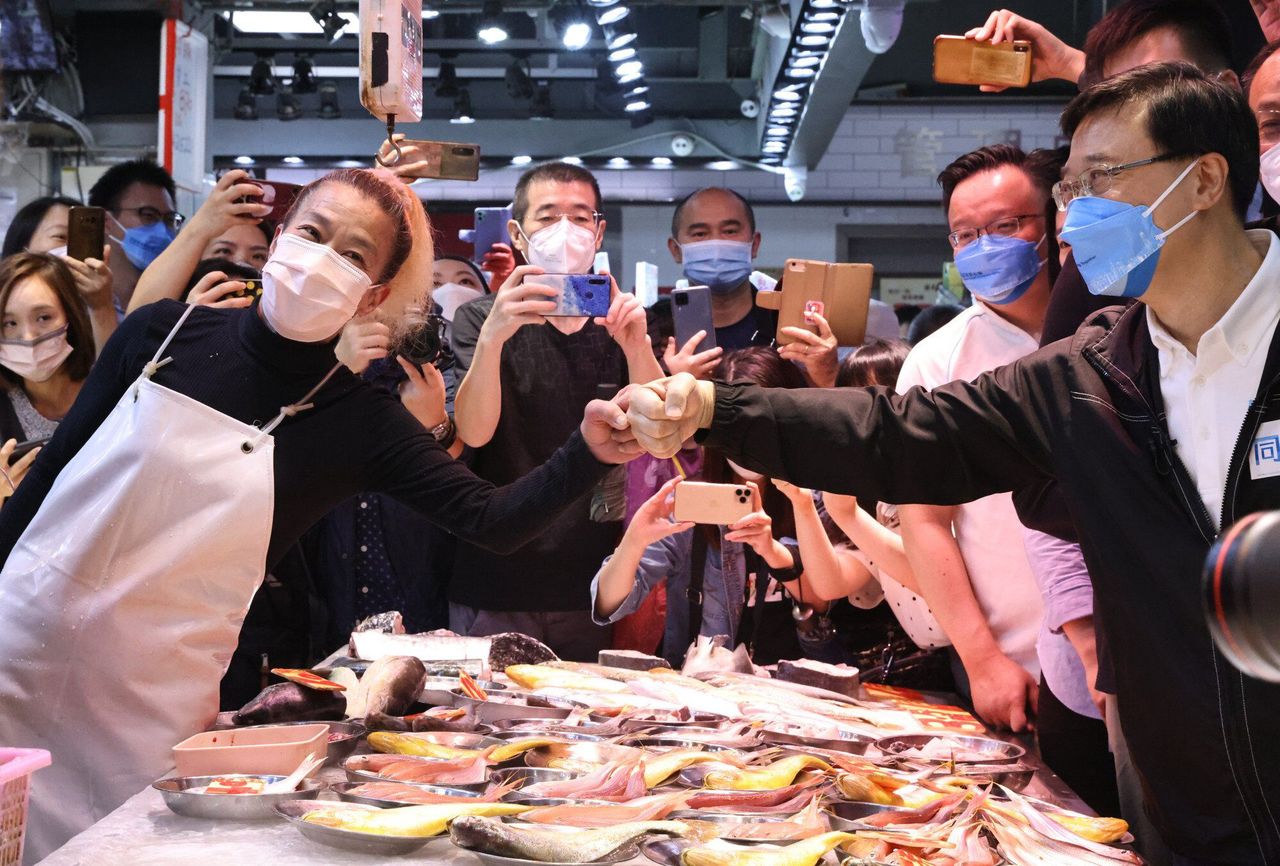 Chief executive hopeful John Lee visits Tin Yan Market at Tin Shui Wai.

According to Articles 45 and 68 of the Basic Law, the city's mini-constitution, the method for choosing members of the Legislative Council and the chief executive shall be done "in light of the actual situation" in Hong Kong and "in accordance with the principle of gradual and orderly progress".

While the articles state selecting them by universal suffrage is an "ultimate" goal, critics have questioned Beijing's commitment to the target in the wake of the 2019 anti-government protests and ensuing political overhaul to ensure only "patriots" held power.

Lee's position that constitutional reform should take a back seat to other problems disappointed sole non-establishment lawmaker Tik Chi-yuen, who said Hongkongers might have to "wait for 100 years" before achieving "one-person, one-vote".

"The operation of Legco has returned to normal," he told a radio programme. "Lee can improve the electoral system and at the same time carry out political reform."

Tik also called for Lee to formulate concrete measures to mend rifts in society, which he regarded as a prerequisite for implementing policies.

But New People's Party chairwoman Regina Ip Lau Suk-yee agreed with Lee, saying that discussion on constitutional reform would only give rise to disagreements.

"Land, housing and youth development are primary concerns of Hongkongers instead," she told a TV programme. "Work to push forward constitutional reform under [former chief executive] Leung Chun-ying's administration prompted the Occupy [movement] that paralysed the legislature."

In 2013, pressure began mounting on Leung's administration to move the city towards deciding the next chief executive by universal suffrage. Pro-democracy activists and scholars began mobilising activists who would sustain the Occupy Central movement, which demanded no political screening of candidates vying for the top job. The ensuing protests paralysed much of the city for 79 days.

Following his 20-minute visit to Tin Yan Estate, Lee said he had felt the "passion and happiness" from the market stall owners and residents.

One woman who had been running a fruit stall for 11 years said she told the candidate about her hopes for the resumption of normal travel across the border with mainland China and a reduction in rents after her business suffered under the Omicron-fuelled fifth wave of Covid-19.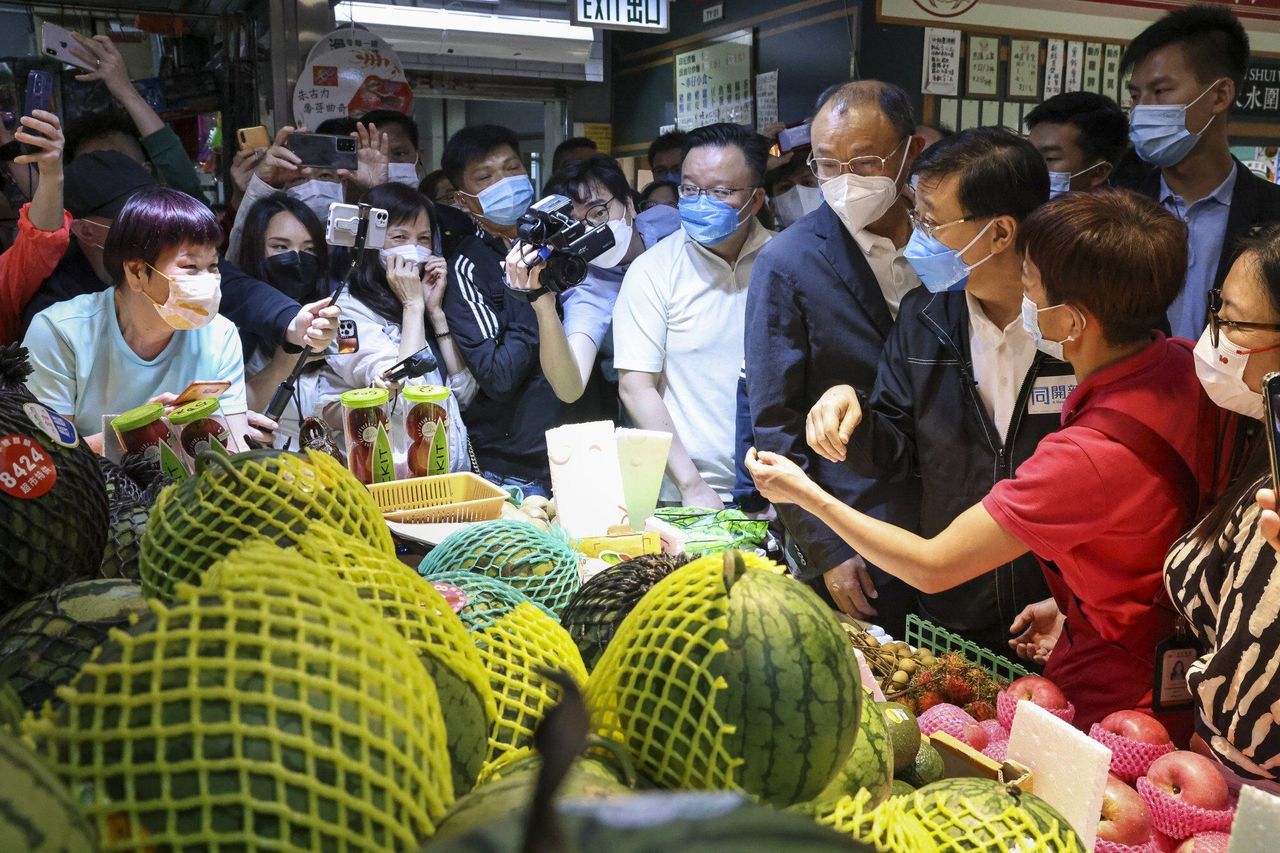 Chief executive hopeful John Lee and 'Kan Jie'.

"The travel restrictions across the border made our cost surge by 30 per cent," the woman, who gave her name as "Kan Jie", told the Post. She also quoted Lee as repeating his pledge from Saturday that resuming quarantine-free travel would be among his priorities.

Earlier in the day, Lee toured the Jockey Club "age at home" Gerontech Education and Rental Service Centre, which provides technologies for the elderly and Lok Kwan Social Service, which arranges volunteers to provide community service. He was accompanied by Bernard Chan, convenor of the leader's de facto cabinet, the Executive Council, and Hong Kong Council of Social Service chief executive Chua Hoi-wai.

During the hour-long Saturday forum, Lee answered questions from seven broadcast and radio journalists and an assortment of residents posing questions through pre-recorded videos. His answers built somewhat on the manifesto he delivered the day before, which some observers had called vague and lacking in hard targets.

Roundtable lawmaker Michael Tien Puk-sun said Lee's "result-oriented" approach to governing could easily be reduced to a slogan as the candidate had failed to provide a road map or timetables for his various policies.

"Results have to be measurable," Tien told a radio programme on Sunday. "If not, it is just a slogan."

Citing Lee's pledge to merge two old-age living allowance schemes, Tien said: "The government had been talking about it for ages and promised to do it at the end of this year … If he says he is able to speed up the process and get it done within 100 days of his inauguration, I will be completely convinced."

Lee will be elected on May 8 if he obtains more than 750 votes from the 1,461-member Election Committee.