Minister of Public Security Zhao Kezhi also expresses support for further judicial reforms in Hong Kong in meeting Secretary for Justice Teresa Cheng in the capital.
Beijing's top official overseeing public security has tasked Hong Kong authorities with enacting more legislation and pushing forward with judicial reform to ensure the city does a better job in safeguarding national security and its own social stability.

Minister of Public Security Zhao Kezhi, who is also a state councillor, laid down the directive in an unusual meeting with Hong Kong's Secretary for Justice Teresa Cheng Yeuk-wah in the capital on Thursday. The minister urged her to perform her duty in accordance with the law.

"[Zhao] supported the Hong Kong government in improving the legislative work on safeguarding national security and actively pushed for Hong Kong's judicial reforms, in order to better safeguard national security, sovereignty and development interest," a statement by the minister said.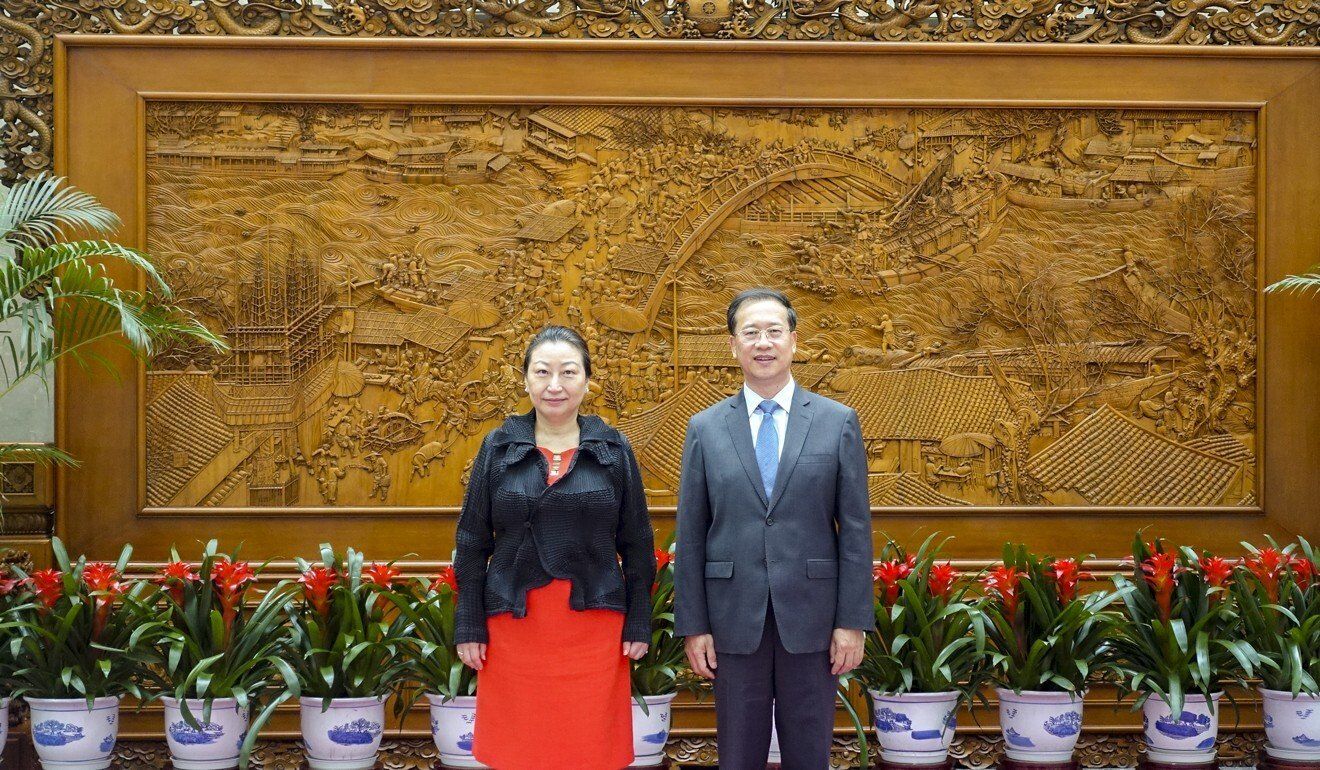 Secretary for Justice Teresa Cheng with Deputy Foreign Minister Ma Zhaoxuin Beijing on Thursday.

It did not further elaborate what additional work was needed to "improve" the system. But with the introduction of the national security law in June last year, Hong Kong was expected to implement Article 23 of the Basic Law, the city's mini-constitution

Shelved for 18 years, Article 23 requires the city to pass laws to prohibit treason, secession, sedition, subversion, and theft of state secrets, as well as to ban foreign groups from conducting political activities in the city and local political bodies from establishing ties with foreign political organisations.

Zhao is also deputy head of the Communist Party's Central Political and Legal Affairs Commission, China's top security and law enforcement body.

It was the first time in more than a year that Zhao met Cheng. Last June, Chief Executive Carrie Lam Cheng Yuet-ngor, Cheng and then security chief John Lee Ka-chiu travelled to Beijing to meet Vice-Premier Han Zheng and Zhao to discuss the national security law.

The Public Security Ministry and the National People's Congress Standing Committee, China's top legislative body, worked closely in drafting the law, which prohibit acts of secession, subversion, terrorism and collusion.

In the latest meeting, Zhao also said: "Hong Kong will have a better tomorrow as long as the party leadership is maintained and safeguarded, and as Hong Kong continues to improve the relevant systems relating to the constitution and Basic Law, as well as integrate with the nation's development."

Zhao also pledged full support for the work of Cheng's department and that of the disciplinary services.

According to a Hong Kong government statement, Cheng said in her meeting with Zhao that authorities needed to guard against any acts that could threaten national security and to ensure the implementation of the policy of "patriots governing Hong Kong".

Analysts said Zhao's remarks showed that the Department of Justice needed to fully support the Security Bureau in preparing for Article 23. Lam had previously said that even though her five-year term would expire next June, her administration had been preparing for the legislation.

Cheng also met Deputy Foreign Minister Ma Zhaoxu, Justice Minister Tang Yijun and Shen Chunyao, chairman of the standing committee's Basic Law Committee.