City leader John Lee pledges that travel will return in safe, gradual manner.
Hong Kong must ensure it can handle a possible spike in Covid-19 cases when it fully reopens its border with mainland China, health experts have warned, while the city's chief executive has pledged that travel will return in a safe and gradual manner.

Medical experts on Monday called on authorities to secure enough supply of fever medication and Covid-19 jabs. China's National Health Commission announced that the mainland would reopen its borders and abandon quarantine measures on January 8 as it downgraded its treatment of Covid-19.

Two days after Chief Executive John Lee Ka-chiu said the first stage of the step-by-step reopening would begin as early as mid-January, he pledged in an opinion piece to strike the right balance between easing travel curbs along the border and reviving the local economy, which had struggled to overcome the impact of almost three years of anti-epidemic restrictions.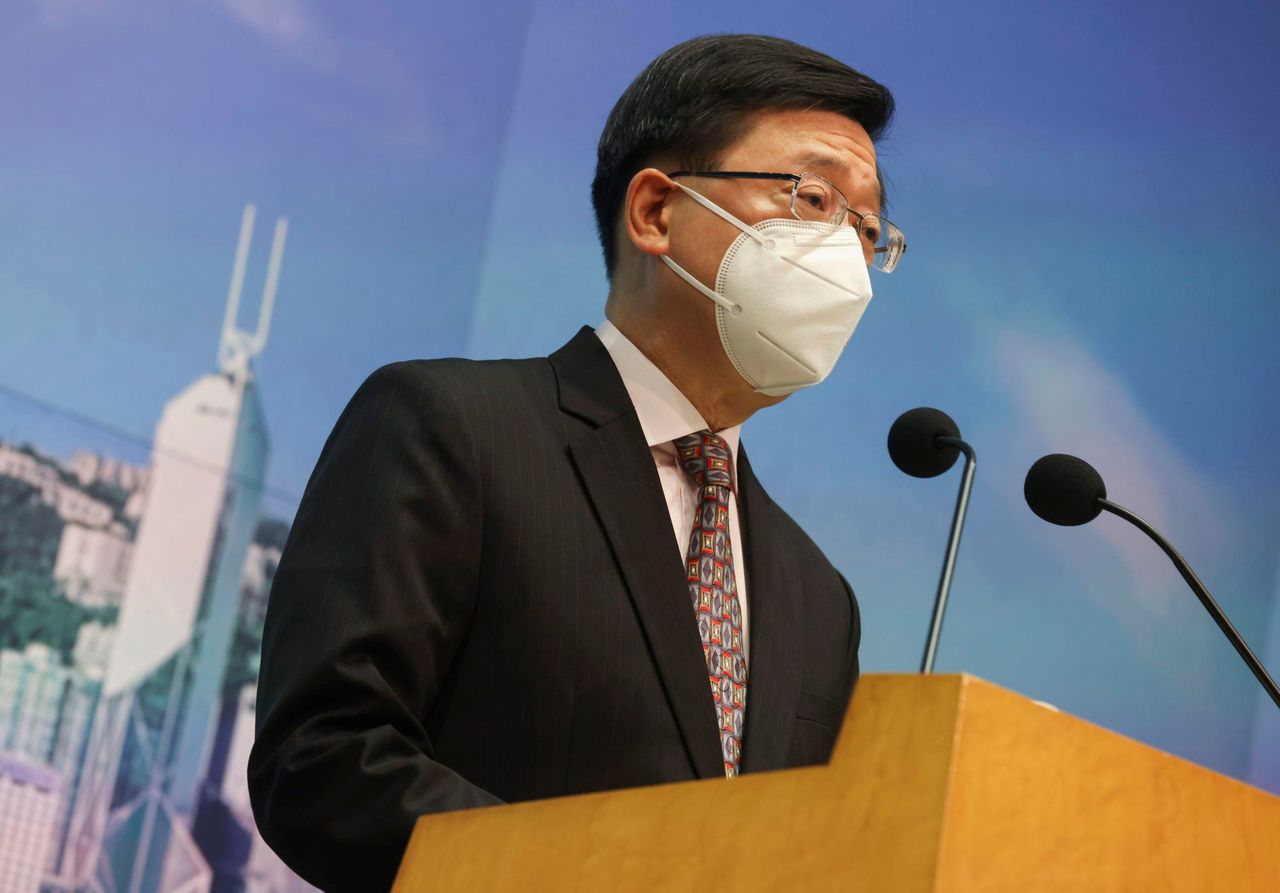 Chief Executive John Lee has pledged that border reopening will take place in a safe and gradual manner.
"We will implement the border reopening arrangements gradually in order, safely and properly, while taking into account the need to manage changes and risks arising from the pandemic on both sides to enhance the proposal," he wrote in a piece for pro-Beijing newspaper Ta Kung Pao.
On Monday night, Hong Kong customs posted photos on
Facebook
, showing officers taking part in a drill at the departures clearance of the West Kowloon high-speed railway. "Various control points are ready for the full reopening," it said.
As officials hammered out details behind closed doors on increasing an existing quota for cross-border travel, pro-Beijing heavyweight Tam Yiu-chung called for special attention based on compassionate grounds for those who needed to make visits.
Tam proposed the authorities raise the "humanitarian quota", currently granted to those with an immediate family member who had died or anyone required to attend court hearings and important exams.
The news of a step-by-step approach to full border reopening came as the mainland faced what virologist Jin Dongyan called a "tsunami period" of
Covid
-19 cases, after it scaled back its anti-epidemic measures earlier this month.
"Hongkongers, who travel to the mainland, may get infected and return to the city. It may lead to pressure on our medical resources," Jin, from the University of Hong Kong, told a radio programme.
He added that he believed the infection risk posed by inbound mainland travellers could be manageable if they took two polymerase chain reaction (PCR) tests one-to-three days before arriving and another two tests after entering Hong Kong.
Travellers from the mainland and Macau are currently required to undergo PCR screening on the third day of arrival, while only non-local visitors aged 12 and above from foreign countries need to be fully vaccinated before entering Hong Kong.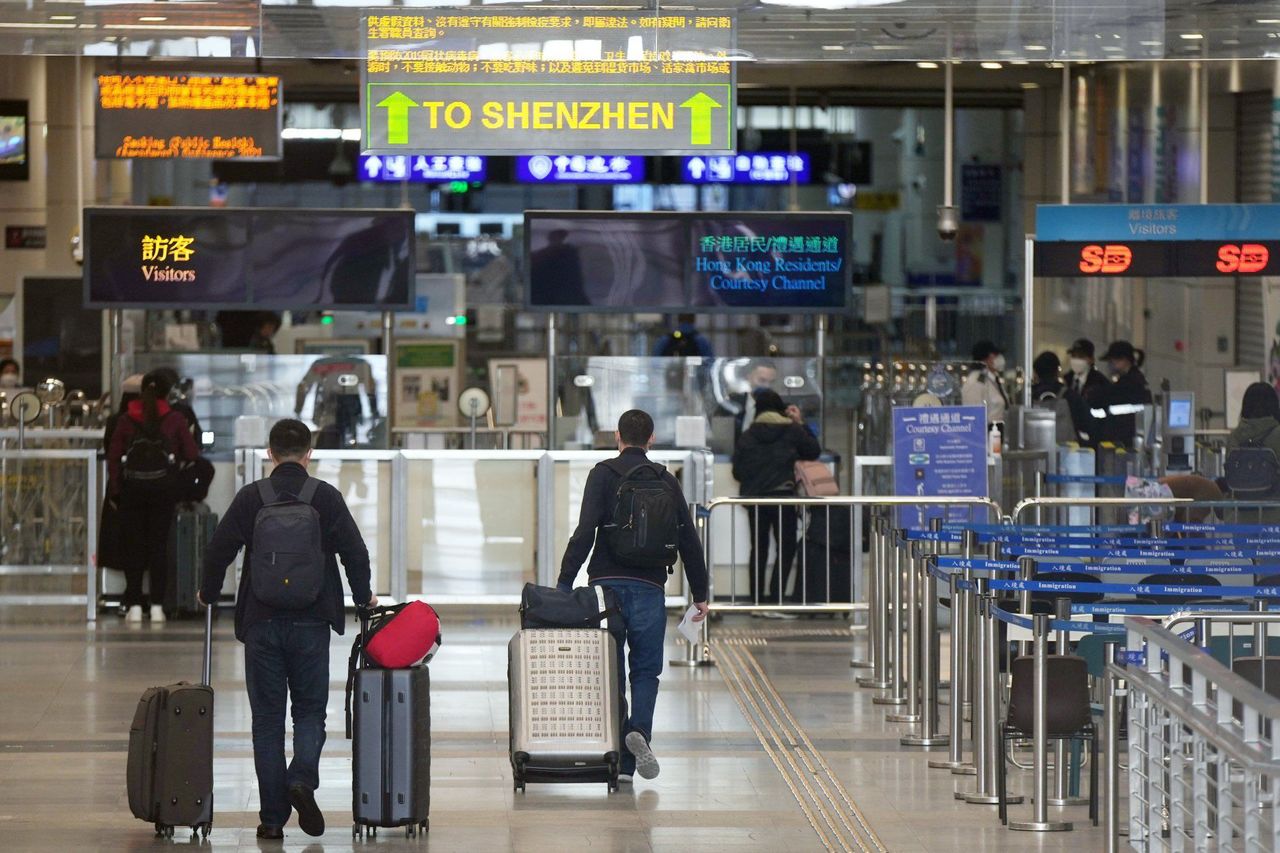 Travellers in Hong Kong wait to cross the border to enter mainland China.

Government pandemic adviser Professor David Hui Shu-cheong also cautioned that the full reopening of the border could lead to a rise in Covid-19 cases in Hong Kong. He said there must be a cap on the number of mainland travellers entering the city.

In 2018, a total of 65.14 million people visited Hong Kong, with those from the mainland accounting for the largest share of travellers at 78 per cent.

Hui also suggested that mainland travellers should be required to comply with the city's vaccine pass scheme, which only allowed those who had received three doses of a Covid-19 vaccine to enter certain places such as restaurants, adding it would protect them from experiencing serious symptoms in case of infection.

According to mainland authorities, around 248 million coronavirus cases were recorded between December 1 and 20, accounting for about 17.6 per cent of the population. Health officials of Zhejiang province on Sunday said the region was battling about 1 million new daily infections.

Hong Kong recorded 19,398 Covid-19 cases on Monday and 47 additional deaths. The city's total tally of infections stands at 2,504,210.

Jin, the virologist, also called on authorities to secure enough supply of medicine and BioNTech mRNA-based vaccines in anticipation of the border reopening, explaining that people could come to the city for the jab since it was not available on the mainland.

"In fact, we need to get well-prepared," he said, adding that the government should consider charging non-permanent residents from the mainland for jabs.

William Chui Chun-ming, president of the Society of Hospital Pharmacists of Hong Kong, echoed Jin's remarks, saying that local drug manufacturers should ramp up production and authorities should liaise with overseas pharmaceutical companies to ensure there was enough medicine supply.


But respiratory medicine expert Dr Leung Chi-chiu said there was no need for alarm as infected mainlanders were not likely to seek medical help in Hong Kong, and imported cases still had limited influence on the city's pandemic situation.

"Those with mild symptoms may not make the effort to come to Hong Kong [for treatment] as their infection may only last for a few days. Those with serious symptoms would not be able to endure the trip to the city," he said.

City leader Lee pledged in his piece for Ta Kung Pao his utmost effort to "achieve the goal of a 'gradual, orderly and comprehensive' reopening as soon as possible".

"[This] will revive Hong Kong's economy, making society vibrant and energetic again, while propelling the city to a new era, new chapter that will bring about boundless prospects," he wrote, borrowing words Chinese President Xi Jinping used to describe his confidence in the city's future when he met the city leader during his maiden duty visit last week.

On Saturday, Lee returned from Beijing following a four-day visit. "I can now announce that the much-awaited reopening of the border with the mainland can now be achieved," he said, shortly after landing at Hong Kong International Airport.

He called an emergency meeting on the same day with bureau chiefs to set up a coordination task force, chaired by the city's No 2 official, Eric Chan Kwok-ki, who convened another one on Sunday.

The task force will liaise with the National Health Commission, Beijing's top body overseeing pandemic policies, and authorities in the city of Shenzhen and Guangdong province to work out strategies to relax quotas on travellers and decide the order to reopen 12 border checkpoints linking the city to the mainland by land, sea and air, according to Lee.

Lee also wrote in the article that during the duty visit, he kept Xi and Premier Li Keqiang abreast of Hong Kong's economy, livelihood issues and political landscape.

Xi recognised that the city was on the right track in its implementation of "one country, two systems" and pledged to fully adhere to the governing principle, Lee said.