Liaison office deputy director Lu Xinning warns against city turning 'historic strengths and opportunity into historic burdens and regret' by losing creative edge.
Senior Beijing officials have urged Hong Kong to improve its international image on the arts and culture front, tapping into China's larger heritage rather than being limited by a local focus, to keep up with rivals such as South Korea.

At a forum on Wednesday, they stressed Beijing's expectations for the city to strengthen its creative industries in the latest round of direct advice that has previously covered core issues ranging from politics to education and housing.

Lu Xinning, a deputy director from the central government's liaison office in Hong Kong, urged city authorities to guide artists in finding inspiration, instead of allowing them to champion localism.

Zhang Xu, a deputy minister of culture and tourism, also said Hong Kong arts institutions and workers needed to make good use of Beijing's recent decision to grant them greater access to national funding.

The shift in focus to the creative sector came days after Xia Baolong, head of the Hong Kong and Macau Affairs Office, called on the local administration to tackle livelihood issues such as subdivided flats.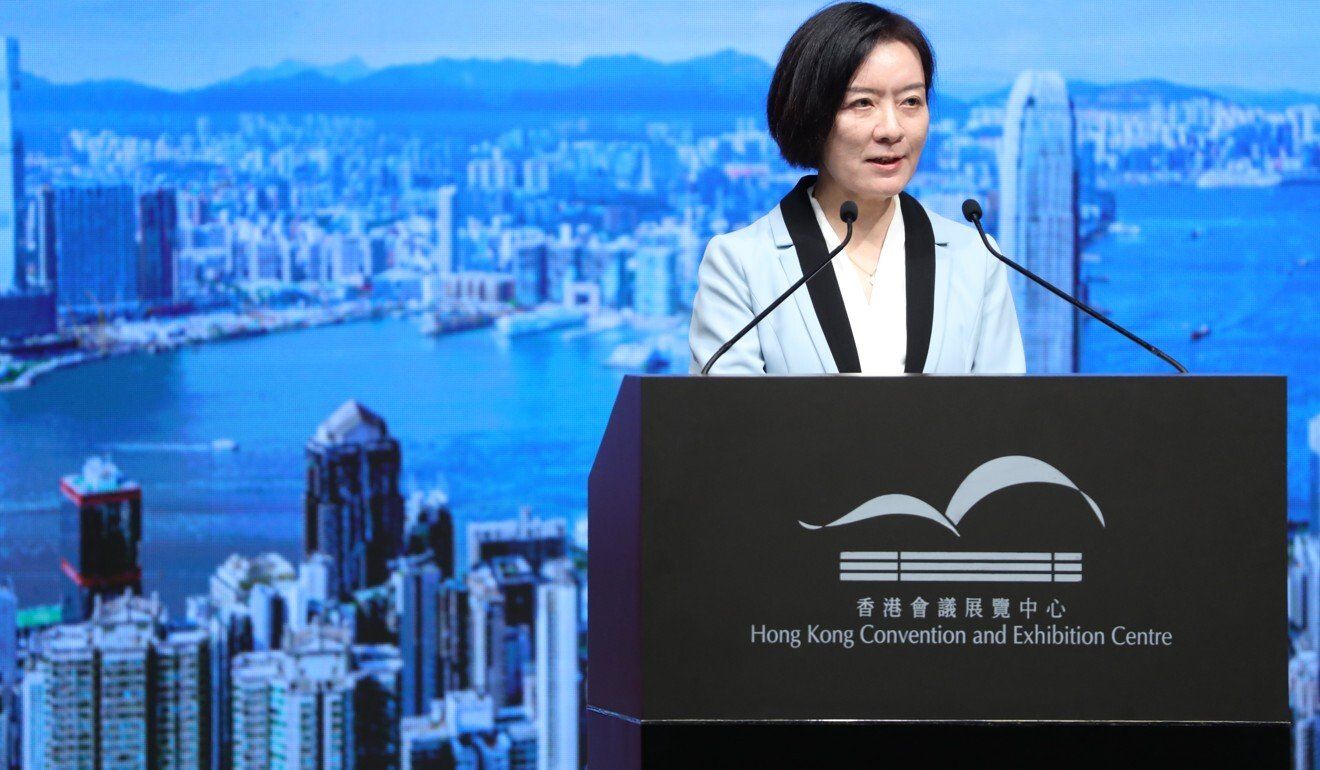 Lu Xinning, a deputy director from the central government's liaison office in Hong Kong.

Under the Communist Party's 14th five-year plan, officially adopted in March, Beijing had vowed to safeguard national security in Hong Kong, and support the city in reinforcing its status as an international financial centre. But it also pledged to encourage the city in developing new roles, such as becoming an international aviation and technological hub, as well as a centre for arts and cultural exchange between China and the rest of the world.

In a rare public speech, Lu, who oversees cultural issues, told Wednesday's forum that by encouraging Hong Kong to become a global arts hub, Beijing had fully acknowledged the city's ability to garner attention from overseas as it hosted events such as Art Basel.

But she said a lot more could be done to boost Hong Kong's cultural "strength, charisma and vibrancy".

"Hong Kong has achieved a lot through film, television and animation … But being a leader for decades does not mean that it can continue to lead. [South] Korea, Taiwan and some countries in Southeast Asia have risen and caught up. Hong Kong's traditional strengths have been challenged, and it has to take the bull by the horns," she said.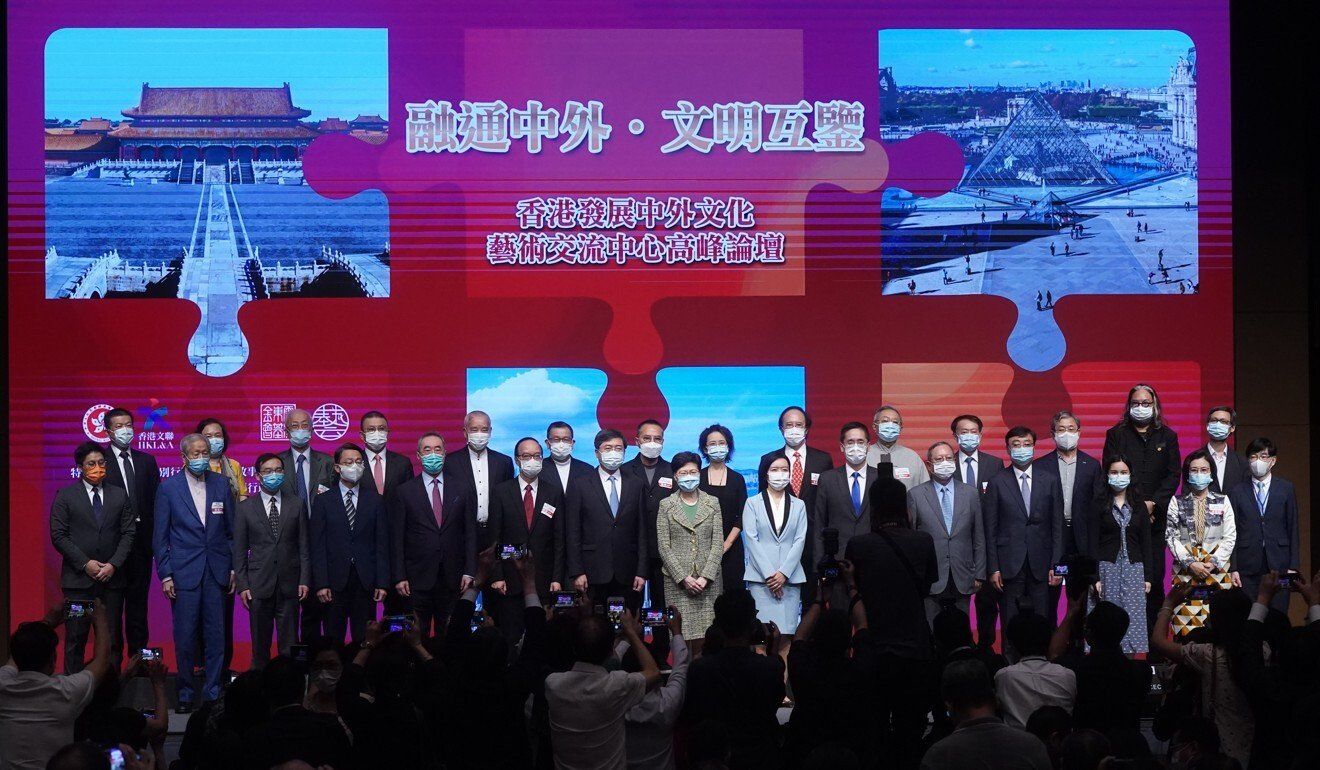 Members of Wednesday's forum, focused on culture and the arts in Hong Kong.

Lu was a deputy editor-in-chief of People's Daily, the party's flagship newspaper, before her appointment to the Hong Kong liaison office in 2019.

She also cited late martial arts novelist Louis Cha Leung-yung, known by his pen name Jin Yong, as well as film director Wong Kar-wai, as examples of Hong Kong icons who drew inspiration from Chinese culture. She added that since the late 16th century, foreigners such as Jesuit missionary Matteo Ricci had been fascinated by the nation.

"If we abandon our cultural roots, remain ignorant on distilling the essence and energy from Chinese history and culture, and focus on localism … how can we claim that we are able to communicate with the world?" she said.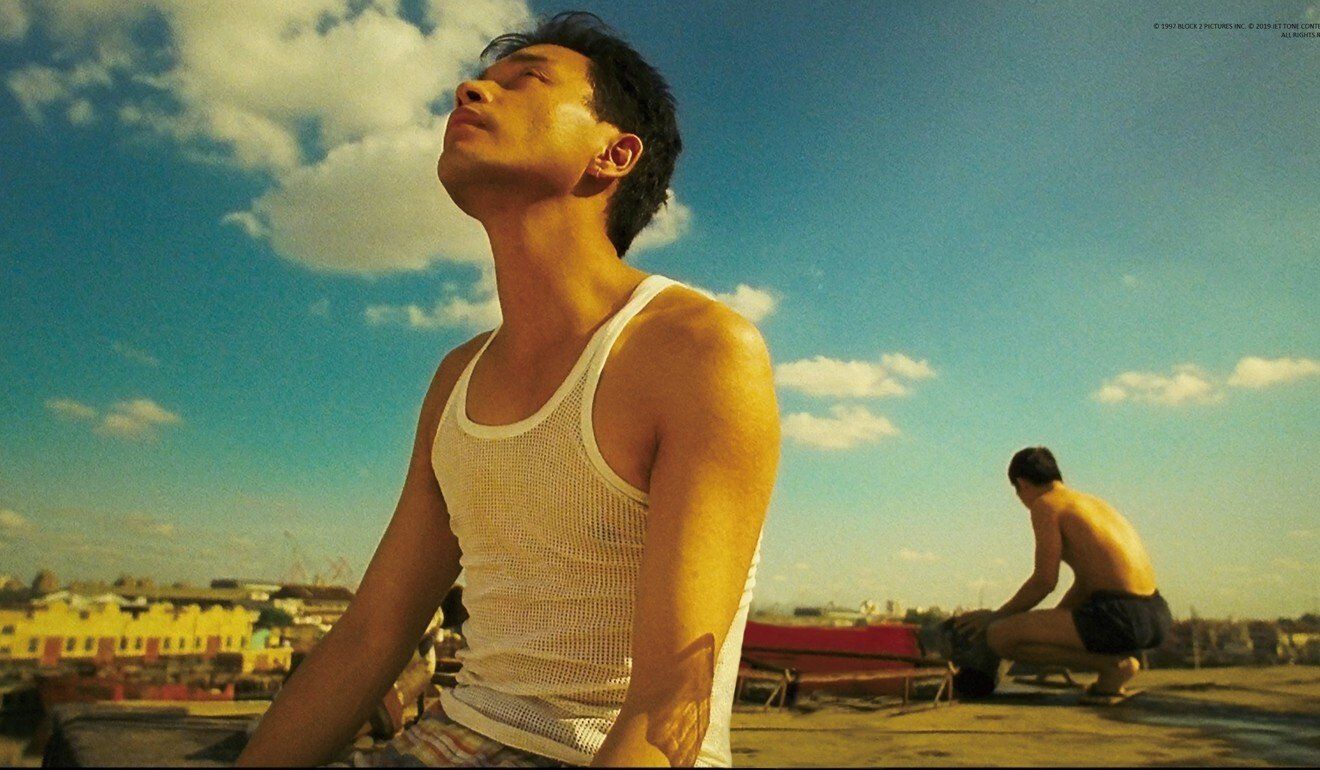 Late Hong Kong actor Leslie Cheung in director Wong Kar-wai's Happy Together.

The official also said local authorities must "boost the city's cultural vibrancy".

"Hong Kong must create new drivers of growth to avoid turning its historic strengths and opportunity into historic burdens and regret … The government, society and the market must work together on arts and culture," she said.

Other speakers at the forum included Chief Executive Carrie Lam Cheng Yuet-ngor and Zhang, who was on an official visit to the city. The deputy culture and tourism minister said boosting residents' sense of national identity, strengthening the creative industry, as well as attracting more talent was key for Hong Kong to become a global arts hub.

"Hong Kong must enhance its residents' sense of patriotism … and tell the story of contemporary China, and the success of 'one country, two systems'," he added.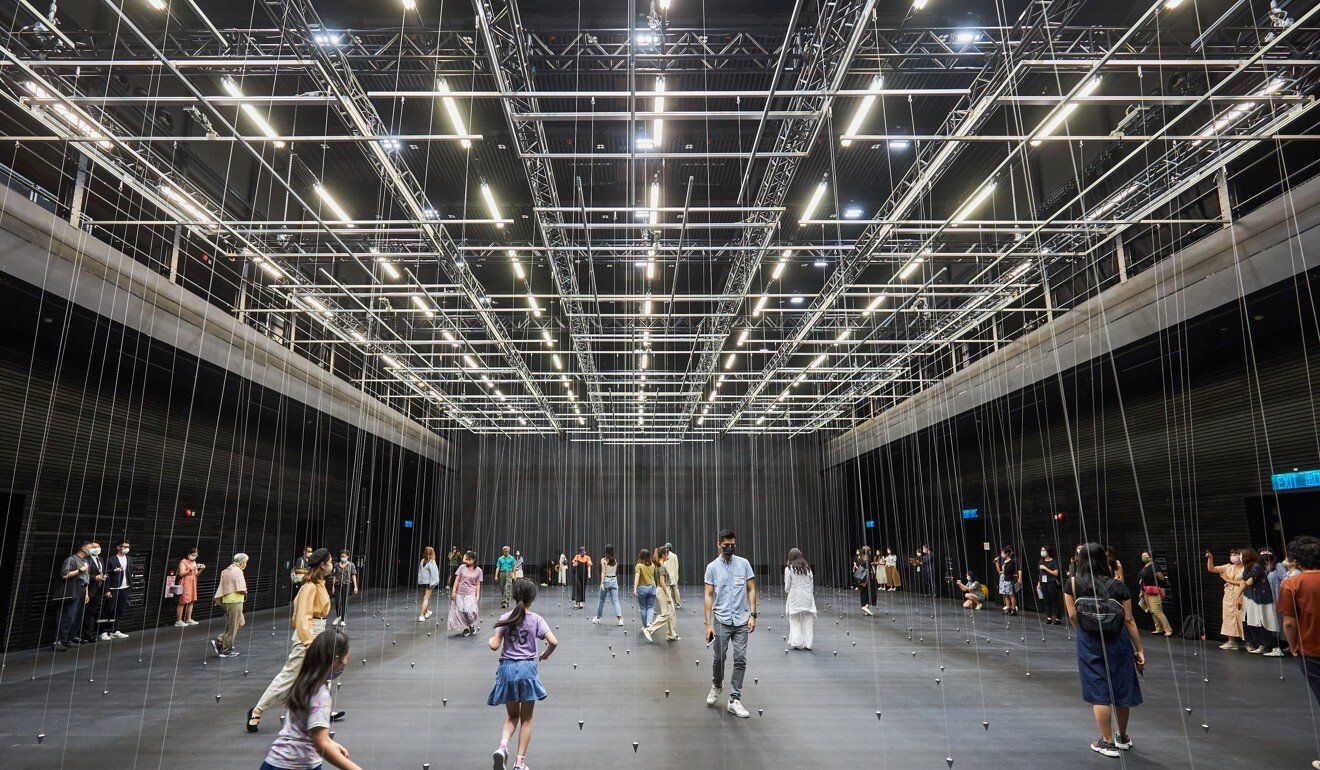 Visitors at an installation at Freespace in the West Kowloon Cultural District.

Lam said in her speech that her administration had been devoted to building world-class cultural facilities, especially in the West Kowloon Cultural District.

"The Hong Kong Palace Museum will be opened by the middle of next year. Residents and tourists from around the world will be able to appreciate some rarely seen national treasures," she said.

"The M+, which displays contemporary visual art, will be opened by the end of this year. These two museums, as well as the Hong Kong Museum of Art, which was expanded, will form an extraordinary cluster of museums on the Kowloon side of Victoria Harbour and offer a rich cultural journey for visitors."

Lam added that the city's government had also established close ties with cultural institutions in mainland China and Europe, encouraged the use of technology in creating and displaying artwork, as well as supported tertiary institutions in grooming new talent.

An installation at the Hong Kong Museum of Art.

But pro-establishment lawmaker Ma Fung-kwok, president of the China Federation of Literary and Art Circles Hong Kong Member Association, said at the forum there was still much more that the city's government could do.

"A Cultural Bureau or Cultural, Sports and Tourism Bureau is needed to pull efforts together … Cultural officials should also be posted to the government's various economic and trade offices to help promote Hong Kong's art scene," he said.

Veteran design expert Freeman Lau Siu-hong, secretary general of the Hong Kong Federation of Design Associations, also said in a panel discussion that the city needed to learn from the British government's example of formulating a cultural and creative industry policy that encouraged artists to sell their work abroad.