Advice from netizens had one common point: 'don't go to public hospitals even if your children become very ill'.
Desperate mother Shanice Ho made an emotional request for help in a support group on Facebook on Sunday morning after her daughters, aged five and six, returned positive results for Covid-19 using rapid antigen test kits and developed fevers of 40 degrees Celsius (104 degrees Fahrenheit).

She asked what she should do as pharmacies in her neighbourhood in Wong Tai Sin had run out of fever medication for children and she could not make an appointment at a government clinic dedicated for Covid-19 patients.

"I spent hours calling up the government clinics to make an appointment but failed. What I want is some drugs to alleviate their symptoms," she told the Post on Sunday.

Among the advice she got from netizens – ranging from seeking private-sector teleconsultation to getting the drugs from pharmacies elsewhere – one common appeal to her was: "Don't go to public hospitals even if your children become very ill".

Hong Kong's fifth wave of Covid-19 infections is pushing a stretched public health care system to the brink, with authorities on Sunday reporting a record 26,026 cases. Four toddlers have died amid the current surge in infections.

Distressed parents who took their ill children to seek treatment at the emergency wards of local public hospitals have taken to social media to share their frustrations.

Janet Cheung wrote how she and her 18-month-old daughter, who had shortness of breath, endured a 13-hour wait in Yan Chai Hospital's accident and emergency unit in Tsuen Wan on Friday. Both returned negative results on rapid tests.

She said they were confined in a congested waiting area, during which her daughter's lips turned "very pale".

"I approached nurses for help three times but was asked to be patient … I was heartbroken when I saw she was having breathing difficulties," Cheung said.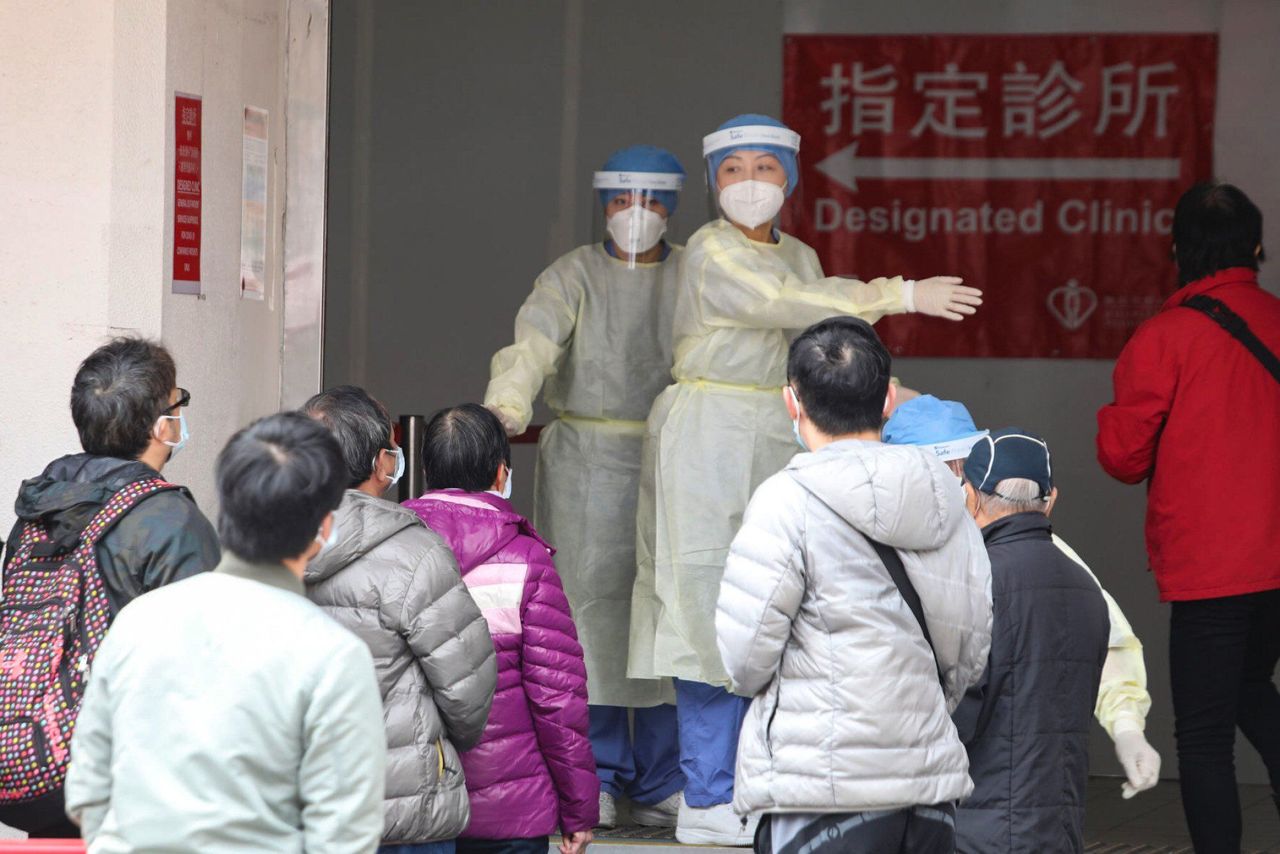 A government designated clinic for Covid-19 patients at Yau Ma Tei.

Her daughter was later transferred to the paediatrics department of Princess Margaret Hospital in Kwai Chung where she was diagnosed with Croup, a common respiratory infection in children.

"The resident doctor said her condition was 'quite serious' at the point of admission. Luckily, she now no longer needs breathing assistance after getting steroid treatment," she said.

Annie, who did not want to reveal her real name, said she gave up after waiting eight hours on Thursday night at Tin Shui Wai Hospital. She had brought her two-year-old son, who had genetic enzyme disorder G6PD deficiency, to the hospital's emergency ward after he developed a high fever and his rapid antigen test was positive.

During the wait, she recalled hearing "complaints all over the place" and some patients, including a pregnant woman, told her they had been stuck there for more than 10 hours without receiving treatment. She decided to take her son home instead.

On the following day, she visited a government clinic dedicated for Covid-19 patients in Tin Shui Wai. She said she was "deeply disappointed" when the doctor gave a referral letter which she could present at any public hospital's emergency unit if her son's condition deteriorated.

"Shall I thank the government for this? I regret taking my ill son to the clinic," she said.

On Sunday, the Hospital Authority's chief manager of quality and standards, Dr Lau Ka-hin, said more than 90 per cent of the city's public hospitals' isolation beds were occupied and that the peak of infections was "yet to be reached".

At least five of the city's 12 private hospitals – Hong Kong Sanatorium and Hospital, Matilda and War Memorial Hospital, St. Paul's Hospital, Evangel Hospital and Precious Blood Hospital – have refused to admit Covid-19 patients or their close contacts.

The two Hong Kong Adventist Hospitals and Union Hospital offer doctors' consultation for those with Covid-19 symptoms but do not admit infected patients.

According to official guidelines issued by local health authorities, parents are advised to take their children to an emergency ward if they are aged below two, symptomatic and have tested positive. Anyone with persistent fever or breathing difficulties should visit a doctor directly.