Ministers from each of the 15 bureaus begin discussions on operational matters, logistical arrangements and risk management concerns.
Top Hong Kong officials met on Christmas Day to discuss details of a plan to fully reopen the city's border with mainland China, the first stages of which sources said could be implemented as soon as the beginning of next month.

No 2 official Eric Chan Kwok-ki, the chief secretary for administration, chaired the first meeting of a new task force that brought together ministers from each of the 15 bureaus to look at operational matters, logistical arrangements and risk management concerns.

Chan said Chief Executive John Lee Ka-chiu also attended the meeting and instructed them to work together to finalise the details.

The chief secretary also said he had liaised with the central government, as well as Guangdong and Shenzhen officials, to achieve a "full" border reopening in a gradual and orderly manner.

"Our direction is the same, that is to work out as soon as possible a safe 'border reopening' proposal, which will be submitted to the central authorities for approval after a consensus is reached," Chan said.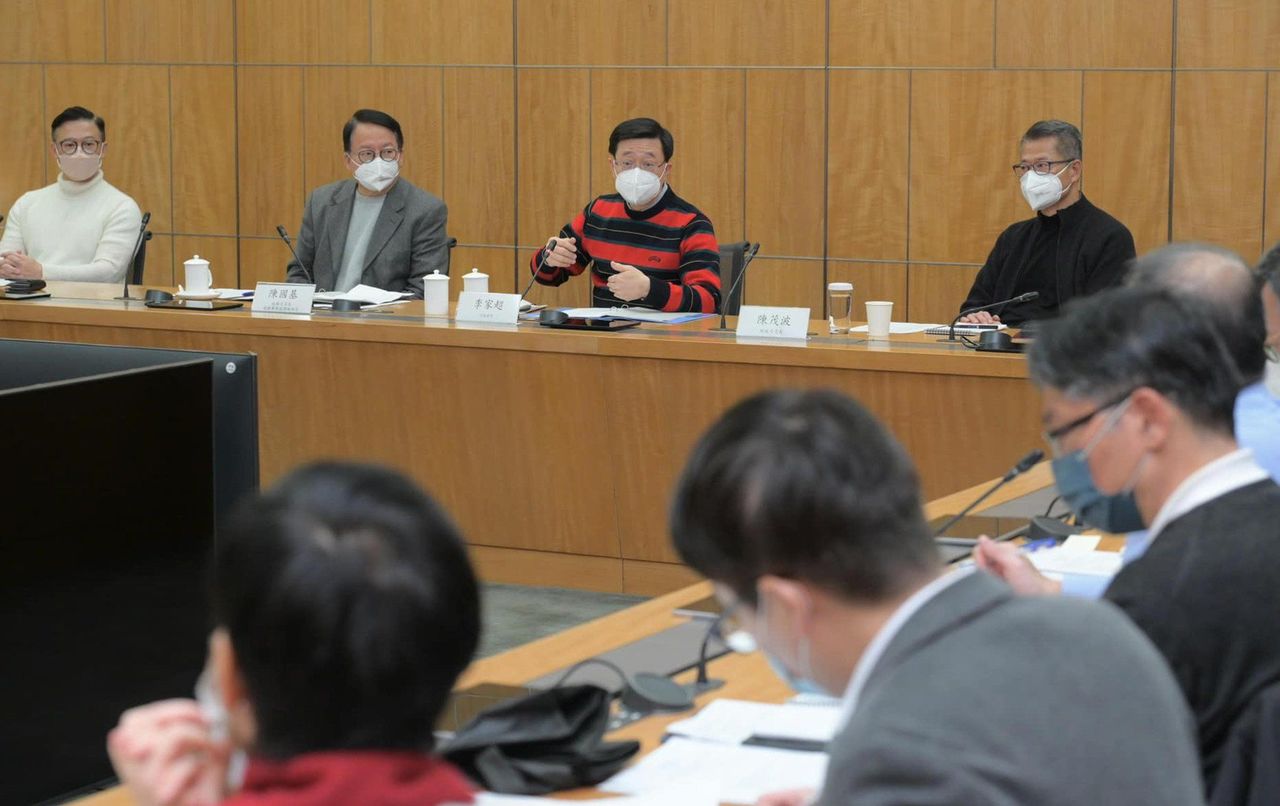 Hong Kong Chief Executive John Lee at the meeting of the new task force on Sunday.
Secretary for Security Chris Tang Ping-keung is understood to have held a separate meeting with the heads of law enforcement agencies to ensure checkpoints operated smoothly, and reported progress to Lee afterwards.
The meetings came a day after Lee revealed he had received a green light from Beijing to plan the reopening during his duty visit to the capital, where he met state leaders. After landing in Hong Kong, he told the media his administration hoped to have the plan finalised by mid-January.
Authorities would have to reach a consensus over the daily quota of travellers and which checkpoints would be reopened first, he added.
Shenzhen on Sunday increased the daily quota of Hong Kong arrivals for the second time in a week, from 2,800 to 3,500.
Local government sources said officials and their mainland counterparts would need to discuss how travel curbs could be eased in an orderly manner, including a likely option that some groups of residents would be given priority in the initial stages, as the city needed to prepare for the number of mainland visitors.
One official source based in Beijing said a quarantine-free arrangement for cross-border travellers could start as early as January 3. A Guangdong official also confirmed the target date.
Under a "0+3" model being considered, travellers to the mainland would no longer be required to undergo five days of quarantine and instead only have to observe three days of medical surveillance.
"Overall, we believe the travellers, and the imported cases, from Hong Kong will not add too much pressure to the hospitals in mainland China, especially Guangdong and Fujian," the Beijing-based official said. "Many are working hard towards a tentative date of January 3."
But he cautioned that anyone heading to the mainland should consider the "huge wave" of cases after the move away from its zero-
Covid
strategy.
"Before travelling, they should make sure they have adequate protection, including vaccination, wear masks and remember to sanitise their hands regularly. If possible, they should bring along some medicine as the mainland's hospitals are flooded with patients," he said.
A Guangdong official said checkpoint authorities on both sides were testing the relevant "hardware and software thoroughly" and had plans for extra manpower if a large number of frontline staff members became infected.
According to a memo purportedly from a National Health Commission meeting, about 248 million mainlanders were infected between December 1 and 20, equal to about 17.6 per cent of the population.
But Dr Lam Ching-choi, a member of the Executive Council, the city's key decision-making body, said he did not expect the border to be fully reopened by next month and predicted the quota of travellers would ge increased in stages.

"It will probably start with land ports that are commonly used by residents. I believe that the government will consider the convenience of most people's livelihood needs," he said.

The local government also needed to consider the pressure on the public healthcare system after curbs were eased, he added.

Hong Kong on Sunday reported 21,255 new coronavirus infections, 964 of which were imported, and 50 deaths, bringing the overall tally to 2,484,812 cases and 11,462 fatalities.

Danny Lau Tat-pong, honorary chairman of the Hong Kong Small and Medium Enterprises Association, said he hoped authorities would begin with a quota of 50,000 for cross-border visits and alter the number according to demand.

"Given hundreds of thousands of people were crossing the border before the pandemic, a quota of a few thousand would not have much use," he said.

Lau said he expected most of the demand for travel at first would come from families seeking to reunite, while business executives might delay trips until after factory workers returned from the Lunar New Year holiday.

Welfare group Society for Community Organisation called for a quota of at least 10,000 as many children and parents had been separated by the border restrictions.

In 2019, more than 236 million passenger trips were recorded via border land crossings, or an average of 646,575 each day.