Sales for one local producer in May set to reach 70 per cent of firm's previous peak, according to factory manager.
Nearly three months after Hong Kong ended its mask mandate and demand plummeted, manufacturers of the face coverings have reported a surprising boost in business prompted by an uptick in flu and coronavirus cases.

Harry Wong Yuet-yeung, factory manager at local mask producer Savewo, said the increase was "a bit of a surprise" and sales for May were on track to reach 70 per cent of the company's previous peak. Savewo, which runs a 100,000 square feet factory in Tsuen Wan, had already sold at least 3 million masks so far this month, he added.

"We believe the industry is now settling after an initial round of closures and scrambling to get rid of stock," CEO Zen Ding said. "Plus, it's flu season and there is an uptick in Covid infections again, including severe cases and death, so Hongkongers are probably realising masks aren't so bad after all."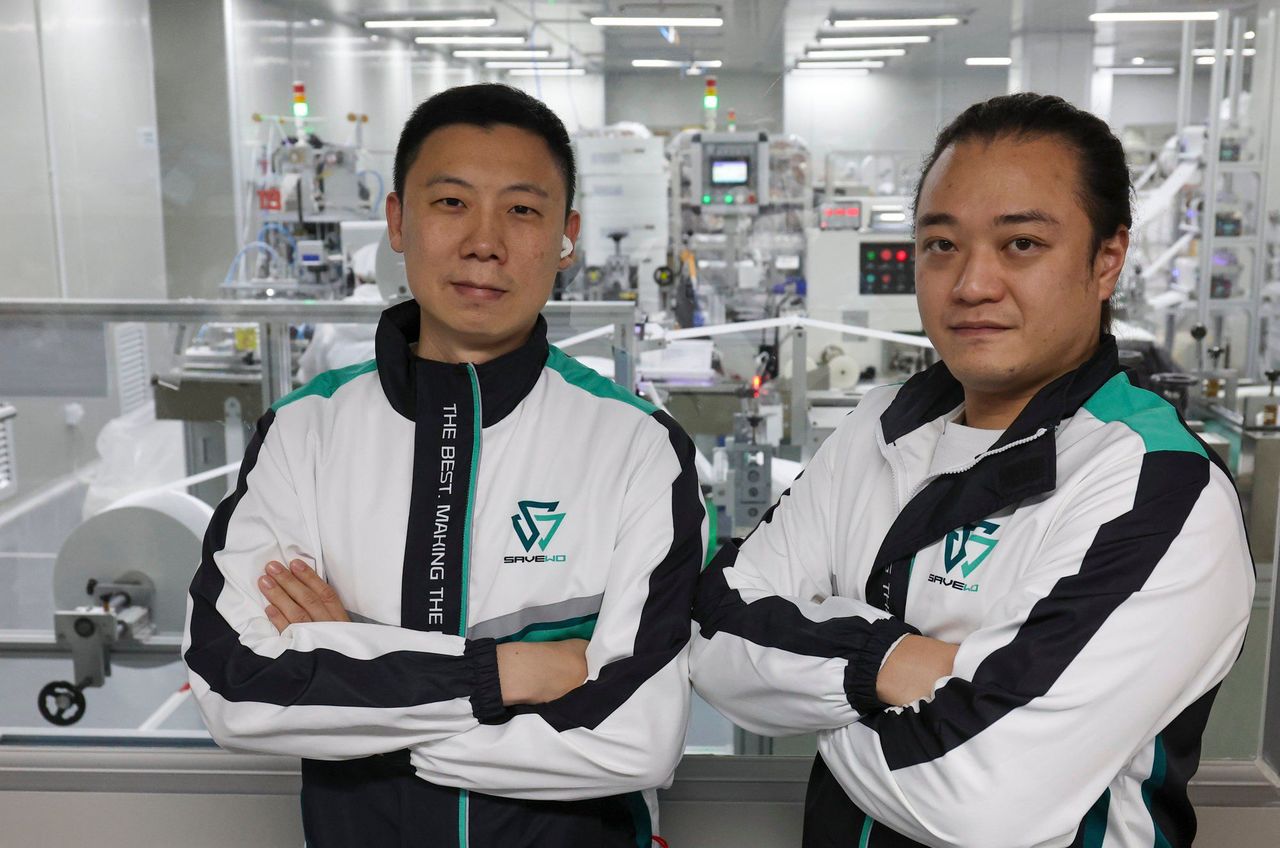 Harry Wong (left), factory manager, and Zhen Ding, CEO of Savewo, at the firm's Tsuen Wan facility.

According to the Centre for Health Protection, Hong Kong's daily Covid-19 caseload continued to rise in May, with 3,621 cases detected from May 7 to 13, and 2,927 the week before. By comparison, there were only 274 Covid-19 cases recorded in the week of March 19 to 25. The centre also said the city entered its influenza season in early April.

Secretary for Health Lo Chung-mau on Friday said up to 10,000 Hongkongers were contracting Covid-19 every day. He called on residents to remain vigilant but expressed confidence that the outbreak was manageable.

Local entrepreneurs began churning out masks after the city's first Covid-19 cases in 2020 sparked panic buying and a severe shortage of the coverings. By the following year, at least 200 factories were producing 208 million masks every month, according to the Hong Kong Mask and PPE Association.

But according to industry representatives, business fell off rapidly when the mandate was cancelled in early March, as Covid-19 cases subsided.

"Many factories, especially the smaller ones, quickly shuttered their doors as they struggled to pay rent," Wong said.

Ding agreed, adding: "The months of February, March and April were devastating for us.

"Shortly before and after the mandate was lifted, many of our peers were frantically trying to get rid of their stock at extremely low prices. We were forced to match with massive discounts as well, barely covering our manufacturing costs."

Savewo cut prices in half but sales tumbled by nearly 60 per cent compared with January, the executives said.

Gimans Care, another local mask producer, reported business began to weaken as early as July last year, falling to 50 per cent of the peak of 10,000 boxes a month sold throughout 2021.

"That was shortly after a lot of people in the city caught Covid-19 and Hong Kong was coming off the height of its fifth wave," said director Alex Lee Yuk-fai. "Perhaps locals became complacent after that."

When the government announced the end of the mask mandate, sales plummeted to just 10 per cent of peak levels, he added.
Alex Lee, director of Gimans Care, at his shop in Mong Kok.

Hongkongers were no longer regularly replenishing their supplies of the face coverings and were instead trying to use up the boxes they had already bought, Lee said.

But with the rise in flu and coronavirus cases in May, sales had reached about 20 per cent of their previous peak, he noted.

On the streets of Hong Kong, about half of people continue to wear the face coverings.

Jessica Chow Wing-yan, a 35-year-old office clerk, told the Post she was wearing a mask because a family member was deemed at high risk of contracting the virus.

"My mum has been battling breast cancer for the past few years," Chow said. "Her therapy severely affects her immune system."

Although her mother had received four shots of the vaccine manufactured by Chinese pharmaceutical company Sinovac, a test by doctors indicated she had no immunity against the virus.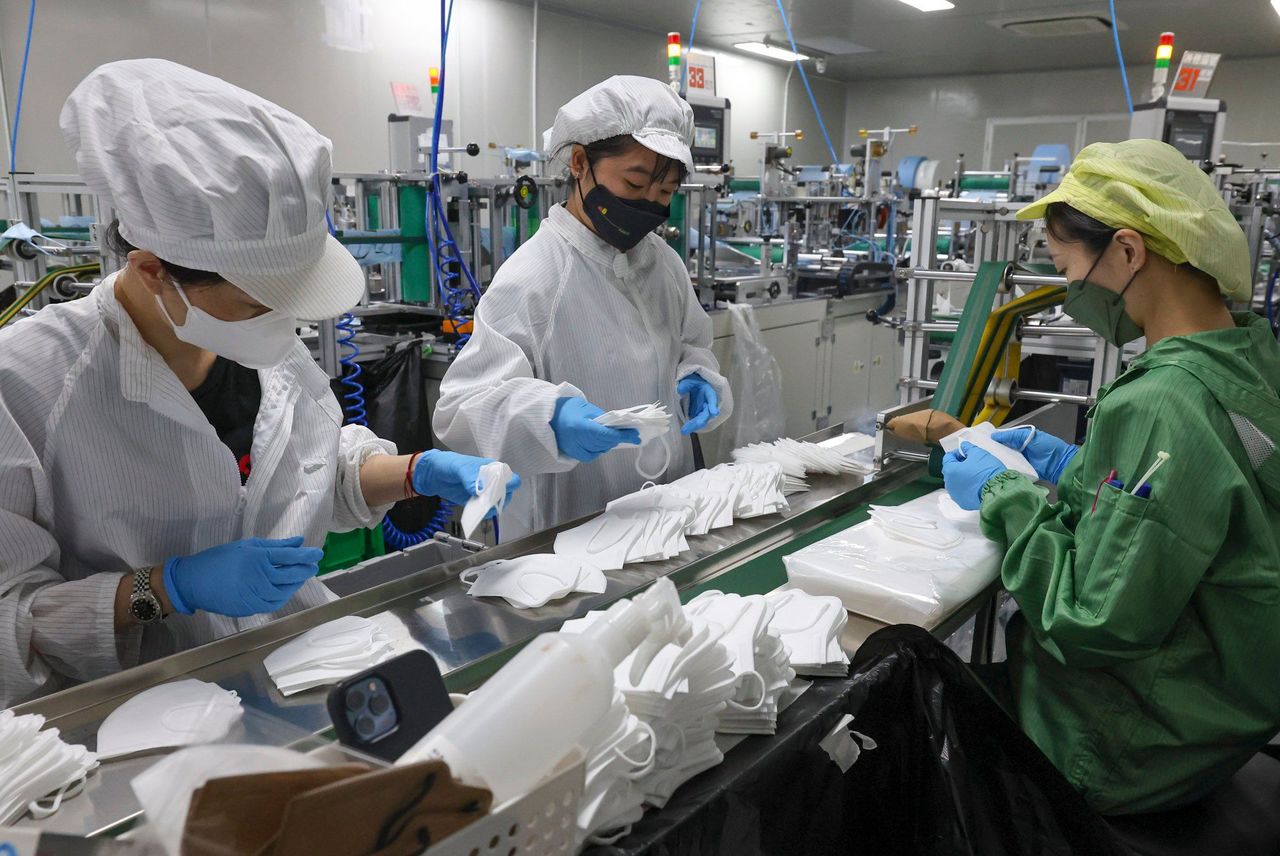 Workers put the finishing touches on masks at Savewo's Tsuen Wan factory.

Michael Ku, however, took off his mask as soon as the mandate ended.

"We cannot be expected to wear them forever, and now with summer approaching, masks are unbearable in this heat," the 27-year-old said.

Lee at Gimans Care admitted that manufacturers had accepted at the outset that the mask business would not be sustainable in the long-term.

"We started doing this because many of my doctor friends struggled to get masks during the beginning of the pandemic and I wanted to help," he said. "After a while, we started to add colours and designs, which led to deals with cartoon and anime companies like Disney and Bandai to use their images on our masks."

When the company began opening brick and mortar stores, negotiations over rent focused on months-long increments because the company did not expect the pandemic would last for years.

When sales began to slow last summer, Gimans Care took advantage of its connections to make other products carrying cartoon themes, such umbrellas, T-shirts, pins and kitchenware, while reducing its physical stores from a peak to 12 to just five.

Savewo has also been expanding its product line but has no intentions of cutting back on its mask manufacturing for now.

"We actually renewed the lease of our factory space the day the mandate was lifted," Wong said, explaining that smaller companies had reached out to management about merging as they prepared to wind down parts of their businesses.

While local demand was waning, interest from foreign markets was increasing as more people resumed travelling, he added.

Ding said Savewo was taking part in business expos abroad, with people from Turkey, Japan and the United States, among other countries, expressing an interest in the fact the masks were entirely manufactured in Hong Kong.

"Viruses and diseases are a never-ending part of life," he said. "We want to look ahead and be prepared for anything that comes next."