Mercury on Wednesday expected to rise to 20 degrees, with slightly windy and rainy weather later in week.
Hong Kong on Sunday marked its sixth day in a row with a cold weather warning as temperatures fell under 10 degrees Celsius in some parts of the city, but warmer conditions are expected in three days with the easing of the northeast monsoon.

The Observatory forecast Sunday's temperatures to range from 10 degrees to 17 degrees, with fine and dry weather.

The mercury at 8am dipped to 5 degrees in Ta Kwu Ling in North district.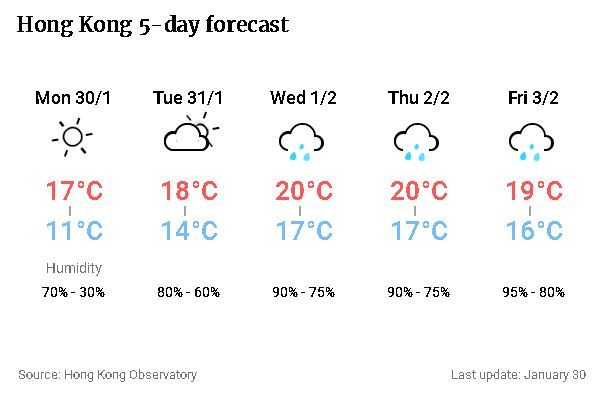 The red fire danger warning was also issued, meaning an extreme risk of bushfires amid the dry conditions, while the frost alert remained in force for the second day in a row, with possible ground frost in the northern part of the New Territories or on high grounds.
The minimum overall temperature in Hong Kong is expected to be 12 degrees on Monday, but Tuesday will bring warmer weather with a projected range of 14 to 18 degrees, and up to 20 degrees on Wednesday.
Wednesday's weather is expected to be cloudy with occasional showers, but chances of heavy rain are low.
An easterly airstream is also expected to affect the coast of Guangdong later in the week, bringing stretches of wind and rain to the city.