Hong Kong's financial markets greeted the Year of the Rabbit with fanfare as stocks rose to an 11-month high and gold advanced. A lion dance, on the birthday of the Chinese God of Fortune, marked the auspicious day.
Hong Kong's financial markets greeted the Year of the Rabbit with fanfare, as stocks surged to near an 11-month high and gold prices advanced. A delegation to the Middle East next month, led by Chief Executive John Lee Ka-chiu, will aim to enhance the city's appeal among global investors.

Nicolas Aguzin, CEO of Hong Kong Exchanges and Clearing (HKEX), said the initial public offering (IPO) market will regain its shine this year after the bourse operator ushered in 11 listings so far this month. More than 100 other IPO candidates are also readying their plans as China's economic reopening fuels optimism. Brokers said this number includes insurer FWD Group and logistics group Lalamove.

"We have seen some green shoots of activity and the reopening of the mainland will likely provide an argument for continuing to improve the global environment," Aguzin said. There will be "lots of initiatives that are going to make the market more attractive", he added.
Markets reopened on the fifth day of the Lunar New Year, an auspicious date that coincided with the birthday of the Chinese God of Fortune. HKEX hosted a live on-site ceremony to mark the first trading day of the Lunar New Year, before the Hang Seng Index surged 2.4 per cent to its highest level since March last year. Gold climbed 1.5 per cent to HK$18,150 (US$2,319) a tael, or 37.9 grams, as the local exchange hosted its event.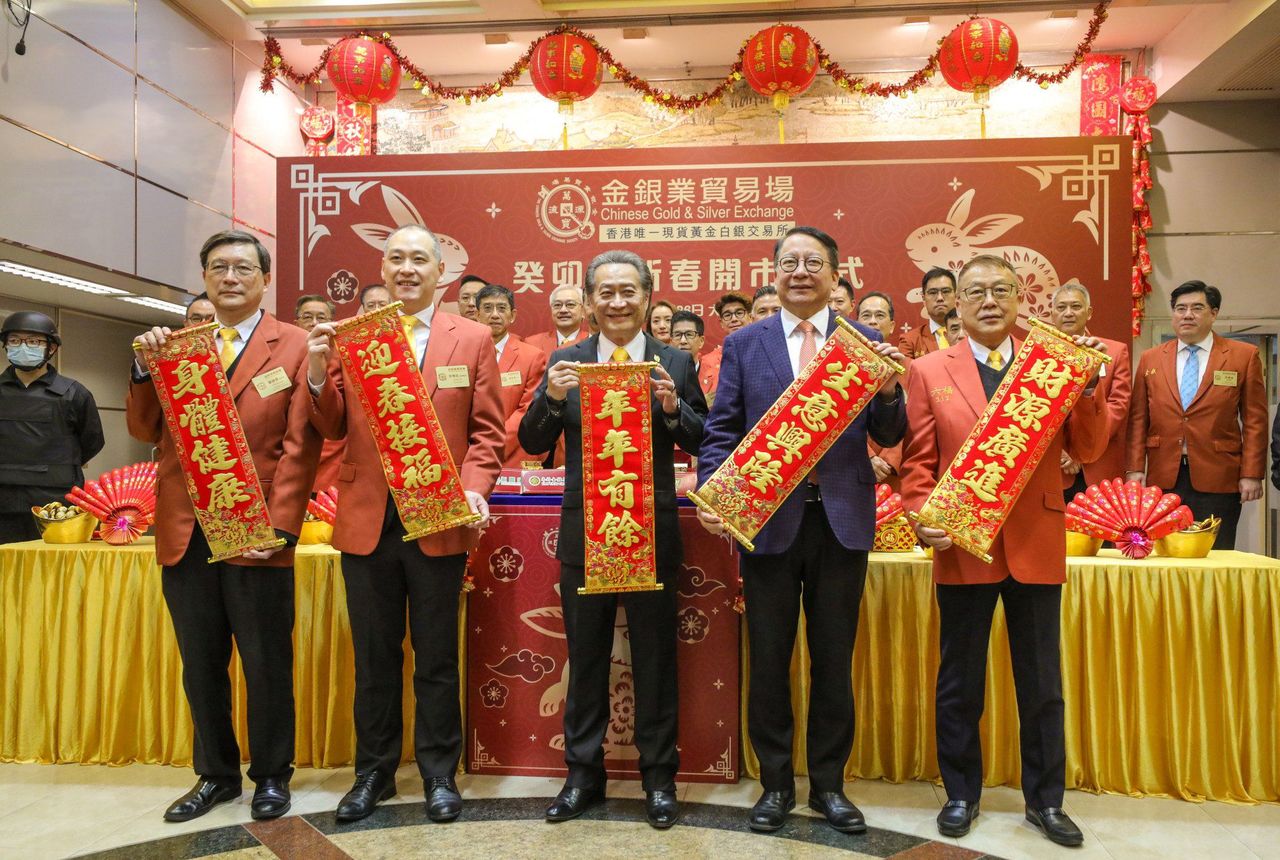 Chief Secretary Eric Chan Kwok-ki (fourth from left) and President of the Chinese Gold and Silver Exchange Society Haywood Cheung (centre) pose at the exchange in Sheung Wan, Hong Kong on January 26.
China officially abandoned its zero-
Covid
policy on January 8 by reopening its borders to visitors, while Hong Kong had earlier gradually relaxed its pandemic curbs as cases dwindled before Beijing's policy pivot. Global funds have picked up US$17 billion worth of yuan-based stocks this year, according to Goldman Sachs, while mainland investors bought US$1.7 billion of Hong Kong-listed stocks.
Financial Secretary Paul Chan Mo-po, the ceremony's guest of honour, said the government will work with HKEX to promote the city's financial markets. That includes a promotional trip to the Middle East next month led by Lee, the city's leader.
"After the removal of social distancing late last year, Hong Kong and mainland China have reconnected with the world," Chan said, noting that many funds in the Middle East are keen to invest in China. "We believe the capital market this year will outperform last year. This will strengthen Hong Kong as an international financial centre."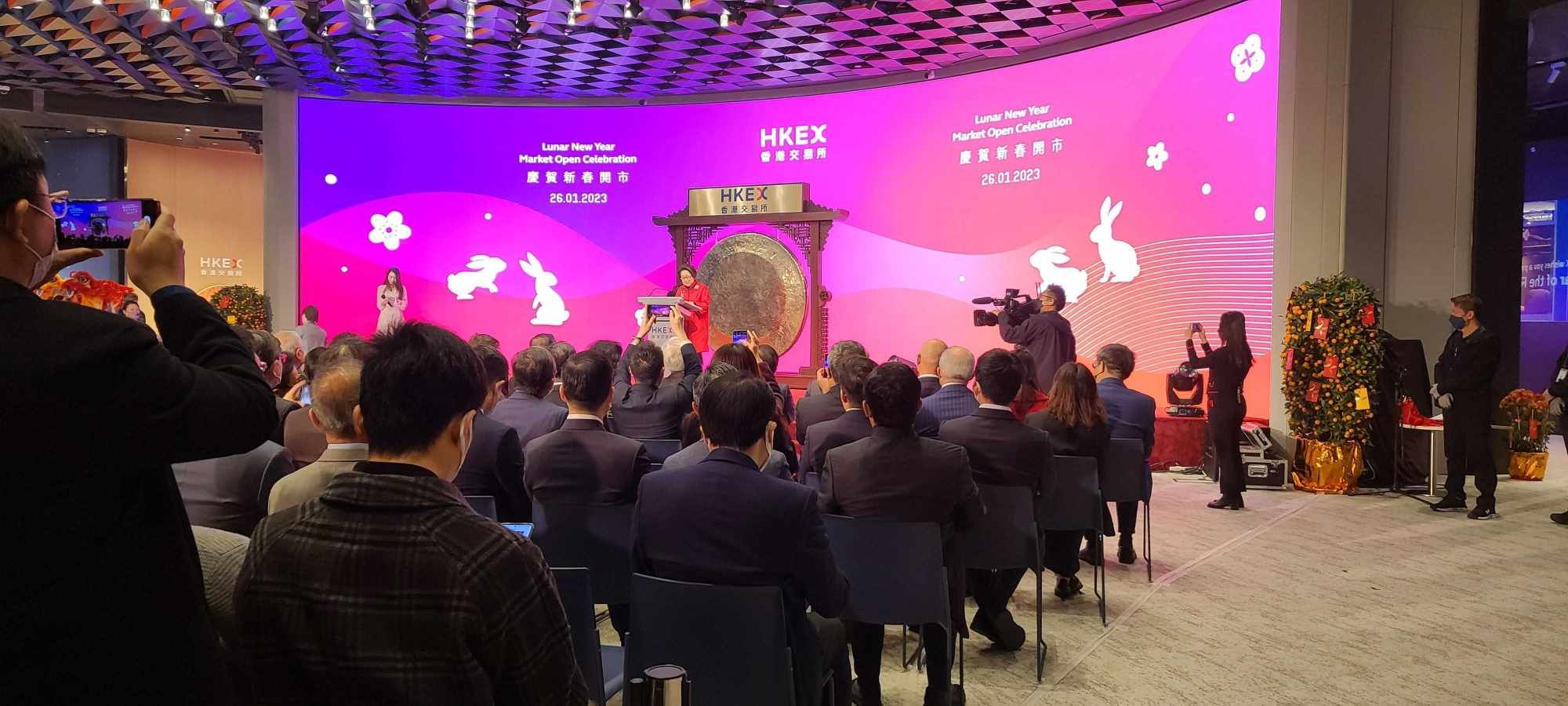 HKEX chairwoman Laura Cha speaks at a live event to greet the Year of the Rabbit on Thursday.

Hong Kong was ranked third in 2022 among the world's busiest IPO venues, after languishing in 10th place at midyear. The local bourse hosted 75 new listings, which raised US$12.7 billion in proceeds, according to data provided by Refinitiv, a 71 per cent slump from 2021.

Apart from FWD and Lalamove, other IPO prospects include the much speculated about revival of a jumbo offering by Ant Group, ByteDance, Syngenta, Amer Sports, and Didi Global, according to brokers. PwC expects 100 new listings this year, with proceeds doubling to HK$200 billion.

Chan pointed out that the IPO market had turned around in the second half, and he believed many of the market reforms will add depth, breadth and choices in the market. These include allowing promising technology companies without a profit track record to list. There is also a proposal to enable mainland investors to buy locally listed foreign companies through the Stock Connect scheme.

The on-site events on Thursday marked the first time the stock and precious metal exchange operators invited local brokers and media to witness the occasion, indicating businesses have returned to normal. The annual events have not been held since the Covid-19 outbreak in early 2020 to help contain infections.

A lion dance was the highlight of the day at Exchange Square, home of the stock and futures markets. HKEX's chairwoman, Laura Cha Shih May-lung, and Aguzin met hundreds of brokers and media at the Connect Hall, the bourse's former trading hall until 2017.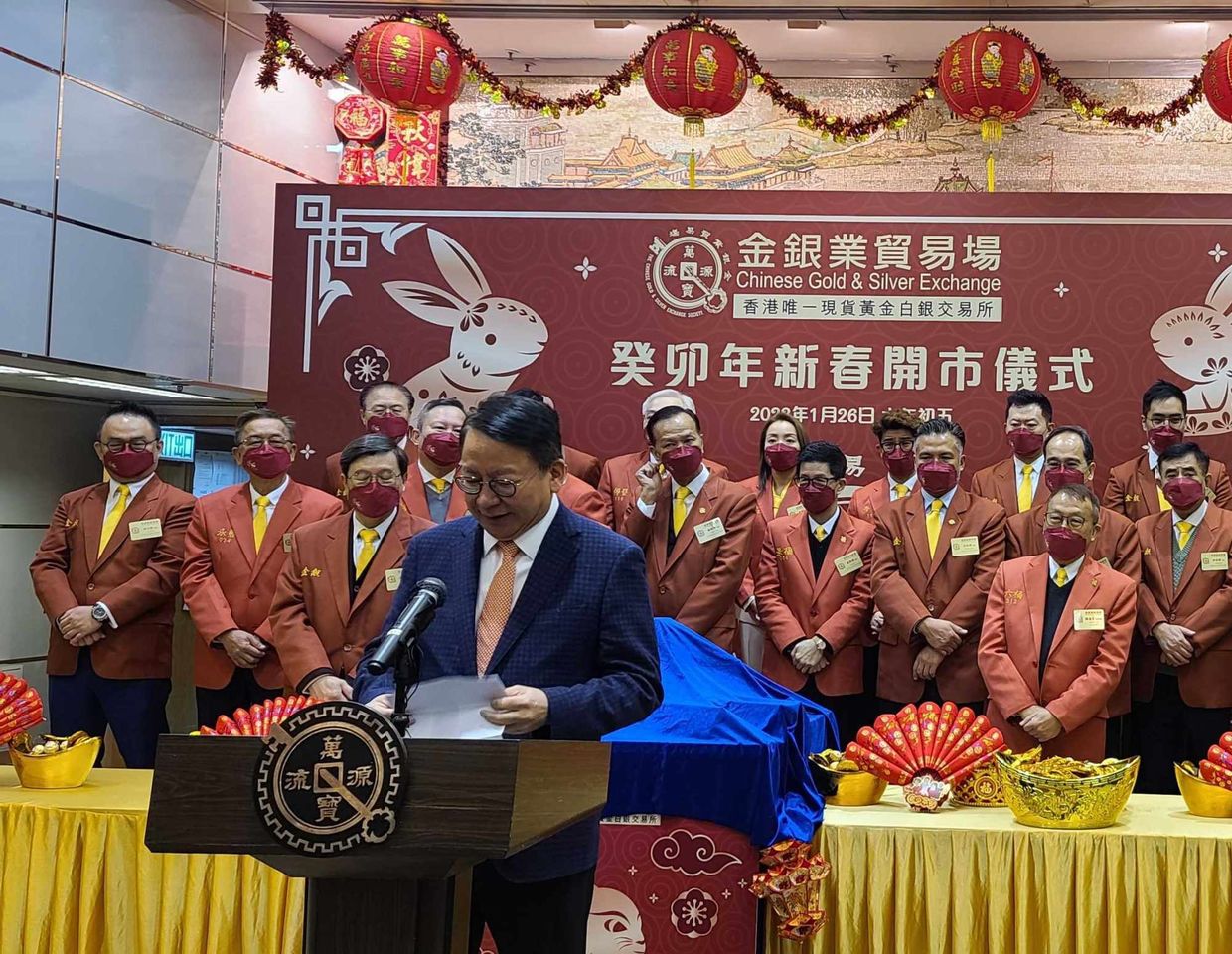 Hong Kong's Chief Secretary Eric Chan Kwok-ki speaks at the Hong Kong Gold and Silver Exchange Society.

"It is great to have an in-person ceremony [again]," Cha said after a gong-striking ceremony to mark the occasion. "To be able to resume the ceremony is sending a message to the world that Hong Kong is back."

Aguzin also said HKEX is still in the process of opening an office in Europe, after setting up one in New York in December, to get closer to global IPO candidates and other investors.

Meanwhile, the Chinese Gold and Silver Exchange Society is expected to introduce more new products and develop new projects to help promote investments in the Greater Bay Area. Chief Secretary Eric Chan Kwok-ki was the guest of honour at the opening ceremony.

"The Year of the Rabbit will see good growth in gold prices as the overall economic outlook turns positive in the post-Covid-19 era," said Haywood Cheung, president of the society. "The gold exchange will also develop digital products soon as part of the city's plan to develop into a virtual-assets hub."