Officials dialled up pressure on organisers to warn runners against pulling political stunts for fear of the event descending into protest, source says.
Organisers of the Standard Chartered Hong Kong Marathon have cautioned runners to abide by the law and not make political statements when taking part in Sunday's race, the first mass participation sporting event in the city since Beijing-imposed national security legislation took effect.

A source said the administration pressured organisers into issuing the warning after they previously indicated they would not interfere if competitors wore outfits displaying political slogans. The government took action in fear of the officially approved event descending into an anti-government protest, the source added.

"The Hong Kong Association of Athletics Affiliates would like to emphasise that political elements and slogans should play no part in sports events," a Thursday statement from the organisers said.

"We strongly advise runners to respect the official rules and to ensure the event takes place in an orderly manner.

"Anyone who violates the law or breaches the official rules will be barred from participating in the event. If needed, the organisers will seek assistance from law enforcement agencies."

The association added that runners wearing what they described as special attire or carrying backpacks must undergo security checks with event staff at the start area.

"The organisers strongly condemn anyone who makes use of the Standard Chartered Hong Kong Marathon as a platform for conveying and promoting political messages," the statement added.

"The organisers would like to reiterate that they have zero tolerance for any violation of the laws at the event and call upon members of the public not to defy the law."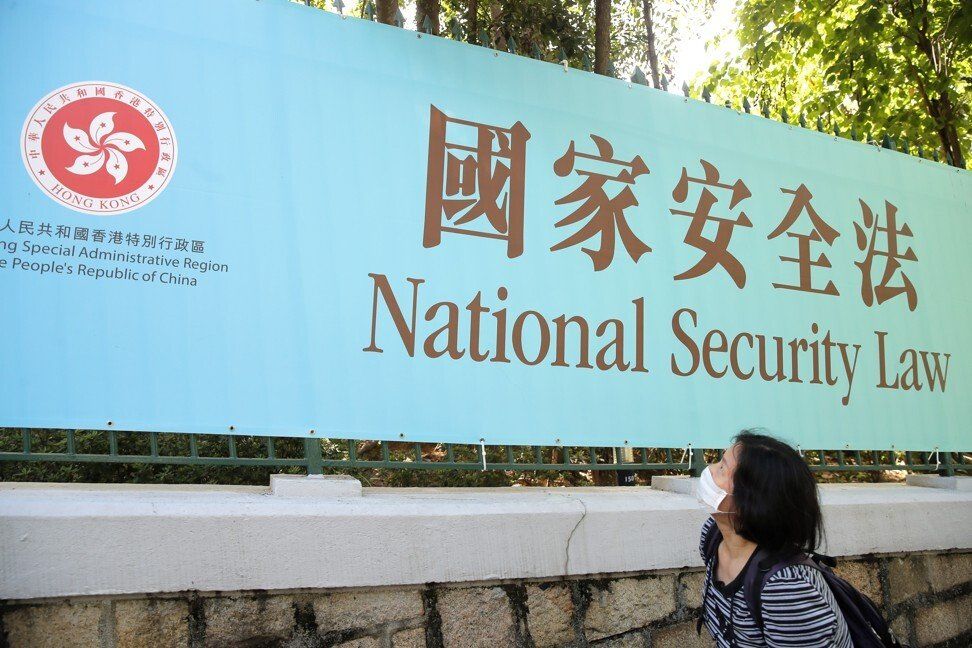 The national security law took effect in Hong Kong on June 30, 2020.

The race is the first sporting event involving large crowds of participants since the Beijing-decreed national security law came into force in June 2020 to ban acts of subversion, secession, terrorism and collusion with foreign forces.

Earlier this week, organising committee chairman William Ko Wai-lam was non-committal when asked if runners would be banned from displaying political slogans on their apparel.

"Runners in other marathons all over the world often wear different kinds of costumes, and our primary concern will be safety," Ko said on Monday. "We can't comment on if any slogans on their clothing would be banned as we haven't seen the slogans."

HKAAA chairman Kwan Kee also said at the time that organisers would have minimal control over runners who wanted to emblazon political messages on their clothing.

That same day, the association clarified their position to say they would issue warnings to any runner in breach of the law or the race regulations, adding it was prepared to seek help from law enforcement agencies if required.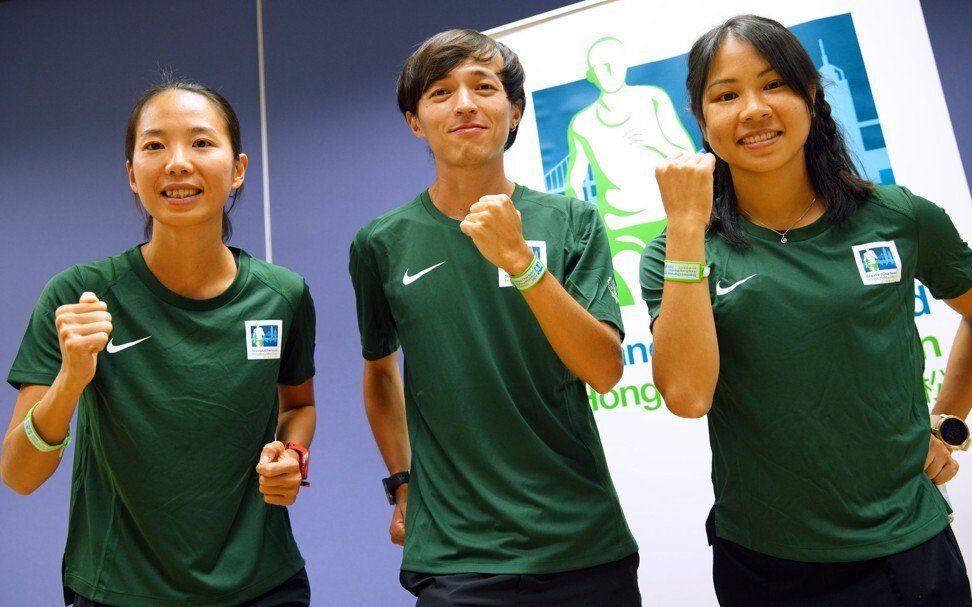 Elite runners Jessica Ching, Ngai Kang and Christy Yiu meet the media ahead of Sunday's marathon.

On Tuesday, opposition-friendly retailer Herbert Chow Siu-lung, founder and CEO of the children's clothing chain Chickeeduck, posted on Facebook that his shops in Tin Hau and Tsuen Wan would give out 3,000 badges to race participants.

The badge works as an ambigram, reading vertically as "Hong Kong" and horizontally as "ga yau", a Cantonese expression of encouragement meaning "add oil". The slogan was popular with protests during the anti-government unrest of 2019.

Chow also posted a photo of himself online wearing a black T-shirt and yellow shorts, both featuring "Hong Kong ga yau" printing. The post, which has attracted at least 8,200 "likes", carried the message: "I'm ready … see you at the finishing line!"

Earlier this year, police officers searched a newly opened outlet of Chickeeduck in Tsuen Wan, where a graffiti-style display at the entrance appeared to evoke a banned protest slogan.

Sunday's marathon, which was cancelled outright in 2020 due to the spread of coronavirus, will run with a vastly reduced field of 18,500 runners and with strict anti-pandemic rules in place. The government granted approval in August for the 2021 event to go ahead.