The Facebook post in question suggested officers would not be able to identify their assailants if they suffered a heavy blow to the head.
An unemployed Hong Kong man has been found guilty of inciting others to harm police during the months of social unrest that began in 2019 by suggesting on Facebook that officers would not be able to identify their assailants if they suffered a heavy blow to the head.

Tony Choi Yick-man, 61, was convicted on Friday of one count of incitement to cause grievous bodily harm with intent over the public Facebook post published in the early hours of January 20, 2020.

The District Court heard the post went online just hours after four police officers were assaulted in Central following an approved protest at nearby Chater Garden where participants had called for electoral reforms.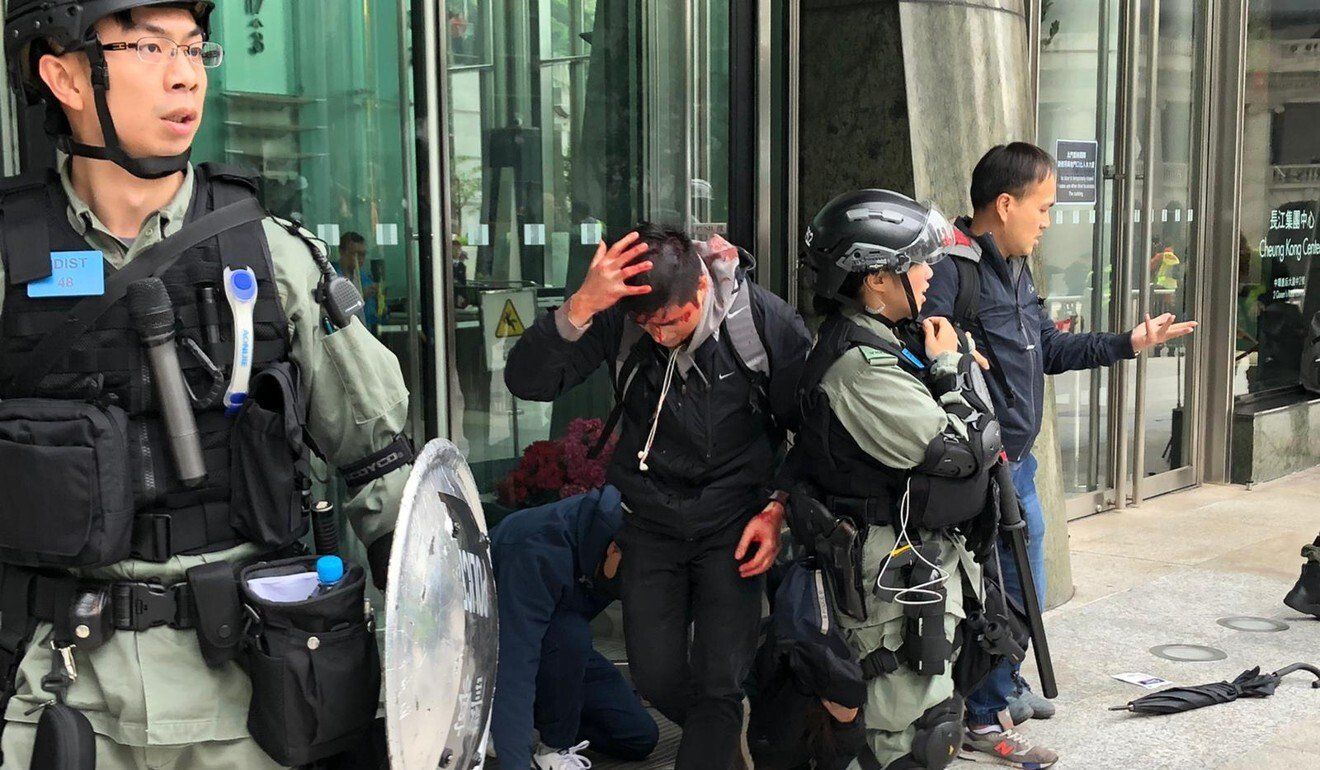 A man believed to be a plain-clothes policeman bleeds from the head after being assaulted following a protest on January 19, 2020.

In his post, Choi noted that several "popo" – or police officers – had been assaulted, with their heads covered in blood.

"But [there were] no skull fractures, only superficial wounds," he continued. "Everyone should know that if the head suffers a heavy blow, the chances of amnesia (or partial amnesia) are high. The amnesiac cannot accuse anyone."

The post drew 86 Facebook reactions, including likes and laughing emojis, as well as 23 comments and five shares.

One commenter added: "Identification is impossible if one is blind, deaf, crippled and mute."

To which Choi replied: "They have pepper spray, we can use water guns, many things can be sprayed."

He was arrested on May 26 last year.

Under caution, he admitted publishing the post but denied inciting others to assault police officers to the point of amnesia.

At trial, defence counsel Franco Kuan Bak-on argued the admission was not voluntarily made and submitted that Choi was only expressing his anger and, at most, gloating in the post.

But that was rejected by District Judge Clement Lee Hing-nin, who found that Choi knew about the injured officers and that the post as a whole clearly encouraged others to target police.

Lee added that the power of the post to incite was not diminished by the defence's claim that Choi was merely being reckless or indulging in schadenfreude, given that he had shared it so publicly on a commonly used social media platform where information spreads quickly.

If Choi were simply being reckless as his lawyers had claimed, he should have deleted the post once he calmed down instead of continuing to interact with commenters, Lee said.

Choi is expected to be sentenced on December 2. Incitement to cause grievous bodily harm with intent is punishable by life in prison, but the jail term is capped at seven years when the case is heard at the District Court.