No overflow of mainland shoppers in city's shopping areas on Sunday, but retailers predict uptick soon and prepare rewards to woo travellers.
Hong Kong's major shopping malls are wheeling out more than HK$18 million (US$2.3 million) in spending rewards to entice mainland Chinese travellers, but many of the city's typical hotspots appeared to mark Sunday's border reopening with muted trading.

Local residents also took part in last-minute gift shopping before heading north as quarantine-free travel between Hong Kong and the mainland was reinstalled after a three-year hiatus.

At Sha Tin's New Town Plaza, a mall that used to be a popular destination for cross-border shoppers along the East Rail line, a Post reporter found on average only two out of 20 customers were visiting from Shenzhen.

But mainlanders who spoke to other Post reporters in the city revealed they were prepared to spend big.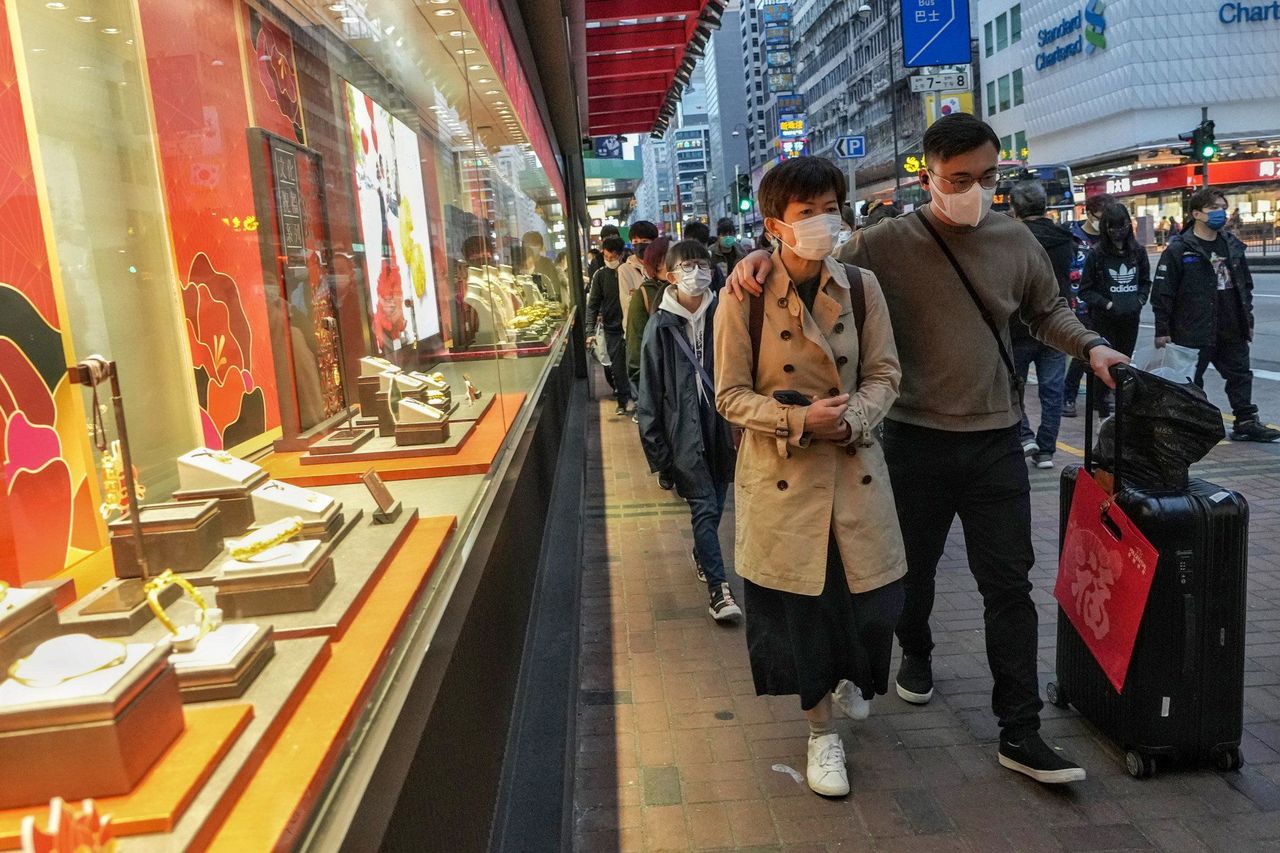 Shoppers on Nathan Road in Mong Kok.
Xia Jie, 26, an electronics technician from Shenzhen, arrived in Hong Kong around noon on Sunday through Lok Ma Chau rail station with his girlfriend. They had planned to spend 30,000 yuan (US$4,400) on gadgets but were met with disappointment.
"Both the iPhone 14 Pro Max and [Sony] PS5 [game console] are out of stock. The staff from Apple Store said [the phone] will be available for delivery on January 12 at the earliest, but we are only staying for just three days," said Xia, who last visited Hong Kong in 2019.
The pair instead moved on to Tsim Sha Tsui to hunt for deals on sportswear and other clothes.
Another traveller Feng Qin, 52, a stay-at-home mother from Futian travelling to Hong Kong for the first time since 2019, was shopping for a gift for her 23-year-old daughter's wedding in April.
She ended up spending HK$40,000 on a pair of gold wedding bracelets and a gold pig necklace at a jewellery store in New Town Plaza.
"The craftsmanship is definitely more delicate, with more choices, in Hong Kong. I want my only daughter to look decent at the wedding," Feng said.
"I will stay with my cousin for five days and we will go shopping together for some dry seafood for the Lunar New Year. Products in Hong Kong have a better reputation."
At Harbour City in Tsim Sha Tsui on Sunday evening, Xu Jiamin, 32, a handset accessory trader in Shenzhen, was among 10 shoppers queuing to enter the Chanel store. She was the only person in the queue who came from the mainland.
Suitcase in tow, she had already spent HK$20,000 since arriving in the morning.
"I bought six pairs of shoes, a lot of skincare and cosmetic products for myself and my friends who are not living in Guangdong, as well as a watch for my husband, which is the most expensive [purchase] today," Xu said.
Staying in the city until Wednesday, Xu said she had no strict itinerary for the days ahead.
Status of border control points on January 8, 2023
Hover over the dots for details, and rotate your phone for a better experience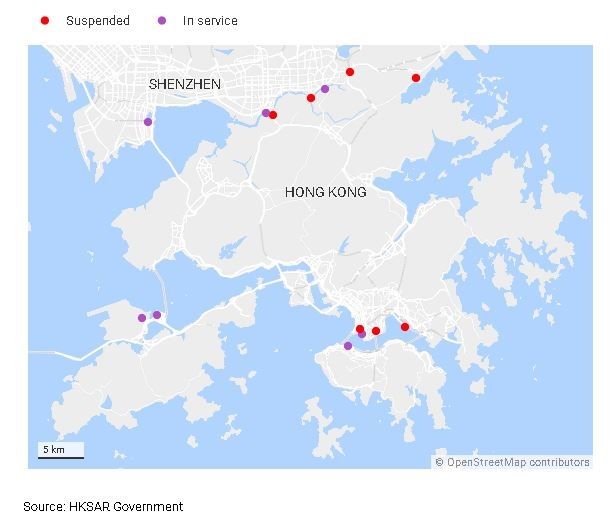 "I don't have a shopping list or a budget. Let's see what things I encounter. I haven't been here for three years. I almost forget how convenient it is to shop in Hong Kong."

Several dispensaries in the border district Sheung Shui, which used to be popular with mainland shoppers and parallel traders, also saw few customers.

"I haven't seen many customers speaking in Mandarin yet, only three or four so far," said an employee of Hong Hing Dispensary early in the afternoon.

"Today is still the first day and I expect more people will come over later."

Supplies of fever and diarrhoea medicines had run out and had not been replenished, he added.

Mainlanders crossing the border from Lok Ma Chau station included Henry He, a 37-year-old entrepreneur who had been away from his family for around two years.

He said he had prepared many gifts for his wife and children in Hong Kong before returning to the mainland.

The Lok Ma Chau rail station is among four border control points resuming operations, with the others being at Man Kam To, the Macau Ferry Terminal in Sheung Wan and Hong Kong China Ferry Terminal in Tsim Sha Tsui.

"For my kids, I got them a Nintendo Switch and snacks such as chocolate and candies," He said. "As for my wife, I have a surprise for her, which is a Gucci handbag she had been longing for. Of course, I bought some make-up as well."

"I spent around HK$11,000 on the gifts. But I find it worthwhile since I haven't seen them for such a long time and I feel guilty about the time when I was away."

Sun Hung Kai Properties on Sunday announced HK$10 million's worth of spending rewards at 15 of the group's shopping malls.

Executive Director Maureen Fung Sau-yim said the malls had worked with their tenants in advance to increase stock for cosmetics, health products, gold watches and sportswear by 20 to 30 per cent.

Fung said she expected the initial phase of reopening would stimulate a 15 to 20 per cent increase in customer traffic on a year-on-year basis.

Eight major shopping malls from Sino Group, including Olympian City and Tsim Sha Tsui Centre, are also offering HK$8 million in rewards in the first phase of attracting mainland travellers and other tourists to Hong Kong.

Bella Chhoa Peck-lim, director of asset management at Sino Group, said three of the group's major shopping malls were expected to see significant year-on-year growth in footfall and business in the first quarter of 2023, benefiting from the border reopening and the Lunar New Year holiday.

From 9 to 28 January, customers at Tsim Sha Tsui's K11 Musea can also redeem e-vouchers worth more than HK$2,200 by presenting a valid overseas passport or travel document.