Customs officers seized high-value electronic products, musical instrument accessories and audio equipment from vessel bound for Guangzhou on April 21; company proprietor, 69, arrested a day later.
Hong Kong customs has made its biggest maritime smuggling bust of the year so far, seizing HK$160 million (US$20.38 million) worth of high-value electronic products destined for mainland China.

A 69-year-old woman, a company proprietor, was arrested on April 22, a day after the customs officers seized the contraband containing high-value assorted electronic products, musical instrument accessories and audio equipment with a taxation value of HK$90 million.

Nelson Wong, divisional commander of the Customs and Excise Department's ports and maritime command, said customs officers intercepted a river trade vessel in the western waters of Hong Kong, which was bound for a Guangzhou port on April 21.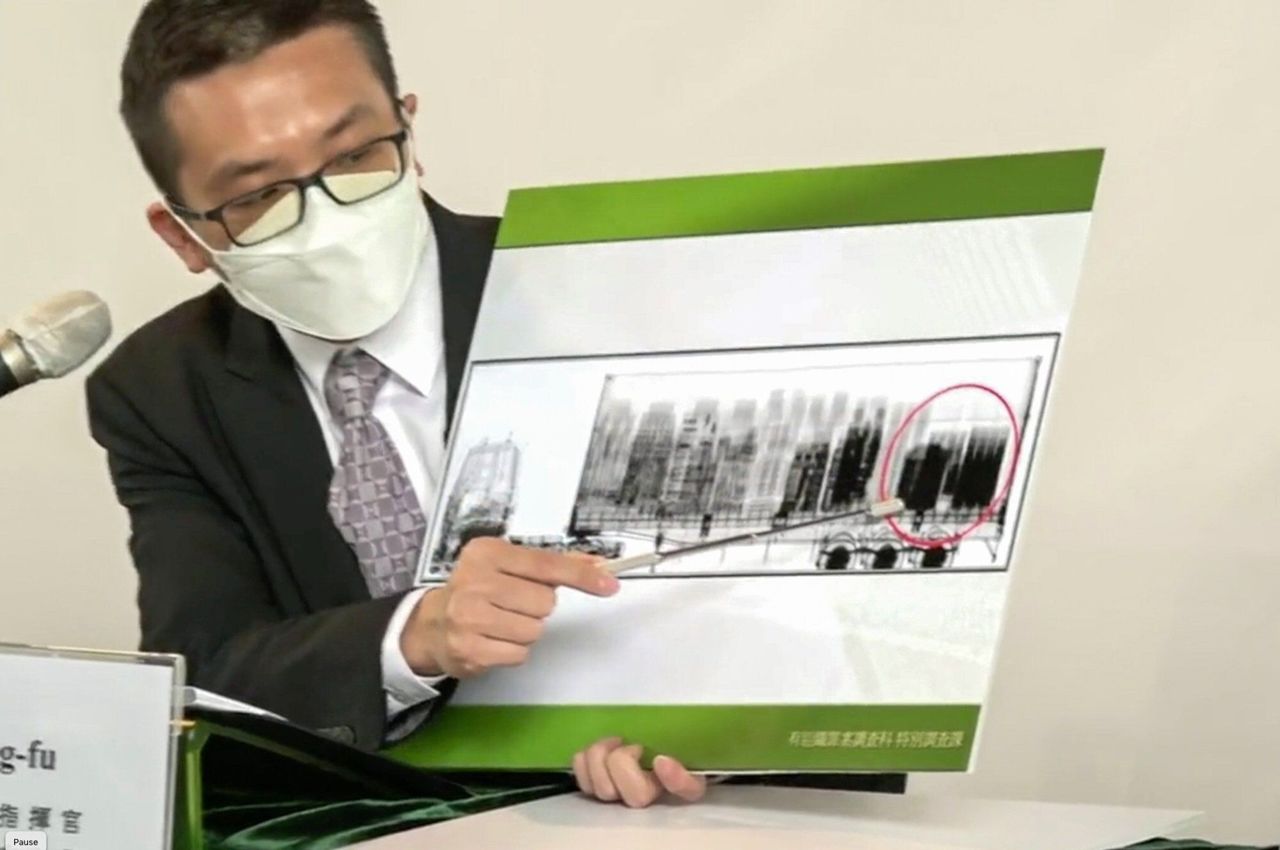 Customs' Nelson Wong with a scanned image of a container seized from the operation.

The vessel contained 55 containers, of which three were listed as 40 tonnes of low-value liquid-crystal glass plates and display panels.

"We had suspicions about this vessel's operation model and the goods consignor's background, so we sent the vessel back to Tuen Mun's River Trade Terminal for further investigation," he said.

Wong Ching-fu, divisional commander of the department's syndicate crimes investigation bureau, said that upon checking the three containers with an X-ray scanner, they discovered the undeclared electronic goods covered by the cheap liquid-crystal glass plates and display panels.

"The three containers were shipped by a company and we eventually arrested its 69-year-old proprietor. We don't rule out arresting more people," he said.

Cheng Tak-hei, group head of the department's syndicate crimes investigation bureau, said the contraband contained computer parts such as central processing units, high-value audio equipment including stereo systems and a gold-plated gramophone worth HK$300,000, and musical instrument accessories.

"The haul is worth about HK$160 million and it is this year's biggest seizure," he said.

Cheng said he believed the smuggling operation was designed to evade tariffs worth HK$90 million, adding he did not rule out the case involving crime syndicates.

"Since road transport has been hindered by the Covid-19 pandemic, many smugglers have switched to using sea transport for smuggling illegal goods," he said.

"Our investigation is still going on. If there is any involvement of crime syndicates, we will uproot their operation."

The Post earlier reported that police had stepped up the exchange of intelligence with mainland authorities on cross-border sea smuggling activities, swapping information about routes used and loading areas to deter such activities.

Rampant smuggling activities around the middle of last year involved more than 100 speedboats that usually gathered under the Hong Kong-Zhuhai-Macau Bridge in Chinese waters west of Hong Kong every night awaiting their assignments.

Last year, Hong Kong customs officers seized HK$2.08 billion worth of contraband products in such sea smuggling attempts to the mainland, a sharp increase from the HK$492 million worth of illegal goods confiscated in 2020.

The Post was told mainland authorities had tasked at least two coastguard gunboats with regularly patrolling the waters near Hong Kong since February, as part of efforts to deter smugglers and discourage people from sneaking across the border.

A source said a gunboat had been deployed near Chinese waters off Lantau Island, west of Hong Kong, with a second one on patrol near Grass Island, northeast of the city.