The Star Ferry Pier Ferris wheel in Central tops the poll for favourite tour group attraction, followed by Ocean Park.
Hong Kong has revealed some eye-opening facts and figures on mainland Chinese tour groups to the city three months after the end of Covid-19 cross-border travel restrictions.

The statistics give an overview of the city's post-pandemic tourism recovery and show signs of a return to life and an economy before Covid-19.

The statistics showed a return of mainland tourists for the first time in more than three years, but most of them chose low-cost, short-stay trips.

The Post examined the figures to find out what topped the list of attractions for visitors, how long they spent in the city and how much cash was injected into the economy.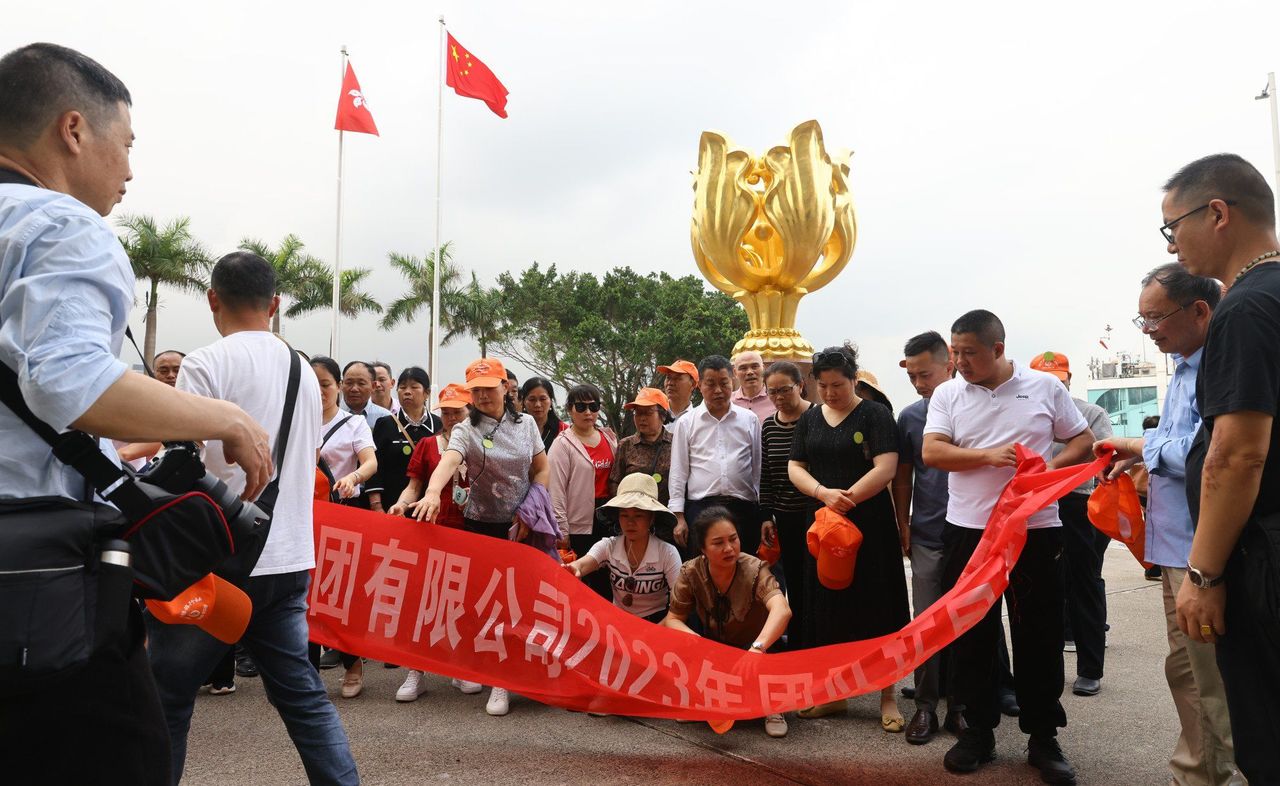 Tourists from mainland China visit Golden Bauhinia Square in Wan Chai.
1. What are the top six attractions for mainland tour groups?

The Travel Industry Authority recorded a total of 9,674 registered mainland tour groups that visited the city between February 6 and May 7.

The news came as the authority responded to lawmaker Kwok Wai-keung, who asked it to provide statistics on six attractions – the Hong Kong Palace Museum, M+, the Xiqu Centre, the Hong Kong Observation Wheel, the Peak Tram and Ocean Park.

The most popular destination for tour groups was the 60-metre-tall (197-foot) Ferris wheel next to the Star Ferry Pier in Central. The authority said 709 groups visited the wheel, which costs HK$20 (US$2.55) a head for a 15-minute ride.

Ocean Park in Southern district was ranked No 2. It attracted 534 tour groups, but no information was given on whether that included entrance to the park's new Water World attraction.

The three new landmarks in the West Kowloon Cultural District arts hub also ranked high. The 209 tour groups that visited the Palace Museum, designed to focus on Chinese art and culture, and which has entrance charges as low as HK$50 per person, pushed it to No 3.

The world famous tram trip up The Peak came in fourth with 72 tour group visits.

The Xiqu Centre, for traditional theatre and Cantonese opera, was ranked fifth with 52 tour groups soaking up some culture.

M+, which showcases modern art, design and architecture, was ranked sixth with 46 travel groups calling in, but its admission fees were more than double the Palace Museum's at a minimum of HK$120.

The Peak Tram and M+ were recently selected by 30,000 residents as the city's top tourist picks.

"It seems travel agencies care more about small profits and quick sales and they are not able to promote the advantages of many tourist spots in Hong Kong," Kwok said.

"But it is undeniable that many high-quality tourists choose to travel independently. Hong Kong should develop more local guide groups for independent travel tourists or expand them."


2. How much do tours cost?

The authority recorded 3,183 registered itineraries between March 29 and May 7 and most tours from the mainland (54 per cent) cost 500 yuan (US$72) or less.

But, based on the lowest budget, mainland tourists would miss out on some classic Hong Kong experiences.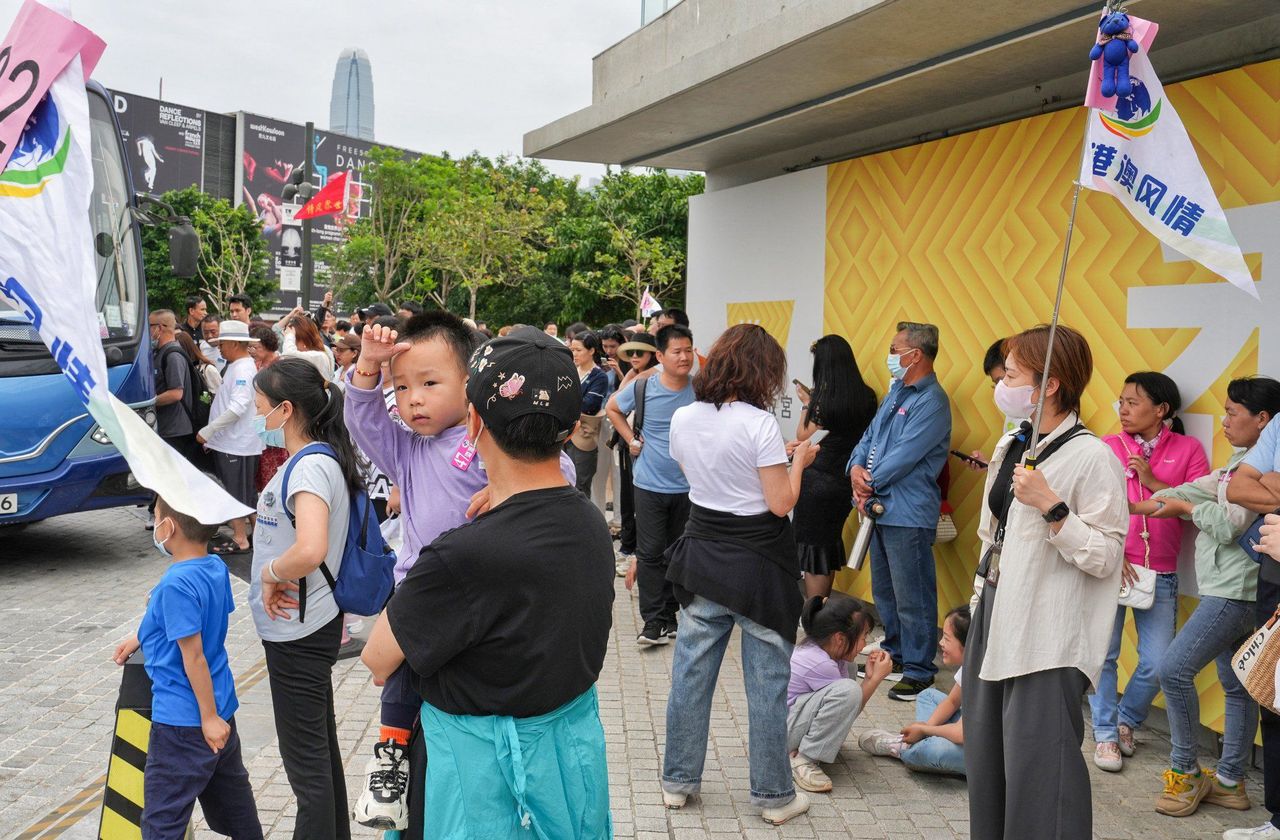 The Hong Kong Palace Museum attracts throngs of tourists from the mainland.

An adult daily pass to the Hong Kong Disneyland Resort on Lantau Island costs HK$639, higher than the price tag for the cheaper tours.

A round trip on the Ngong Ping 360 cable car on Lantau at a cost of HK$235 a passenger will burn through almost half of the cost of a lower-end tour and a traditional Hong Kong dim sum meal can set diners back HK$100 each.

All of that is before the cost of meals and accommodation in the city.

The authority said 16 per cent of the total – 517 tours – cost between 1,001 yuan and 1,500 yuan.

Another 13 per cent, 424 tours, cost from 501 yuan to 1,000 yuan. Only 7 per cent of them cost between 1,500 yuan and 2,000 yuan.

Kwok earlier said mainland tours to Hong Kong were a "lose-lose" situation for mainlanders and residents.

He added that Hongkongers had complained that large groups of tourists had blocked residential streets and slowed traffic, and tourists were also deprived of a good travel experience.

"It is difficult for low-price packages to objectively improve the tourist experience or leave a full-screen impression of Hong Kong," he said.


3. How long do mainland tour groups stay in Hong Kong?

About 47 per cent of the 9,674 tour groups recorded in the three months to May 7 opted to stay in Hong Kong for two days and 39 per cent stayed just one day.

Only 2 per cent of the total – 154 groups – spent at least five days in the city.

But many tourists also use time in Hong Kong to visit Macau.