All 36 samples from Luncheon Star passed safety tests, according to Food and Environmental Hygiene Department.
Hong Kong's largest lunchbox supplier has passed a safety check after several students fell ill last week, but the company will end some of its contracts with secondary schools due to capacity limits.

The Food and Environmental Hygiene Department on Monday said all 36 samples from Luncheon Star passed safety tests. Eleven food samples were tested for bacteria and whether they were thoroughly cooked, while 25 environmental samples were also checked.
The department said it had asked food supplier Luncheon Star to compile a written report and noted the company had the responsibility to improve its production process and ensure food safety. The supplier, which provides about 100,000 meals daily to more than 200 primary and secondary schools, earlier apologised to affected pupils, parents and campuses.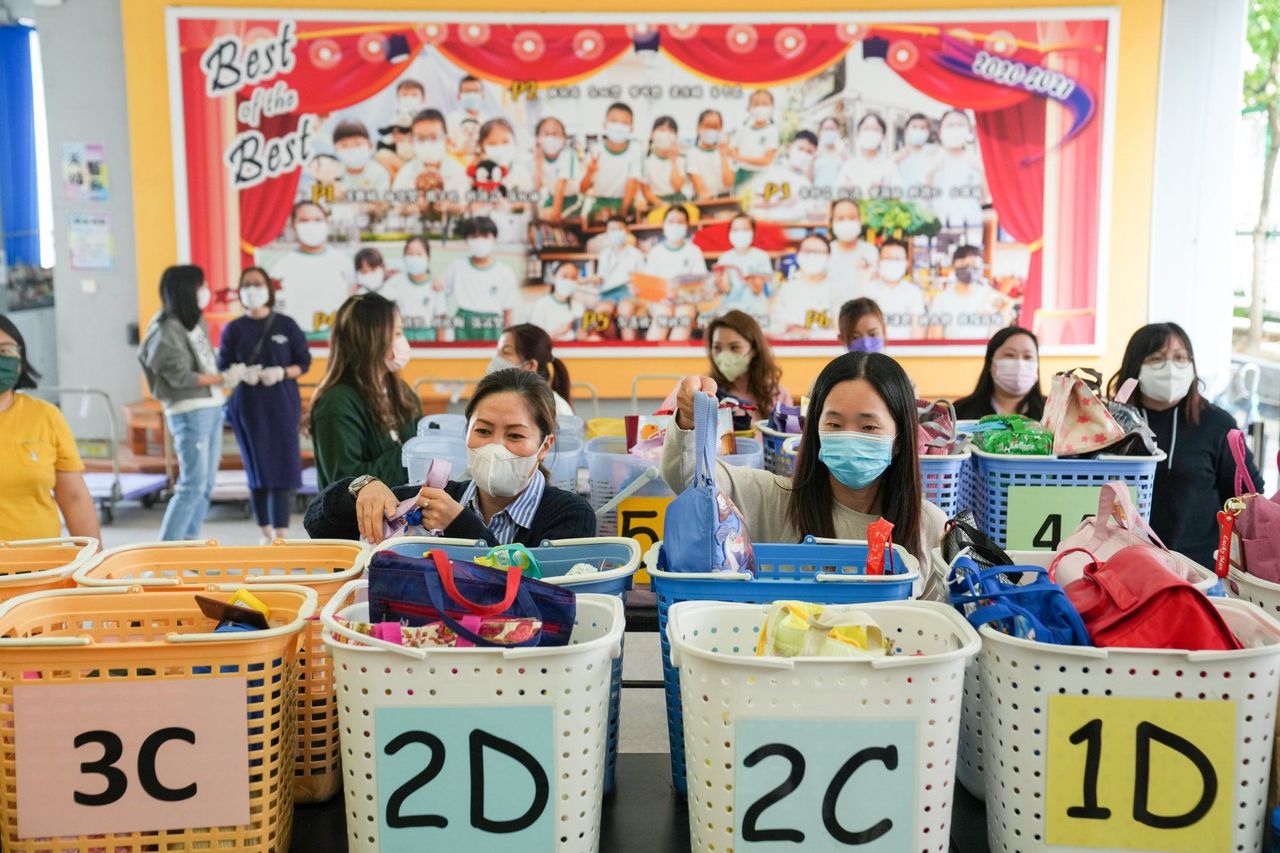 Parents prepare lunchboxes at Tin Shui Wai Methodist Primary School.
Luncheon Star on Monday also said the supply of meals to other schools would resume on Wednesday after service was halted for two days. During the suspension, primary schools turned to alternatives to feed students by switching to other food providers, inviting parents to cook lunch and allowing pupils to go home at midday.
A spokeswoman for Cafe de Coral Group, which owns Luncheon Star, said it was currently preparing for Wednesday's service resumption and had decided not to renew contracts with some secondary schools.
"As early as the beginning of February, we realised that the demand for lunchboxes had increased by three to four times compared with the period before the resumption of [full-day in-person] classes," she said.
"After considering the manpower arrangement and capacity load, we decided not to renew contracts with some secondary schools. The decision took into account that it was relatively easy for secondary pupils to arrange for lunch themselves."
The company had alerted the schools within the notice period specified in the contract, she added.
At Tin Shui Wai Methodist Primary School on Monday, about a dozen parent volunteers placed lunchboxes from another provider, which also serves its sister secondary school, into large thermal containers.
Vice-Principal Chung Kwan-ling said more than 450 students chose to buy lunchboxes offered by another supplier during the halt in service, while 200 parents prepared meals for their children. About 50 pupils went home for lunch and a handful of students opted to attend school only for half of the day.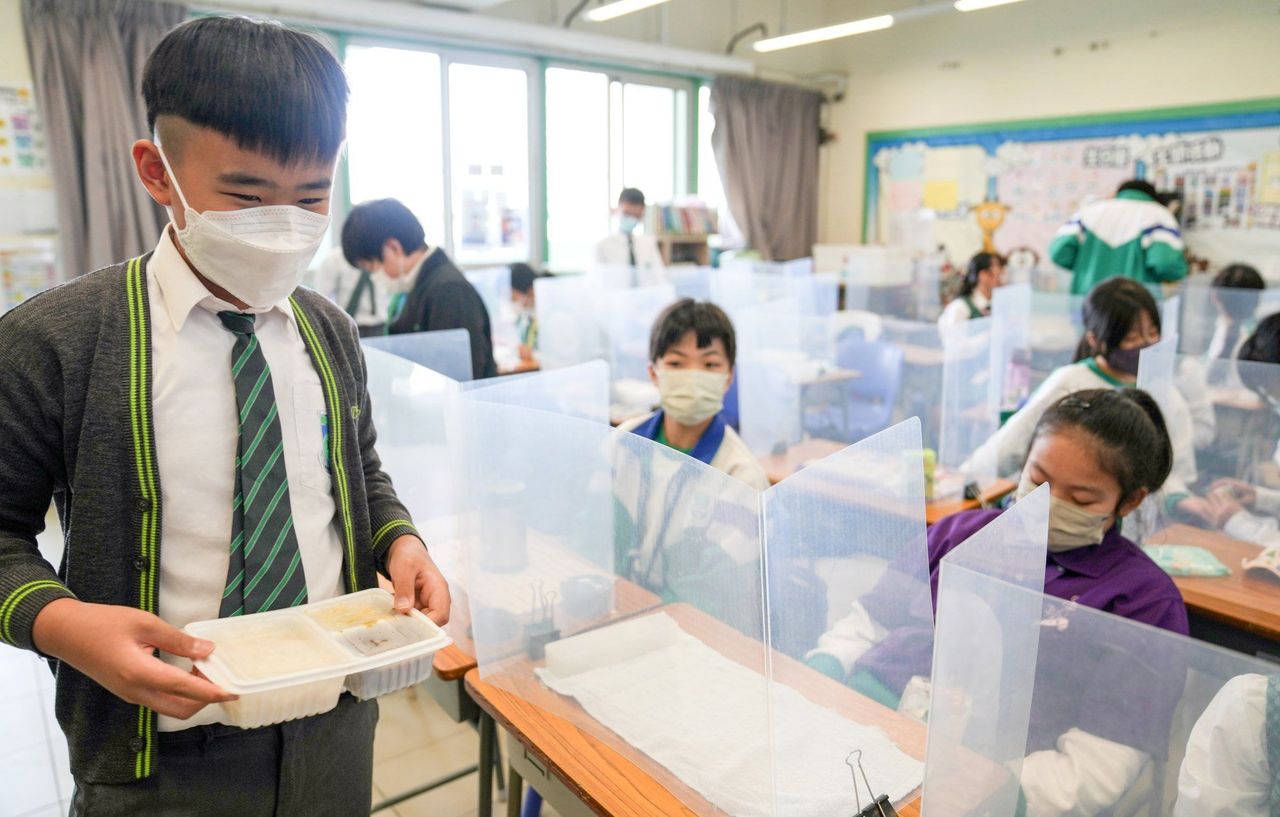 More than 450 students chose to buy lunchboxes offered by another supplier at Tin Shui Wai Methodist Primary School.

Chung said there were no confirmed cases of food poisoning at the school.

So Ping-fai, principal of the primary school, said he needed to get to the bottom of the issue before deciding whether the school should continue to source meals from Luncheon Star. Its contract with the supplier is due to end this year.

Li Hoi-ming, a housewife with a part-time job, said she had hesitations about the meals from other suppliers, adding she decided to cook lunch for her daughter in the morning and took it to the school later.

"As far as I know, Luncheon Star's lunchboxes are quite good compared with other food suppliers. My eldest daughter studying in the secondary school said her lunchbox tasted bad and so I decided to cook for my younger daughter," she said.

Some students said they liked the new supplier's meals, but others preferred home cooking.

Primary Two pupils Chow Cheuk-nam and Chen Chak Yu, seven and eight respectively, found their lunchboxes from the alternative provider delicious.

"I like the new one more than the old one," Chow said.

Chen said he would give it 100 marks.

Ng Yui-hei, seven, a Primary One pupil, said the lunchbox tasted awful and he preferred the original supplier.

"I want to bring home-made meals if my mum can cook for me," Ng said.

Feng Meihua took her eight-year-old son to a restaurant for lunch as he had declined to eat the food from the new supplier. "He doesn't like to eat chicken wings and the school said it was their only choice. But I cannot cook for him because I need to work," she said.

Y.C.H. Chiu Tsang Hok Wan Primary School in Tsing Yi invited a dozen parents to cook more than 200 meals for students.

Chen Yi-hsin, the principal of the school, said it was a good opportunity for parents and schools to resolve the crisis together.

Holy Cross Lutheran School in Tsuen Wan arranged a picnic at Inspiration Lake Recreation Centre near Hong Kong Disneyland. The school asked students to bring their own food.

A picnic at Inspiration Lake Recreation Centre organised by Holy Cross Lutheran School after lunchbox services were suspended.

C.C.C. Mong Wong Far Yok Memorial Primary School, which saw three of its pupils fall sick after consuming the lunchboxes from Luncheon Star last week, said in a circular to parents that it would meet the food supplier on Monday to discuss quality control.

It said the three students had returned to school after either consulting a doctor or taking time to rest.

The school said it was "outrageous" that the supplier's meals had made students feel unwell, adding it strongly condemned the company and urged it to strengthen its inspections to ensure food safety.

The Education Bureau said subsidised schools were allowed to ask for a lunch supplier's invoice through telephone, fax or verbally if the procurement value was between HK$5,000 (US$637) and HK$50,000. It added that once a principal or a vice-principal approved, the school was allowed to procure lunchboxes.