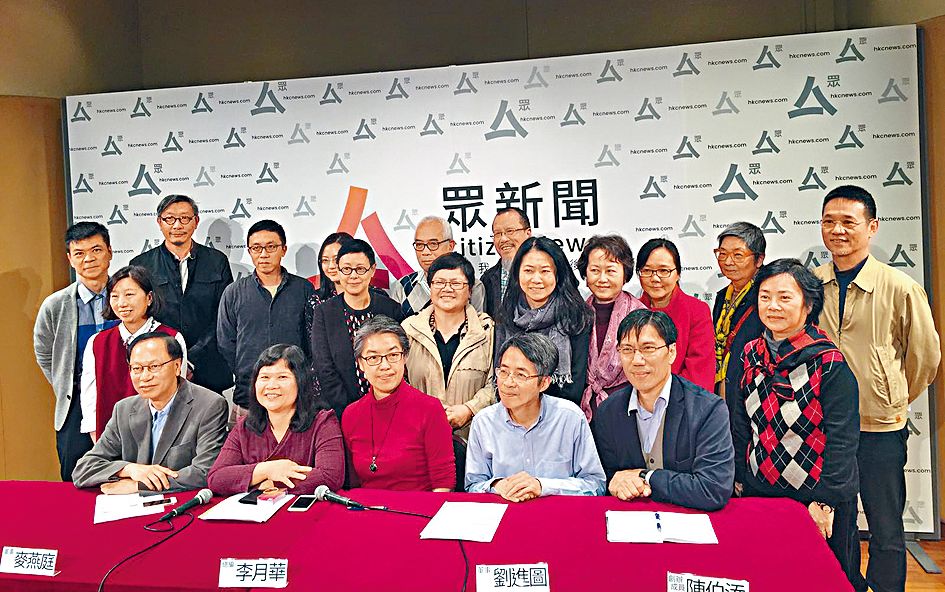 Hong Kong loses another pro-democracy media within a week
Pro-democracy online media Citizen News has announced its decision to stop operations after five years, days after another outlet Stand News shuttered following a police crackdown.
"Citizen News will stop operations on January 4, 2022 (Tuesday). The website will no longer be updated, and it will be closed down after," it stated on Sunday.

The media, which is one of the last remaining pro-democracy Chinese outlets after Stand News shuttered, said it has to ensure the safety of everyone involved during difficult times.

Citizen News was established on New Year's Day in 2017, founded by 10 media veterans including several former Hong Kong Journalists Association chairs – Chris Yeung Kin-hing, Sham Yee-lan and Mak Yin-ting – as well as former Ming Pao chief editor Kevin Lau Chun-to.

Its incumbent editor-in-chief is Daisy Li Yuet-wah, who has worked in Ming Pao and Apple Daily in the past.

In the statement, Citizen News said several co-founders had expressed worries about Hong Kong's press freedom when the media was created. At that time, the outlet vowed to accompany Hongkongers "no matter on sunny or stormy days".

Despite a lack of resources, Citizen News grew from a team of 10 to several dozens, covering exclusive stories, investigative reporting, mainland news and court news, among others.

It has also grown in popularity among the public, it stated.

"We have always been loving this city. But resignedly, what we are facing now is not only wind and rain, but tornado and huge waves," it stated.

The Citizen News team said the environment for media has worsened amid the fast and sudden changes in the society in the past two years, and that the outlet can "no longer achieve our goal worry-free anymore".

Yeung told the Standard that Citizen News will host a press conference on Monday to explain the decision.

He refused to give further comments, adding the decision was supposed to be announced on Tuesday. But the media decided to make an earlier annoucement due to media enquiries over the weekend.

Last Wednesday, another pro-democracy online news outlet Stand News announced immediate closure after national security police that morning arrested seven past and present senior executives for allegedly conspiring to publish seditious material.

Secretary for Security Chris Tang Ping-keung also froze HK$61 million in assets in the arrests and a raid in Stand News' office in Kwun Tong.

Stand News was the second media organization after Apple Daily to fold following police actions against top executives.

Arrested were acting editor-in-chief Lam Shiu-tung, who also resigned last Wednesday and five others who stepped down from the company by last month.

They were former editor-in-chief Chung Pui-kuen and four former board members: barrister and ex-legislator Margaret Ng Ngoi-yee, singer and activist Denise Ho Wan-see, former chief executive of the Hong Kong Council of Social Service Christine Fang Meng-sang and Stand News' former science page editor Chow Tat-chi.

Chung and Lam were charged with conspiracy to publish seditious material on Thursday and appeared in court that day and on Friday respectively.

They remain in jail custody awaiting next court mention on February 25.