Long-term residents at Bay Bridge Lifestyle Retreat in Tsuen Wan vow to ignore legal letters demanding they vacate their flats
Long-stay hotel tenants in Hong Kong are complaining of being forced to move out at short notice amid a government push to convert rooms in the hospitality industry into Covid-19 isolation facilities.

About two dozen long-term residents at Bay Bridge Lifestyle Retreat in Tsuen Wan received legal letters from the hotel on Wednesday ordering them to vacate the property before noon the following day. They were earlier requested to leave by Tuesday but refused.

The 130 long-term residents were notified on March 3 to leave the hotel in two weeks, with the property designated as a community isolation facility from Tuesday for coronavirus patients with mild or no symptoms.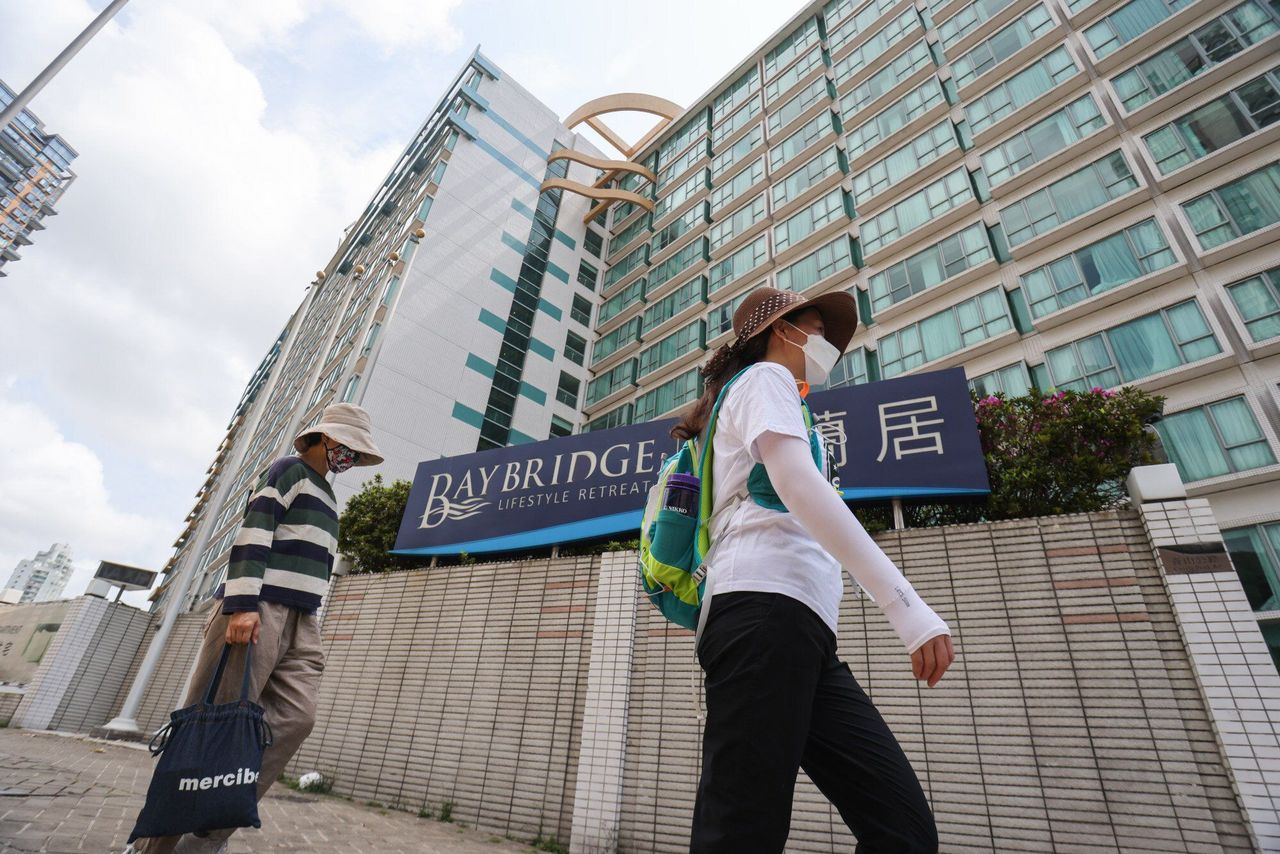 Bay Bridge Lifestyle Retreat has offered residents compensation equal to one month's rent and offered an alternative property in the same district for them.

A resident at Bay Bridge Lifestyle Retreat, surnamed Fung, blasted the hotel's decision to apply to become an isolation facility, leaving tenants in the lurch.

"How can we arrange for new accommodation within two weeks? Many hotels were designated as community isolation facilities and it's difficult for us to rent other places within such short notice," she said.

She noted that one of the households had signed a one-year lease with the landlord and moved into the hotel in February.

Fung pays HK$15,000 (US$1,920) in monthly rent and moved into the hotel alone about 1½ years ago, as she enjoys the tranquillity and scenery there.

Although the hotel offered compensation matching one month's rent and provided an alternative property in the same district for her, Fung said she could not accept the option as the room was smaller and did not provide features such as double beds, a wardrobe, bathtub, microwave or car parking.

"Why should I move there? They cannot just ask us to move anywhere else," she said.

She added that while she understood the need to ramp up the supply of community isolation facilities, she could not accept the hotel's response and compensation.

She said an elderly resident who accepted the offer was told to communicate with the alternative hotel and arrange accommodation by herself, while the rent there had surged from HK$8,500 to HK$12,800 a month. The original hotel only offered her HK$8,500 in compensation.

Fung said she and another 20 households would not move out until the hotel negotiated reasonable compensation with them, such as the full amount equivalent to rent payable until the end of their leases.

The hotel's legal letter said tenants failing to vacate the property by the deadline could face legal action. The tenants drafted another legal document to the hotel to demand an explanation on Thursday.

Long-stay tenants at other hotels have also reported similar scenarios. Andy, a 52-year-old taxi driver who only wanted to be identified by his first name, said he was told to move out of Panda Hotel in Tsuen Wan on March 7.

He said he could not hold the hotel accountable, as he did not sign a lease when he moved in, and had paid his rent monthly at the property's check-in counter.

"Fortunately, I can rent another place to live immediately. But not everyone is as lucky as me. Some of the families have children and do not know where to move," he said.

He added that such long-stay hotels were popular among cross-border students who travelled daily from mainland China to Hong Kong for classes before the pandemic as they must live in Hong Kong due to travel restrictions at the border.

An 28-year-old resident at the Kowloon Hotel in Tsim Sha Tsui, who spoke on condition of anonymity, said she was offered to move to Harbour Plaza North Point, but was not satisfied with the new location.

"The building is older and it's close to the funeral home, so I did not accept the offer," she said. "The rent of the other hotel has been surging, they even offered us a low price in January to attract us to sign a three-month lease."

She has moved back to her family home temporarily and is searching for alternatives.

The Bay Bridge said its hotel had made contact with individual guests and most of them had agreed to vacate the premises. It said it offered compensation equivalent to one to three months' rent and to bear transport fees resulting from the relocation.

"For certain guests requesting for compensation as much as over HK$500,000, the hotel management has been making efforts to reach a consensus accepted by both sides by presenting them with various accommodation options," it said in a response to an inquiry by the Post. "Unfortunately, some of the suggestions were rejected over various reasons, such as hotel location and view of the room."

In a new development on Thursday night, Fung said the hotel's lawyer had replied to their legal letter in under an hour, indicating it might compensate tenants the full amount equivalent to rent payable until the end of their leases.

However, the hotel could cut its electricity and water supply at any time due to construction. Shuttle bus services will not be provided from Friday. The tenants who decided to stay were still discussing their next step, Fung said.

The government has been ramping up the supply of community isolation facilities to isolate Covid-19 patients, including converting hotel rooms and building new units on vacant sites.

A source familiar with the hotel deployment previously said authorities had offered HK$1,600 per room for properties managed by a hotelier itself, or HK$1,000 per room for operators who preferred to let the government run their facilities.