Poor performance followed another drop in October, when exports contracted by 10.4 per cent compared with same month in 2021
Hong Kong recorded an export plunge of 24.1 per cent year on year in November, the sharpest drop in almost seven decades, amid worsening demand in mainland China, the United States and the European Union.

The decline followed a drop in October, when exports contracted by 10.4 per cent compared with the same month last year, the Census and Statistics Department revealed on Thursday.

November's contraction in exports marked the city's worst monthly performance since May 1954, when the figure was down 24.4 per cent year on year.

Economists said the further deterioration of the city's trade performance last month had occurred amid a period featuring disruptions to cross-border land transport and overseas countries raising interest rates to combat inflation.

The city would pin its recovery hopes on the coming quarantine-free travel with the mainland from mid-January, they said.

Beijing earlier announced that it would scrap its strict entry regime for cross-border travellers, as well as ease most of the mainland's coronavirus restrictions from January 8.

A government spokesman on Thursday said Hong Kong's export performance would continue to face huge challenges in the near term, as monetary policy tightening in advanced economies had further dampened demand.

"Nonetheless, the recent relaxation of cross-boundary land transport restrictions may offset some of the pressures," he said.

Hong Kong logged a trade deficit of HK$27.1 billion in November, with exports shrinking to HK$360 billion (US$46.2 billion) and imports tumbling to HK$387.1 billion, down 20.3 per cent compared with the same month last year.

During the first 11 months of this year, the city's exports slipped by 6.4 per cent and imports fell 5.4 per cent from the same period last year.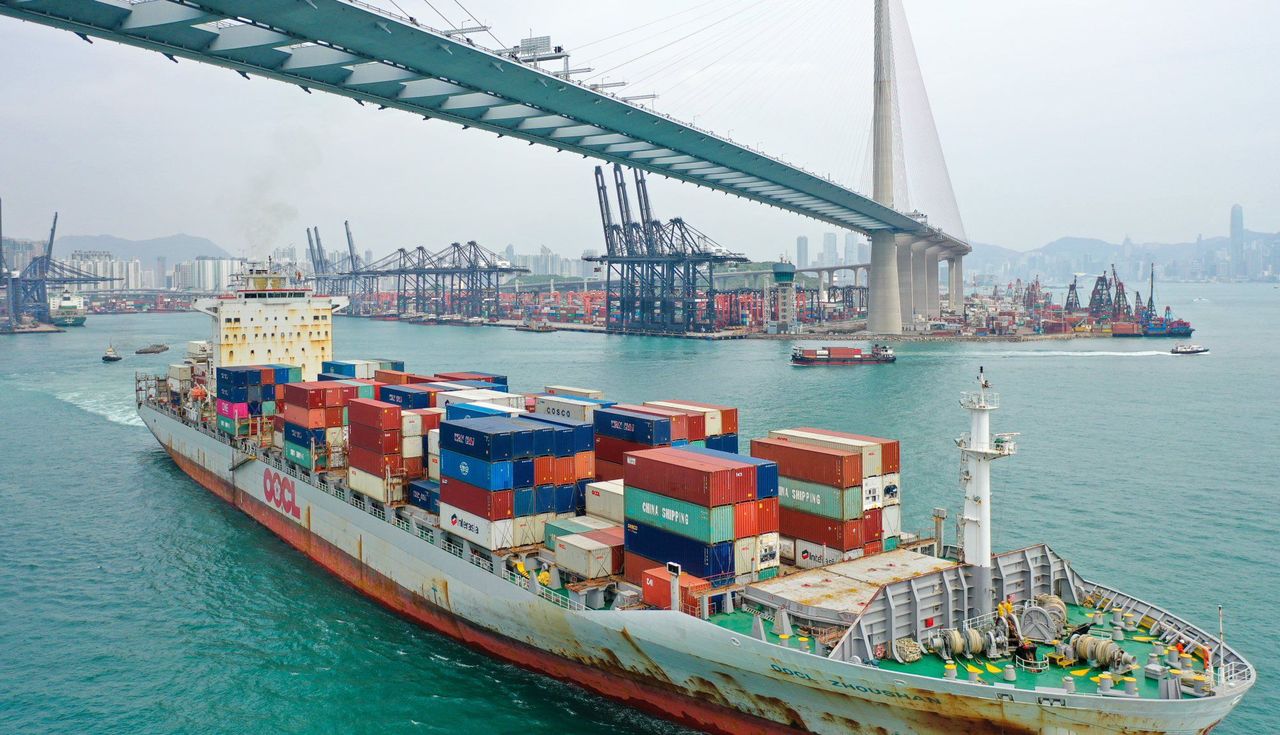 Hong Kong's exporters have faced a number of challenges.
Iris Pang, chief economist for Greater China at ING, said Hong Kong's trade performance next year could be affected by issues such as high inflation rates overseas.
"The worst is yet to come … One of the biggest threats is inflation, especially in the US and EU," she said, adding that weakened demand in both locations would spill over to the first half of next year.
Pang said she predicted that inflation in the EU would continue to hover at a double-digit level, while the US would keep raising interest rates to combat inflation next year.
The mainland, the city's biggest export market, in November recorded its own performance slump of 29.7 per cent year on year.
During the same month, Japan logged a drop of 30.4 per cent, the United Kingdom was down 39.6 per cent, while Germany and the US logged contradictions of 30.7 per cent and 26.8 per cent, respectively.
The poor performance of Hong Kong's trade sector, a pillar of the local economy, earlier prompted the government to downgrade its full-year economic forecast for 2022 from between 0.5 per cent growth and 0.5 per cent contraction to a 3.2 per cent drop.
During the third quarter, Hong Kong's gross domestic product (GDP) fell by 4.5 per cent from a year earlier. The figure also marked a decline of 1.3 per cent from the preceding quarter, while the real GDP for the first three quarters as a whole dropped by 3.3 per cent compared with that of 2021.