Authorities also report outbreak involving 33 residents at a home for the elderly.
Hong Kong's daily tally of Covid-19 infections has surged above 8,500 for the first time since a rebound in June, prompting the government to warn of an "extremely heavy burden" on the city's healthcare system.

Authorities also reported an outbreak involving 33 residents at a home for the elderly, as they announced on Thursday that the overall daily total had hit 8,579 – the highest since March 27.

"The infection figure has increased by nearly 2,000 per day in the recent two to three days, from over 6,000 per day, to more than 8,000. The number of cases is rising rapidly," Dr Albert Au Ka-wing of the Centre for Health Protection said.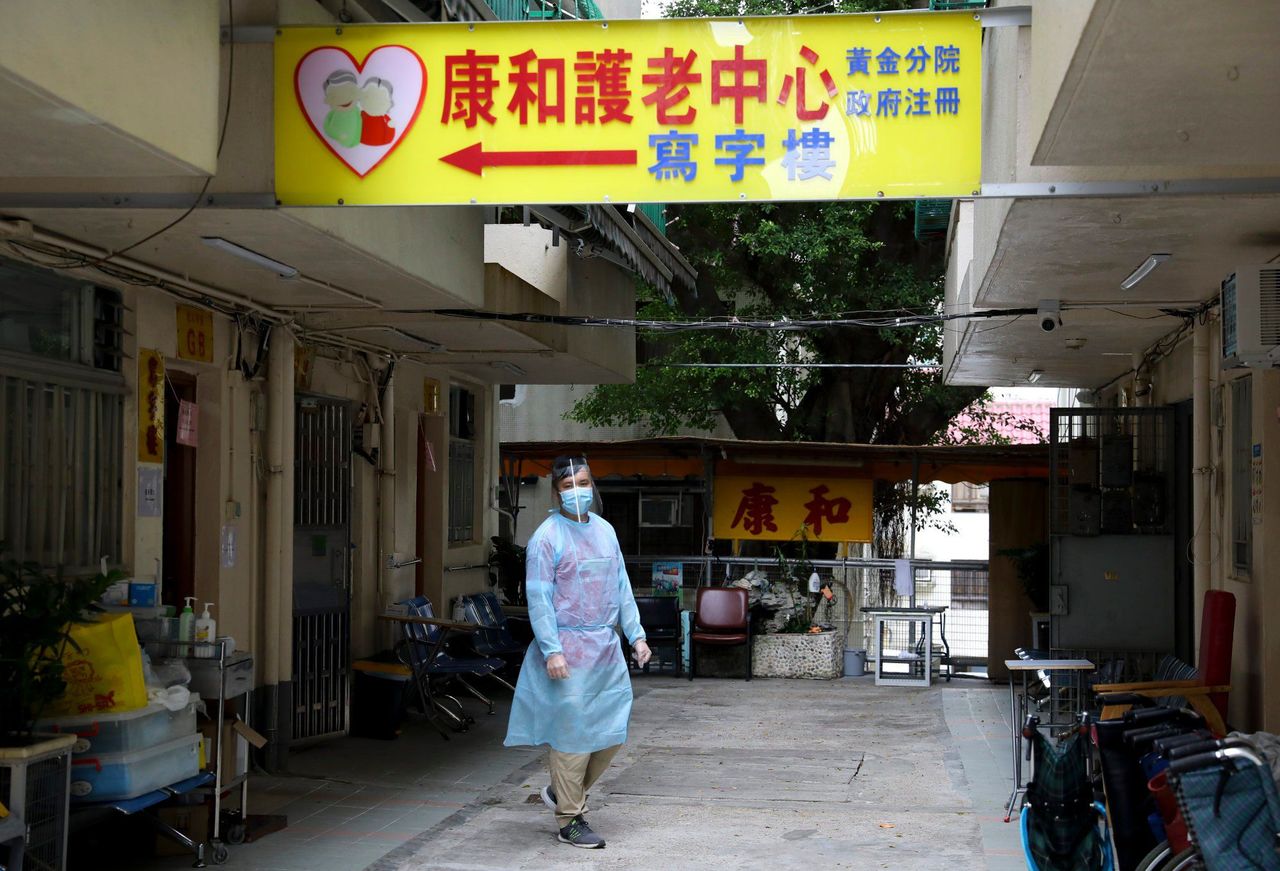 A medical worker at an elderly care home in Hong Kong.

"We expect the figure to exceed 10,000 soon, which may result in an extremely heavy burden on the healthcare system."

Nine more deaths were reported on Thursday, and 297 of the new cases were imported.

Asked if the city was facing a sixth wave of Covid-19 infections, Au said the fifth wave had never ended, although cases had dropped to a few hundred in April.

He also expressed concerns over the "accelerating" number of transmission chains and the speed of infections.

"If the increase in the number of cases worsens further, we might need to consider tightening some of the social-distancing measures," he said, urging the public to take extra precautions such as avoiding large-scale and cross-family gatherings, as well as conducting tests more frequently.

Health officials on Thursday also announced a growing coronavirus cluster detected at a six-storey care home for the elderly in Wan Chai, with a total of 33 residents and eight staff having contracted the virus.

Four residents living on the same floor and a member of staff were found to be infected last Friday, followed by another six employees and 27 residents, who also tested positive after they were placed in isolation.

Another two residents and a staff member on a different floor were also infected, Au said.

The facility houses 226 residents, 72 of whom were identified as close contacts and sent to isolation centres.

Another care home in Kowloon City also reported six infections comprising four residents and two staff, with 31 elderly close contacts required to isolate at government-run facilities.

A total of 66 care homes comprising 41 for the elderly and 25 for disabled persons have uncovered 128 infections in the past seven days.

Meanwhile, a cluster linked to a wedding banquet has expanded from six to 11 cases after five more doctors, who work for Hong Kong Buddhist Hospital, Kwong Wah Hospital and Ha Kwai Chung General Out-patient clinic, tested positive on Thursday.

Services provided by the hospitals were not affected and no patients were listed as close contacts.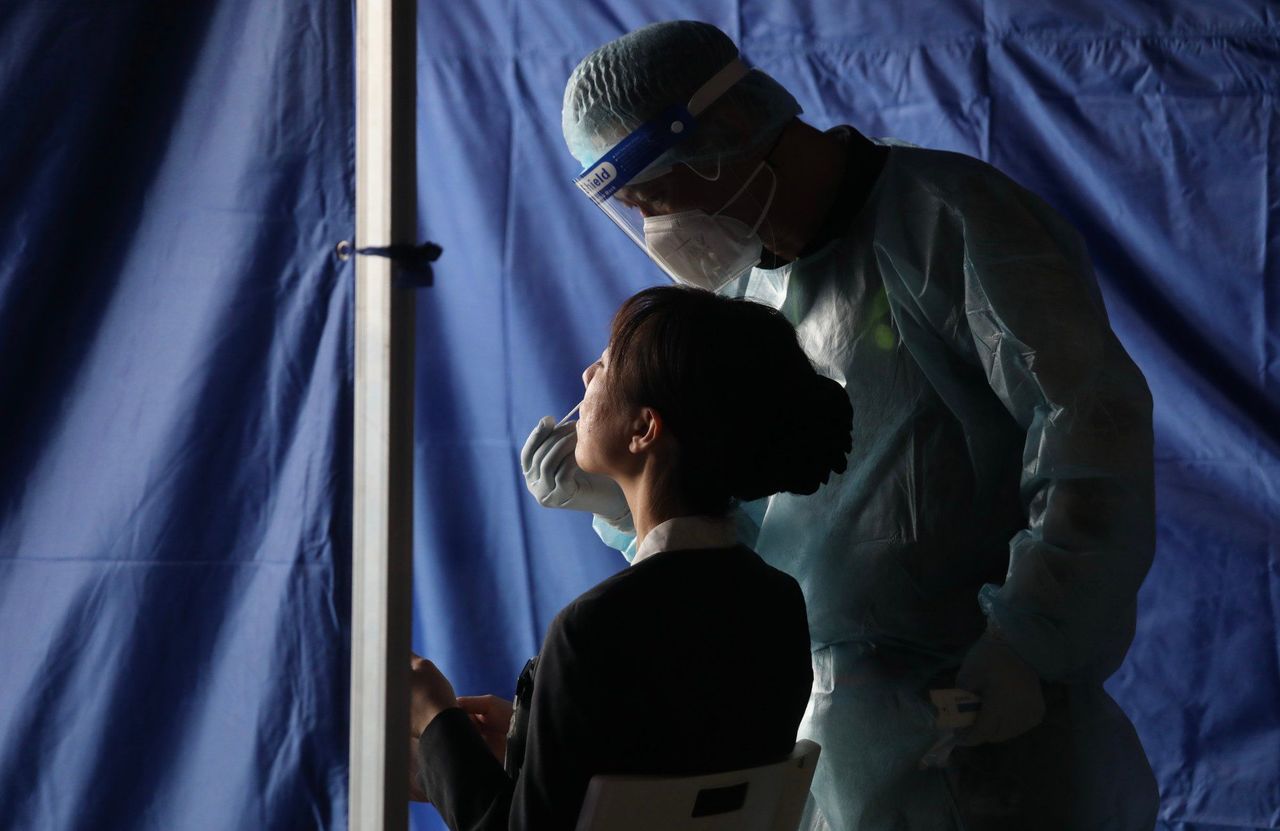 Under a new arrangement, staff at care homes will be required to undergo more frequent PCR testing.

"We fully understand our staff also have their social lives," Hospital Authority Chief Manager Dr Larry Lee Lap-yip said.

"However, if it does affect patient services, and also because society has much higher expectations [for Hospital Authority employees], we hope our staff can be role models and have higher alertness and also try to avoid any dinners with [outsiders]."

Another senior government official also contracted the coronavirus, with Director of Immigration Au Ka-wang receiving a positive rapid antigen test (RAT) result.

Au, who is isolating, had no travel history and last attended work on Thursday. A spokesman for the Immigration Department said its director had worn a mask and complied with anti-epidemic measures, including daily RAT testing, while on the job.

Earlier in the week, the government announced that Commissioner of Police Raymond Siu Chak-yee had been placed in isolation after testing positive for Covid-19.

Meanwhile, Secretary for the Civil Service Ingrid Yeung Ho Poi-yan said the chances of restarting work-from-home arrangements for civil servants were slim, despite the rise in virus cases.

"The vaccination rate among civil servants is very high. Apart from those who are medically unfit for vaccination, all civil servants have been inoculated according to the number of doses that they should take," she said. "I don't think in the near future we will need to implement [work-from-home] arrangements."

Yeung added that as of Thursday, some 9,000 children aged six months to three years old had received their first dose of a Covid-19 vaccine.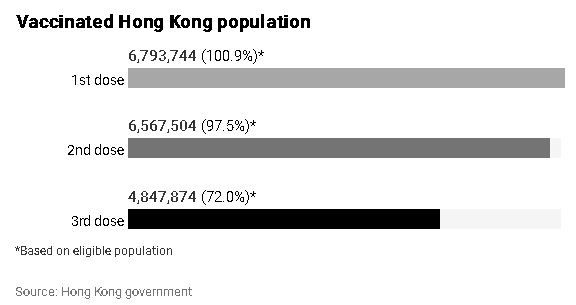 With the rise in coronavirus cases, Secretary for Labour and Welfare Chris Sun Yuk-han said a new rule requiring all staff at care homes to conduct more frequent polymerase chain reaction (PCR) tests from August 31 was decided as a result of the current epidemic situation.

As part of the new measure, which was announced on Wednesday, staff will need to take PCR tests every other day instead of just once a week, in addition to daily rapid antigen screening.

But Sun told a radio programme on Thursday that the arrangement was intended to further protect seniors and residents with disabilities at care homes from contracting the virus.

"The infection of a few residents and staff in a care home can lead to many people having to undergo quarantine … which puts pressure on our quarantine facilities, and poses risks to other residents," he said.

"Taking a PCR test every other day can provide the best protection for residents."

He added that staff would be allowed to either visit community testing centres to conduct their own screenings, or contractors would collect the samples from their workplace, since such facilities operated round the clock.

But care home operators have voiced concerns about the arrangement, doubting its necessity and saying that it would place an extra burden on the sector.

Grace Li Fai, an executive council member at the Elderly Services Association of Hong Kong, said care homes for seniors had recorded 310 infections over the past month after staff were required to take a PCR test once a week instead of once every two weeks.

She added that the number of cases was relatively small considering there were more than 70,000 residents living in such facilities.

With an increase in the vaccination rate and infection-induced immunity among residents, Li said the risks in care homes were not as high as they were when the fifth wave started.

"Are the risks really so high that testing needs to be made this frequent?" she asked.

Li added that more testing would put additional pressure on care homes and their employees who were already exhausted due to a shortage of manpower. Instead, she suggested that staff be required to take a PCR test twice a week.

The city's overall Covid-19 tally stands at 1,487,972 cases and 9,643 related deaths.