Chief Secretary John Lee, acting as head of vetting group for Election Committee polls, says Cheng could not uphold allegiance to city.
Hong Kong's only opposition lawmaker, Cheng Chung-tai, was removed from his Legislative Council seat on Thursday with immediate effect, becoming the first casualty of a stringent vetting process laid down by Beijing earlier this year to ensure that only those deemed "patriots" hold elected office.

Chief Secretary John Lee Ka-chiu made the announcement as chairman of the seven-member Candidate Eligibility Review Committee, which screens those running for membership in the Election Committee, as well as the legislative and leadership polls.

"The Candidate Eligibility Review Committee will not allow anyone who pretends to uphold the Basic Law or pretends to bear allegiance to the city to enter the system," said Lee, who was Hong Kong's security chief before being promoted to the city's No 2 post in June.

"Scammers are skilled in playing different roles. But for these people who pretend to bear allegiance, I will not be tricked by their words as they try to cleanse themselves."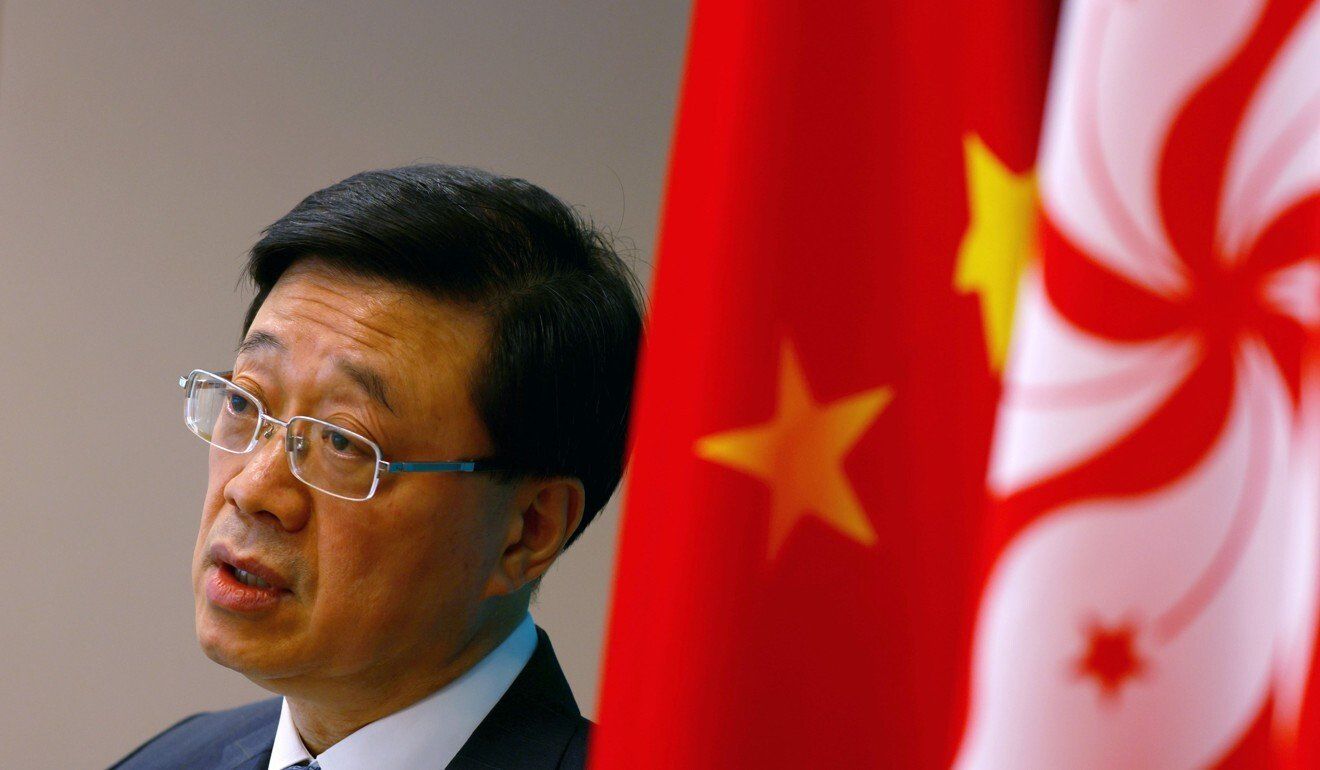 Hong Kong No 2 official John Lee chairs a vetting body which will screen candidates for the coming Election Committee polls.

Cheng, from the Civic Passion localist party, was convicted in 2017 of desecrating the national and Hong Kong flags after he turned them upside down during a Legco debate the previous year and fined HK$5,000 (US$645).

He was arrested in August 2019 for alleged conspiracy to commit criminal damage during the storming of the legislative complex a month earlier as anti-government protests raged throughout the city.

On Thursday the ousted lawmaker said he could not understand why he was disqualified.

"If you ask me if I think I should be qualified as a patriot; of course, I would say yes, I should be. But under the prevailing system, I can only say that I will respect the decision by the review committee," he said.

Cheng was disqualified as part of the vetting committee's review of candidates and members of the Election Committee that will choose the city's leader in March. As a lawmaker he was among more than 300 ex officio members who are granted a seat on the 1,500-strong group expanded and given wider powers under Beijing's overhaul of Hong Kong's electoral system. He is now banned from running for political office for five years.

According to Cheng, the vetting committee sent him papers piled more than 2cm high seeking information about various public comments he had made over the years.

"Basically, they asked me to explain my points in my previous speeches, statements made in public, posts on social media accounts and behaviour inside and outside the Legco chamber going back to 2015," he said. "I was also asked if I, as a lawmaker, had fulfilled my constitutional responsibilities in safeguarding the city's interests and rights as it faced different situations."

In explaining the committee's decision, Lee pointed to several acts listed in a candidacy law passed in May that could constitute grounds for disqualifying a lawmaker. They included desecrating the national flag, advocating Hong Kong independence or supporting "devising the constitution by all people", a cause Civic Passion has long championed.

The minister noted Cheng was given an opportunity to respond to the concerns raised and said the vetting group had sought advice from the national security committee.

"The national security committee gave us an opinion to indicate that he hasn't complied with the requirement of upholding the Basic Law," Lee said. "On that basis, we have come to the determination that Cheng Chung-tai hasn't fulfilled the legal requirements."

His departure leaves Legco with 41 lawmakers from the pro-establishment camp and Pierre Chan, an independent representing the medical sector. Four opposition lawmakers were disqualified last November under a resolution adopted by Beijing that paved the way for the candidacy law, and 18 of their colleagues resigned together in an act of protest.

Cheng did not join them, a decision supported by a spokesman for the State Council's Hong Kong and Macau Affairs Office, who said at the time it was wise for "an opposition lawmaker" to stay on.

Lee denied that the vetting committee was eliminating dissent, saying it had approved some hopefuls for the Election Committee who were unaffiliated with the pro-establishment camp.

"One can express oppositional views," he said. "The most important thing is that one must not have done anything to harm the country or Hong Kong's interests."

Legco president Andrew Leung Kwan-yuen also dismissed criticisms that only "one voice" remained in the legislature.

"One can see from the past few days of Legco proceedings that legislators – no matter which sectors they represent – are debating policies and bills," he said.

The next Legco elections are scheduled for December 19 after being delayed for a year over health risks arising from the Covid-19 pandemic. Chinese University political scientist Ivan Choy Chi-keung said the latest disqualification would create greater uncertainty for pan-democrats still interested in running for a seat.

"Cheng was not critical of the government in recent months … but he was still disqualified," he said. "Other people will wonder how [moderate] they should be to avoid being unseated, as the thinking of Beijing and the Hong Kong government keeps changing."

Cheng, who will not be asked to repay any wages or subsidies he had received, said he would continue to work for the benefit of residents.

"It is a pity that I cannot serve the people inside the chamber. But there are many ways to serve society, not necessarily inside the chamber. I hope people should not give up easily," he added.

The expanded Election Committee will hold polls for some of its 1,500 seats on September 19. The only other hopeful invalidated by the vetting committee was Calvin Choi Chi-kin, who failed to properly register.