Beijing has been tight-lipped on whether having a single candidate or more contenders is better for chief executive race on March 27.
The New Year is here, bringing new hopes as well as new challenges and changes.

For Hong Kong, 2022 carries more significance as the city reaches the halfway mark on its 50-year journey under Beijing's unique "one country, two systems" governing formula.

This will be an eventful year with the formation of a new administration, as incumbent Chief Executive Carrie Lam Cheng Yuet-ngor's five-year term ends on June 30.

Hong Kong will either have a new leader or Lam will continue for a second term, if she decides to run – depending on the outcome of the chief executive election on March 27.

With the 100-day countdown to this momentous event already under way, the multimillion dollar question continues into 2022: who and how many will get Beijing's blessing, the most critical prerequisite, before they can declare their candidacy?

December of the last year of an administration's term would usually have seen the curtain raised on those jockeying for the once-in-five-years race. That was the case the last time, in early December 2016, when then-chief executive Leung Chun-ying gave up on seeking his second term, and Lam announced her bid weeks later.

However, Beijing is keeping tight-lipped this time, most likely still weighing the pros and cons of whether having a single candidate or more contenders makes better sense after the fundamental revamp of Hong Kong's electoral system to allow only those deemed "patriots" into the governing structure.

Without competition, it will hardly be an "election". That could explain Beijing's push to allow all 90 seats in December's Legislative Council poll to be contested for the first time in Hong Kong's history, amid criticism that the overhaul was undemocratic in screening out all "unpatriotic" opposition aspirants.

Should a similar "competition" logic also be applied in March?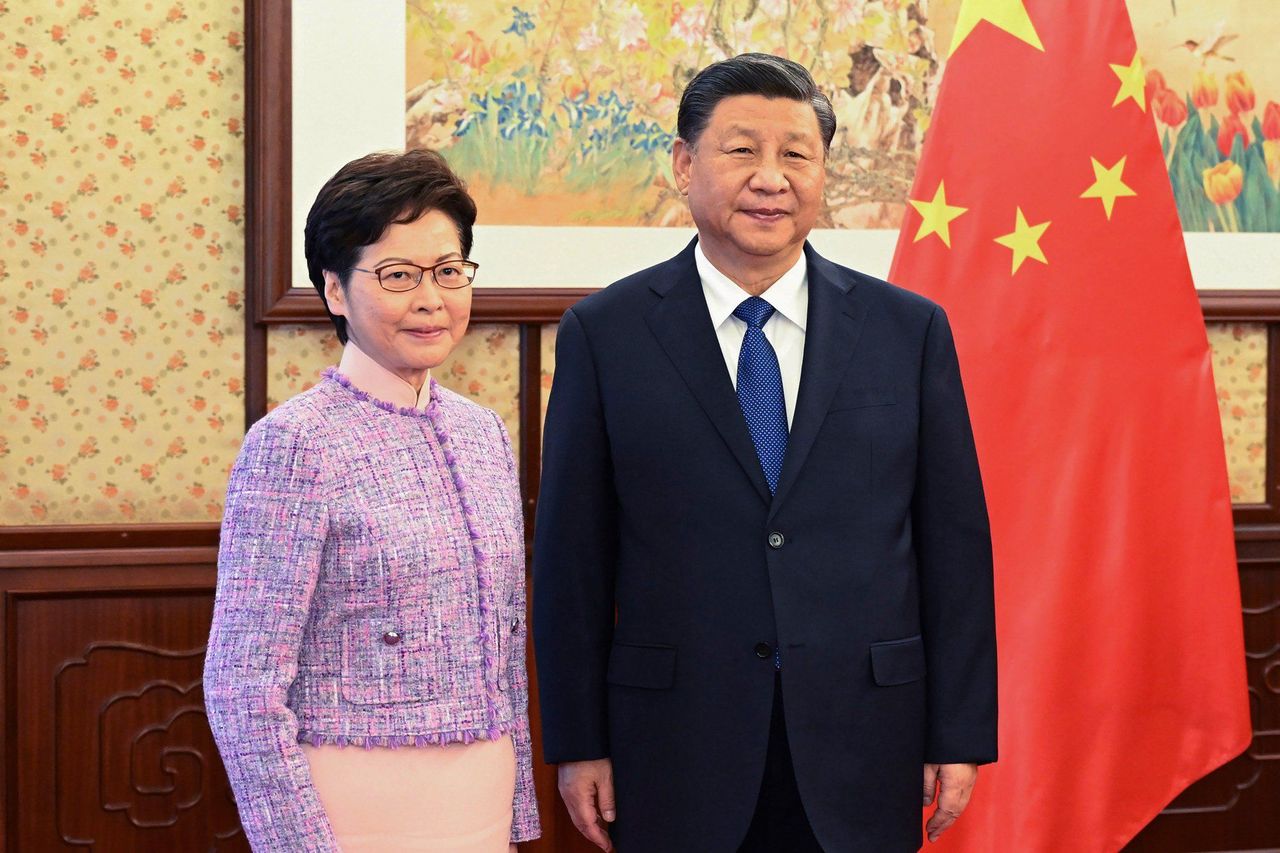 Chief Executive Carrie Lam and President Xi Jinping during a meeting in Beijing in December 2021.

The fact that President Xi Jinping did not offer the slightest hint of his preference last month when receiving Lam in person during her final duty visit of the current term has led to different interpretations:

The single-candidate theory suggests that Beijing would hate a repeat of the bitter infighting among the pro-establishment – the deep rifts and wounds within the camp caused by the muckraking campaigns of Leung and Henry Tang Ying-yen back in 2012 have yet to be completely bridged and healed.

Those who want competition, however, argue that the powerful 1,500-member Election Committee responsible for picking the next chief executive is now composed of only the political elite trusted most by Beijing.

Gone are the days when the minority of members from the pan-democratic camp could form a critical threshold to block Beijing's chosen one. The top leadership should now feel more comfortable about letting more candidates in.

A third option is also emerging lately, and it will be an unprecedented scenario if it is the case: no obvious green light to anyone from Beijing under a more politically "safe" environment, and whoever wants to go ahead must win enough nominations and votes to get the top job through capability and a convincing manifesto.

Whichever way it goes, the picture should be clearer within weeks, but Beijing's blessing should mean no free ticket for complacency from anyone getting into government headquarters. Those acting as Beijing's "gatekeepers" should not fail the public either by taking orders only; they should instead vote based on candidates' merits.

Hong Kong has unfortunately become a battleground for geopolitics while also being plagued by the seemingly never-ending pandemic. Add to that the many deep-rooted social problems, and the city really needs a leader who is competent and has the political wisdom to sort out so many thorny issues.

Let's wish this city, our home, nothing but the best in 2022, including its search for the next leader!