Her appeal comes after chart showing breakdown of duties for nurses at AsiaWorld-Expo circulates online and further fuels debate over their treatment.
Hong Kong's leader has made an emotional plea to journalists and the public to stop making divisive comments about medical volunteers from mainland China helping to combat the Covid-19 pandemic that has overwhelmed the health care system.

Carrie Lam Cheng Yuet-ngor on Friday sought to quash speculation that the visiting professionals were given only menial work, and also dismissed suggestions press freedom was under attack after a television station apologised over a reporter's question on how patient complaints against mainland staff would be handled.

Some in the pro-Beijing camp had complained that such questions incited hatred against the mainland team.

Lam appealed to the public and journalists to bear in mind that the medical professionals had made sacrifices in leaving their families to come to Hong Kong, where they worked at a makeshift hospital in heavy protection gear for hours on end to save lives.

"So why do we want to make this fuss and make divisive comments about the Hong Kong medical personnel and the mainland medical personnel," she said.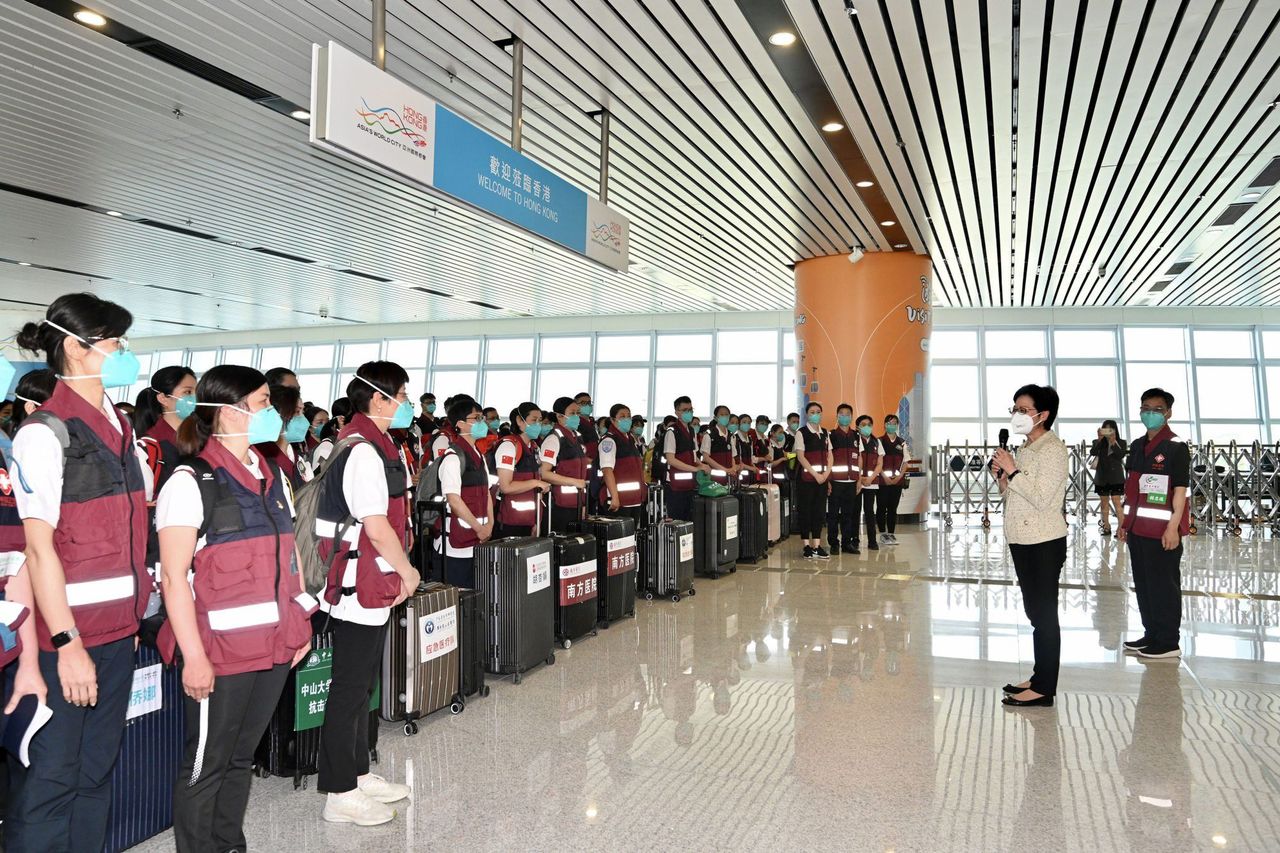 Hong Kong Chief Executive Carrie Lam welcomes medical staff from mainland China at the Heung Yuen Wai Boundary Control Point on Wednesday.

Journalists could ask questions to understand more about the workers' deployment, their contributions, but "don't make it into another political issue or related to media freedom and so on", she said.

Debate over the incident has been fuelled by a chart circulating on the internet that broke down the tasks assigned to Hong Kong and mainland nurses working at the AsiaWorld-Expo community treatment facility.

The chart, which was verified as accurate by a source, showed that local nurses were responsible for administering oral drugs and injections, while their mainland counterparts had more duties, such as changing diapers and feeding and turning patients. Some residents queried why mainland nurses had to "take up all the dirty work".

The insider said the chart had only been used in the early stages of a discussion with an advance team from Guangdong province on the collaboration.

Another source said the chart was only used for trial runs when staff were getting familiar with the work environment in Hong Kong.

"In reality, there is no such clear division in work, as they are all doing nursing care," the insider said.

The Hospital Authority added that a plan for the division of work had been drafted and stress testing carried out when the first batch of senior mainland nurses and local counterparts were conducting their trial run.

"Currently, [both] nursing teams have already completed their discussions and reached consensus. Both sides will conduct clinical nursing work together," the authority said.

Lam urged the public to be confident in the arrangement the authority had adopted for the workers from the mainland.

"They have come to a new working environment and they have to adapt to it. I am deeply grateful to them," she said. "The Hospital Authority and the [mainland] advance team have a consensus on working on a collaborative mode, or a hybrid mode, meaning that we are not handing over a medical facility to the mainland team completely … If the two teams have their agreement, I don't feel outsiders should make a judgment based on a single fact sheet."

The question posed by the Now News reporter fuelled criticism from pro-Beijing groups and press outlets, as well as former chief executive Leung Chun-ying, the vice-chairman of the nation's top political advisory body, who asked whether it came with a malicious intent. The topic, however, had been broached earlier in the week by journalists and a patients' rights group, while pro-establishment lawmaker Tang Fei also raised the matter on Tuesday.

The main concern is over the legal liability of the visiting professionals who were exempted from local licensing requirements by an emergency regulation.

Asked whether the incident had dealt a blow to the city's press freedom following the earlier closures of Apple Daily, Stand News and Citizen News – three press outlets popular among opposition supporters – Lam called the suggestion "a bit far-fetched".

She added that she had attached great importance to the right to freedom of speech and press guaranteed by the Basic Law, the city's mini-constitution.

Pro-establishment group Politihk Social Strategic has been the most vocal among a wave of criticism targeting the Now News reporter, whom it suggested had broken the national security law by inciting hatred and called for her to be fired.

Now News on Thursday said they were "deeply sorry" for causing discontent, in a statement the Hong Kong Journalists Association (HKJA) called regrettable. It said the reporter was justified in asking officials to provide better explanations of their policies.

When asked whether she would condemn those groups on Friday, Lam said Hong Kong was a free society and even she had been subjected to comments from opinion leaders and politicians from time to time.

"This is the beauty of Hong Kong. Everybody has a right to express their view," she said.

HKJA chairman Ronson Chan Ron-sing said reporters' perseverance in asking questions led to greater transparency in government, which would benefit the public.

"The reporter should ask the question as long as somebody cares," he told a radio programme on Friday, prior to Lam's briefing. "Press freedom is vulnerable, if citizens still need it in society, then we had better learn to be tolerant."