Chief Executive Carrie Lam says that with help of Beijing, national security law, this is 'best time' to be in Hong Kong.
Hong Kong's leader on Tuesday brushed off recent scenes at the airport suggesting an exodus of residents, adding that she would tell anyone considering leaving that the city would continue to prosper with Beijing's support and the help of the national security law.

Asked to address the apparent wave of departures at her weekly press briefing, Chief Executive Carrie Lam Cheng Yuet-ngor said her government held no official position on the phenomenon.

"Every now and then in the history of Hong Kong, there are such emigration trends," Lam said.

"But if you really ask me to say something to those who are seeking to emigrate or have already emigrated, I would tell them Hong Kong has a prosperous future."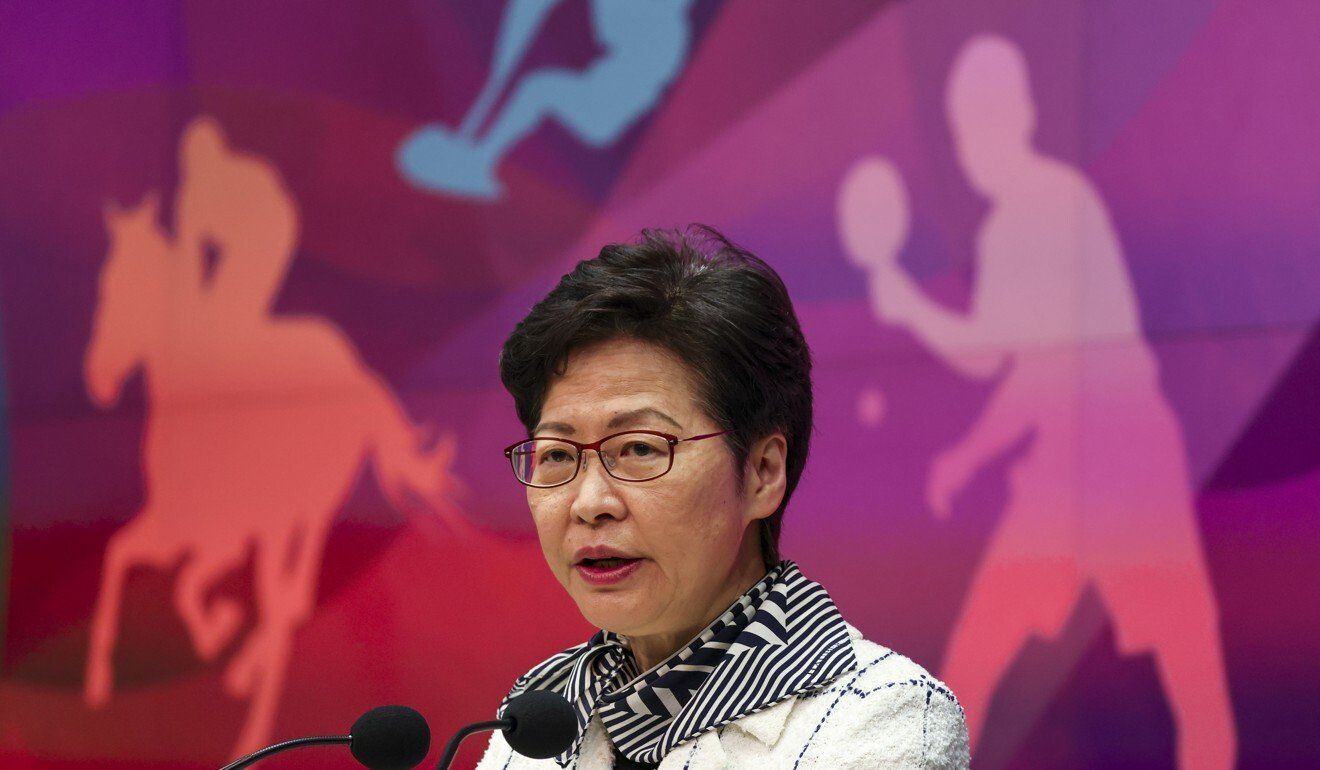 Chief Executive Carrie Lam speaks to the press on Tuesday.

Lam pointed to the roles laid out for Hong Kong by Beijing under its Greater Bay Area plan – an initiative to integrate the financial hub, Macau and nine Guangdong cities into an economic and business powerhouse – as well as its 14th five-year plan, China's new development blueprint.

She also cited the Beijing-imposed national security law and the central government's recent move to overhaul Hong Kong's electoral system
to ensure only "patriots" ran the city.

"I think this in itself is already an assurance to their confidence," she said.

"For those who feel a sense of belonging to Hong Kong and are willing to toil away here, this is the best time. But if they choose to leave, this is a personal decision."

Following the imposition of the security law last year, some concerned residents have left the city for good, with many heading to Britain, which recently established a new pathway to citizenship for locals with British National (Overseas) status.

In recent weeks, relatives and friends have gathered in the terminal of Hong Kong International Airport to see off those departing, with ground staff checking in lines of passengers loaded with suitcases for flights bound for Britain.

The scenes were particularly striking over the weekend, as departing residents attempted to beat the deadline for Britain's Leave Outside the Rules scheme, which gives people six months to apply for the necessary BN(O) visa after arriving in the country. The arrangement expired on Monday, meaning those intending to leave now will have to acquire the visa in Hong Kong before they fly.

Lam on Tuesday said the government would uphold Hong Kong residents' right to enter and leave the city.

According to government figures, the city's population decreased by 0.6 per cent at the end of 2020, with a net outflow – which means more people leaving than those arriving – of 49,900 Hong Kong residents.

As of May this year, more than 34,000 Hongkongers had applied for the BN(O) visa. The document allows applicants to stay in Britain for up to five years, with the right to work and study, and to apply for citizenship after six years.

Chung Kim-wah, deputy chief executive officer of Hong Kong Public Opinion Research Institute, which conducted polls to gauge public sentiment in the city, said Lam's remarks showed she no longer cared about public perception.

"If people think what she touted was good … why were there so many people trying to leave before the rules scheme expired," he said.

Separately, Lam also elaborated on why she would not uphold a previous campaign promise to extend certain provisions of the Prevention of Bribery Ordinance to cover her own office.

Sections 3 and 8 of the statute prevent corrupt conduct of ministers and civil servants, but exempt the chief executive.

"I honestly and boldly confess that I have learned in the last two or three years about the role, the very important role, of the chief executive, that he or she has dual accountabilities," Lam said, referring to Hong Kong and Beijing.

Having come to understand the constitutional arrangement "more fully", she added, the chief executive must remain above the executive branch, legislature and judiciary.

While the chief executive was not above the general criminal law, she continued, the bribery offence in question "sort of deals with the integrity of the chief executive".

As such, it would be against "the constitutional position" to subject the chief executive to a local bribery law applicable to other public officers, Lam said.

Lam also declined to answer questions asking her to compare the way her government dealt with three senior security officials found breaching social-distancing rules at a high-end dinner with Taiwan's handling of a similar recent incident.

That case saw Taiwanese civil servant Chen Jheng-Wun tender his resignation on Sunday after being accused of attending a hotpot dinner that broke the island's social-distancing rules.

Hong Kong Commissioner of Customs and Excise Hermes Tang Yi-hoi, Director of Immigration Au Ka-wang and Undersecretary for Security Sonny Au Chi-kwong were recently found to have done exactly that, and were issued standard fines.

Lam, however, declined to pursue further disciplinary action, previously telling the public to move on and to view the matter in "a more humane way".