Special office to create incentives to attract talent to city to be announced by Chief Executive John Lee on Wednesday, sources say.
Hong Kong leader John Lee Ka-chiu will announce a special office dedicated to creating incentives to lure top talent to Hong Kong when he delivers his first policy address on Wednesday, the Post has learned.

The move, signalled on Monday, is part of a worldwide recruitment drive expected to be revealed by Lee in the speech, alongside other measures designed to help the city attract and retain overseas talent.

The policy address will also use green for its cover to represent "hope, vitality, harmony and stability", the city leader said in a video posted online.

A government source said authorities would suggest forming a task force or office in charge of plans to "seize talent", with measures that would include incentives for the children of staff from overseas or those in innovation and technology to study in the city.

Human resources experts welcomed the move and highlighted that the city needed a special government body to tackle problems it faced in the recruitment of talent from abroad.

Alexa Chow Yee-ping, the managing director of executive search agency ACST Consulting, said that the city badly needed the measure amid a decreasing working population and a global scramble for well-qualified people.

"Hong Kong is a service centre that relies on manpower to provide services. Manpower is the most important thing for us," Chow said. "This is a continuous effort and it will continue to be important in the future, so it is an absolute necessity for us to have this office."

Frankie Lam King-sun, an associate dean of the school of graduate studies at Lingnan University, backed Chow's views.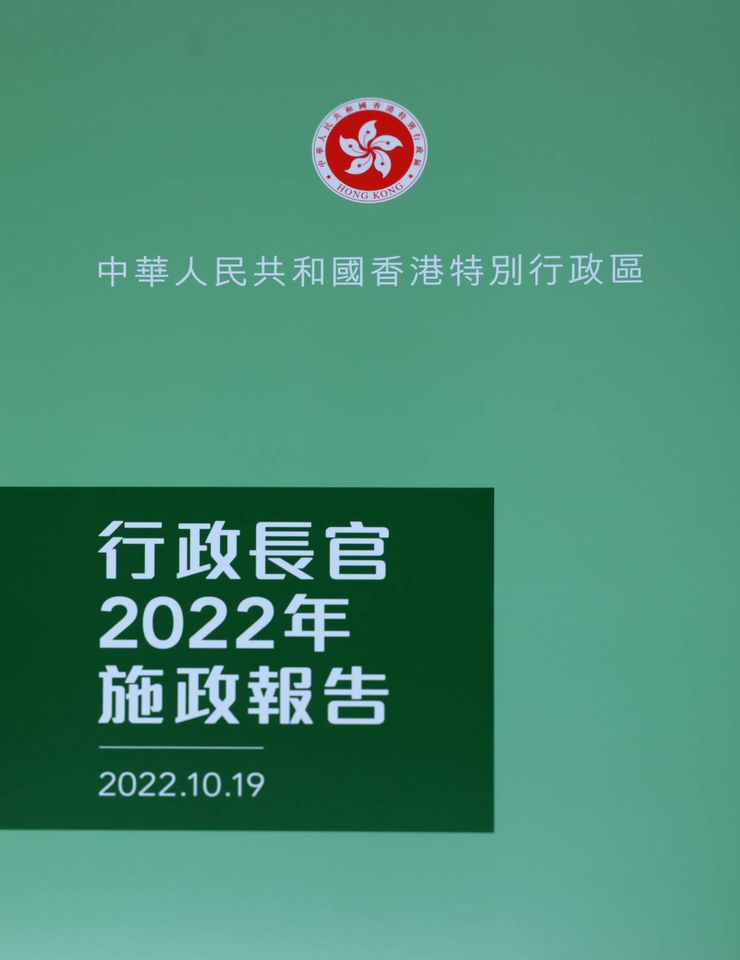 The cover of John Lee's policy address, to be delivered on Wednesday. Lee said the colour represented "hope, vitality, harmony and stability".

Lam said the office would mean better coordination among government departments, clearer accountability, and a more objective analysis of the talent situation in the city.

He highlighted that places such as Singapore had established similar centres to attract foreign talent.

"Singapore does not have any natural resources and they are attracting talent as much as they can … Hong Kong can do so as well," Lam said.

The proposed office was among a string of measures designed to attract talent from overseas that are expected to be announced, and several sources suggested tax incentives could be offered to non-locals to help recruit and retain talent in the city.

Non-local residents at present need to pay 30 per cent stamp duty when they buy a home, double what residents who are not first-time buyers pay.

But, under a plan being mapped out for the policy address, foreign homebuyers will be allowed to have the extra stamp duty refunded once they become permanent residents, a status they can apply for after seven years in the city, the Post previously reported.

But one source said non-locals would need to have owned the flat for three or more years to qualify for the break.

Other measures are expected to include the introduction of a scheme to provide an 18-month visa to graduates of top-flight universities, as well as reduced red tape for those who want to hire talent from overseas.

Chow said that Hong Kong would need to attract talent by showcasing opportunities available in the city because of its connection to mainland China, as well as provide favourable policies that would entice them to stay.

She added that these policies included a reduction in the time needed to obtain permanent residence from seven years to five and refunds of stamp duty for foreign homebuyers.

Chow said that Hong Kong would have to match or beat the incentives from its competitors to attract the talent it needed.

"You need to show that there are opportunities in Hong Kong, as well as adjust the other competitive factors compared to other regions," she said.