Chief executive says it will be up to the next administration to conduct a full investigation into the handling of the pandemic, and offers herself as an adviser.
Hong Kong's leader has fuelled talk she may not be seeking re-election after saying it will be up to the next administration to conduct a full investigation into the city's handling of the coronavirus pandemic, and also offering herself as an adviser.

Chief Executive Carrie Lam Cheng Yuet-ngor's latest remarks on Sunday on the probe also suggested it could be an investigation formally set up as a commission of inquiry vested with judicial powers.

Lam, whose five-year term will expire on June 30, has yet to indicate a bid for a second term but her comments on deferring the pandemic probe and her future role in it sparked speculation she was opting out of the city's leadership race set for May 8.

The poll's nomination period will kick off next Sunday on April 3, and hopefuls must submit their papers before April 16.

On Sunday, Hong Kong confirmed 8,037 new coronavirus infections, the second consecutive day case numbers were below the 10,000 mark, and recorded 151 Covid-related deaths, including those that occurred earlier but were only being reported now because of a backlog.

The city's Covid-19 tally since the pandemic began stands at 1,128,507 confirmed cases, with 7,252 related deaths.

But even with the declining infections, government pandemic adviser Professor Gabriel Leung earlier on Sunday described the daily caseload as having only gone from "extremely high" to "very high" and warned people not to let their guard down.

"Don't have a misconception that the [fifth wave] is coming to an end and it's not a big deal if you go out. Please do not think this way," he said.

"In the past two weeks, particularly the previous five to six days, the public's travel index has rebounded. If everyone continues to go out, I am afraid that we may not be able to return to normal life as planned."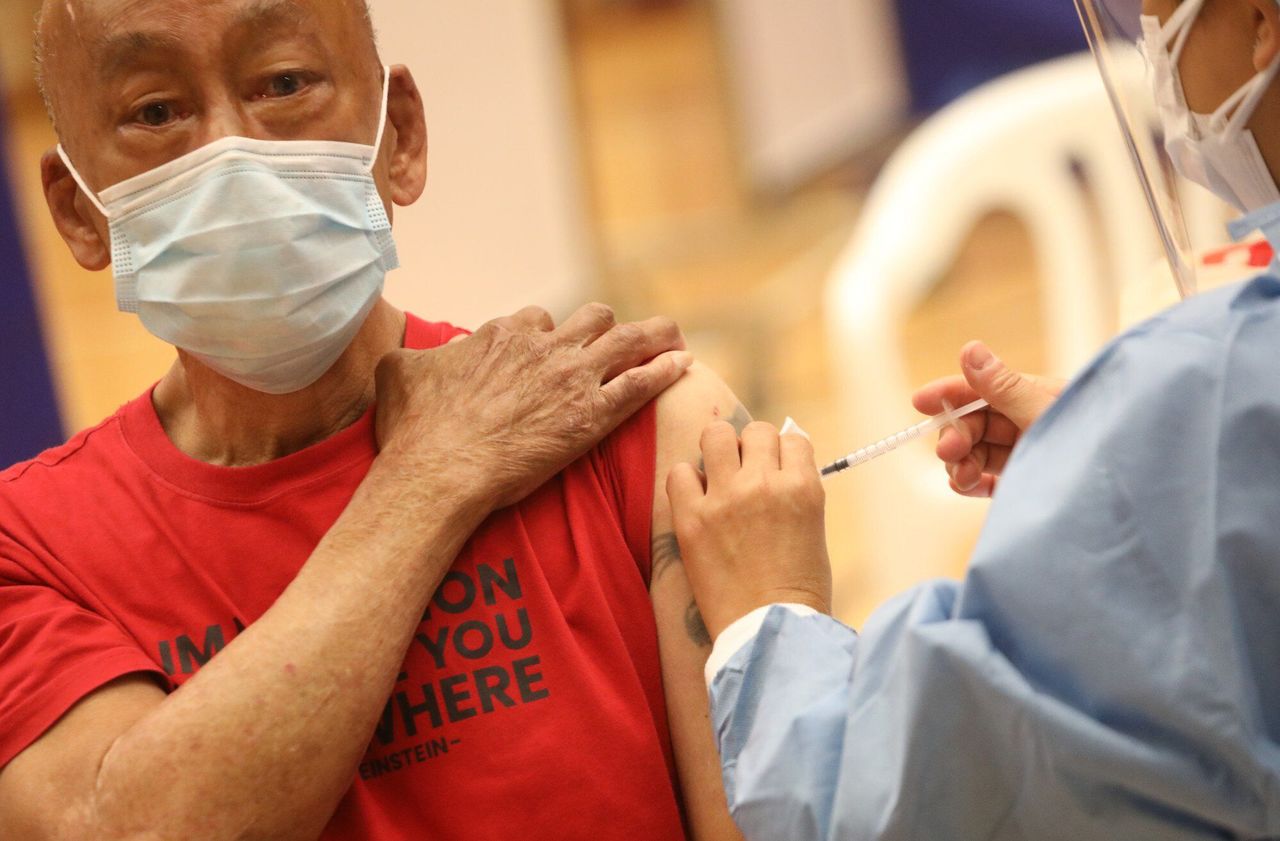 Hong Kong has suffered from a high death rate amid its Covid-19 fifth wave, with most of the fatalities being the unvaccinated elderly.

Dr Albert Au Ka-wing of the Centre for Health Protection echoed Leung's warning and said Hong Kong was not in a position to relax social-distancing measures as the daily caseload was still very high.

But he noted it was "a good sign" infection numbers had fallen below 10,000 for a second straight day, adding that it showed the epidemic was starting to stabilise.

Earlier this month, Lam told a press conference that she was open to the idea of conducting a full assessment on how the government and society had handled the health crisis. Asked to elaborate on Sunday at her 11am press briefing, Lam said the scope of the review could be broadened.

"It deserves a thorough review as this is such a massive public health crisis as so many people have died … and it could include the interaction and connection between our medical, social welfare and health systems," she said.

Lam further suggested that the probe could be done through the setting up of a commission of inquiry. In the past, such commissions were usually led by a judge and could compel witnesses to give evidence, and its hearings would be deemed to be judicial proceedings.

"I have in the past personally handled the establishment of a few commissions of inquiry. If you want me to draft the scope, it will be an extensive and intensive one. But we are still in the pandemic, and we are not yet fully confident that we can come out from this outbreak in the short term," she said.

"So as the incumbent chief executive, I don't think we should be distracted by such a large-scale review. I believe the next term of government will handle this seriously, and if it needs my advice as the official bearing the main responsibility, I am happy to offer it."

Lam added the move could also look into whether the Hospital Authority's management of some 40 public hospitals under several clusters was the best model when facing a healthcare crisis, as the fifth wave had proved designated hospitals, as recommended by mainland Chinese experts, were more ideal.

A source close to the government said Lam was referring to probes which would involve outside experts as the scale of the pandemic outbreak was too big to just handle internally, but it was not up to her to decide for the next administration.

The source described Lam's answers as a "temporary solution", as she was being repeatedly asked about it. But the source said there would be no attempt to hold an inquiry soon, as it would hinder the overall momentum of the administration's anti-epidemic work.

Asked twice by reporters whether she or her government should take responsibility over the high death toll in the fifth wave – more than 6,800 fatalities by Saturday – Lam did not answer directly, only saying: "We're very sad to see the number of deaths in this wave."

Previous commissions of inquiry included probes into incidents such as the Lamma ferry tragedy in 2012, excess lead found in drinking water in 2016, and construction flaws near the Hung Hom railway station in 2018.

In recent years, the government had also set up independent review committees on issues such as franchised bus services and ways to prevent and handle potential conflicts of interests involving the chief executive. However, these bodies were deemed less powerful as they did not carry summoning power.

In 2019, Lam had proposed setting up an independent review committee to find out the underlying socio-economic and political causes of the city's social unrest.

Protesters had called for an independent commission of inquiry to look into allegations of police brutality, but Lam steered clear of the proposal, fearing alienating the force when her government was heavily reliant on it to curb protest violence.

A pro-Beijing lawmaker, who spoke on condition of anonymity, said Lam's remarks were in line with some analysts' views that it was "getting less likely" for her to seek re-election. Another pro-establishment politician also said Lam's comments could be regarded as a sign that Hong Kong would have a new leader.

But Lau Siu-kai, vice-president of semi-official think tank the Chinese Association of Hong Kong and Macau Studies, warned against reading too much into her words.

"The review cannot be completed within a few months, and will definitely involve two terms of government," he said.

"Lam cannot assume she will lead the next administration, and the central government does not want any speculation on the next chief executive, so neither she nor anyone in the pro-establishment camp can comment on the topic."

Infectious disease expert Dr Leung Chi-chiu said the review should focus on the government's command structure when dealing with pandemics, which is based on an executive-led system.

"But are the decisions made by the chief executive from her own perspective able to control the pandemic?" he asked.

"There is an absence of a public health department to play a leading role in pandemic control and be able to make real-time assessments, which causes problems in the coordination of different departments including the Hospital Authority and Department of Health."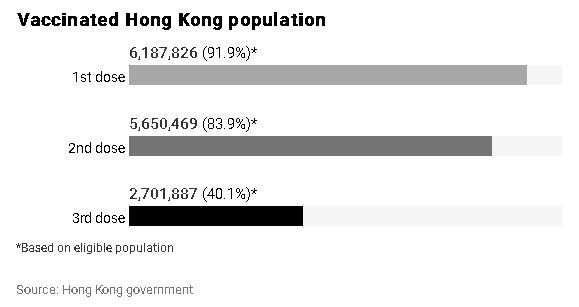 He said previously there was no clear focus or direction of overall government policies, which wavered from time to time due to the pressure and views from society.

"The government is relying on advice given by [experts and studies from] universities, who do not bear responsibility for the policymaking," he said.

"Thus, there were divergent views from many sides but no one played a commanding role at the core of the government [from a public health perspective]."

Leung added the government should also look at the lack of contingency plans made for the pandemic before it worsened.

He said the probe should be done after the fifth wave had ended and the chief executive election had been held to allow the government to formulate plans to handle potential future waves from an objective perspective of the new governing team.

Meanwhile, the city will halve a 14-day suspension for flights bringing in too many infected passengers or people who fail to comply with Covid-19 rules to a week starting on Friday.

Authorities announced last week that they would relax travel restrictions for residents returning from overseas and lift a ban on flights from nine countries including Britain and the United States on the same day.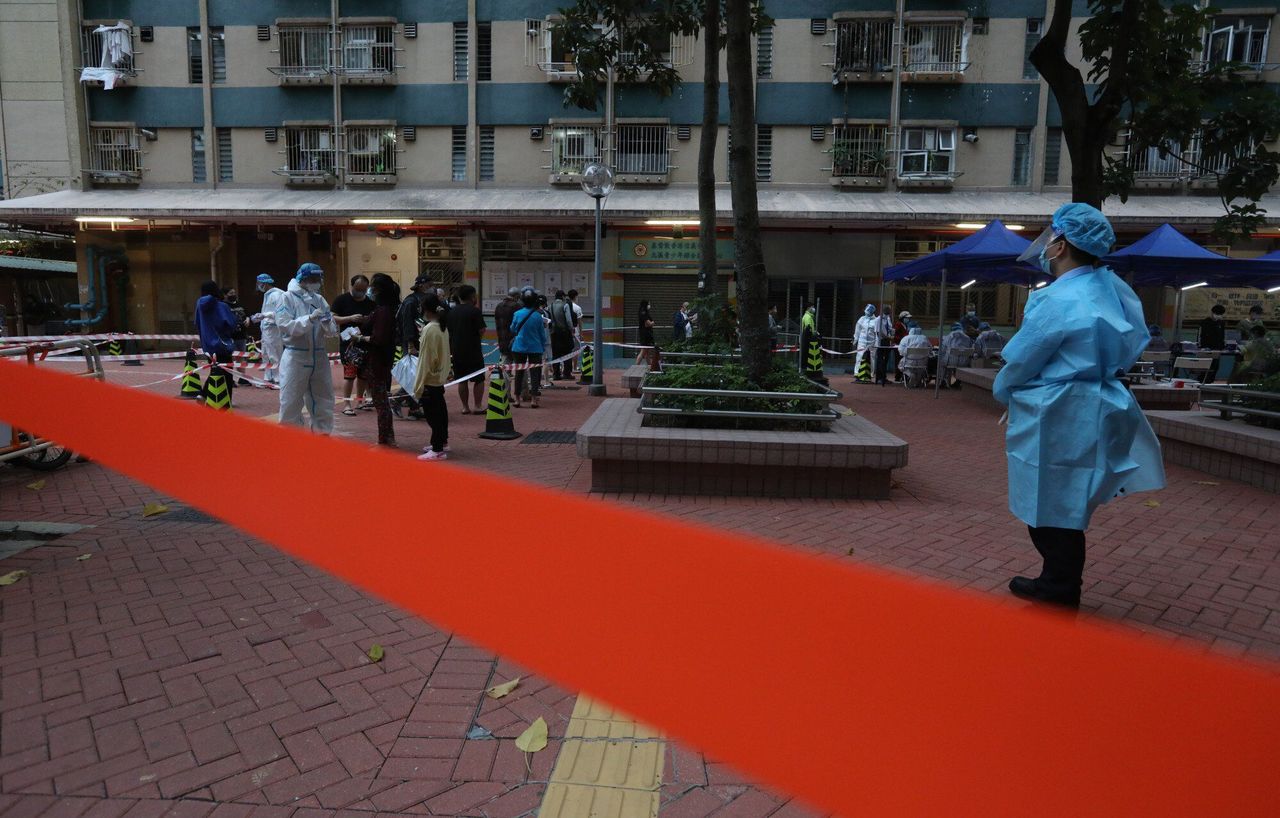 Residents queue up for testing under a building lockdown in Sheung Shui.

Also in Sunday's press briefing, Secretary for the Civil Service Patrick Nip Tak-kuen announced Hong Kong would seek to inoculate elderly residents found in building lockdowns to be fit but unvaccinated.

Authorities will also set up a new online registration platform for seniors to get their Covid-19 jabs at home as part of a fresh drive to boost protection for this age group.

Nip said the city had learned a hard lesson from the fifth wave.

"It showed the importance and necessity of vaccination … It is the most effective and crucial way for us to overcome adversities, so I again urge residents to take the first dose as soon as possible, and the second and third doses when appropriate to protect themselves, their families and the city's medical system," Nip said.

Authorities will also set up an online platform for people to register the home addresses of unvaccinated elderly or disabled residents who have difficulties visiting community vaccination centres.

"This platform will open for medical and community bodies to collect information first, and then be extended to other residents to use," Nip said.

Another initiative to be adopted is the collection of information on elderly and disabled residents identified during lockdowns to be suitable for jabs, yet remain unvaccinated.

"We will vaccinate them on the day after [the lockdowns are completed], so these people can be protected … after they test negative for the coronavirus."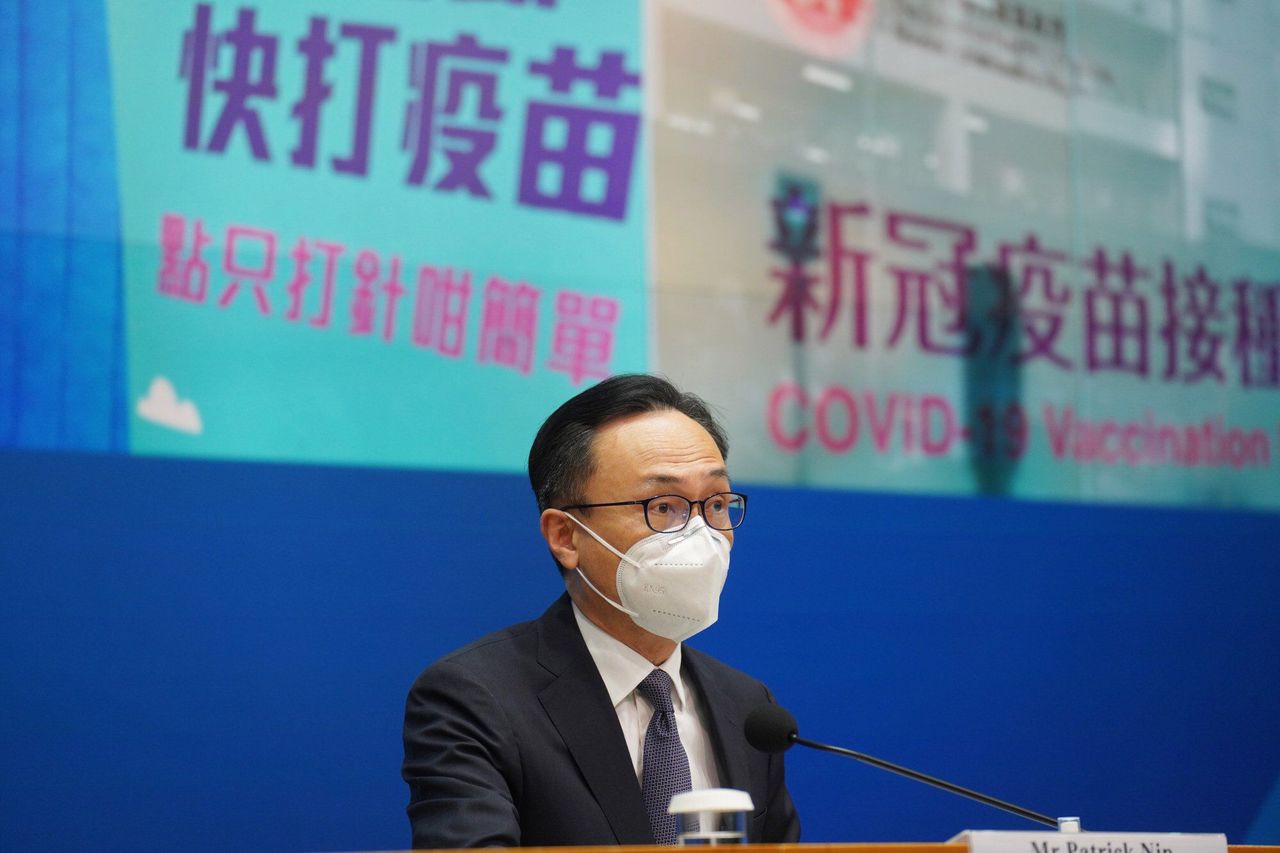 Civil Service chief Patrick Nip.

Separately, the Hongkong Bank Foundation, HSBC's charitable arm, said it would make a donation to give care homes much-needed medical equipment, quarantine supplies and temporary staff to control infections, with more than 134,000 individuals, including those at 600 care homes for the elderly and disabled expected to benefit from the move.

The foundation did not specify the size of the donation, but said it would be its third initiative under a HK$100 million Covid-19 relief fund announced last month. It had used part of that amount on a support hotline and a vaccination programme.