Chief executive urges junior government cohort heading to UN offices overseas to be part of charm offensive for 'vitalised' city.
Chief Executive John Lee Ka-chiu has lauded the city's efforts to maintain extensive ties with the international community, while urging junior colleagues chosen to work at UN offices overseas to spread the word about Hong Kong's return to "centre stage" amid unprecedented challenges.

Lee on Monday took the chance while sending off 12 civil servants on overseas exchanges to promote the city's efforts, a day after Beijing's new liaison office director Zheng Yanxiong tasked Hong Kong with "actively engaging in international exchanges".

"The Hong Kong government has been making every effort to deepen civil servants' understanding of the international situation and the country's foreign policy through different channels, as well as to support the country in telling the story of China to the outside world," Lee told the elite youth at a ceremony.

"Tell your new friends and work partners about Hong Kong's strength in getting back to the centre of the international stage … as well as the charm and competitiveness of a vitalised Hong Kong."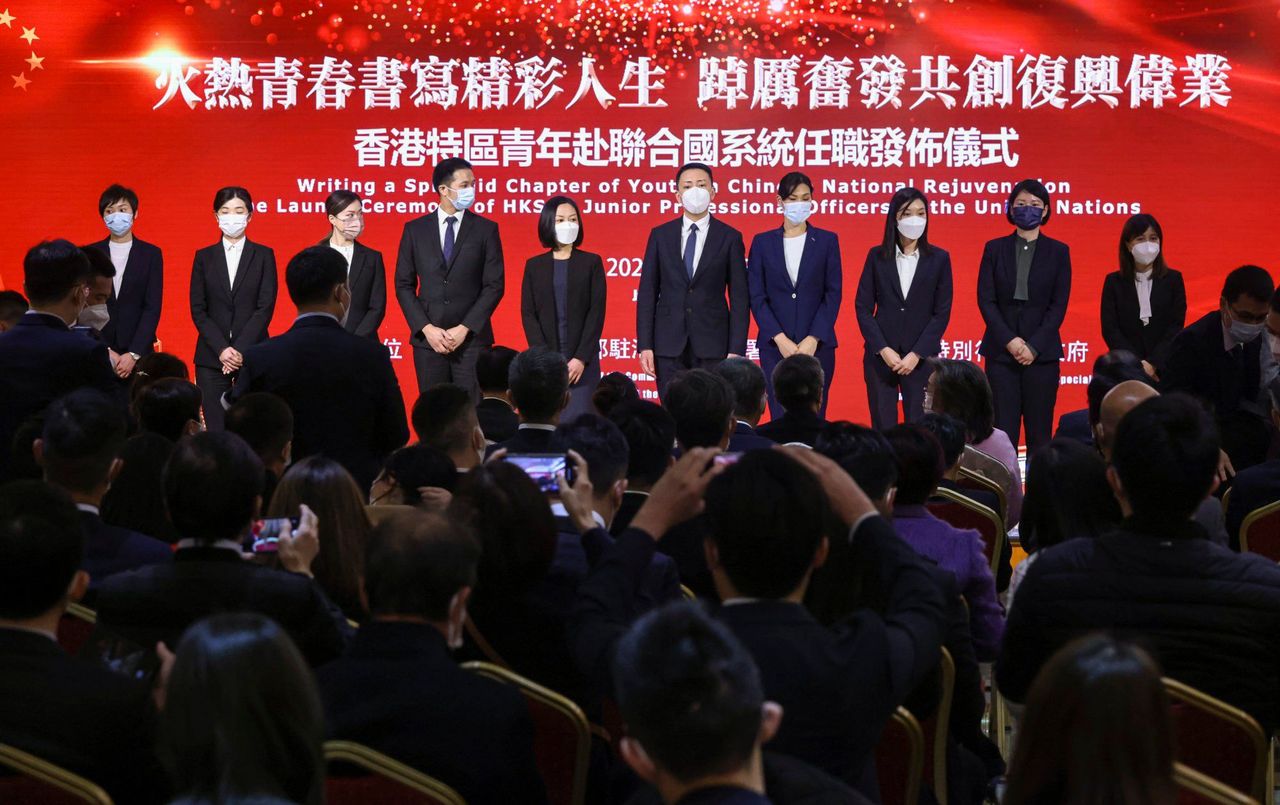 Junior government officers were being sent off before an overseas placement with the United Nations.
He said the financial hub's participation in 220 international bodies and signing of 520 bilateral agreements showed the extensive ties it maintained globally.
The 12 shortlisted civil servants, mostly aged under 32 and from various government departments, were granted two-year appointments to work at the United Nations' offices in New York, Geneva and Vienna under the regular Junior Professional Officers Programme.
Among them was Victor Lee Wai-hong, a senior investigator in the Independent Commission Against Corruption's operation department.
With 10 years' experience with the watchdog, the 37-year-old told the Post he would be involved in setting up anti-graft bodies in South Africa with UN officers based in Vienna from next month.
"I am also eager to clarify smears from Western countries, if any, and reflect Hong Kong's situation based on facts," he said.
Kiki Chan Pui-ki, 33, who has worked in the financial secretary's private office for three years, will head to New York to work in the Department of Management Strategy, Policy and Compliance, which is responsible for enforcing UN policies.
Chan said she expected to get the chance to learn about formulating programme budgets for the UN, which would be useful after returning to the Hong Kong government.
The screening was conducted by the Civil Service Bureau and the Chinese foreign ministry's office in Hong Kong, with nominees being announced in a ceremony on Monday.
Office commissioner Liu Guangyuan said Beijing's nominations reflected that the central government was eager to help young Hong Kong talent to advance on broader platforms. He urged them to deepen exchanges with diplomats and feel the country's influence on the international stage.