Residents of blocks A to D of Tung Fat Building told they would have to be tested from 7pm until 2am, before the lockdown would be lifted at 7am.
Residents under a Hong Kong "ambush-style" lockdown were allowed to leave the cordoned-off area in North Point for work early on Friday, as the government revealed no new Covid-19 cases had been detected so far in the operation.

City leader Carrie Lam Cheng Yuet-ngor earlier paid a late-night visit to the site where residents of four old tenement buildings in the district were confined to their homes without advance warning for mandatory Covid-19 testing.

The third such operation in six days was launched as 39 new infections were confirmed citywide, all but one locally transmitted and including 20 untraceable cases.

As part of the government's ramped-up campaign to contain the latest outbreaks, residents of blocks A to D of Tung Fat Building in North Point were told they would have to be tested from 7pm until 2am, before the lockdown would be lifted at 7am on Friday.

Those residents testing negative for the coronavirus were given the all-clear to leave the locality for work purposes from 7am.

But authorities have yet to officially lift the restrictions, with officers still taking enforcement action in the area to ensure everyone there has been tested.

A total of 475 residents have been screened during the lockdown of 660 households, according to a government statement.

About 190 households have not responded to official contact, including those previously confirmed as positive and their close contacts. The authorities would continue to follow up with those households, the statement read.

The government also said it would make an announcement later on the official lifting of the lockdown.

Health secretary Sophia Chan Siu-chee and home affairs minister Caspar Tsui Ying-wai also visited the site in the evening.

About 60 residents of Block C were evacuated on Wednesday to address concerns about possible vertical transmission of the coronavirus, with authorities having confirmed 13 infections in the building so far.

Those returning home after work found police officers waiting to direct them towards tents erected outside for registration and testing.

"I do agree with the lockdowns because at least they can find any asymptomatic cases," said a woman surnamed Cheung, who works at a clinic on the ground floor of Tung Fat Building.

Infectious disease specialist Dr Joseph Tsang Kay-yan said the lockdown was necessary.

"Around a dozen cases emerged within a short period … and [other undetected infections there] could affect the environment," Tsang said.

District councillor Lee Yue-shun said the four blocks were troubled by "bad hygiene" with rubbish and even human waste dumped in lightwells.

"A resident told me the windows facing the lightwells had not been opened in the five years they had been there," Lee said, adding the buildings contained some subdivided flats.

Some 330 residents of old tenement buildings in Yau Ma Tei were tested in the previous lockdown on Tuesday, and it turned up only one positive case.

Professor Gabriel Leung, dean of the University of Hong Kong's faculty of medicine and adviser to the government on the pandemic, was satisfied with the 0.3 per cent positivity rate. A balance had been struck between health needs and residents' livelihood concerns, he said.

Across the harbour, residents of another block at the Laguna City private housing estate in Lam Tin were also ordered to undergo compulsory testing. Infections were found in two flats facing the same direction but more than 10 floors apart in Block 7.

Some residents of Block 5 were evacuated on Monday after authorities suspected the coronavirus was being vertically transmitted.

Of the citywide infections one involved a more contagious strain of the coronavirus, and two previous cases were also confirmed to be new variants, bringing the total to 20.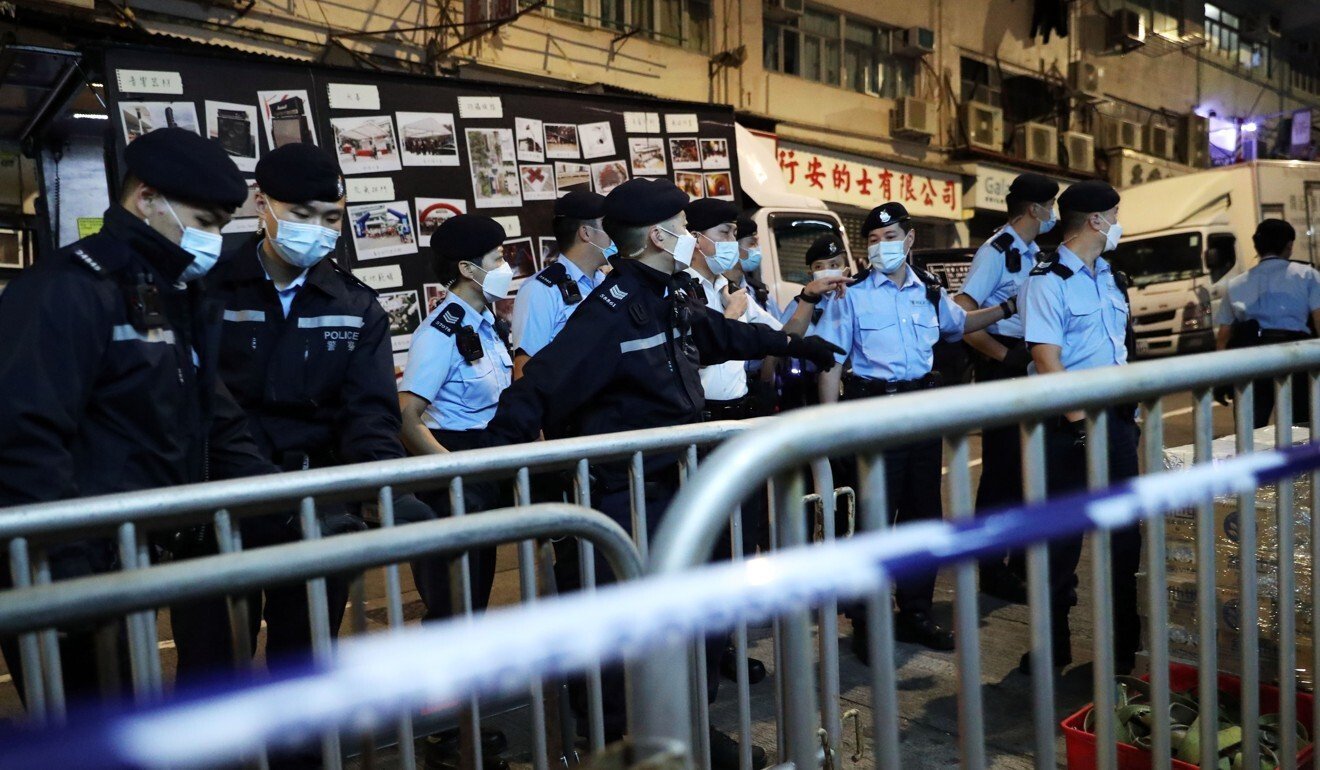 Police officers set up barriers for the lockdown of blocks A to D of Tung Fat Building.

Dr Chuang Shuk-kwan, head of the communicable disease branch of the Centre for Health Protection, revealed that the N501Y mutation had been found in the latest imported case, involving a 24-year-old man who came in from South Korea.

"The N501Y mutation was identified in both the coronavirus variants found in Britain and South Africa. Further tests will be needed to determine the variant [of the man's infection]," Chuang said.

A similar mutation was found in a 37-year-old woman who arrived from the Philippines and was earlier confirmed to be a Covid-19 patient, she added, noting it was not yet known which variant was involved.

Another patient who arrived in Hong Kong last week from Switzerland via Doha was found to have the British variant, bringing the total to 16. Two patients carried the South Africa mutation.

The variants were said to be more infectious, with the one identified in Britain about 70 per cent more transmissible and possibly more deadly.

Tsang believed the impact of the variants on Hong Kong would remain limited because of the more stringent measures on people arriving in the city.
Sewage tests positive for Covid-19
Eleven buildings in Hung Hom have had sewage samples tested positive for the Sars-CoV-2 virus (as of 27 Jan)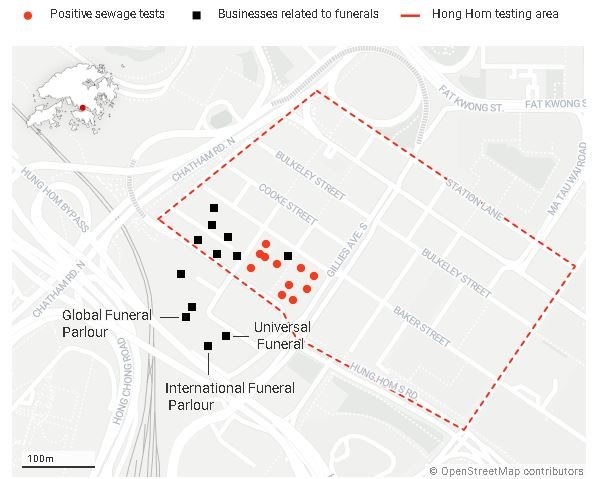 Hong Kong has recorded 10,321 confirmed infections, and 176 related deaths, including two chronically ill men, aged 47 and 66, who succumbed on Thursday.

Meanwhile, fears were sparked over the city's major hub for funeral services, and whether it would be the next in line for a lockdown, after 11 buildings in Hung Hom were issued with mandatory testing orders following sewage samples that tested persistently positive for the virus.

Sealing off the area with about 60 funeral service firms would not only undermine those businesses, but prolong the pain of customers who had lost loved ones, an industry leader said.

Funeral Business Association chairman Ng Yiu-tong expressed worries about a possible lockdown in Hung Hom. Under new stringent measures, mandatory testing will be required at any building where traces of the virus are found in sewage samples there.

"If officials lock down an area, then no one can take anything out," Ng told a radio programme. "If we miss the date [to send the corpse to cemeteries and crematoria], it can't be compensated for with time or money. The customers' pain should be taken care of."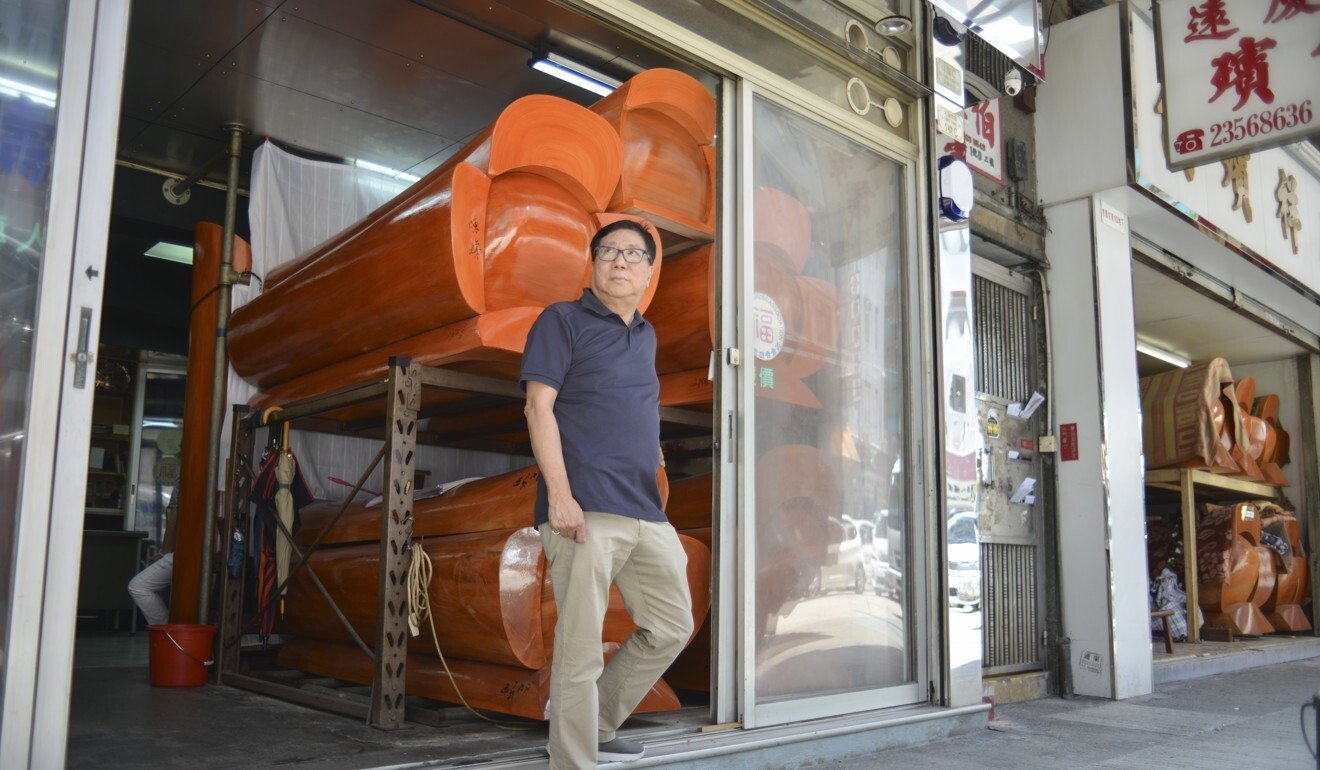 Hong Kong's Hung Hom neighbourhood is home to about 60 funeral service firms.

He added they had to handle 50 to 60 corpses each day and staff needed to access workplaces to collect documents and coffins.

The Hung Hom zone in question is bordered by Station Lane to the northeast, Dock Street and Po Loi Street to the southeast, Winslow Street and Hung Hom South Road to the southwest, and Chatham Road North to the northwest.

Under the scheme, just one coronavirus infection or the discovery of positive sewage samples triggers a mandatory testing order for an entire building. Cheong Lok Mansion on Tuesday became the first building in the area to receive such an order.

Ng said some businesses had begun moving paperwork and coffins out of their premises a day ahead of scheduled ceremonies for fear a lockdown could happen at any time.

On the same programme, leading HKU microbiologist Dr Ho Pak-leung expressed concern over the pandemic situation given that almost 40 per cent of infections over the past two weeks were untraceable.

Ho noted that next month's holiday made it inevitable residents would go out more often and engage in traditional gatherings with extended families.

"We have already seen a rebound in cases. If the number of these cases does not clearly drop over the next two weeks, I worry there will be a second rebound after the Lunar New Year holiday," he said.

The fourth wave, which began in late November, is now the longest the city has experienced.

HKU infectious disease expert Professor Yuen Kwok-yung, a government adviser, said the recent surge in cases was very likely linked to earlier clusters at construction sites, which saw workers carry the virus back to their communities, often filled with older buildings.