Ever since word emerged of a possible large-scale lockdown later this month, Hongkongers have rushed to snap up frozen meat, medicine, baby food and other goods.
Hong Kong leader Carrie Lam Cheng Yuet-ngor urged residents on Wednesday not to panic over the supply of food and daily necessities, assuring them that the flow of goods into the city has mostly returned to normal with help from Beijing.

Her call was echoed by food suppliers, who said the city was well-stocked in spite of manpower shortages and shipping hiccups.

Lam made the appeal as the first trainload of anti-epidemic supplies from mainland China arrived in Hong Kong to ease a recent crunch amid a surging fifth wave of coronavirus infections.

The nine-car train pulled into Lo Wu Marshalling Yard at noon from Pinghu, Shenzhen, carrying about 20,000 protective gowns, 1.1 million sets of rapid test kits, medical supplies and fresh food. Shenzhen authorities said there would be one mainland cargo train arriving into Hong Kong daily, though that number could increase to eight if needed.

A source said the medical supplies would be sent to isolation facilities and hospitals, with Chinese medicine delivered to Covid-19 patients and protective gear to frontline disciplined services staff and medical workers.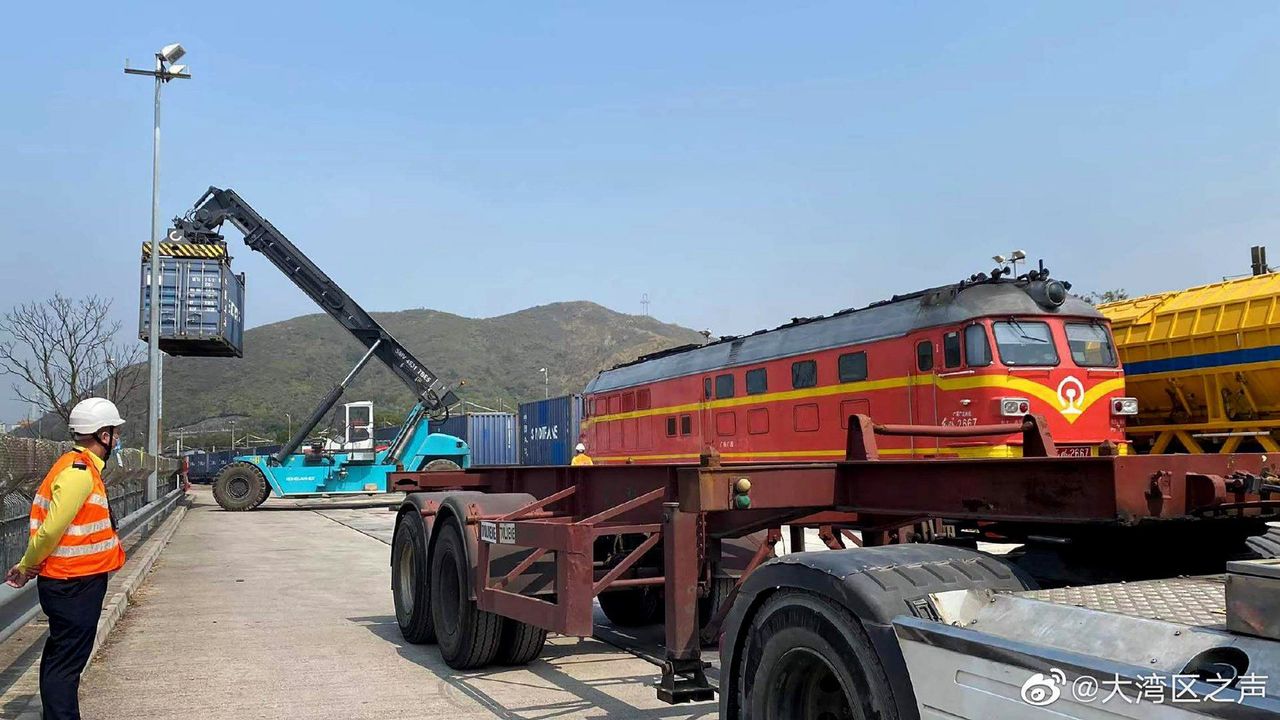 A cargo train arrives in Hong Kong from mainland China.

Lam said due to an increasing number of infections among cross-border truck drivers, the transport of goods from the mainland had been affected, and other means to deliver supplies were needed.

She added that the incoming cargo trains helped ensure a steady supply of goods to Hong Kong, calling for calm and for locals to disregard online rumours about government measures.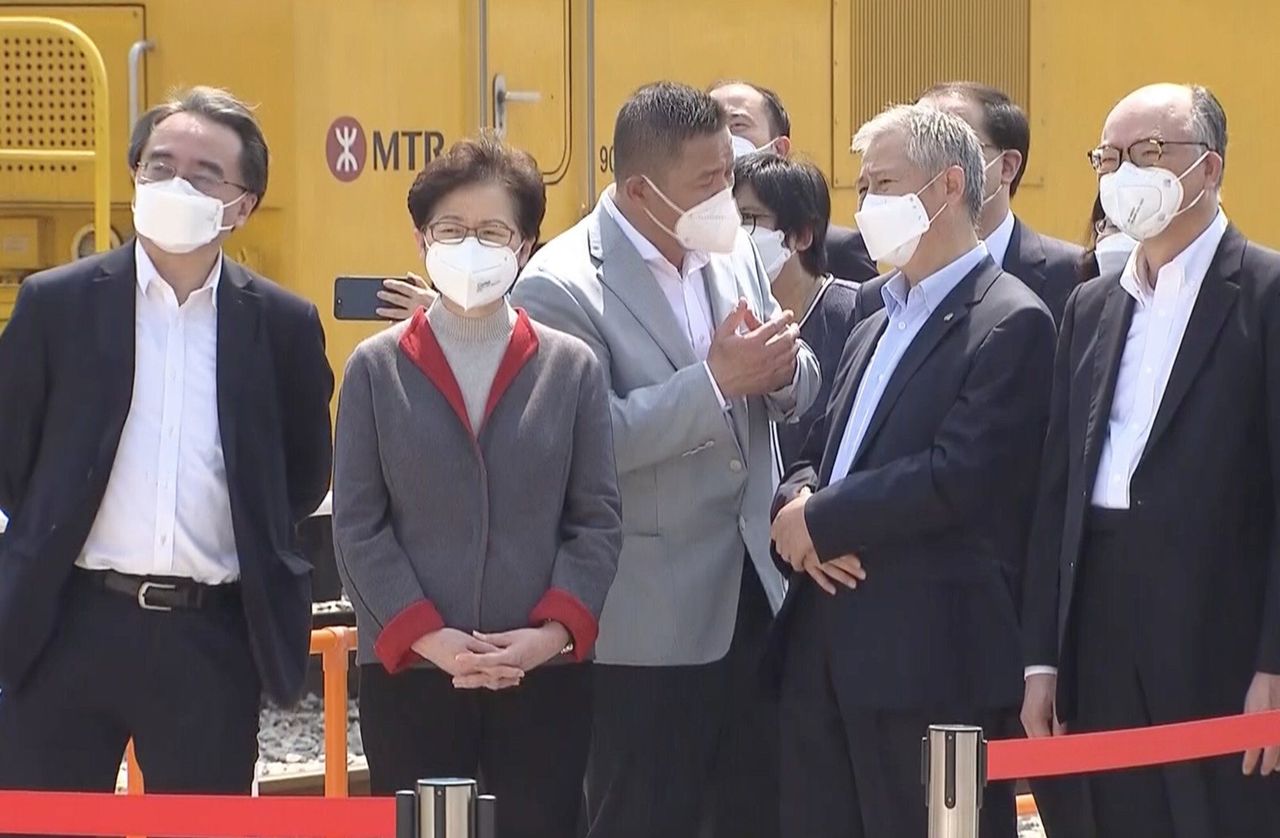 Hong Kong leader Carrie Lam (centre) welcoming the first train carrying goods from the mainland.

"I understand that people have been most concerned about a lockdown, resulting in trends such as panic buying," she said. "People don't need to worry. The supply of goods has largely returned to normal. On Tuesday, supply reached 90 per cent of normal levels.

"I would like to say to Hongkongers: we will strive for our very best to safeguard the supply of daily food items, fresh food and other necessities."

The city leader added that the Transport and Housing Bureau would also coordinate medical supplies to Hong Kong via sea, land and rail.

In a statement issued on Wednesday night, the government also called on the public not to over-purchase, saying the supply of fresh food from the mainland was stable.

Authorities reported that about 2,500 tonnes of vegetables had been transported from the mainland by land and water on Tuesday, up by nearly 10 per cent from last year's daily average.

They added the total supply of chilled meat on Tuesday was about 1.8 times the daily average from the mainland. Stocks of chilled poultry had also increased to about 150,000 pieces, while 10,000 live chickens had been slaughtered locally.

Ever since word emerged of a possible lockdown later this month as authorities rolled out a mass-testing drive, Hongkongers have rushed to supermarkets, stores and pharmacies to snap up frozen meat, bread, medicine, baby food and other essentials, with shelves swept bare as soon as they are restocked.

But suppliers on Wednesday said that was because stores had simply been unable to keep up with the intensity of the panic buying, and that things would be back to normal soon.

Ng Wing-yan, chairman of the Hong Kong Food Council, said the city's overall food supply was sufficient, and it was therefore unnecessary for residents to stockpile goods, particularly as any lockdown had yet to be officially confirmed.

"There is only a bottleneck in transporting the food and daily necessities to different stores, as workers have either contracted the coronavirus or have to be isolated after being identified as close contacts," Ng said. "Residents do not need to be over-worried."

He added that shipments of goods from the mainland to Hong Kong by rail and boat had helped matters, but noted that the transport of food and daily necessities still relied on cross-border trucks.

Handover sites for non-perishable food items and other goods from the mainland are also being set up at the airport, Kwai Tsing Container Terminal and the river trade terminal in Tuen Mun, with operations to start this week. Two more sites could be set up on private land at the Lok Ma Chau border control point.

Ng Fung Hong, the city's sole importer of live cattle from the mainland under China Resources, said it had dispatched 38 experienced and skilled butchers from across the border to help with the supply resumption of fresh meat.

Two slaughterhouses in Hong Kong suspended operations last Saturday over a cluster of Covid-19 infections, forcing residents to stock up on frozen products instead.

The firm said the mainland butchers would work in the Sheung Shui slaughterhouse for an initial two months in a closed-loop operation.

Harry Yip Pu-leung, chairman of the Hong Kong & Kowloon Provisions, Wine & Spirit Dealers' Association, said there would be millions of cans of food arriving in the city in the next 10 days.

"There is really no need to worry about the supply," he said.

Yip also called on Hongkongers to avoid panic buying to allow those in need a chance to buy food and necessities.

"There is still some stock at supermarkets, but the goods disappear faster than they can be restocked," he said.

An industry source said supermarkets still had stock but used the false impression of a shortage of goods as an excuse to mark up prices.

Michael Li, deputy general manager of Yuen Tai Trading Company, a distributor of Greatwall luncheon meat and other canned food, said he had increased orders by about 3.5 times to 1 million cans this month to cope with the surging demand.

His sales figures shot up by more than 30 per cent over the past few months, compared with the same period last year.

"I'm not worried that stock will be wiped out soon by Hongkongers. I think this irrational behaviour will disappear very soon," he said.

Kenny Lam Kin-ming, executive director H.S.Chan Company, which supplies Vinda and Tempo toilet rolls at supermarkets, said their warehouses held reserve stock, but it took time for supermarkets to replenish supplies.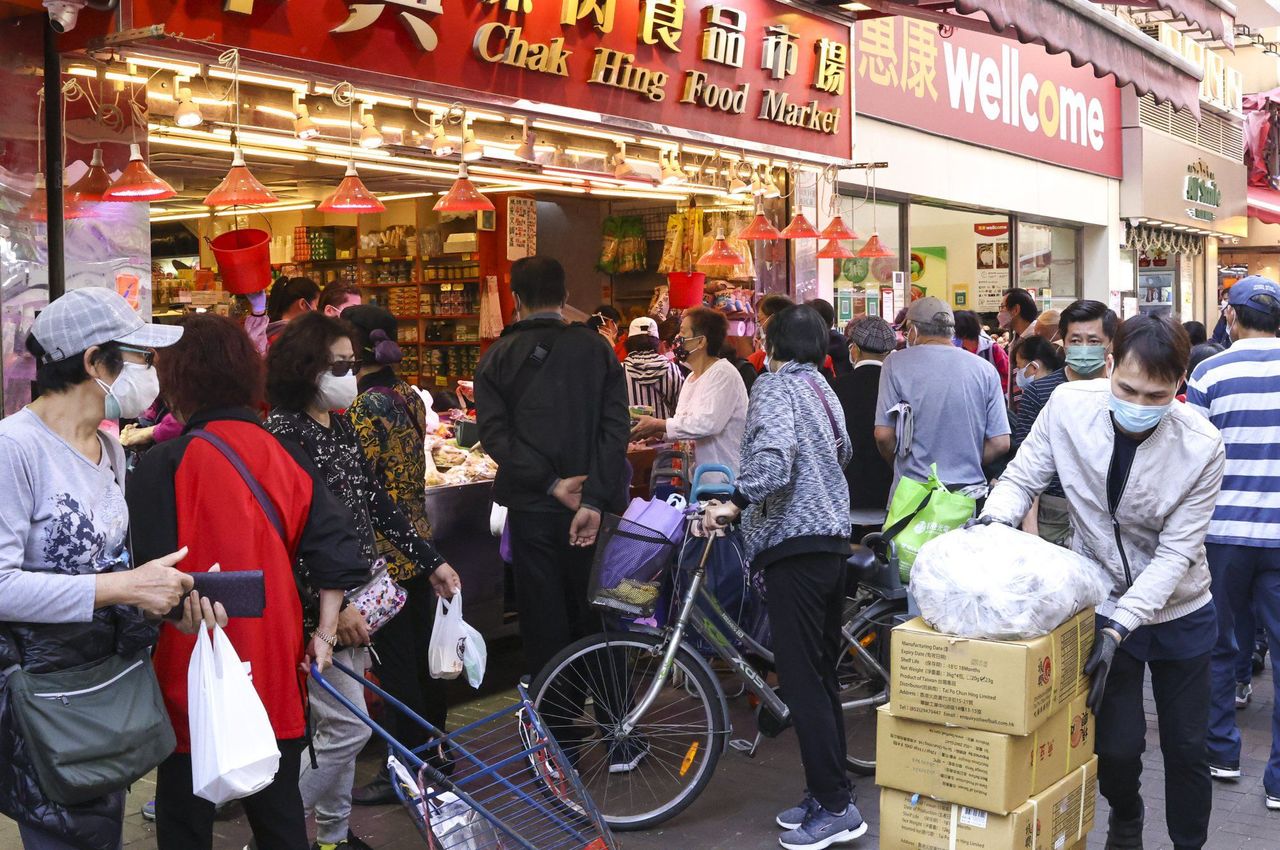 A crowd outside a stall in Tai Po.

A spokeswoman for Nissin Foods said the group had been keeping sufficient reserve inventory. "Nissin Foods has adjusted its production schedule and arranged related supporting facilities to ensure a stable supply of products," she said.

Reckitt Hong Kong, supplier of Dettol's products in Hong Kong, said it would continue to be in close contact with business partners to respond to local market demand.

Meanwhile, a fresh batch of 100,000 packs of Chinese medicine were delivered from the mainland, to be distributed to needy families.

The Hong Kong government has so far received 450,000 packs of herbal medicine donated by the country to help Covid-19 patients relieve symptoms and for rehabilitation. Some of these were given to designated clinics.

Authorities are also coordinating the provision of more medical supplies, including rapid antigen test (RAT) kits, masks, protective equipment and other gear. So far, 18 million RAT kits and 320,000 finger pulse oximeters have been made available in Hong Kong.

The city has also received 31.8 million N95 and KN95 masks to be used by residents during the coming mass testing.