Residents press Carrie Lam over housing, job opportunities and political freedoms, urging her to restore a deeper sense of happiness among young people.
Hong Kong authorities were pursuing every available option to find land for new housing, the city's leader told a town hall meeting on Sunday, where residents called on her administration to restore a "deeper sense of happiness" among disgruntled youth.

In meeting the public in an open forum for the first time in nearly two years, Chief Executive Carrie Lam Cheng Yuet-ngor described the city as having turned a critical corner and sought to convey her optimism over the future.

"Along with the enactment of Hong Kong's national security law and improving the electoral system, the city's development has been put back on the right track with the support of the central government, while the public has a lot of expectations for the future," she told the audience of about 100 people at the Xiqu Centre in the West Kowloon Cultural District.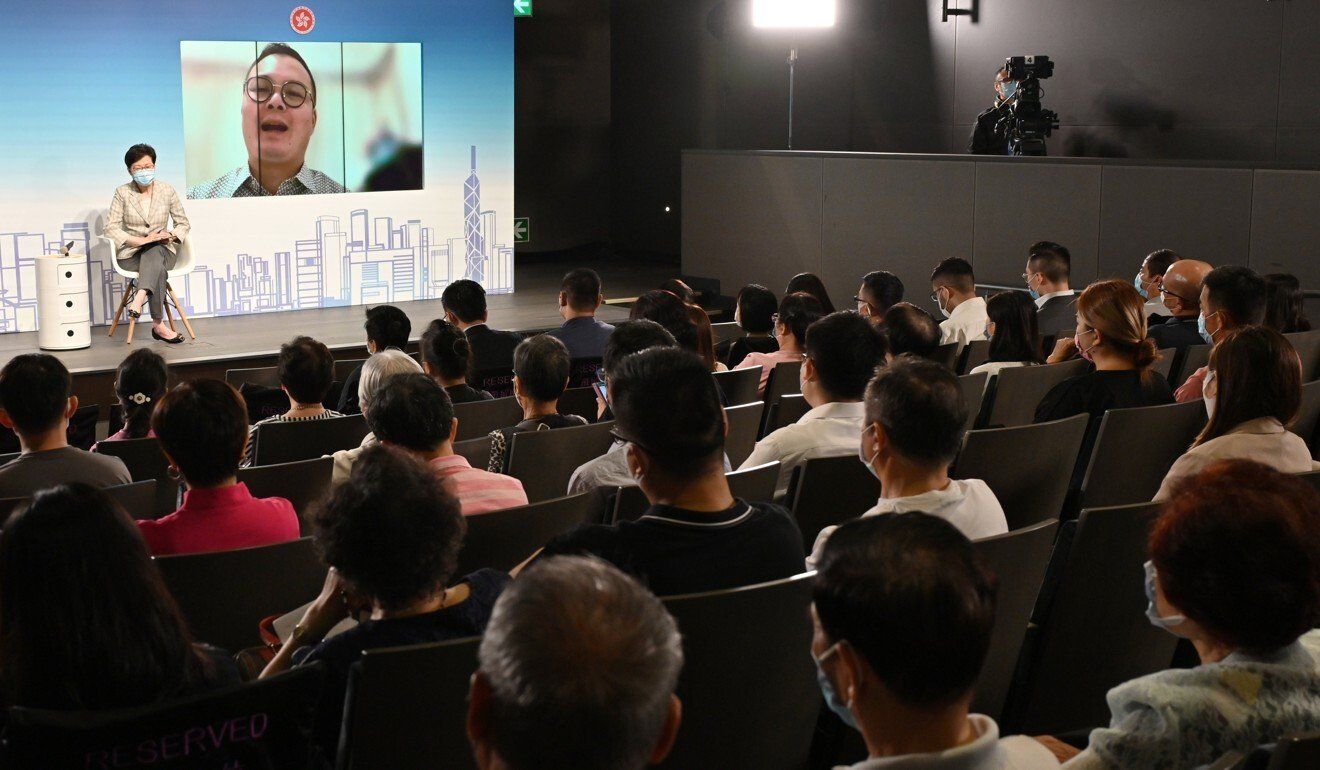 Residents take part in the town hall meeting on Sunday.

The talk was part of a series of meetings Lam is holding with residents, sector representatives and pro-establishment lawmakers as she prepares to deliver a "visionary" policy address in October, the final one of her current term. She has not said yet whether she intends to run for another five years in March.

The attendees were chosen at random or invited by pro-establishment bodies. Many expressed hope that Lam would tackle the housing and employment woes faced by a frustrated class of young people.

"The government should raise the feeling of happiness among young people," said one woman from the Federation of the Kwun Tong Women's Association, who like many participants did give her full name. "Their main problem is about housing. Now even a 300 sq ft unit costs over HK$10 million [US$1.28 million] and they really can't afford to pay for the mortgage.

"I hope the government can do something to tackle the high property and rental prices, so our young generation will be less disgruntled. They don't feel a sense of happiness now, so I hope the government can do something about it."

Lam pledged that the relevant departments would speed up housing construction to meet demand and said the government had pursued all options to find land for public housing.

"We are doing all we can to develop land for the housing supply, including reclamation, requisition of land from private developers and urban redevelopment," she said.

"We have now located 330 hectares [815 acres] of land to build 310,000 public housing units over the next 10 years … We will speed up the construction of public housing units."

Lam noted that apart from trying to get more homes built, her administration had also sought to boost public housing supply by increasing the proportion of public residential units from future construction projects from 50 per cent to 70 per cent.

One participant called on the leader to provide more jobs for young people and better subsidy support for new businesses.

"I hope there will be some policies to make people happy, so they don't feel lost about their future," he said.

Lam said that while she hoped young people would remain in the city to work, neither should they ignore the employment opportunities that would arise from the Greater Bay Area scheme, Beijing's plan to integrate Hong Kong, Macau and nine Guangdong cities in mainland China into an economic and technological powerhouse.

"Although I very much hope the young people could stay in Hong Kong for development, they shouldn't miss out on the opportunities in the nearby bay area, as it has a population of over 80 million," she said.

Another audience member asked whether young people were allowed to freely talk about politics following the adoption of the national security law.

"Some Hongkongers have become more careful when talking about politics as they have been warned they might be arrested," he said. "I hope Mrs Lam can formulate a policy to allow us to talk about politics without running afoul of the law."

Lam pointed out young people could participate in political affairs by nominating themselves for a seat on specific government advisory committees under a self-recommendation scheme.

A resident of North district said she was concerned about people losing their jobs or needing retraining as the city embraced the digitalisation of the economy.

Lam said that while some companies might lay off workers, other emerging sectors could be hiring or training new staff.

"We were considering offering subsidies so that these residents can enter these sectors with new potential and learn new skills at work," she said.

Ho Ying-hon, principal of Caritas Fanling Chan Chun Ha Secondary School, asked Lam to look into the difficulties faced by Hong Kong students who lived over the border, or mainland-based pupils who used to travel to the city every morning to study. But due to the Covid-19 pandemic, they had been forced to rely on video-conferencing to attend classes remotely.

"Educators like us feel sad that we cannot be together with these students as they grow up," Ho said.

Lam said the Education Bureau had been studying the issue as cross-border students were "a big concern". But she added that the problem would require some sort of agreement between the Hong Kong and Shenzhen governments.

Lam last met the public at a town hall meeting in September 2019 amid the turmoil of the anti-government protests. Before that talk, she had said she understood people's anger stemmed from "housing, land shortages, [and] a lack of diversity and inclusiveness in our economy", adding face-to-face exchanges would continue over the long term.

But she ended up facing a critical audience that day, while hundreds more protested outside the venue, and no follow-up sessions were held.