Lam says in a Facebook post that she will resume her official duties seven days after fracturing her elbow in a fall at her residence, though she notes she still faces a long road to full recovery.
Hong Kong leader Carrie Lam Cheng Yuet-ngor will return to work on Monday after fracturing her elbow in a fall at her official residence last week.

Lam said in a post on her official Facebook page on Sunday that she would resume her duties as chief executive and take over official business from Monday, seven days after her accident, though she noted she still faced a long road to full recovery.

"For a full recovery to be made so that I can live a normal life, I am afraid it will still take considerable time and require undergoing physiotherapy," Lam wrote.

She did not give any indication of her present condition, or whether her decision to resume working was based on the advice of her doctors.

The government issued a statement at 12.20am on Tuesday announcing Lam "fell at the Government House [on Monday] night".

"She attended the hospital by herself and was diagnosed with a minor right elbow fracture

after checking by doctors. On doctor's advice, [Lam] will stay in hospital for observation and will be on leave for the time being," the statement said.

Chief Secretary John Lee Ka-chiu, the city's No 2, has been handling Lam's duties since her fall.

Lam said in a Facebook post after being discharged from Queen Mary Hospital in Pok Fu Lam last week that she expected her elbow to take two to three weeks to heal.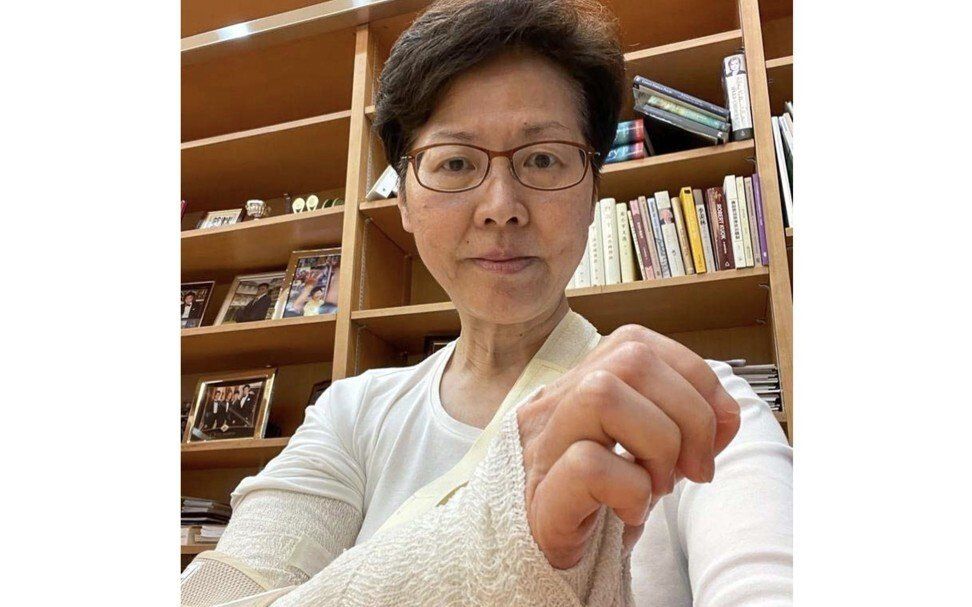 Lam giving her social media followers a condition update on Tuesday.

Lam, 64, also revealed that she had fallen down a flight of stairs at Government House ahead of a banquet with retired colleagues.

She said she had initially thought the injury was just an abrasion, but when the pain in her right arm worsened, she sought hospital treatment after sending off her guests. She added that she had also undergone a brain scan and additional check-ups during her overnight stay in hospital.

In another Facebook post on Friday, Lam said she had recorded seven or eight video messages to be played at ceremonies and seminars she was invited to attend but was forced to miss because of her injury.

One of the events Lam missed was the 2021 First World Maritime Merchants Forum.

In Sunday's post, Lam said she was pleased that the Standard Chartered Hong Kong Marathon earlier in the day had been a success, urging people to receive their Covid-19 vaccinations to pave the way for more mass events and the reopening of the border with mainland China