'When the administration is doing well … voter turnout will decrease because the people do not have a strong impetus to choose different lawmakers,' Lam tells the mainland Chinese tabloid Global Times.
A low voter turnout widely expected at this month's Legislative Council election will "not mean anything", Hong Kong's leader has said, arguing that it may instead indicate public satisfaction with good governance.

Observers, pollsters and even the candidates themselves are anticipating low voter participation in the December 19 Legco election, which the mainstream opposition has boycotted following Beijing's overhaul of the city's political system to ensure only "patriots" wielded power.

But in her interview with the Global Times on Wednesday, Chief Executive Carrie Lam Cheng Yuet-ngor insisted that if voter participation was indeed low, it could be because the public was satisfied with their existing government.

"There is a saying from the government in the old days that when the administration is doing well and its credibility is high, the voter turnout will decrease because the people do not have a strong impetus to choose different lawmakers to supervise the government," she said. "Therefore, I think the turnout rate does not mean anything."

Though the government would continue to encourage voters to exercise their civil rights, she added, whether they did or not was of no great concern.

"In the end, whether the voter turnout rate is high or low, I don't think we need to worry too much," she said.

Lam's insistence on pushing ahead with a now-withdrawn extradition bill in 2019 plunged the city into its most tumultuous period of unrest since its return to Chinese rule in 1997. The months of protests were deeply polarising, and badly damaging politically to both Lam and the pro-establishment camp as a whole.

The camp lost municipal-level elections in a rout that year, with the opposition winning control of an unprecedented 17 of the city's 18 district councils.

However, the mainstream opposition has shunned this year's election, with many key figures either in jail, or sitting out after deciding that a new candidate screening process would make it impossible for them to run. A recent survey, meanwhile, found that 40 per cent of respondents "most likely" or "absolutely" would not be casting ballots on election day.

Adrian Lau Cheuk-yu, one of a dozen or so centrist candidates who have thrown their hats into the ring, pointed to the fact that under Beijing's overhaul, the number of directly elected members was slashed from 35 to 20 in the now 90-seat Legco, adding it was "crystal clear" why voters were expected to stay home this year.

"The chief executive has single-handedly suggested that a low turnout rate means the public is happy with the government's performance," he said, urging voters to prove Lam wrong at the ballot box later this month. "If you don't wish to have only the pro-establishment camp's voice in the legislature in the future, come out and vote on December 19."

Lam's remarks came just days after a Chinese state leader urged Hongkongers to take to the polling stations on election day, a move seen by some as a sign that Beijing was also worried about low turnout.

Xia Baolong, head of the State Council's Hong Kong and Macau Affairs Office, had told city residents that the polls represented "a vote of confidence" in the city's implementation of the "one country, two systems" governing principle.

In an unprecedented move, the government this year is setting up polling stations at three border checkpoints to allow Hongkongers stuck in mainland China due to quarantine measures to cast their ballots.

A spokesman from the Registration and Electoral Office said 22,130 people had signed up for the arrangement as of the close of registration on Wednesday, far fewer than the 110,000 spots on offer.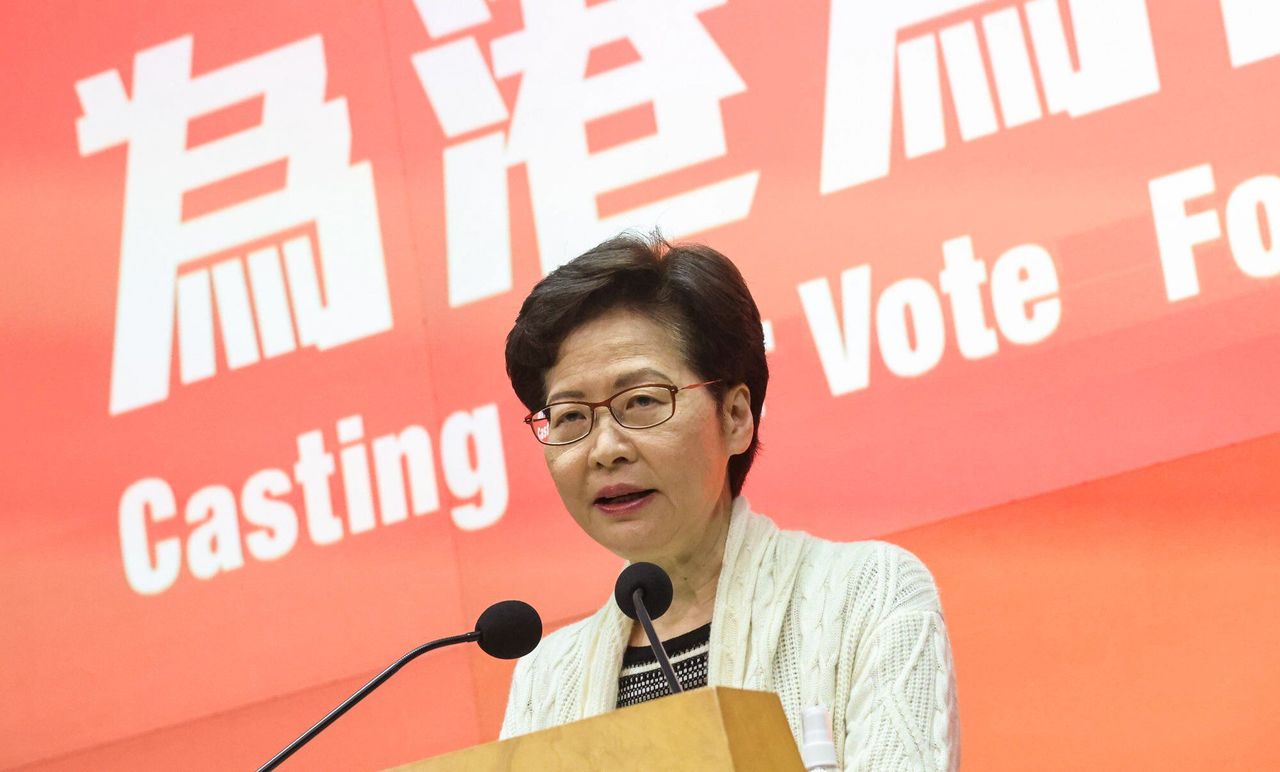 City leader Carrie Lam said it was 'most regrettable' that she had failed to bring Hong Kong society together.

In her interview on Wednesday, Lam also reflected on her five-year term, saying it was "most regrettable" that she had failed to bring society together.

"When I look back to my campaign slogan five years ago, it was 'We connect'. At that time, we had many social conflicts and divergences, but I pledged with this slogan of hope to unite Hong Kong society throughout my tenure," she said.

"However, what happened in 2019 led many young, misled students to engage in some illegal conduct. It's a pity that I could not have united Hong Kong society better."

Since the pandemic largely put an end to the protests – and pushed back the date of the Legco election, originally scheduled for September 2020 – Lam has repeatedly professed to be back on top, particularly after Beijing's imposition of a national security law last year and the subsequent electoral overhaul.

Lam told the Global Times she believed the city would be more united going forward following the Beijing-decreed electoral reform.

Referring to a wave of emigration that has seen some 90,000 people leave the city since June 2020, Lam said she wanted to remind those considering a move that Hong Kong remained "a very unique and charming place" – a part of China, but one with its own way of life, and legal and financial systems.

"One may have some views on certain political concepts, but as long as he does not violate Hong Kong law, then there is no problem living here," she said, blaming the influence of Western culture for people's failure to grasp the nature of the one country, two systems arrangement.