Officials freed to work on pandemic, but lawmakers hope the limit on questions does not set a precedent
Hong Kong lawmakers elected last December under Beijing's "patriots-only" reforms asked significantly fewer questions about the Chief Executive's Office, security agencies and legal administration ahead of recent meetings on this year's budget.

This was after city leader Carrie Lam Cheng Yuet-ngor urged Legislative Council president Andrew Leung Kwan-yuen to appeal to lawmakers to ask fewer questions and free officials to focus on the Covid-19 pandemic.

The lawmakers responded by accepting a limit of 10 questions per person before the budget meetings from April 8 to 14.

Research by the Post showed that the 90-member Legco filed 906 questions for written replies, a far cry from about 6,000 in 2020, when there were still about 20 opposition pan-democrats in the smaller, 70-member chamber. Leung, as president, does not file questions.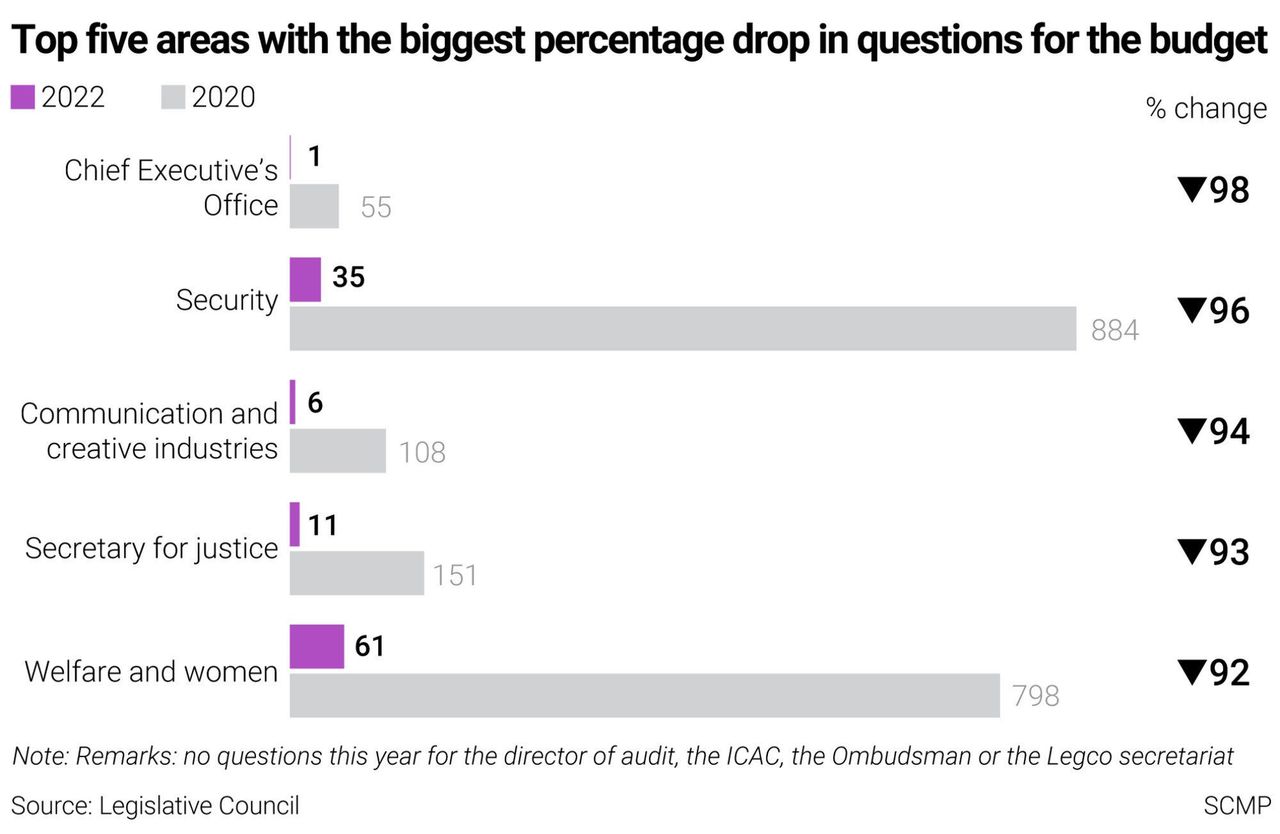 Top five areas with the biggest percentage drop in questions for the budget

Tik Chi-yuen, the only centrist lawmaker, filed 10 questions, half of which were on social welfare policy, saying he had to fulfil his duty as the sector's representative.

The rest of his questions were about prison management, kindergartens and special education, HIV treatment, interpretation services for members of ethnic minority groups, as well as public education on sexual minorities.

While he accepted the 10-question limit because of the pandemic, he hoped this would not set a precedent.

"Restricting us to no more than 10 questions deprives us of the chance to get detailed information from the government for in-depth discussion or follow-up action," he said. "How can we monitor the government's work properly if we are not provided enough information?"

Pro-establishment lawmaker Tang Fei, from the Election Committee constituency, felt the same way.

"I am not saying we should bombard the government with thousands of questions like in the past … But setting an upper limit is not very good. It is our duty as legislators to monitor the government by asking officials questions," he said.

Tang, a secondary school principal and vice-chairman of the pro-Beijing Hong Kong Federation of Education Workers, asked 10 questions, most related to his sector.

"I hope such a special arrangement will not be adopted next year," he said.

The Post's analysis of the Legco proceedings showed that percentage-wise, some areas of government saw significantly fewer questions.

There was only one question for the city leader's office, from the New People's Party's Dominic Lee Tsz-king, who wanted to know the number of posts in Lam's office and the spending involved.

This represented a 98 per cent drop from 2020, when Lam's office received 55 questions, mostly from opposition lawmakers.

They often asked about expenses and the purpose of Lam's visits overseas and to mainland China, her salary, the spending on entertainment and gifts, the number of records destroyed and requests for information handled, and the attendance record of members of her de facto cabinet. None of these were queried this year.

The second biggest percentage drop involved security questions, with only 35 compared with 884 in 2020, or 96 per cent fewer.

Two questions were about national security, on the number of cases related to terrorism and the estimated expenditure and manpower needed to prepare for the local legislation of Basic Law Article 23.

Officials did not reveal details about the latter, saying only that they would "ensure there would be sufficient funds".

In 2020, there were numerous questions on the government's handling of the previous year's anti-government protests, on top of the usual queries on the procurement of police weapons and equipment, the force's establishment and staff allowances, complaints against officers, the number arrested and prosecuted over public processions and assemblies, and cases of people refused entry at the border.

There were no questions on any of these subjects this year.

Instead, some lawmakers asked about the police force's social media strategy and its education programme for schools.

Priscilla Leung Mei-fun asked about the rehabilitation of young prison inmates arrested over the 2019 protests, and was told there was a "deradicalisation" programme.

Other questions touched on torture claimants, prosecutions for breaches of anti-Covid rules, illegal parking, the citywide ID card replacement exercise, and the quality migrant scheme.

Three other areas with the biggest percentage drop in questions related to communications and creative industries, the secretary for justice, and welfare and women. The number of questions declined by between 92 and 94 per cent from 2020.

The justice secretary replied to only 11 questions by seven lawmakers. They asked mainly about rule of law education in schools and national security law training for government counsel, and wanted updates on outstanding cases related to the 2019 protests. Two lawmakers asked about Hong Kong's dispute resolution services in the Greater Bay Area.

In the past, opposition lawmakers would ask about the top 10 offences prosecuted and query expenditures and details of outsourcing prosecutions, among others.

This year, there were no questions for the director of audit, the ICAC commissioner – the graft-buster – the Ombudsman or the secretary general of the Legco secretariat.

The two areas with the most questions were health (84), and commerce, industry and tourism (75). Unsurprisingly, most of the health questions related to the pandemic.

Chung Kim-wah, deputy chief executive officer of the Hong Kong Public Opinion Research Institute, said the lawmakers' questions this year were an indication of how Legco had changed after Beijing's electoral reforms.

"Legco is no longer representing the voice of the majority in society, so what legislators care about most may not be what the general public care about," he said.

"The legislators are pro-establishment and it is natural that they would not raise sensitive questions or just ask shallow questions."