Teaching materials ignore the arrests of dozens of peaceful dissidents and pro-democracy lawmakers under the law.
Authorities in Hong Kong are launching a campaign to "educate" secondary-school students about a draconian national security law that has left most of the city's political opposition behind bars and criminalized public criticism of the authorities.

Students returning to classrooms on Monday as coronavirus restrictions eased were greeted with gifts of paper bookmarks bearing the slogans "Uphold national security," and "Safeguard our home," as the government launched a suite of newly revised teaching materials claiming that the city's seven million residents "still enjoy freedom."

A circular letter to schools, a copy of which was sent to RFA, said schools are responsible for ensuring that their students are "educated" about the new law, which was imposed by the ruling Chinese Communist Party (CCP) on Hong Kong from July 1, 2020.

Morning assemblies and class registration sessions should include reference to the phrase that "upholding national security is the constitutional responsibility of the Hong Kong Special Administrative Region," it said.

Teaching materials now include a cartoon summarizing the law, which claims that there has been no change to "the various rights and freedoms," including freedom of the press and of association, in Hong Kong since the law took effect.

However, it made no mention of the arrest and charging of 47 members of the pro-democracy opposition camp for taking part in a democratic primary election, nor the arrest of radio talk show host Giggs for "incitement to arouse hatred or contempt for the governments of the People's Republic of China and the HKSAR," under the national security law.

A citywide crackdown on anyone linked to the 2019 protest movement intensified when the law took effect, and has included cases brought under colonial-era sedition laws as well as "illegal assembly" charges.

Almost all of the city's prominent pro-democracy figures, opposition lawmakers and social activists are now either behind bars or in exile.

The charging of 47 democracy activists and opposition politicians with "subversion" has sparked an international outcry and calls for their immediate release, with the U.K. saying that the law was being used to "eliminate political dissent," and the U.S. saying it had criminalized normal participation in politics.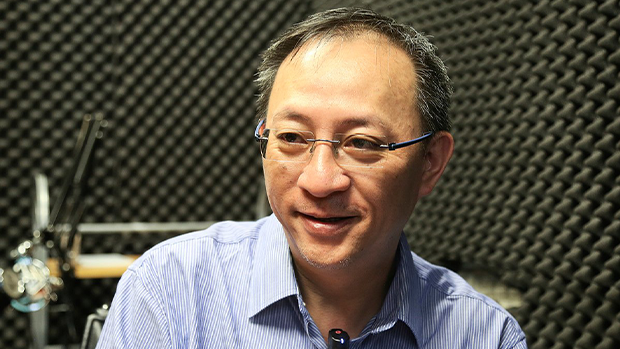 Radio talk show host Giggs, who was arrested for 'incitement' against the government under the national security law, in an undated
Propaganda teams in schools

Meanwhile, students are being encouraged to enter a competition to design a poster showcasing the national security law's impact on daily life in Hong Kong, according to the circular, which also calls on schools to ensure students receive promotional materials like bookmarks and stickers, and take part in an online quiz about the law.

A secondary school teacher told RFA that their school had set up a special team to handle activities and propaganda activities linked to the law.

"It's been clear for a long time that national security education is coming to schools," the teacher said.

A primary-school teacher who gave only the pseudonym Lee said his school had also set up a working group to implement the requirements in the circular from the education department.

He said there had been wave upon wave of directives from the government lately, which seemed geared to "forcing schools and teachers to submit to across-the-board measures."

"So now we have totalitarian methods of governance being brought in under a totalitarian regime," Lee said.


National Security Law Education Day

He said schools are expected to hold a ceremony to mark National Security Law Education Day on Thursday.

"It's basically an event, a show you have to put on," Lee said. "We'll raise the national flag, sing the national anthem and say a few words."

"Actually the CCP-aligned schools have already started using this language ... my niece is at one of them," he said. "She told me they fall asleep when the principal is talking, so I don't think they will be very receptive."

A secondary-school teacher who gave the pseudonym Chan said "national security teams" are now the norm in Hong Kong's schools.

"So, national security teams have to be set up, and schools have to submit reports," Chan said. "If no event was organized for that day, an explanation will be required."

"So we will have to do something just so that we have something to put in the report," he said. "Maybe we'll just put the information up on the noticeboards and let the students read it when they want."