Insignificant decrease in nuisance reports and sightings of animal shows current policy fails to control wild boar population, experts say.
Hong Kong authorities have killed one wild boar a day on average so far this year, more than twice the number during the same period in 2022, according to official data.

But experts have warned that sightings of the animal and nuisance reports in urban areas have not reduced significantly, saying the findings indicate that the current policy to control the wild boar population is ineffective and cruel.

"[The number of killings] is absolutely ridiculous and damaging to Hong Kong's image," said Roni Wong Ho-yin, a representative of the Hong Kong Wild Boar Concern Group.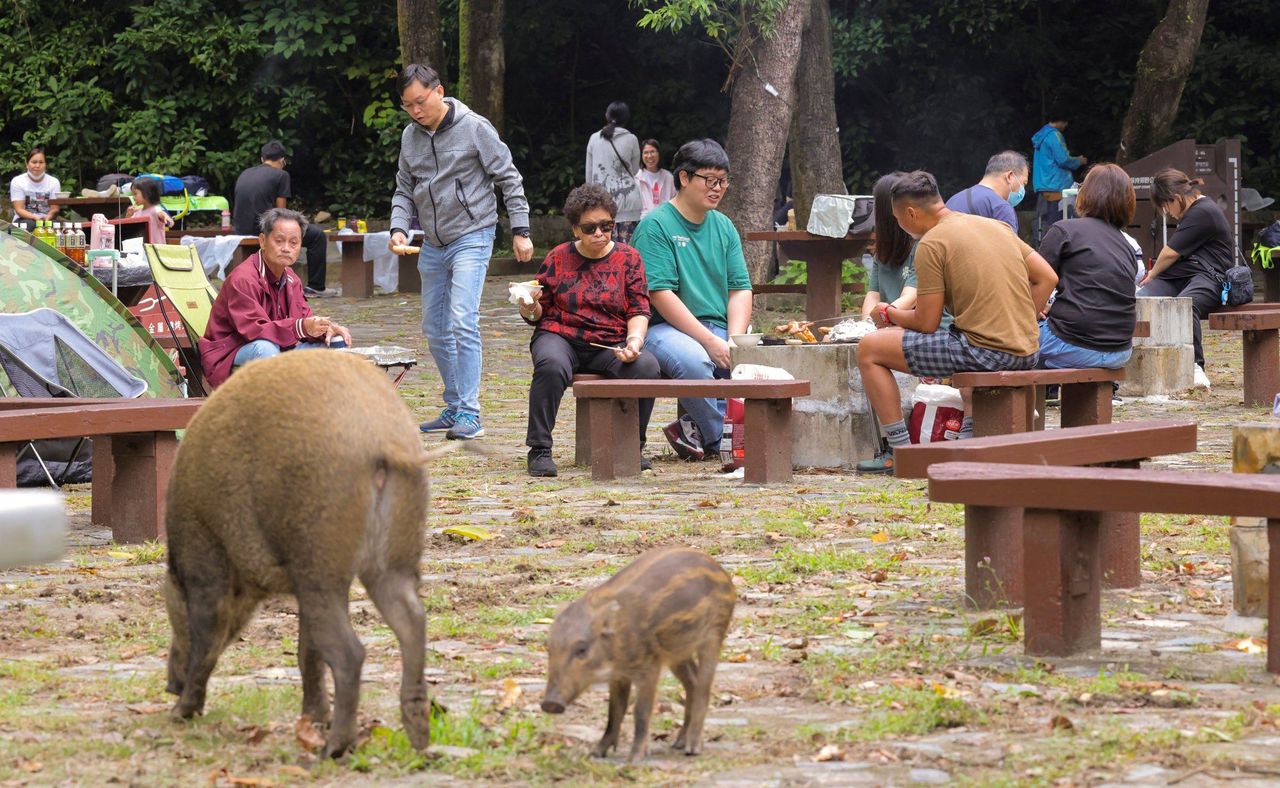 Wild boars near barbecue pits at the Aberdeen Country Park.

"The nuisance reports have not significantly decreased, this means that killing wild boars is not working."

The Agriculture, Fisheries and Conservation Department began euthanising the wild pigs in November 2021 after a spike in the number of boars attacking humans and entering urban areas. The policy replaced the government's previous tactic of capturing, sterilising and relocating the animals.

Between January 5 and May 17, the department euthanised 135 wild boars, or one per day on average.

In 2022, authorities reported an average of 94 sightings and nuisance reports per month. From January to April this year, there have been 359, an average of 91 every month.

Wong has urged the government to return to the previous policy.

The department said it captured and euthanised wild boars "which posed a potential danger or caused a nuisance to members of the public on a regular basis", adding that the primary reason for wild boar nuisance in recent years was the deliberate feeding of these animals.

Wang Yifu, who is pursuing postdoctoral research in applied biological sciences at the University of Hong Kong, has previously carried out work with the government to reduce instances of people feeding wild boars.

"Our main message was to apply social pressure by telling people that nine out of 10 Hongkongers do not approve of feeding wild boars. We put this on posters at feeding hotspots and on buses and trams," she said.

A Post reporter visited Mount Parker Road in Quarry Bay, a feeding hotspot, and found several factors that could attract wild boars.

At the base of the road is a temple where locals had left piles of apples and oranges. There were also opened cans of tuna fish that had been left for stray cats and there were several barbecue and picnic areas along the road.

Ryan Lam, a 24-year-old project assistant at the Woodside Biodiversity Education Centre on the road, said these factors drew wild boars out of the woods and into the city.

"They eat everything," she said. "Some people feed stray cats and dogs, which is not illegal, but it does attract boars. They usually come by in the afternoon. If you walk a little bit up the road you will see piles of rice that people leave for them."

Joyce Lee, a retiree who regularly walks along the road, said she saw wild boars about once a week.

"There is a barbecue place here and lots of places to find food, especially on the weekend. They will naturally come to the food," she said.
16 Oct 2021

Kong Chi-ho, who also works at the Woodside Biodiversity Education Centre, said he felt sorry for the animals that were put down by the department. "I see wild boars maybe once or twice a week. I feel quite sad about the animals being killed. They are just looking for food."

The Southern district reports the most sightings and nuisance incidences throughout the city, with 33 already this year. Vice-chairman of the district council Paul Zimmerman said a lot of the problems on the road also affected his jurisdiction.

"Another problem is garbage bins," Zimmerman said. "A lot of them cannot be locked and many of the refuse collection points throughout Hong Kong are poorly designed. They were designed in the 1960s and 1970s for a population that was much smaller."

Since November 2021, the Agriculture, Fisheries and Conservation Department has euthanised 455 wild boars and it estimates that Hong Kong is home to 2,500 of the animals.

Gary Ades, head of the fauna conservation department at Kadoorie Farm and Botanic Garden, said it was hard to tell if killing the animal at such a rate would reduce its population.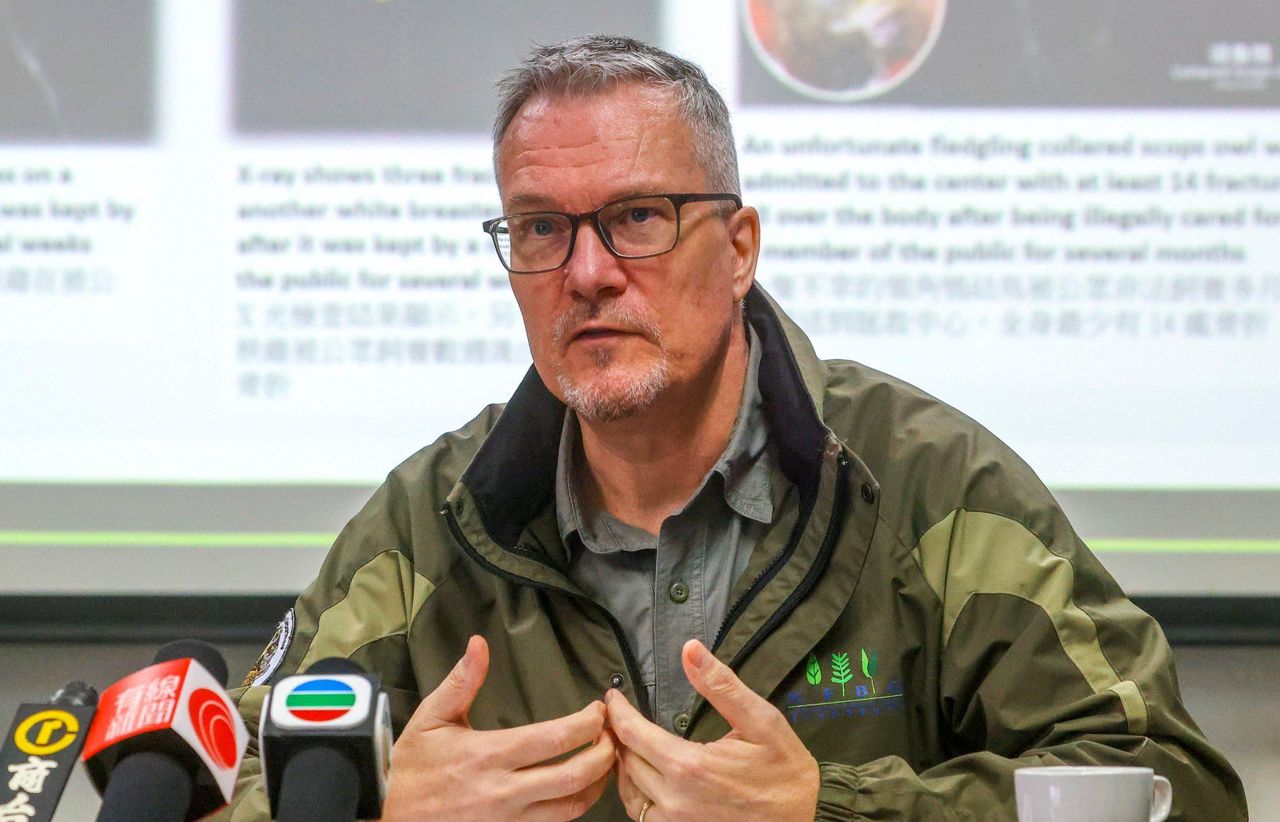 Gary Ades, head of the fauna conservation department at Kadoorie Farm and Botanic Garden.

"You have to also consider the numbers of Burmese pythons and feral dogs. The python is Hong Kong's top predator and the population is healthy so it's likely that large pythons eat a lot of wild boars," Ades said.

However, he also said that wild boars had the highest reproductive rate among hoofed terrestrial mammals.

"They can breed several times a year in Hong Kong, depending on the availability of food. I have seen a female with eight young following her around the central Northern Territories."

Zimmerman urged the public not to feed wild animals as it would only attract more to the area.

"By feeding the boars, you are endangering them," Zimmerman said. "People think it's fun to leave them food but the department is only killing the ones that come to the city. The government needs to tell the public – if you are feeding them, you are killing them."

Authorities are planning on introducing a new fixed penalty of HK$5,000 (US$639), with a maximum amount of up to HK$100,000 and one year in prison for anyone found feeding wildlife. The proposal will be discussed at the Legislative Council on May 22.