Accusing critics of acting 'out of ignorance or with ulterior motives', Cheng maintains the press' freedom to operate 'has always been well respected in Hong Kong'.
Hong Kong's justice chief has lashed out at foreign critics of a recent national security police operation that prompted the closure of an online news platform, accusing them of making "baseless allegations" regarding the state of press freedom in the city.

Secretary of Justice Teresa Cheng Yeuk-wah on Friday became the latest official to defend the operation, which saw the arrests of several people linked to the opposition-leaning website Stand News. The portal subsequently ceased all operations.

Accusing critics of acting "out of ignorance or with ulterior motives", Cheng maintained that the press' freedom to operate " has always been well respected in Hong Kong".

"It is appalling to see that some even openly demand the immediate release of the arrested persons," she wrote on her official blog, in reference to calls from foreign officials such as US Secretary of State Antony Blinken.

"Such demands are not only a gross disrespect for the rule of law, but also are in blatant violation of international law and the basic principle of non-intervention."

National security police on Wednesday arrested seven people who worked at, or were linked to, the now-defunct Stand News portal, which gained popularity among opposition supporters during and after the 2019 anti-government protests.

West Kowloon Court on Thursday denied bail to the portal's former editor-in-chief Chung Pui-kuen, 52, and acting editor-in-chief Patrick Lam Shiu-tung, 34, who were charged with conspiracy to publish seditious content.

Lam made his first court appearance on Friday, having previously been hospitalised due to a medical condition. He confirmed he would waive his right to renew his bail application at the same court, although he could still apply for bail before a High Court judge.

The arrests prompted an outcry from the West, with Hong Kong leader Carrie Lam Cheng Yuet-ngor on Thursday insisting there was no "suppression" of press freedom in the city.

In her blog post, the justice secretary said the recent arrests had "drawn baseless criticisms from overseas politicians and entities".

"Since the legal proceedings of the case concerned have already commenced, no one should further comment on any matter that is sub judice. Our legal system ensures that justice will be properly administered and due process will be observed," Cheng added.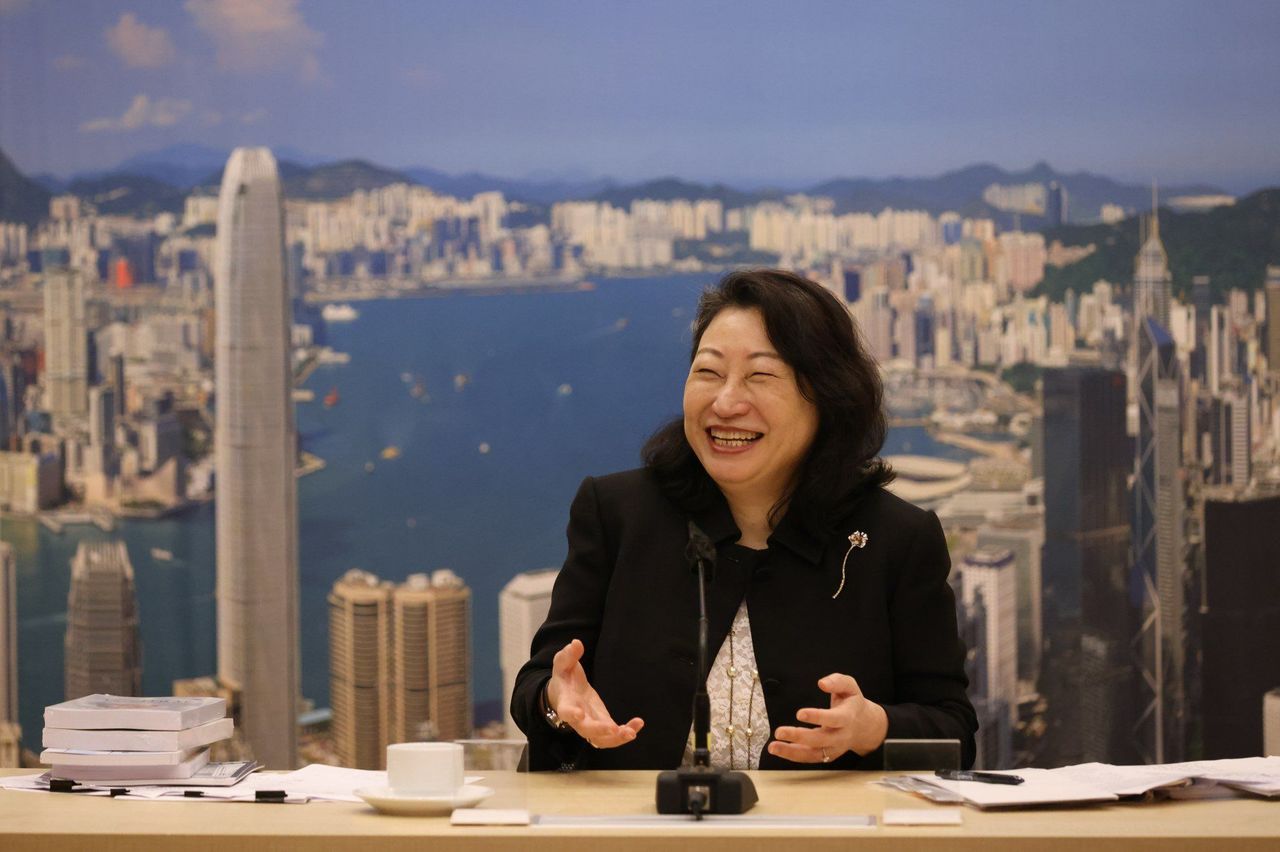 Secretary for Justice Teresa Cheng has accused Western politicians of making 'baseless criticisms' of the arrests.

Cheng went on to say that while freedom of speech, expression and the press were guaranteed by the Basic Law, Hong Kong's mini-constitution, and the Bill of Rights, they were not absolute.

"They may be subject to restrictions that are provided by law and are necessary for pursuing legitimate aims … It should be borne in mind that the safeguarding of national security and the preservation of the constitutional order of 'one country, two systems' are matters of fundamental importance," she argued, referring to the principle under which Hong Kong is governed since its return from British to Chinese rule in 1997.

Cheng also argued that the concept of "responsible journalism" was well established, and that the press was not exempt from complying with the law.

"Journalists are entitled to the protection of the freedom of expression on the premise that they act in good faith," she said.

The boundary between genuine journalistic activities, which should be protected, and offences endangering national security, which should be suppressed, was "reasonably clear", she added.

"It is indisputable that the free flow of information in accordance with the law has always been well respected in Hong Kong."

Chief Secretary John Lee Ka-chiu on Wednesday said people who attempted to make use of reporting as a tool to endanger national security were "the evil elements that damage press freedom".

Asked to comment on the Western backlash to the Stand New cases, Chinese foreign ministry spokesman Zhao Lijian on Thursday said Washington only "pretended to support press freedom", and had arrested or detained at least 117 journalists in 2020.