Carrie Lam's decision to suspend universal testing has raised questions about city's commitment to 'dynamic-zero infection' strategy.
Hong Kong's leader has sparked another controversy in announcing a phased relaxation of the city's tough anti-pandemic restrictions.

Chief Executive Carrie Lam Cheng Yuet-ngor's decision includes allowing the resumption of direct flights from nine countries, but she has suspended a plan to test the entire population for Covid-19. The Compulsory Universal Test (CUT) is advocated by mainland China as crucial for eventually resuming all-important, quarantine-free travel between Hong Kong and the rest of the country.

Many are questioning whether this means Hong Kong is moving away from the mainland's official "dynamic-zero infection" strategy and leaning towards Western countries' approach of "living with the virus".

Many have also complained about government sources quoted in media reports who kept touting a late-March or April testing timeline that triggered panic buying by residents fearing a citywide lockdown.

Lam has clarified that CUT remains on her agenda, but argued that she does not have a crystal ball to decide the best timing.

The nature of CUT is such that it makes more sense to conduct an exercise of this scale at the beginning, or towards the end, of an outbreak. Hong Kong is nowhere near either position at the moment.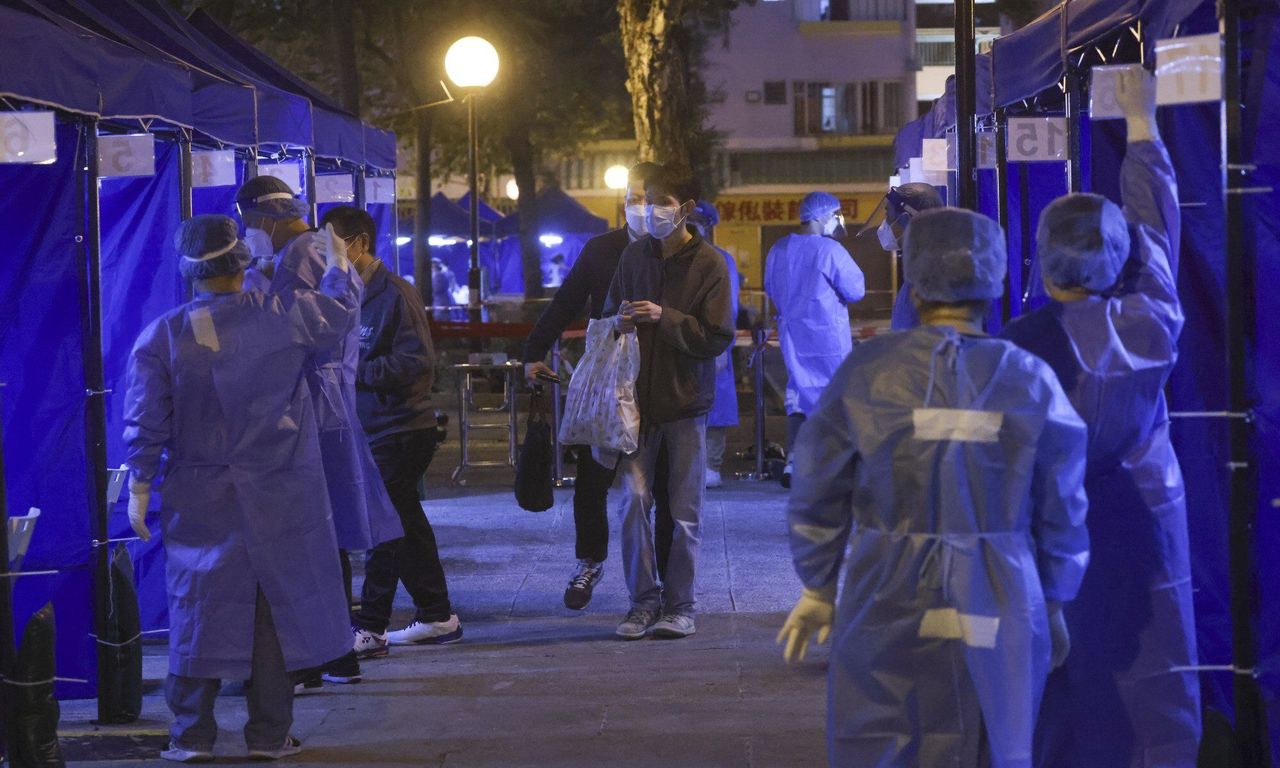 Residents undergoing mandatory testing during a lockdown at a public housing block.

Some pro-establishment lawmakers were upset by the postponement and one even suggested a vote of no confidence against Lam, but did not get anywhere with it. Instead, lawmakers were advised to stay united under the official "together we fight the pandemic" slogan.

Beijing's subtle steering of the Lam administration's efforts on the "zero-dynamic" front while pushing for social unity was perhaps best illustrated by Liang Wannian, China's top Covid strategy expert, when he visited Hong Kong in early March while the city was swamped by the highly transmissible Omicron variant.

Liang quickly reset "saving lives", along with minimising severe cases and reducing infections, as the immediate priority for local authorities, but accepted that Hong Kong was not ready with the capacity – and had missed the best timing – for citywide testing.

He left a bit of parting advice: "[Fighting the pandemic] can't be like stepping on a watermelon rind and letting yourself slide to wherever it takes you".

Last week, Liang sent a "warm reminder" from Beijing that suspending the universal testing plan should not be taken to mean the city was "lying flat".

Some self-reflection is needed on how Hong Kong has come to this stage, with no choice but to rely on help from the mainland – from personal protective equipment to medical professionals being sent across, and from daily necessities to even coffins recently because of a shortage here.

The implications are twofold: as grateful as Hong Kong should be, some are concerned about what it means in terms of Beijing extending its control over the city; but the thinking on the other side of the border is that Hong Kong's health crisis has become a shared responsibility for the country.

President Xi Jinping has already made it clear that Hong Kong's government should bear the "main responsibility" for the current health crisis, but the spillover impact on the mainland has prompted a national alert, and some heads have already rolled with eight officials sacked recently in neighbouring Shenzhen alone.

The outbreak has claimed more than 7,000 lives since February, putting Hong Kong's fatality rate up there among the highest in the world. And the latest study by the University of Hong Kong has warned of the likelihood of a sixth wave in June.

President Xi is expected to visit Hong Kong for the July 1 ceremony to mark 25 years since the city's handover from British to Chinese sovereignty. Forewarned about a June outbreak, how forearmed the government will be is a matter of great importance.

The debate over "dynamic zero" versus "living with virus" will continue, but the "Rome" that all roads lead to for Hong Kong is clear: bring normal life back by all necessary, well-assessed means, including properly planned universal testing.

Keep in mind that mainland China also keeps adjusting and fine-tuning its anti-pandemic measures to ensure less economic and social disruption. Policy U-turns are not necessarily bad for battle strategy, provided they are meaningful and come with unified messaging.

No sliding on watermelon rinds, please.