Travellers will no longer be confined to hotel rooms for quarantine upon arrival in Hong Kong from Monday.
From September 26, overseas travellers will no longer be confined to hotel rooms for quarantine upon arrival as Hong Kong has finally ended some of the world's toughest travel restrictions, a step further to reconnect the isolated financial centre with the world.

Here's what you need to know.


1. Why is the government scrapping hotel quarantine?

The new administration has come under tremendous pressure from the business sector and heavyweights, who had called for the cancellation for the sake of the city's competitiveness and economic development.

Chief Executive John Lee Ka-chiu said that as the number of Covid-19 infections had stabilised, the government now had room to further relax quarantine arrangements.

"We made this decision after we took factors such as livelihoods, economic activities, Hong Kong's competitiveness, convenience for arrivals into account, as well as striking a balance between various needs," he said on Friday.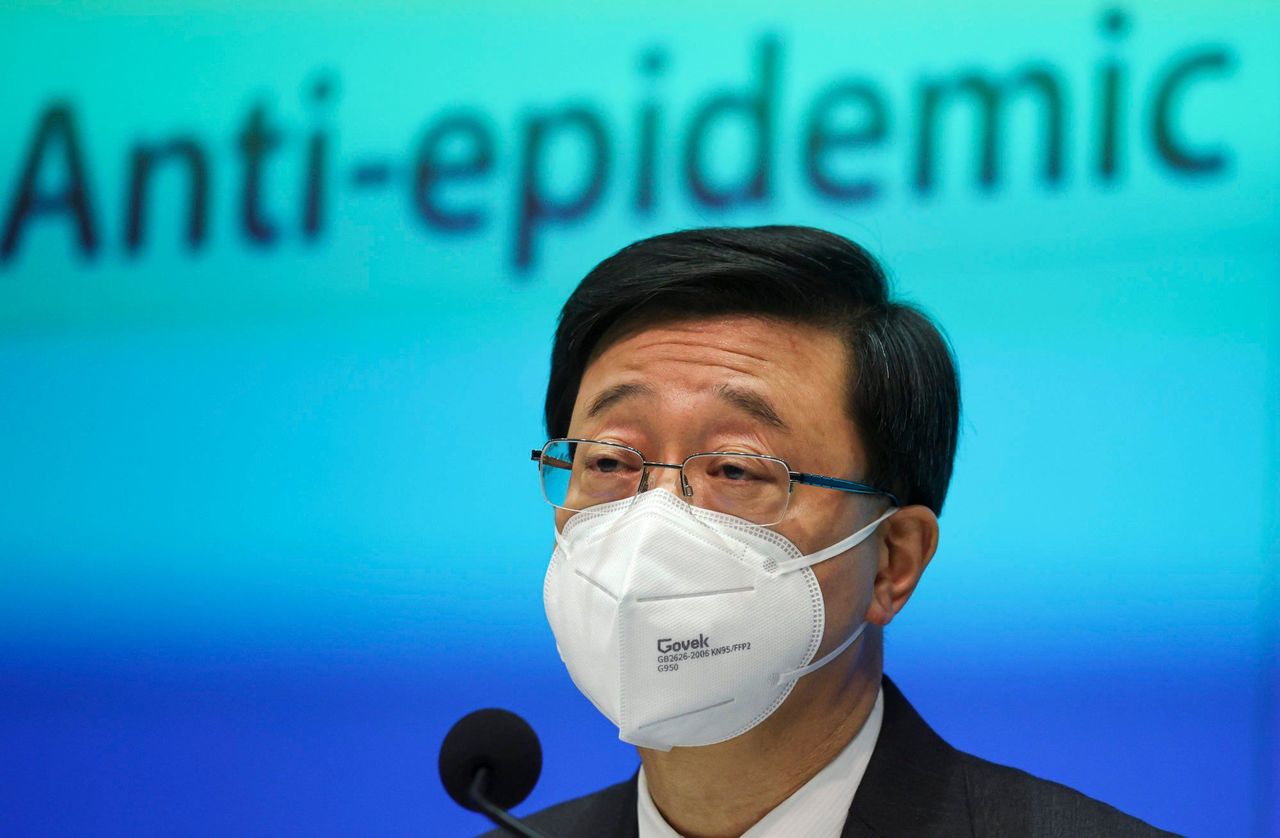 Chief Executive John Lee.

Health minister Lo Chung-mau said all the signs pointed to the latest surge of cases being under control, adding that daily caseloads had dropped faster than officials expected.

He noted that after the hotel quarantine period was cut from seven days to three last month, the number of overseas arrivals increased, but a downward trend was observed in the average number of daily imported cases and the proportion of infected travellers.

Lo added that no violations of the amber and red health code system were found among incoming travellers.


2. How will the new arrangements benefit travellers?

After the hotel quarantine period was reduced from seven days to three last month, travellers had to spend the other four days under medical surveillance at home or in a hotel but were banned from places that required vaccine pass checks.

Under the new "0+3" arrangements taking effect from September 26, travellers from overseas or Taiwan will no longer undergo three days of hotel quarantine. That will be replaced by three days of medical surveillance, with travellers staying in their own homes or hotel of their choice.

Arrivals will only need to conduct a rapid antigen test (RAT) within 24 hours before boarding their flight, replacing the existing PCR screening requirement.

Upon arrival at the airport, they will undergo a PCR test and be allowed to head home or to a hotel via any kind of transport before results are released.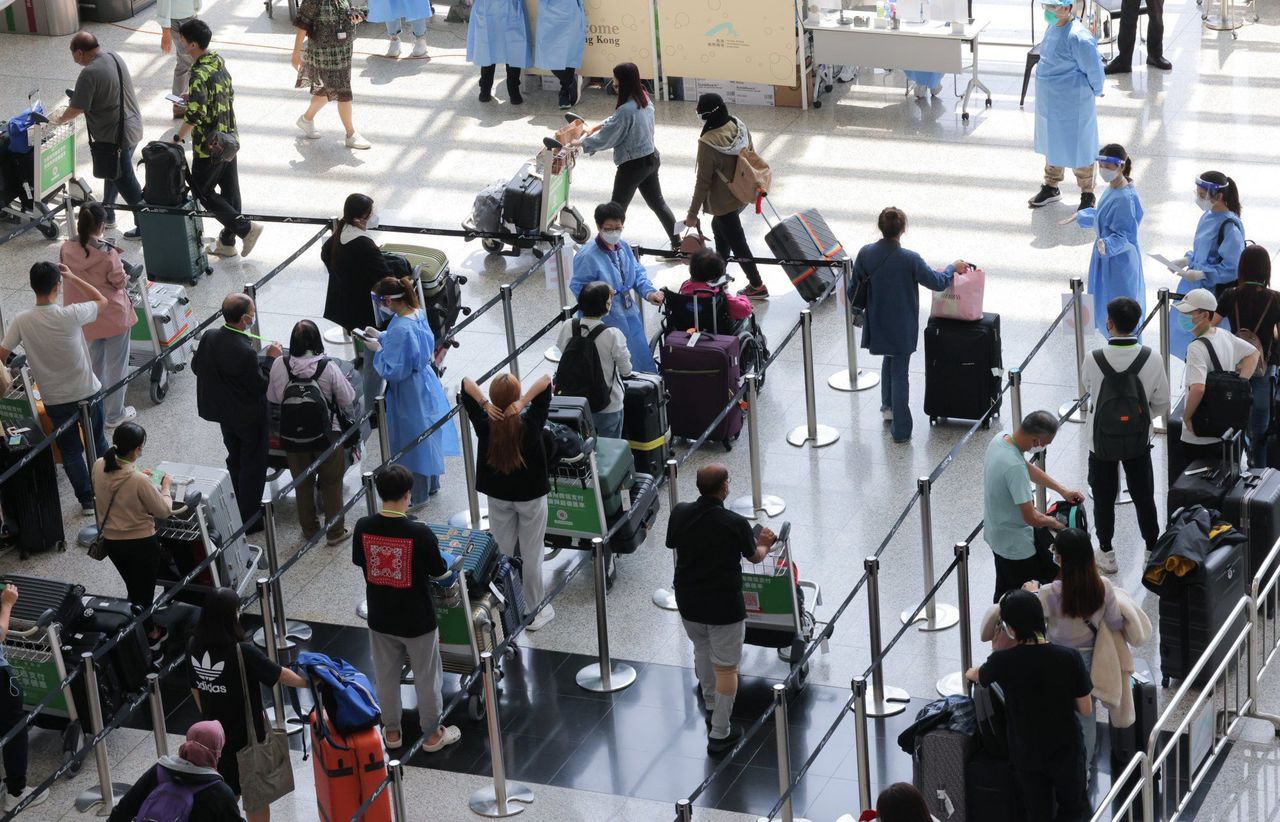 Passengers queue up in an area for quarantine processing in the arrivals hall at Hong Kong airport.

With a negative PCR result, they will receive an amber code for the next three days, which will prohibit them from entering places that require vaccine pass checks, such as restaurants, gyms, nightclubs, swimming pools, beauty parlours and salons.

Entry to high-risk places including care homes for the elderly and disabled, schools and designated healthcare premises will also be banned.

But they will be allowed to head to work and attend school, as well as visit premises where vaccine pass checks are not mandatory such as shopping centres, department stores and wet markets.

Unvaccinated residents are also allowed to enter the city but can only visit premises and dine out after receiving Covid-19 shots.


3. How many Covid-19 tests does one need to take?

The first day of arrival is considered Day 0. Travellers will need to conduct a daily RAT until Day 7 – the eighth day of arrival – in addition to PCR tests on days 2, 4 and 6. The PCR tests can be conducted at community screening centres, mobile specimen collection stations or by testing firms recognised by the authorities.

After obtaining a negative PCR result from the Day 2 test on the morning of Day 3, the medical surveillance period will end.

A self-monitoring period then begins from Day 3 to Day 7 with individuals receiving a blue health code, allowing visits to any premises.

Travellers are advised to monitor their health and measure their body temperature twice a day until the end of the self-monitoring period.


4. What kind of transport can I take when I head home or to a hotel from the airport?

Arrivals can take public transport or any other kind when leaving the airport.

Transport from the airport will be enhanced with buses operated by Citybus resuming full-day services, while the MTR will closely monitor demand for the Airport Express.


5. What if I test positive during the medical surveillance period?

Travellers who test positive during medical surveillance will be dealt with in the same way as residents and will receive a red code which prohibits them from leaving their residence.

If they are confirmed as positive via PCR tests, they will receive a text message with their result and a link to a digital form to fill in. The form will ask for their information and the family members they live with.

If they test positive via a RAT, they will need to declare the result on a government website. If successful they will receive a text message, with a link to another website where they can upload a photo of the test result and their identification document.

The infected individual will be allowed to undergo home or hotel isolation if their residence is deemed suitable by health authorities.

According to the Centre for Health Protection, homes without separate washrooms or kitchens, as well as subdivided flats, are not suitable.

Those with unsuitable households or people aged over 70 and who have not received two doses of a vaccine will be sent to government-run isolation centres.

People who have not received two doses of vaccine will be subject to 14 days of isolation. Those who have been double-vaccinated will complete their isolation given negative RAT results on days 6 and 7.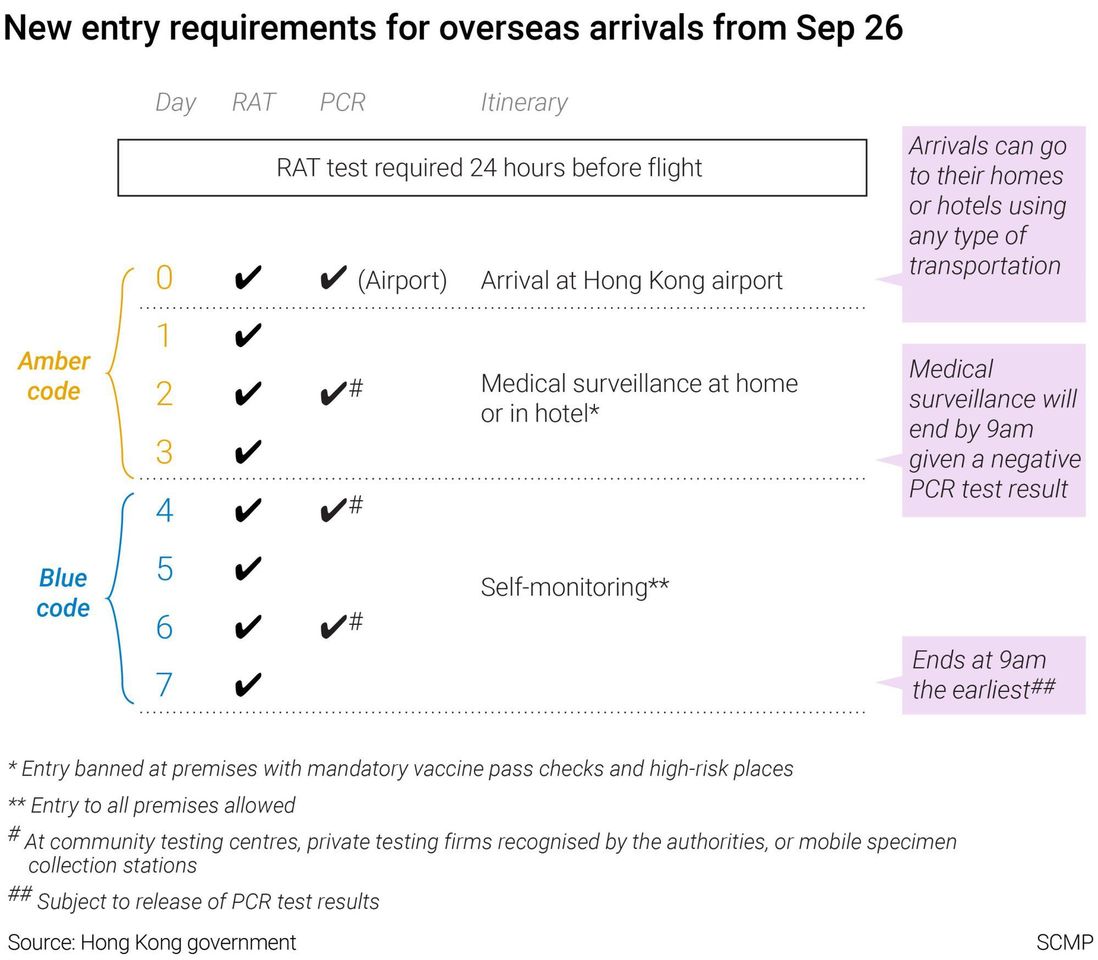 6. What if I arrive in Hong Kong before September 26?

Visitors who arrive in Hong Kong before Monday will still need to take designated taxis and other vehicles to their quarantine hotels.

Those staying in quarantine hotels will be allowed to leave in a gradual manner from September 26. People who enter Hong Kong between September 24 and 26 will still be subject to medical surveillance until Day 3 of their arrival.

Properties taking part in the designated quarantine hotel scheme will resume normal services from Monday, and are required to refund guests who have their quarantine period cut short because of government policy changes.


7. How about arrivals from mainland China and Macau?

The quotas for mainland and Macau arrivals under the "Return2hk" and "Come2hk" schemes will be lifted. They will only need to undergo three days of self-monitoring, as well as a PCR test on Day 2.


8. Has the government given up on the 'dynamic zero-Covid' policy?

City leader John Lee said Hong Kong's policy was still aligned with the nation's "dynamic zero-Covid" strategy, and that reopening with the world and the mainland were not mutually exclusive.

Lee said Hong Kong authorities were still trying to contain the epidemic situation, while allowing economic and social activities to proceed normally. He added that the government would consider further loosening quarantine measures based on the situation.