Quarantine period in designated hotels is to be cut as Hong Kong relaxes anti-coronavirus measures.
Hong Kong is to cut its coronavirus quarantine period for arrivals from overseas from Friday, down from seven days in lockdown in a quarantine hotel.

People will instead be allowed to stay at quarantine hotels for three days and spend the remaining four at home or in other hotels, with limited freedom of movement, which will be enforced through a new health code system.

Here's what you need to know.


1. What is the rationale behind the '3+4' measure?

Health secretary Lo Chung-mau on Monday said the decision was made after analysing scientific information, which showed most coronavirus cases could be identified in the first three days of hotel quarantine.

About 50 per cent of cases from overseas were uncovered by polymerase chain reaction (PCR) tests at the airport, statistics collected from July 8 to August 4 showed.

PCR tests carried out two days after travellers entered hotel quarantine pushed the percentage of detections up to 80 per cent.

For every 1,000 arrivals, only 4 per cent – 40 people – were found to be infected.

A total of 20 were detected at the airport and 12 more were uncovered at quarantine hotels after two days. Only eight cases, less than 1 per cent, were detected on the third day or after.

Chief Executive John Lee Ka-chiu highlighted the need to strike a balance between economic needs and health risks when the new approach was decided.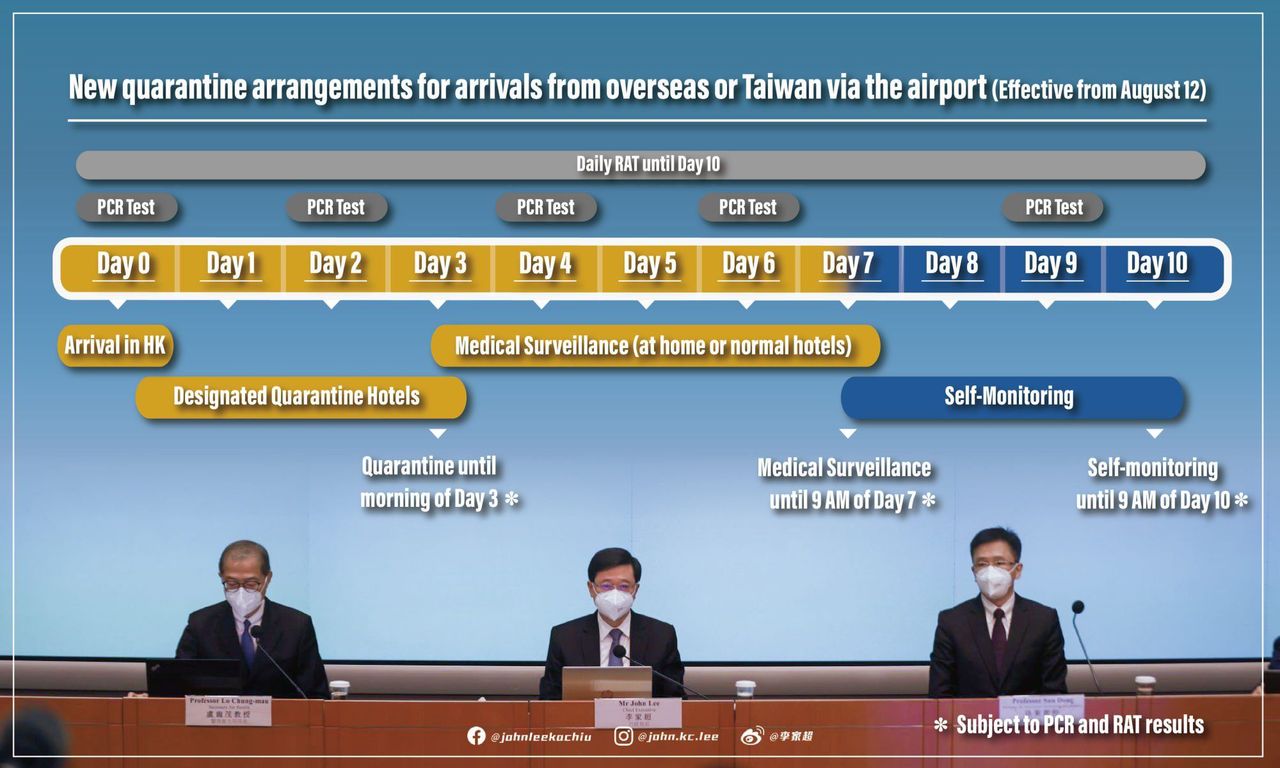 Secretary for Health Lo Chung-mau (left), Chief Executive John Lee and Secretary for Innovation, Technology and Industry Sun Dong announce the changes.
2. How will the new policy benefit travellers?

Travellers had to spend seven days in quarantine at designated hotels under the earlier rules. Apart from a rapid antigen test (RAT) every day, they were required to take a PCR one on the third and fifth day.

They would be discharged on the seventh day if they recorded clear RAT tests on day six and seven. If they returned a positive test, they would be sent to a government-run isolation centre.

Arrivals from Taiwan and other parts of the world who test clear on the third day from August 12 will only need to spend three days in a quarantine hotel and serve the remaining four days of medical surveillance at home or in a regular hotel.

They will be allowed to enter places where vaccine pass checks are not mandatory such as workplaces, shopping centres, department stores and wet markets over the four days.

They can also use public transport, but mask-off activities and entry into high-risk places including care homes for the elderly and schools will be banned.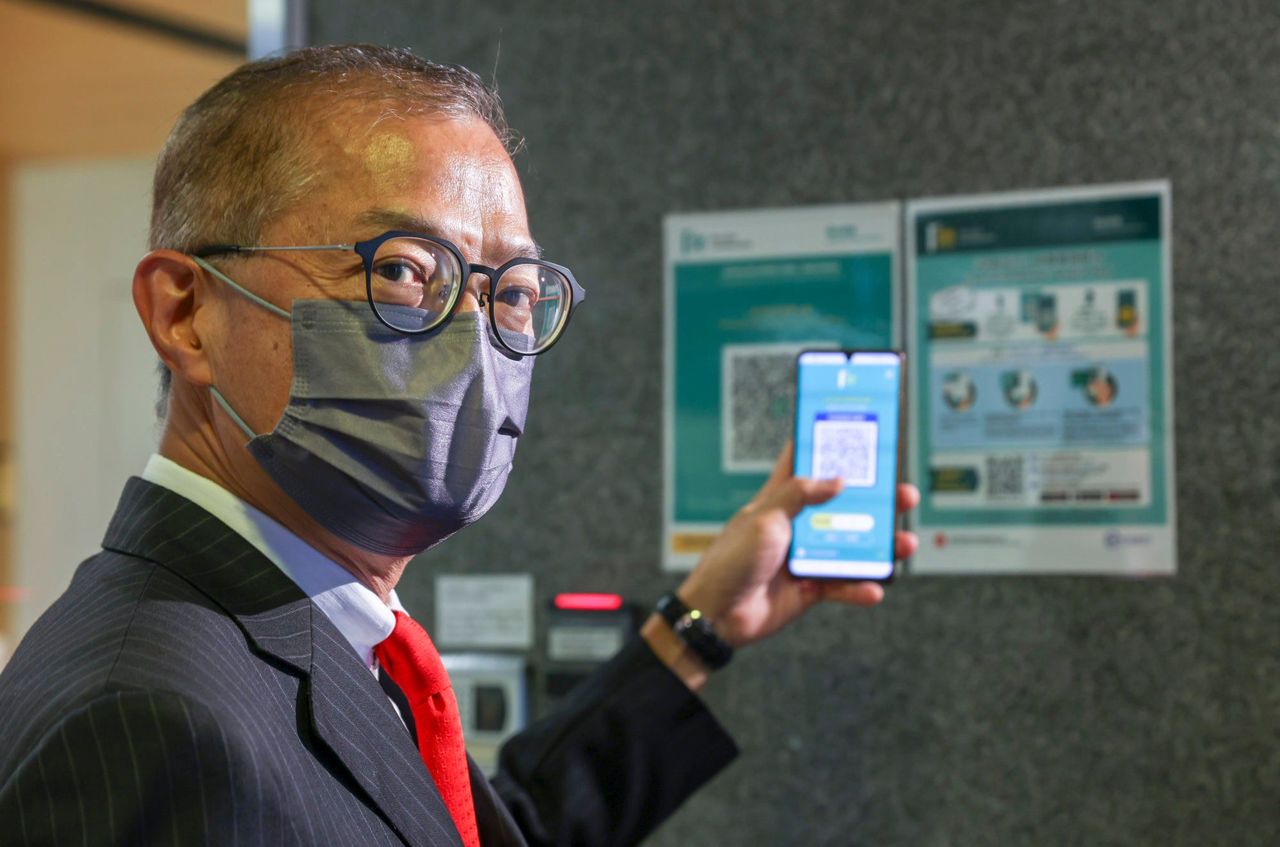 Secretary for Health Lo Chung-mau with a valid vaccine pass code.
3. How does the '3+4' work out?

The first day of arrival is now classified as Day 0 instead of Day 1.

Travellers are required to undergo a PCR test at the airport on Day 0. If they test clear, they will be sent to the designated quarantine hotel by point-to-point transport.

On Day 2 – the third day of arrival – they will need to take another PCR test. On the morning of Day 3 or the fourth day of arrival, they will get the result of the test and be allowed to leave the hotel at 9am at the earliest if clear.

They can use public transport to travel home or to another hotel, where they will start medical surveillance from Day 4 to Day 7. Self-surveillance will be required from Day 7 to Day 10.

Other than daily RAT testing from the day of arrival to Day 10, travellers will also be asked to undergo PCR testing on days 4, 6 and 9 at community test centres or testing firms recognised by the authorities.


4. How does the health code system work with the shortened quarantine?

The health code system, involving amber, red and blue codes, will be in force from Tuesday.

Travellers will need to download the latest version of the "Leave Home Safe" mobile app and will receive an amber QR code in the app over the "3+4" period.

Infected individuals under home isolation will get a red code. They will also be given an electronic tag wristband and prohibited from leaving home.

Scanners at premises that need a valid vaccine pass are able to detect the amber or red code and entry will be refused.

The code will turn to blue once medical surveillance or home isolation is over.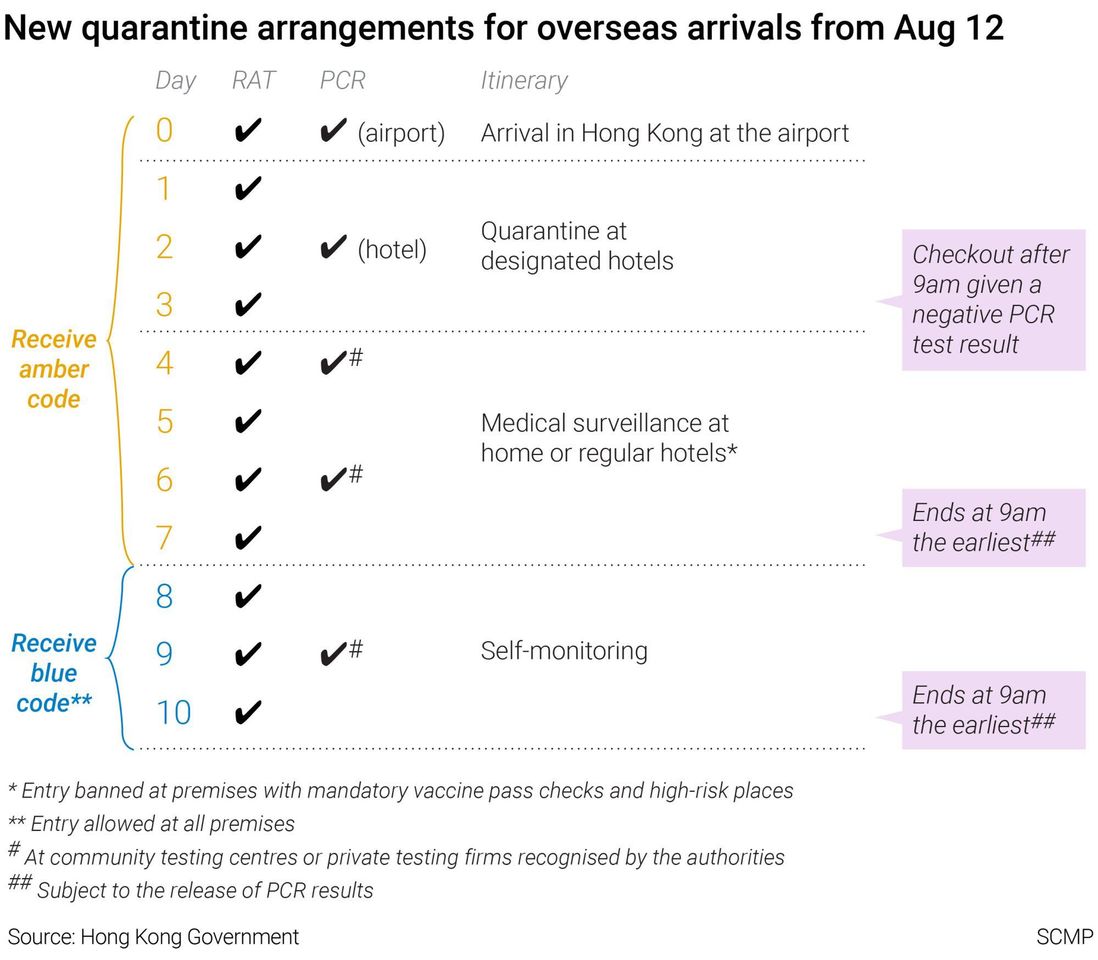 5. If I am assigned an amber code, how will my activities be restricted?

People with an amber code can use places where vaccine pass checks are voluntary such as workplaces, shopping centres, department stores, wet markets and public transport.

They will be denied entry to premises with mandatory checks such as restaurants, gyms, nightclubs, swimming pools, beauty parlours and salons, as well as high-risk places including care homes for the elderly and disabled, schools and designated healthcare premises.

The entry of people who work or study at these premises or receive services from the designated healthcare centres will not be banned if they receive an amber code. It will depend on the premises if they are allowed to enter.

The authorities said those with an amber code should eat alone and try to avoid contact with others if going to work or school.

Regardless if a person's vaccine pass is presented through mobile application or in paper form, the QR code verification scanner at premises and the devices used by enforcement officers are equipped to identify an individual's colour category.

According to the Prevention and Control of Disease Regulation, persons who violate the rules and enter premises regulated by Cap. 599F are liable to a fine of HK$10,000 and imprisonment upon conviction.

The Food and Environmental Hygiene Department said premises that required mandatory vaccine pass checks should update their scanners to the latest version before August 12 and ensure internet connection no later than August 23, stressing that operators must deny entry to those with red or amber codes.

There will be a grace period of 14 days for such premises to prepare for the new measures. Operators will face a maximum fine of HK$50,000 and a six-month jail sentence if they violate the relevant regulations after the grace period.


6. What if I arrive in Hong Kong before Friday? Do I need to quarantine for seven days?

Special arrangements will be made for those who have completed at least three nights of quarantine at hotels before the new policy takes effect on Friday (August 12).

The authorities said those who arrived in Hong Kong between August 3 and 8 would be arranged to leave their hotels "in an orderly manner" from August 9 to 12 after confirming their negative PCR test results. But they will still be subject to the same medical surveillance at home and amber code requirements after leaving the hotel.

For those who arrive on August 9, they can also leave if they have served hotel quarantine for at least three days between Tuesday and Friday, and test negative.

But a government spokesman said there might be delays in checkouts given the large number of travellers who might meet the three-day threshold on the same day.


7. What if I test positive on Day 3 of my arrival?

If arrivals test positive between Day 0 and Day 3, they will be sent to government isolation centres.

They will be allowed to isolate at home, if it is suitable, if they test positive from Day 4 on. They will also get red code and tracking bracelet.